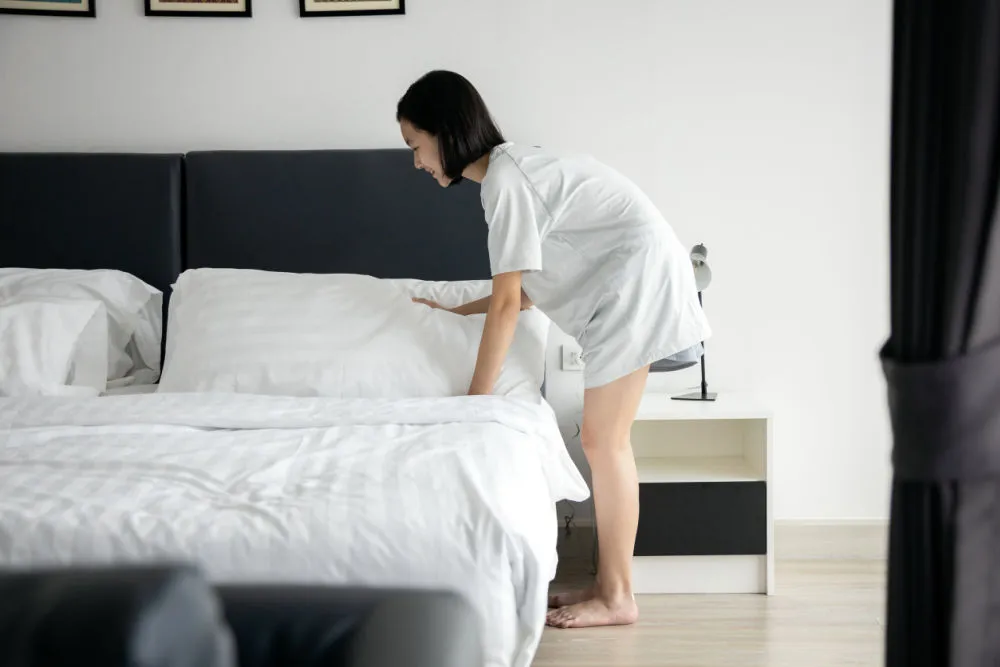 There's no denying it – steam cleaners are excellent at sanitizing mattresses. So if you don't have one, you might feel like you just can't get your mattress clean.
Luckily, that's not the case.
Cleaning a mattress is actually a very simple process and chances are, you already have everything you need to do it. 
Here's how to clean a mattress without a steam cleaner.
What's the Best Way to Clean a Mattress without a Steam Cleaner?
To clean your mattress without a steam cleaner, start by removing all bedding and washing it. Next, thoroughly sweep your mattress. After, sprinkle the mattress with baking soda and allow it to sit for eight hours. Finally, vacuum the baking soda, spot treat stains, and replace the bedding.
How to Deep Clean Your Mattress Step by Step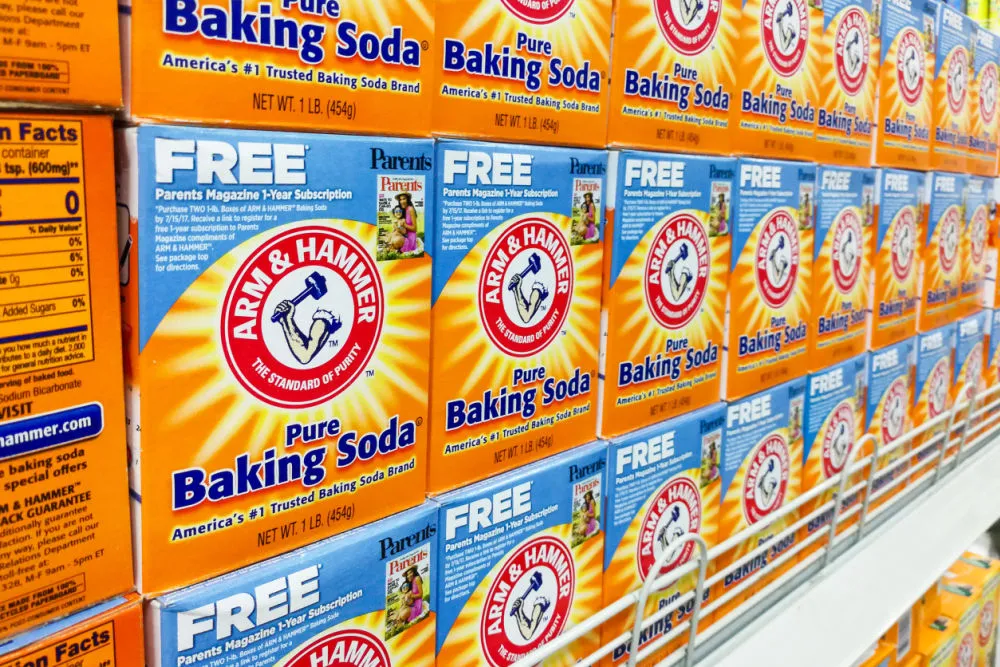 If you've been worried about deep cleaning your mattress, you're probably making it too hard. While you can use a carpet cleaning machine, steam cleaner, or upholstery cleaner, they aren't necessary.
Instead, a simple vacuum and baking soda treatment can be enough to keep dust mites and built-up moisture at bay.
Here's how to clean your mattress without a steam cleaner.
Remove All Bedding and Mattress Protectors
Start by removing all of your bedding and your mattress protector. Then, wash everything according to the care instructions for each item.
(Almost all bedding and mattress protectors are washing machine safe. Just do a double check before dumping everything in your washer.)
Thoroughly Vacuum Your Mattress and Bed Frame
Aside from promptly dealing with accidents or stains, vacuuming your mattress is the most critical thing you can do to keep it clean. Vacuuming helps remove dust mites, skin cells, hair, and even moisture trapped in the bed.
I like to use a high-powered Shop-Vac to clean my mattress, but any vacuum with an appropriate attachment will do. 
Vacuum the top of the mattress, any cracks, and around the bed frame.
Sprinkle Baking Soda on the Mattress, Wait, and Re-Vacuum
Once you've swept the mattress, liberally sprinkle baking soda on it. Baking soda will absorb excess moisture and deodorize.
Let the baking soda sit for about eight hours and then vacuum to remove.
Spot Treat Stains
After you've vacuumed your baking soda, your mattress will be pretty clean. You can now move on to spot-treating stains.
Common stain removers for the mattress are hydrogen peroxide, OxiClean, commercial stain removers, and baking soda.
One of the best all-purpose stain removers is hydrogen peroxide. To use it, simply dab hydrogen peroxide onto the stain and let it air dry. Repeat if necessary. 
The only downside to using peroxide on your mattress is that it can potentially lighten the fabric, so if your mattress isn't white, you may want to try a commercial cleaner.
Here are some specific resources for lifting stains from your mattress:
Put the Clean Bedding Back On
Now is the time to grab your bedding out of the dryer and put it back on your bed. (If you spot treated the stains on the mattress, make sure it's fully dry first.)
Start by putting your mattress protector back on. (I use this one.) Then your sheets and bedding.
If you don't have a mattress protector, I recommend getting one. They'll protect your mattress from stains caused by blood, bedtime accidents, and spills. Plus, they're pretty inexpensive.
How Often Should You Clean Your Mattress?
To keep your mattress in excellent condition, you should clean it once every six months. This includes washing your mattress protectors, vacuuming your mattress, and cleaning it with baking soda.
You'll need to clean your sheets and blankets on a more regular basis.
Frequently Asked Questions
How does baking soda clean a mattress?
Baking soda absorbs odor and deodorizes – this is extremely helpful for a mattress because most people sweat or drool when they sleep. Baking soda combined with vacuuming will remove dust mites, dead skin cells, excess moisture and leave a mattress smelling fresh.
Can you leave baking soda on your mattress?
When cleaning a mattress, it's ideal to sprinkle baking soda on it and let it sit for eight hours before vacuuming off. Doing so will allow the baking soda to absorb odors and moisture. However, you don't want to leave baking soda permanently on your mattress – mainly because it will feel gritty to sleep on, and if there's a lot, you may even inhale it as you sleep.
Can I use upholstery cleaner on a mattress?
You can use an upholstery cleaner on a mattress. You can even use a carpet cleaner to give your bed a deep clean.
Final Thoughts
If you're wondering how to clean a mattress without a steam cleaner, the process is relatively easy. All you need is a vacuum and baking soda. While steam cleaners are great for sanitizing, you can easily clean a mattress without one.
Photo: ©thamkc/123RF.COM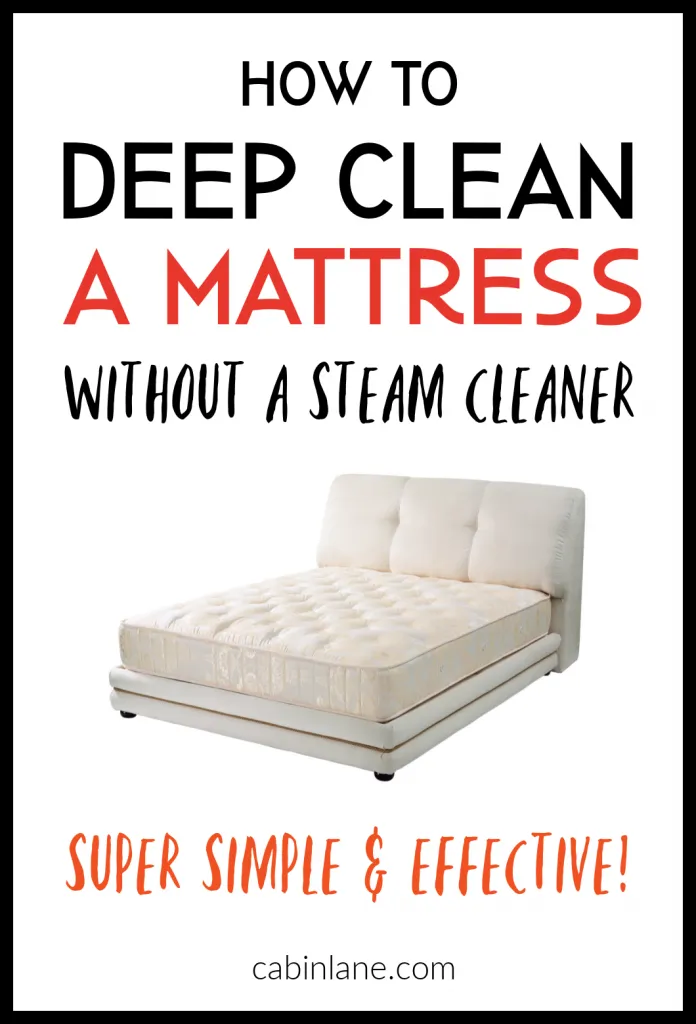 Katie Barton is the owner of Cabin Lane. She's also a home improvement writer for Bob Vila and Homedit. Her cleaning and organizing advice has been featured on Realtor.com, Yahoo News, GoBankingRates, and more. In her spare time, you can find her with a paintbrush in hand, searching for her next project.