Last Updated on February 15, 2021 by Katie Barton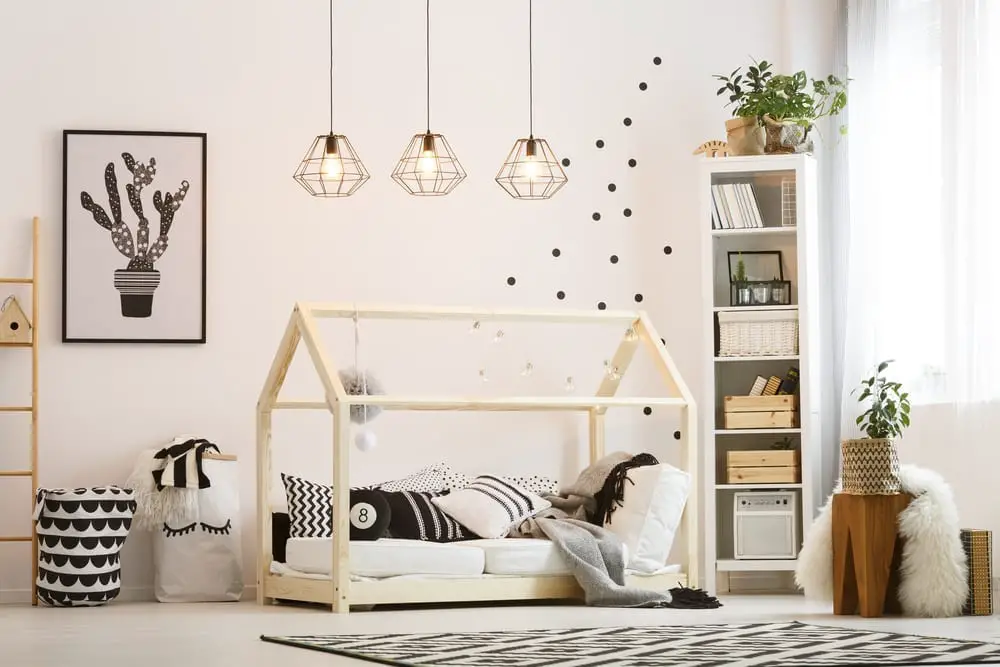 I had finally reached the point where my two oldest kids weren't into toys anymore when I decided to have my third daughter. And now that she's three, I'm living the toy explosion nightmare all over again.
Toys are the arch-nemesis to a neat freak mom. Amiright?
Sometimes I wonder if someone sneaks in my house and dumps trash bags full of toys all over the floor each night. Because, seriously, no matter how many toys I get rid of, it seems like just as many appear the next day.
Why am I Scared of Wooden Toy Boxes?
My brother had a freak accident with a toy box when we were kids. He jumped off the bed and hit his face on our wooden toy box, making his bottom teeth go ALL THE WAY through his skin, right underneath his bottom lip.
He still has a scar. And thinking about it makes my skin crawl. It also gives me an irrational fear of wooden toy boxes.
And so, I've opted out of traditional toy storage and use bins that are softer, cuter, and accident-proof.
While you might not have an irrational fear of wooden toy boxes, it's still nice to expand your options. Here are ten toy storage ideas to consider.
Toy Storage Ideas
Large Canvas Tote Baskets
These large canvas tote baskets are my absolute favorite. In fact, I easily have 6-7 of these around my home.
They have a waterproof lining that makes them great to use as a kid's clothes hamper or toy storage. I use them for both.
I have several in my basement for toy storage, and I have one in each of my kids' rooms to use for dirty laundry. Best of all, these are cheap (under $15), and there are TONS of designs.
Canvas Toy Bins
If you like the look of toy boxes but want a different look, luckily, there are plenty of collapsible canvas toy bins available. They give you the look of the traditional toy box without the sharp edges.
Large Baskets
If you're looking to blend your toy storage in with your decor, try a large basket. They are portable, make for easy toy clean up, and you can find one that fits in with the look and feel of your room.
Small Plastic Baskets for Small Toys
If you need to create some separation with small toys, using small plastic baskets will do the trick.
My three-year-old likes to keep her little toys such as LOL dolls and small paw patrol figures from getting mixed in with everything else. Our solution is to put them in small bins so she can carry them around.
You can find a set like this on Amazon or visit the Dollar Tree for even less expensive options.
Stuffed Animal Storage
I don't know about you, but I think trying to store big bulky stuffed animals is the worst. That's why I love the concept of these bean bag chair covers that you fill with stuffed animals.
I haven't yet tried these, but when I redo our basement playroom, I plan on ordering a couple. You can find many different patterns in this chair here.
Hanging Wall Organizer
If you're working with a small space, a hanging wall organizer you can put on your child's closet door is the perfect solution. It will keep toys up and off the floor without taking up valuable space.
You can find different colors and patterns here.
Sterilite Towers
I just redid my youngest two daughters' shared bedroom and added one of these to double as a nightstand between their beds and extra storage.
These look cute, work great as storage, and are very affordable. They even come in a few different color options.
Under the Bed Containers
Need more small space storage solutions? These under the bed organizers, commonly used for clothes and shoes, are also a great storage option in small rooms.
You can you the dividers to organize the toys or just throw them all in the container to get them off the floor.
Shelving
Shelving is a great way to put toys and books on display. You could opt for small, floating shelves or buy some wall brackets to install large shelves in your child's room.
Cube Organizer
Cube organizers are fantastic for keeping toys organized and separate from each other. This is especially true if you have a child who likes to play with legos, crafts, or other building materials.
You can find cube organizers at most home improvement stores. The one picture is available on Amazon here.
Toy Storage Ideas – Thinking Outside of the Toy Box
Any piece you like can double down as toy storage. All the items on this list are fairly inexpensive and make excellent storage.