Last Updated on February 15, 2021 by Katie Barton
It's officially the end of week three, and even though I'm a bit late getting this blog post up, I did meet my bathroom goals for the week.
If you're just tuning in, you can read my previous One Room Challenge posts here:
The Tile is In and Grouted
I'm happy to report that the tile is in and grouted. This is the first tile job I've ever laid 100% myself.
(Disclosure: My husband helped me with some of the cuts I kept screwing up. It turns out that I need some major practice taking angled measurements.)
I laid out the design, installed the tile, did most of the cuts and all of the grouting. And it looks good.
In fact, I'm shocked at how good the tile turned out.
The Trim Dilemma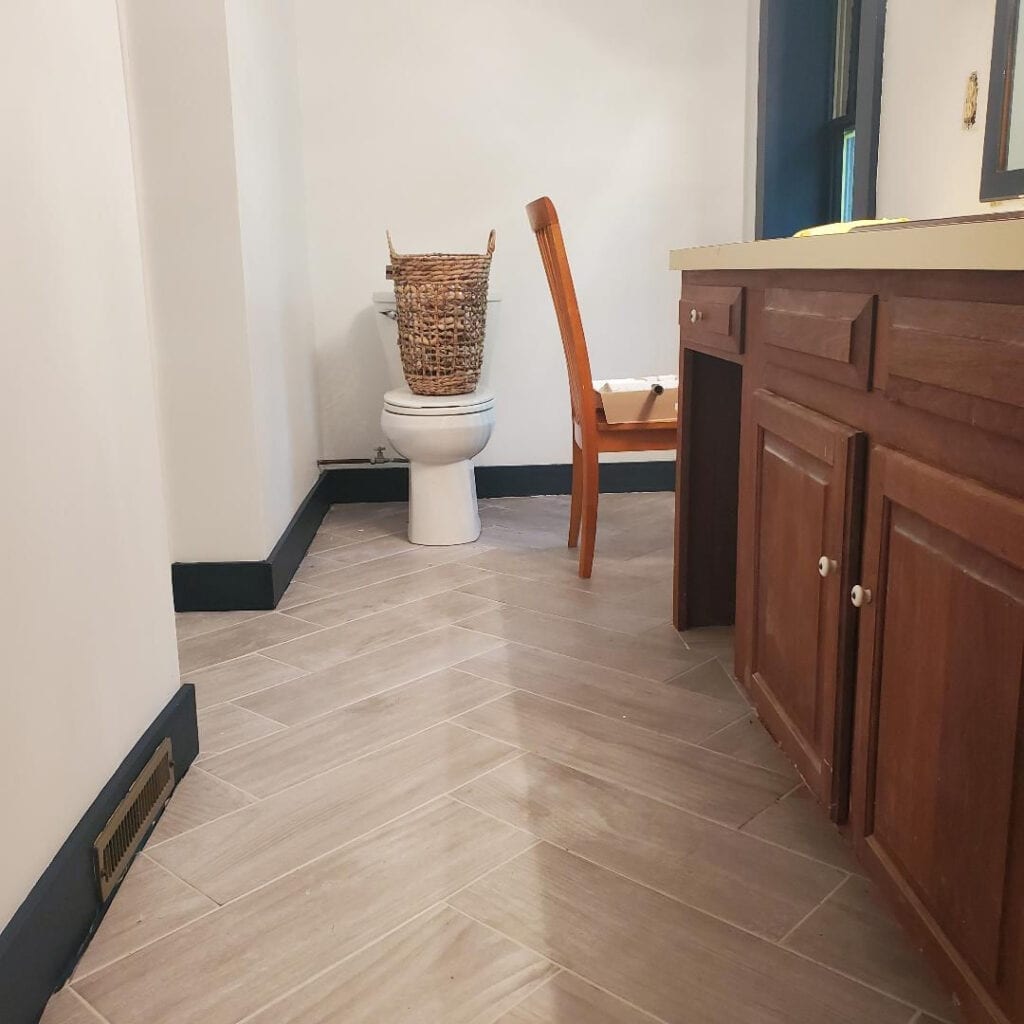 What you may have noticed is that I didn't remove the trim before I tiled. And yes, I KNOW that you're supposed to. The problem was, the trim was ripping the drywall when it was taken off.
To solve this problem, I'm adding quarter round trim around the edges. This will cover up any uneven tile lines that you're currently seeing.
She (The Bathroom) Painted
She finally painted. 🙂
This is my first ever white room, and I'm still kind of adjusting. I like it; I think it looks good. It's just a bit colder than what I'm used to.
I almost painted it greige but instead decided to go through with my initial plan. I can always paint over the white if I decide I don't like it enough.
The trim is painted in Everglade Deck by Valspar. It's a dark cyan color.
Coming Up: Concrete Countertops
For week four, I'll be tackling the concrete countertops and sink. I've already started, and like anything else, it's going to take longer than I had thought. So, that's my only goal for week four.
You can check out the progress of all of the other ORC guest participants here.
Katie Barton is the owner of Cabin Lane. She's also a home improvement writer for Bob Vila and Homedit. Her cleaning and organizing advice has been featured on Realtor.com, Yahoo News, GoBankingRates, and more. In her spare time, you can find her with a paintbrush in hand, searching for her next project.