Last Updated on February 14, 2021 by Katie Barton
I would've loved to come in today with a big update on my ORC room, but that's not the case.
I signed up for the challenge last minute and posted my bathroom plans on Monday. See them here.
I want to get on the schedule of doing updates every Thursday so that today will be my week 2 update.
Week 2 Master Bathroom Update
Not much has changed since the last update. The Covid-19 shelter in place orders has made this challenge even a bit more challenging for almost everyone. Myself included.
Since I have three kids at home (and a fourth three days per week), I have been tiling my bathroom in 1-2 hour time chunks.
A little here. A little there. Until she's all done. 😉
Luckily, I am almost all done with the tiling!!! This is the first tiling job I've ever done all by myself, and so far, so good.
All I have left to do is cut about 10-15 small edge pieces, lay them, let them set, and then I can grout.
Tiling should be marked off my to-do list by Saturday.
My Current Bathroom Remodel Schedule
I have planned my remodel schedule based on when the items I've ordered will be coming in.
Here's what I hope to accomplish for each update.
Week 3 – Tiling and Painting Done
Week 4 – DIY Concrete over Laminate Counters
Week 5 – Vanity Update (Will be Painting)
Week 6 – Installing molding on the trim, faucet, odds, and ends
Week 7 – Hopefully, it will be done. If not, this will be the week for any finishing touches.
Here's what I've ordered so far: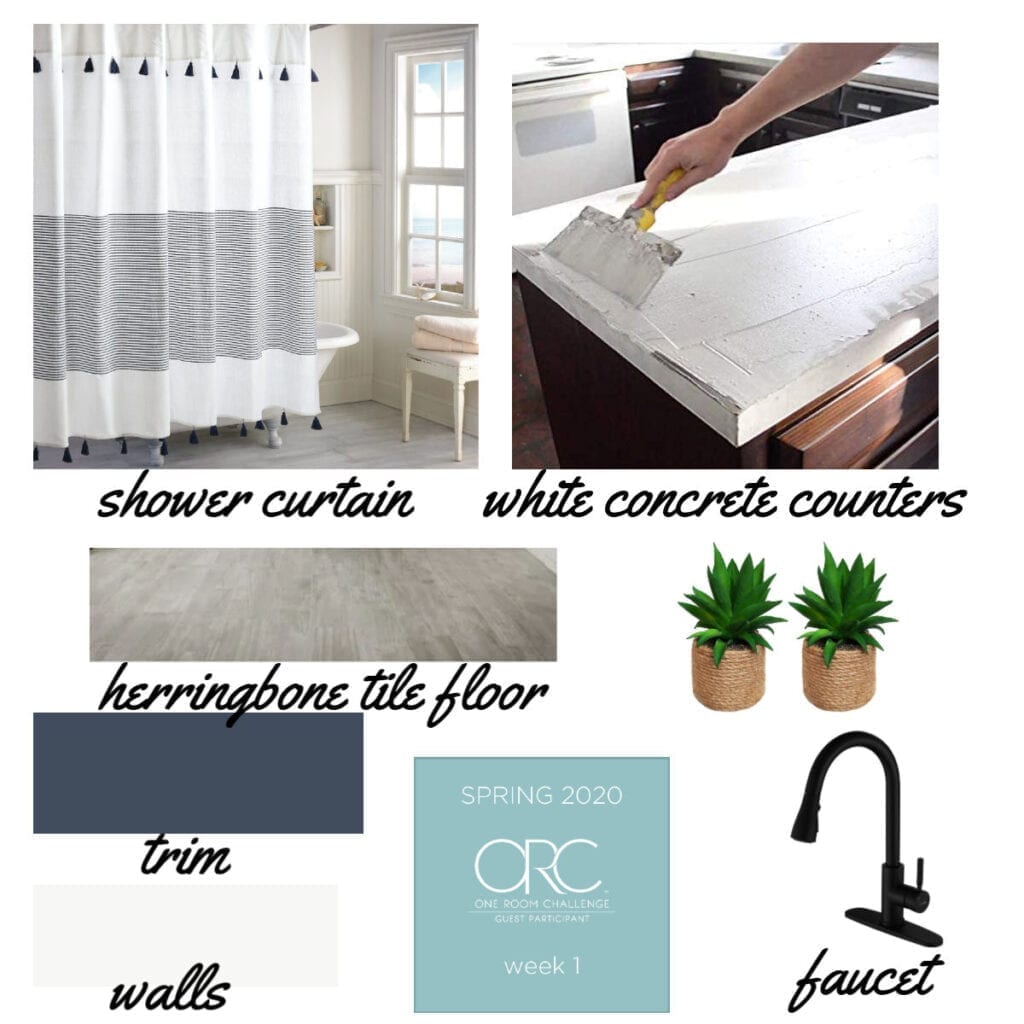 Shower Curtain, Rod, and Hooks
Paint (I ended up going with a different trim color. I'm using Valspar's Everglade Deck, which is a dark blue-green.)
Quarter Round Trim
Concrete for Counter Tops
I'm holding off on a faucet and sink because first, I will try and coat my current sink with Ardex feather concrete. Whether or not that turns out will determine what else I need to purchase.
You can check out all the other guest participants' progress here.
Katie Barton is the owner of Cabin Lane. She's also a home improvement writer for Bob Vila and Homedit. Her cleaning and organizing advice has been featured on Realtor.com, Yahoo News, GoBankingRates, and more. In her spare time, you can find her with a paintbrush in hand, searching for her next project.