Last Updated on February 14, 2021 by Katie Barton
It's the end of an era.
The era of a horse room with pretty purple walls.
When we moved into this house about four years ago, Kailyn was 6. I let her and her sister pick out their own paint colors for their bedroom, and to my surprise, they both did a great job.
Kailyn chose a deep purple, and we paired it with white trim. She then decided she wanted to collect horses, and before you knew it, we had a cute horse themed room.
Here's a picture of the room when we moved in:
Here's what we changed it to: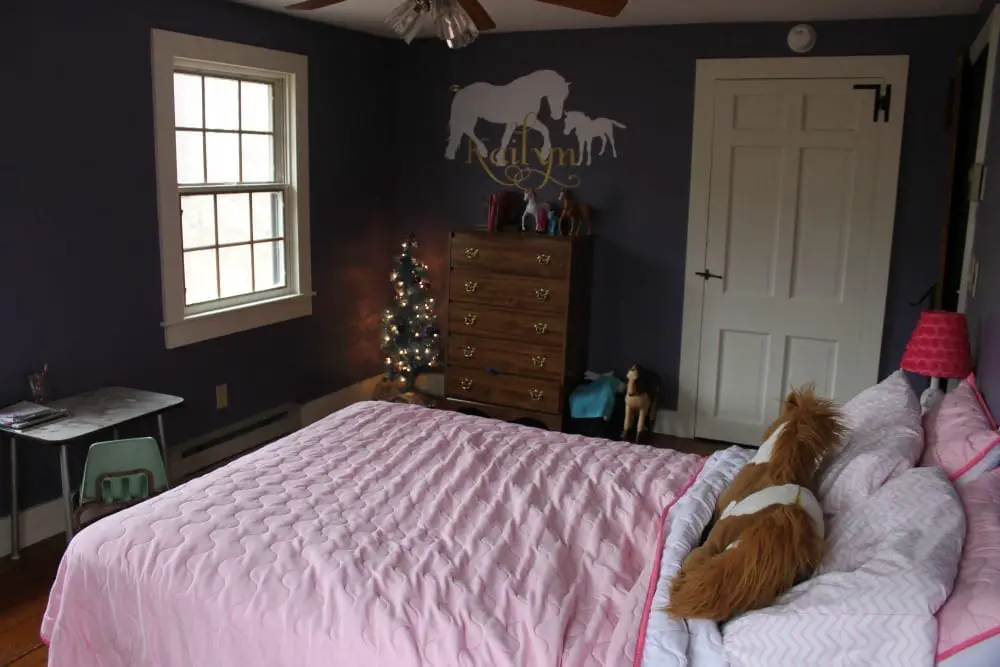 Decorating a Tween Girl's Room
Now that Kailyn is 10, she's ready for a different feel to her room. This time we decided to go with a neutral wall to change the color scheme by changing out bedding and accessories.
The accent color she chose was mint.
Here is the current mood board: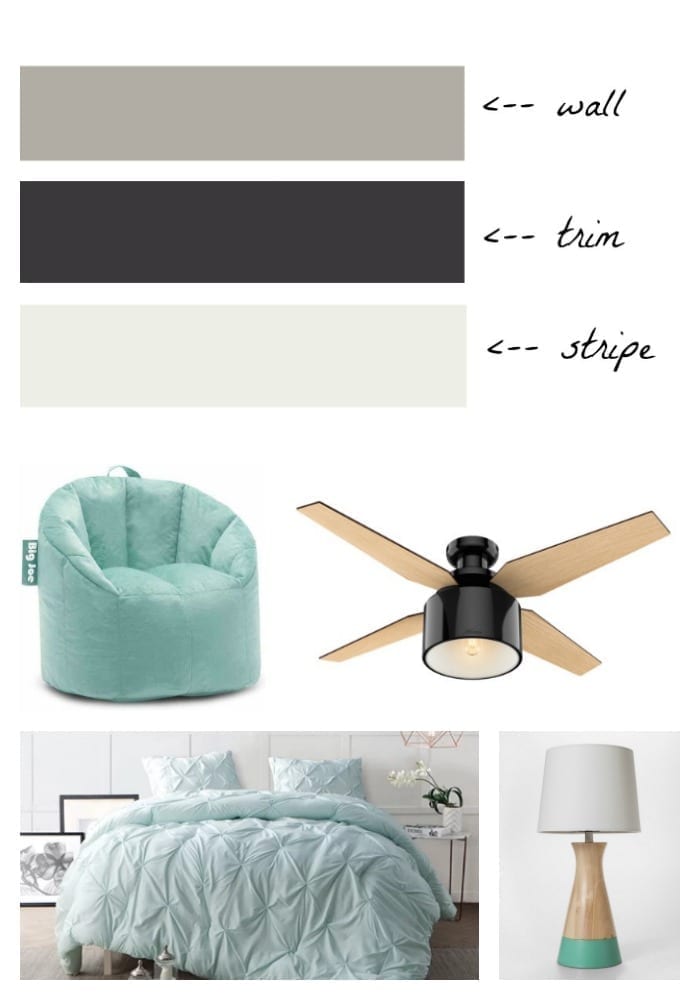 Since she wanted to redecorate her room for a few months, she asked for bedroom stuff for Christmas.
(If you're like me and don't want to blow your budget on a kid's room, redo gifting bedroom items for birthdays and Christmas is the WAY to go!! I feel like this also makes them appreciate their stuff a bit more.)
We've already got:
Fairy lights (Her no. 1 request!!)
Bedding (pictured)
Big Joe Chair (pictured)
Paint
I also have the lamp on order, and the painting day starts tomorrow.
I'm going to do black trim in her room, and I can't wait to see how it turns out. I have a dark blue trim in the office, downstairs bath, and a dark green trim in the living room, and they are both my favorites! I love dark trim, and I think it's going to look great.
We got a grey for the walls. Per her request, we're also going to do a stripe on the wall her bed is up against.
The only thing I haven't bought at this point is the ceiling fan. I want to put a new ceiling fan in her room. However, I'm not quite sure it's going to be the one pictured. The fan pictured on the mood board is from Hunter Fan co. And while it is a beautiful fan, it's a bit steep in price for what I'm wanting.? We'll have to wait and see what fan I finally go with, but for now, this one serves as inspiration.
I'll update this post as soon as the room is done so that you can see the finished product.
Katie Barton is the owner of Cabin Lane. She's also a home improvement writer for Bob Vila and Homedit. Her cleaning and organizing advice has been featured on Realtor.com, Yahoo News, GoBankingRates, and more. In her spare time, you can find her with a paintbrush in hand, searching for her next project.