Last Updated on February 15, 2021 by Katie Barton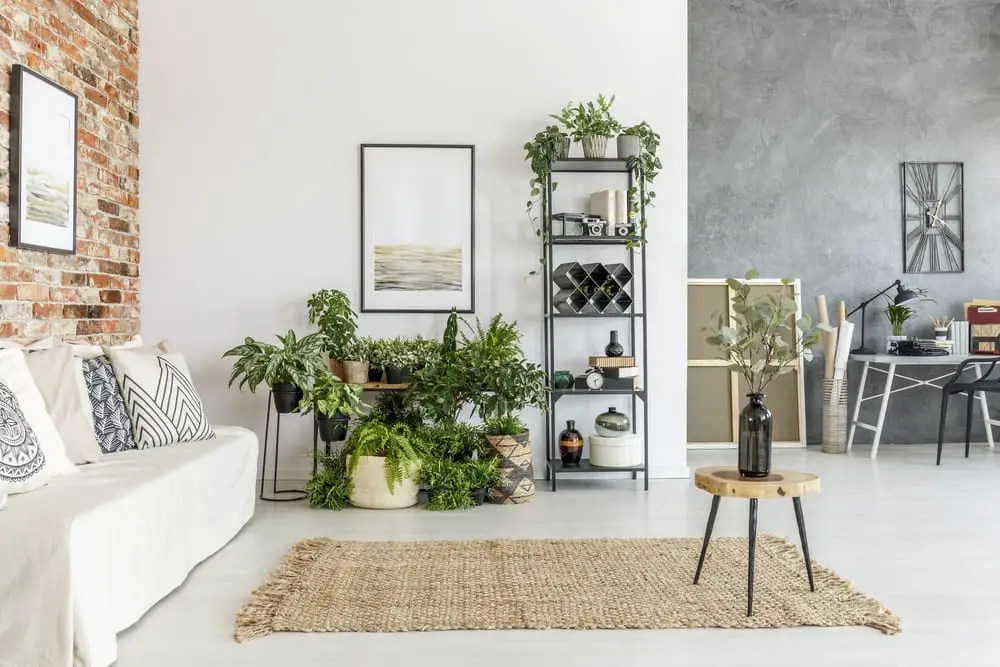 When you think of boho style, bold colors, patterns, and a ton of texture probably come to mind. And while traditional boho style is definitely beautiful, it can be a bit much for neutral lovers.
That's why I LOVE the new spin on boho.
It's still beautiful colors, textures, and patterns only toned down with a much more clean feel.
I've been searching for the perfect modern boho rugs for my living room and bedroom. And wouldn't you know it? Amazon has several I love, and they're surprisingly affordable.
I've rounded up my faves.
Here are ten modern boho you can find on Amazon.
Top Affordable Modern Boho Rugs
I've included the prices on these, but please keep in mind that these are the prices of May 2020. Prices are subject to change at any time. So please, check the price before adding it to your cart!
1. Moroccan Area Rug
This is one of my favorites. It's neutral but still attractive and could go in SO many different rooms. Right now, the 8 x 10′ version of this rug is $165.
It also comes in blue and black. You can find this rug on Amazon here.
2. Cream and Black with Tassels, Runner
I'm seriously contemplating getting this runner for my kitchen because it's only $26.99!! The runner versions have tassels, while the larger 4×6′ version does not.
Find this runner here.
3. Textured Area Rug
This rug is full of beautiful textures. It comes in black, beige, blue and pink. It's the most expensive on this list at $310 for the 6 x 9. There are multiple sizes available.
Find this area rug here.
4. Jute Area Rug
This is very similar to what I previously had in my living room. And I currently have a Jute runner in my kitchen.
I love the look of Jute. It's affordable too, at only $200 for an 8 x 10′. The one thing you need to watch out for is shedding, though. I've had some Jute rugs shed like crazy and others not at all…
Find this Jute rug here.
5. Bohemian Shag Area Rug
If you're looking for a softer, more plush rug, this may be it. It comes in beige, blue or gray and various sizes. The 6'7″ x 9'6″ size is right around $235.
Find this rug here.
6. Geometric Accent Rug
Here's another runner that's calling my name. This rug, too, is affordably priced at only $34.99. There's also an accent rug version of this.
Find this rug here.
7. Striped Shag Area Rug
This striped shag area rug is a great option if you love neutrals but are looking for texture. The 8 x 10′ version is $245.
Find this rug here.
8. Multicolor Runner
I'm naturally attracted to the more neutral colors when it comes to large rugs. To me, they make more sense since they go with so many different designs. However, I love the color on this runner. And it's only $28.99.
Find this runner here.
9. Boho Distressed Area Rug
These rugs come in a variety of different colors and sizes. If you're trying to pull in some colors, you may find one that works for your space. It's also super affordable, at only $175 for an 8 x 10′.
Find this rug here.
10. Chevron Jute Area Rug
I know chevron isn't a huge trend anymore, but I can't help but love this rug. The color and texture are so good. It's also less than $150 for an 8 x 10′.
You can find this rug here.
Good Area Rugs Don't Have to Cost a Fortune
Area rugs can be expensive. Luckily, you can still find ones that are high-quality and good looking at an affordable price.
Which one of these rugs is your favorite?