Last Updated on February 18, 2021 by Katie Barton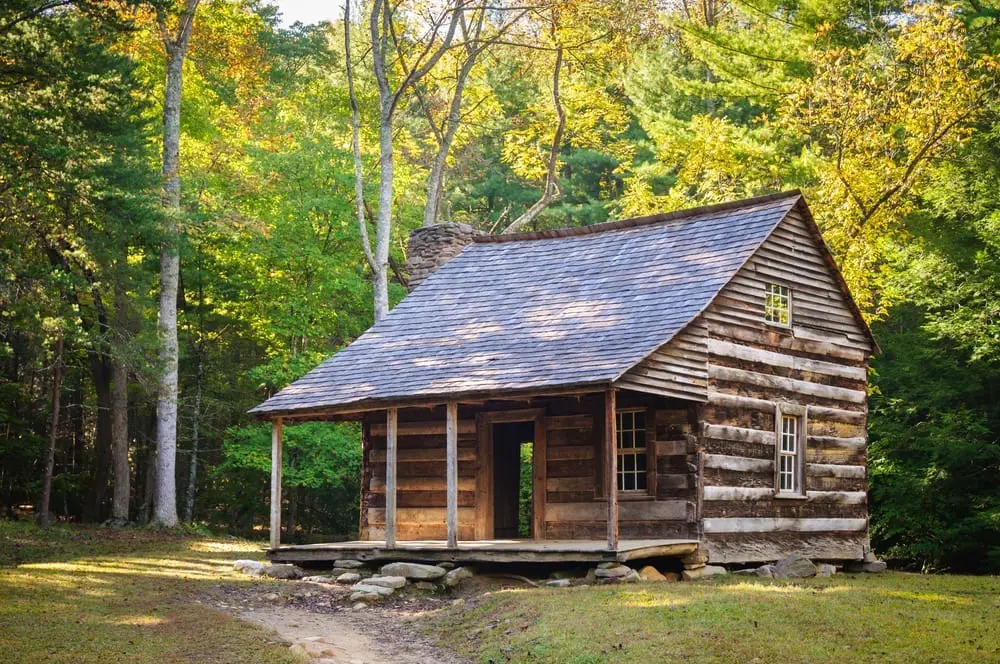 Do you ever dream about picking up all your stuff, moving to a cabin, and living a simpler life?
Maybe.
Or maybe you're looking to put a guest house in your backyard or hunting cabin on your property.
No matter why you're looking for inexpensive log cabin kits, I've rounded up 10 of the best—these range from $5,000 to $50,000. 
Here are some of the best cabin kits on the market right now.
(Psst…My favorite cabin kit is the last one on the list. It is quirky and incredibly cool. Make sure you check it out.)
Getaway Log Cabin – 1 Bed 1 Bath – $20,800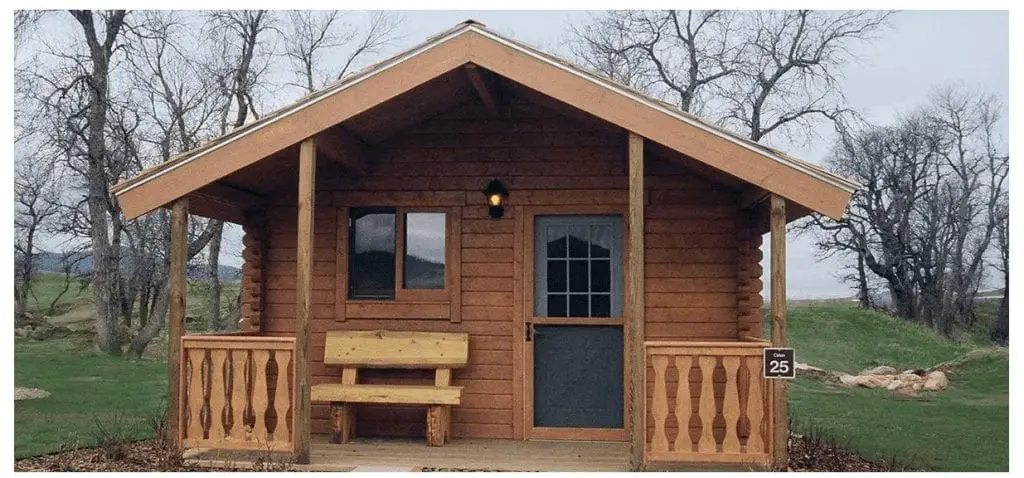 This "Getaway" log cabin kit from Conestoga Log Homes is a two-room – one bed, one bath cabin. Its dimensions are 13' x 15,' and it's a total of 195 square feet.
The bedroom in the Getaway cabin is designed to hold two sets of bunk beds so that it can sleep four. However, you could customize this based on your needs.
There is no kitchen in this cabin – only the bedroom and bathroom.
The bathroom has space for a shower, toilet, and sink.
Main features of this cabin:
13' x 15' Cabin

6 Foot Covered Front Porch

3 Piece Bathroom

The bedroom can Hold two sets of Bunk beds
Pricing for the Getaway Log Cabin Kit starts at $20,800.
Boulder Lodge Log Cabin – 1 Bed, 1 Bath, Kitchenette – $26,900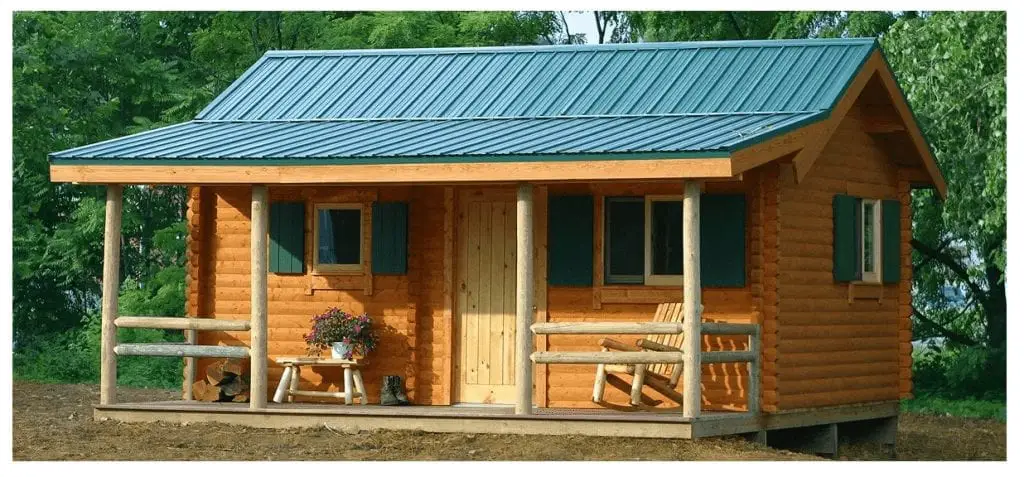 This tiny log cabin from Conestoga Log Homes uses its space well. 
At only 292 sq. ft., this cabin has a bedroom, a small living and dining space, a kitchenette area, and a three-piece bathroom.
It also comes with a covered front porch.
Here's a look at the floor plan: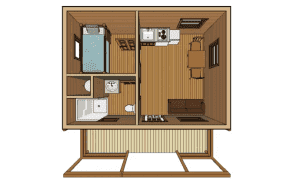 This cabin could work well as a tiny home for 1-2 people to live in or as a guest house.
Main features of this cabin:
1 Bed, 1 Bath

Space for a Kitchenette

Optional living space or bedroom space

Covered front porch
Boulder Lodge log cabin kits start at $26,900.
Outdoorsman Log Cabin Kits – 1 Bed, 1 Bath, Kitchen & Living Space – $32,900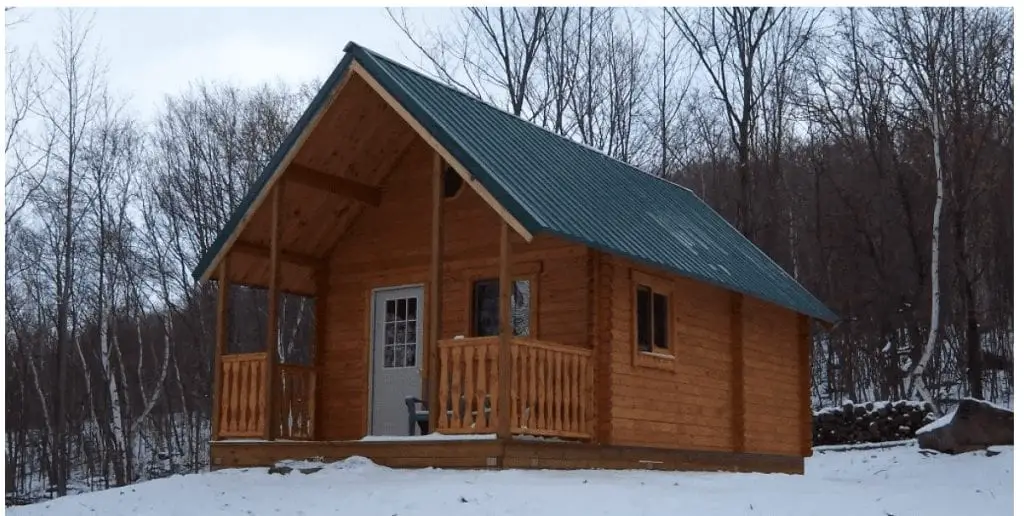 The Outdoorsman cabin is one of Contesogas's more popular cabin kits. It's a total of 424 liveable square feet and packs everything you need into the space.
The Outdoorsman cabin is an A-frame cabin kit. It has a private bedroom, three-piece bathroom, kitchen and living area, loft, and covered front porch.
Here's a look at the layout: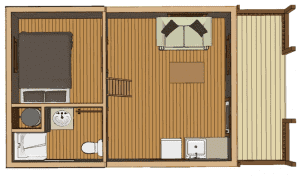 This cabin is versatile and could easily work as a tiny house, guest house, or hunting cabin.
The main features of this cabin are:
424 sq. Ft. 

A-Frame Cabin

Bedroom, Bathroom, Living room, and Kitchen Area

Features a Loft

Covered front porch
The Outdoorsman cabin kit starts at $32,900.
Southland Log Homes Kit – $14,000 – $19,000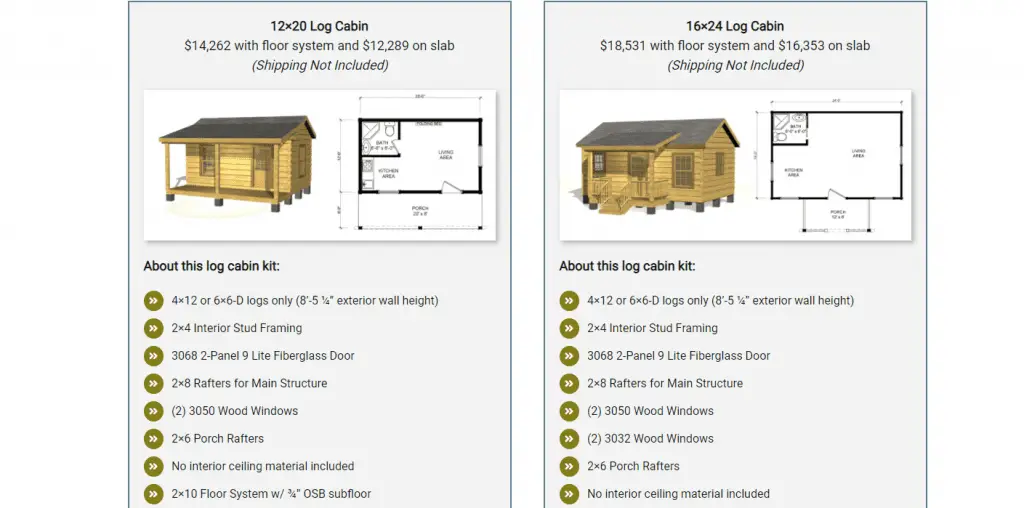 Southland Log Homes has two inexpensive small cabin kits. Both have space for a kitchen area, bathroom, living area, and front porch.
The 12×20 cabin is currently priced at a little over $14,440. The larger 16 x 24 cabin is priced at $18,500.
While both of these kits are rather basic, they are inexpensively priced, and you could customize the interiors based on what you like.
Bear View Cabin Kit – 1 Bed, 1 Bathroom, Kitchen & Living Room – $44,000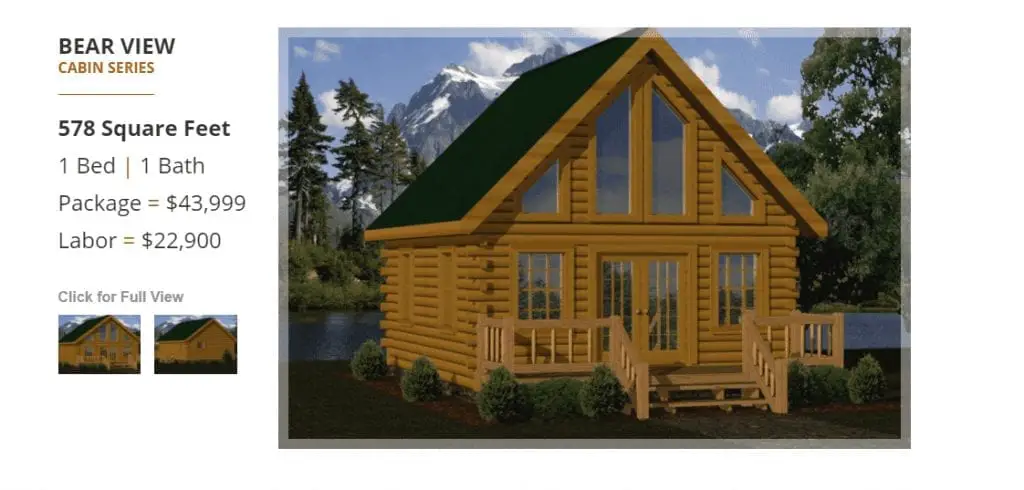 The Bear View cabin from Battle Creek Log Homes is more expensive than the previous cabins on the list but is incredibly beautiful.
This cabin is 578 square feet and two stories.
The first floor hosts the bathroom, kitchen, and living room. The second floor has a sleeping loft and storage area.
The price of the Bear View cabin kit is currently around $44,000. If you want the kit professionally assembled, it will run you another $22,000.
Cuddly Cub Log Cabin Kit – 1 Bed, 1 Bath – $18,995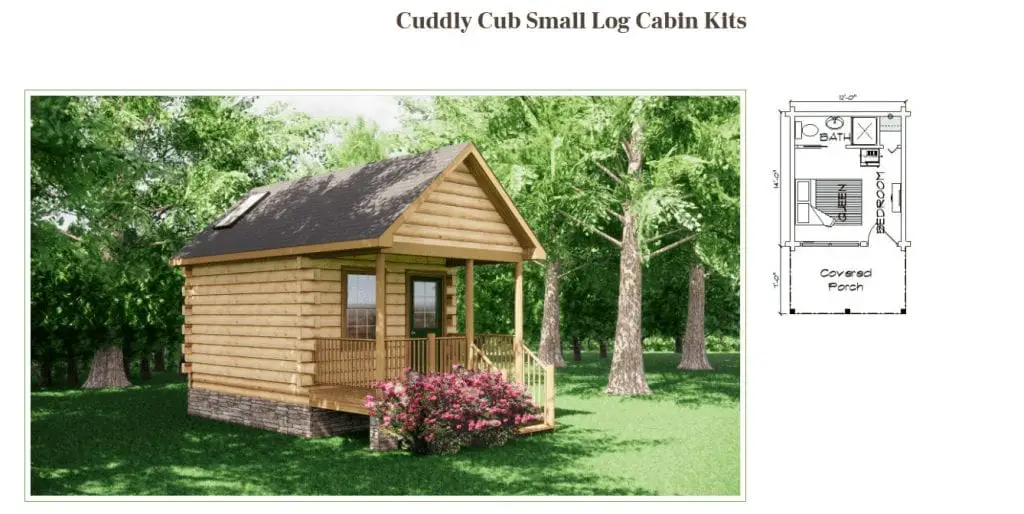 The Cuddly Cub log cabin kits from Tar River homes are 168 sq. ft. with one bedroom and one bathroom.
There's no space for a kitchen or living room in this tiny cabin. It does, however, have a covered porch.
Paddington Cabin – 1 Bed, 1 Bath, Kitchen & Living Room- $24,995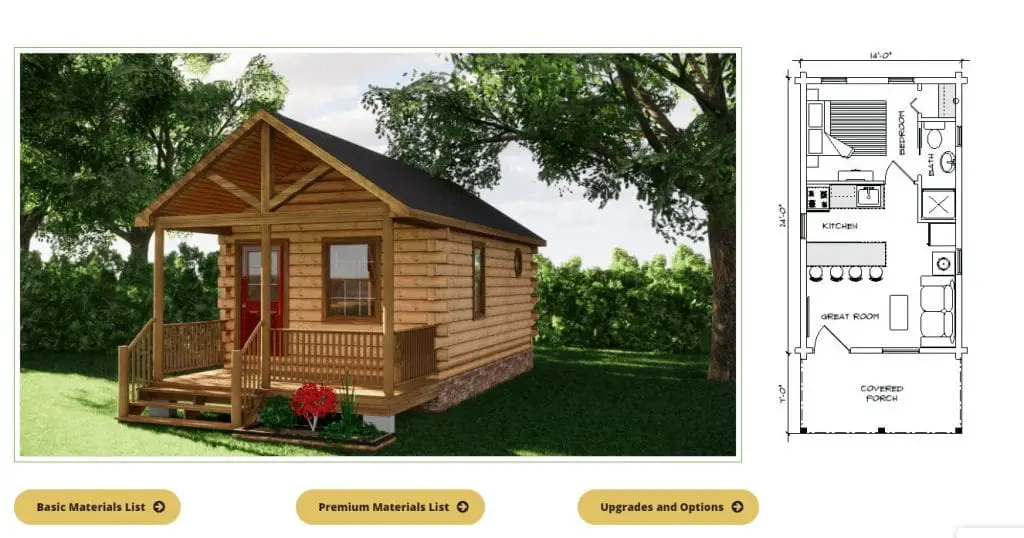 The Paddington Cabin is another model from Tar Rivers. (Tar Rivers has some of the cutest cabins I've found, I recommend checking them out.)
This cabin comes in at 336 sq ft, and its floor plan makes excellent use of the space. It has a spot for one bedroom, a bathroom, a great room, and a kitchen area.
It also has a covered front porch.
Teddy Cabin – 1 Bed, 1 Bath, Living Room & Kitchen – $33,995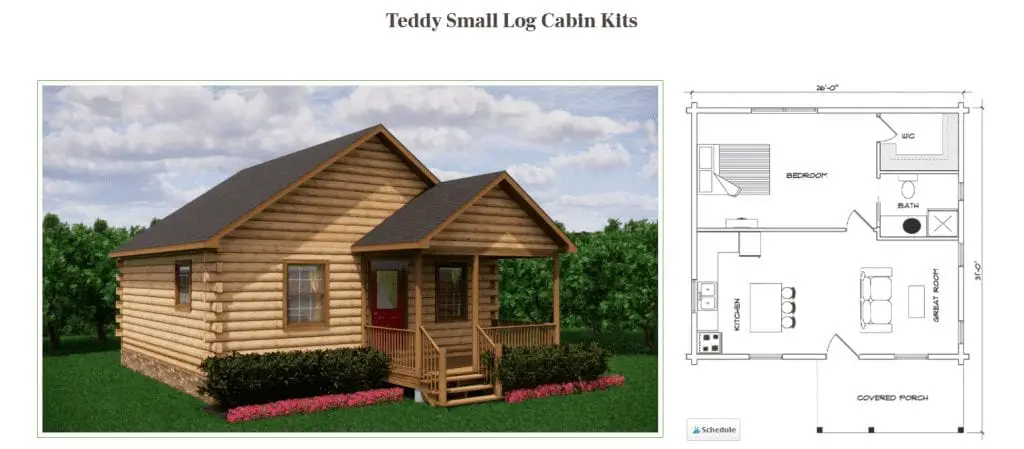 The Teddy Cabin from Tar River Homes is 624 sq. ft. 
Its floor plan boasts a bedroom with a walk-in closet, one bathroom, a kitchen area, and a living room. It also has a covered front porch.
Somebody could turn this cabin into a beautiful tiny home.
Hideaway 2 – Hunting Cabin Kit – $5,400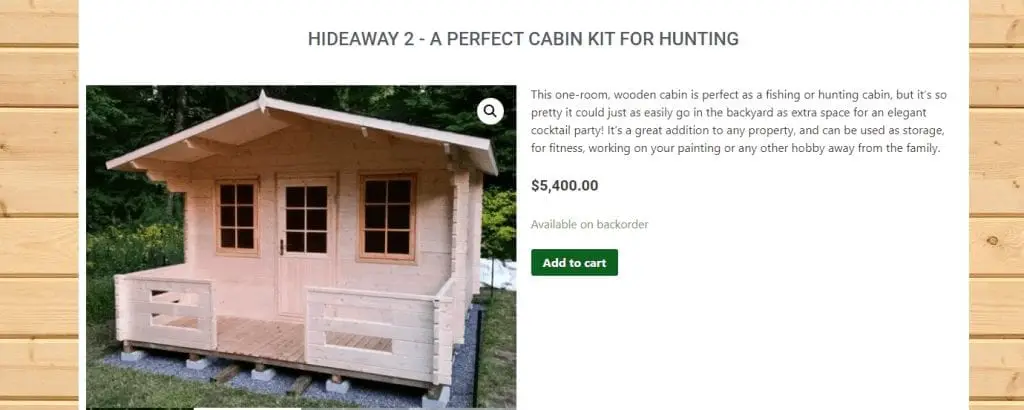 If you're looking for a cabin priced around $5,000, you might like this one.
The Hideaway 2 is a hunting cabin kit from BZB cabins. It's one room and 136 sq. ft. This cabin could work great as a hunting or fishing cabin, an office, a painting studio, and so much more.
Fozzy Cabin – 2 Bed, 2 Bath, Kitchen & Living Room – $50,995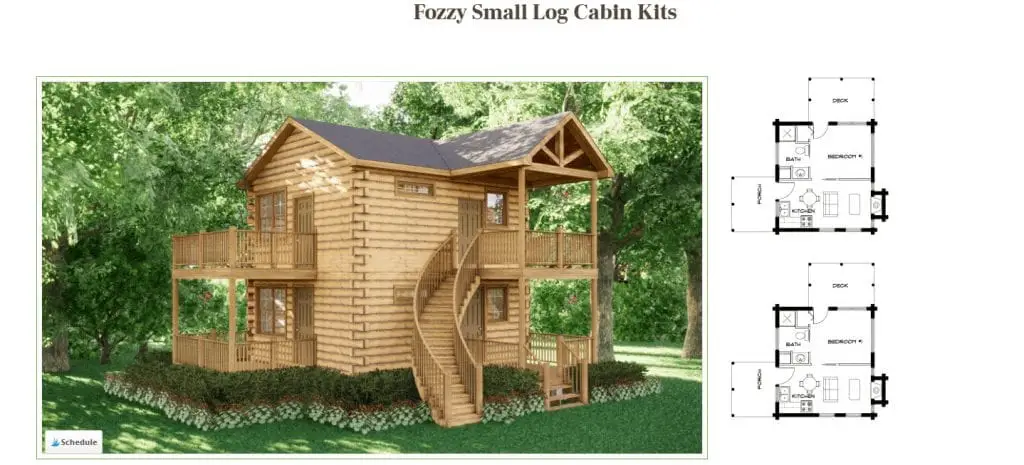 The last cabin on the list is more expensive than the rest, but I love it SO much that I had to include it.
This is the Fozzy model by Tar River Homes.
This cabin is 720 sq. ft. with two bedrooms and two bathrooms. It is essentially a duplex. Each level has its own bedroom, kitchen, and living area, and bathroom. Each level also has its own covered porch and deck.
What to Consider Before Purchasing Inexpensive Log Cabin Kits
As appealing as it is to buy a log cabin kit, build it, and move in, there are a few considerations you need to make before doing so.
Aside from the cabin kit and  assembly, you should consider the following costs and labor needs:
Foundation

Electrical

Plumbing (And the need for a possible septic tank)

Shipping costs of the log cabin kit
Make sure to budget for everything you'll need, plus a little extra to be on the safe side. 
Which is your favorite inexpensive log cabin kit on this list?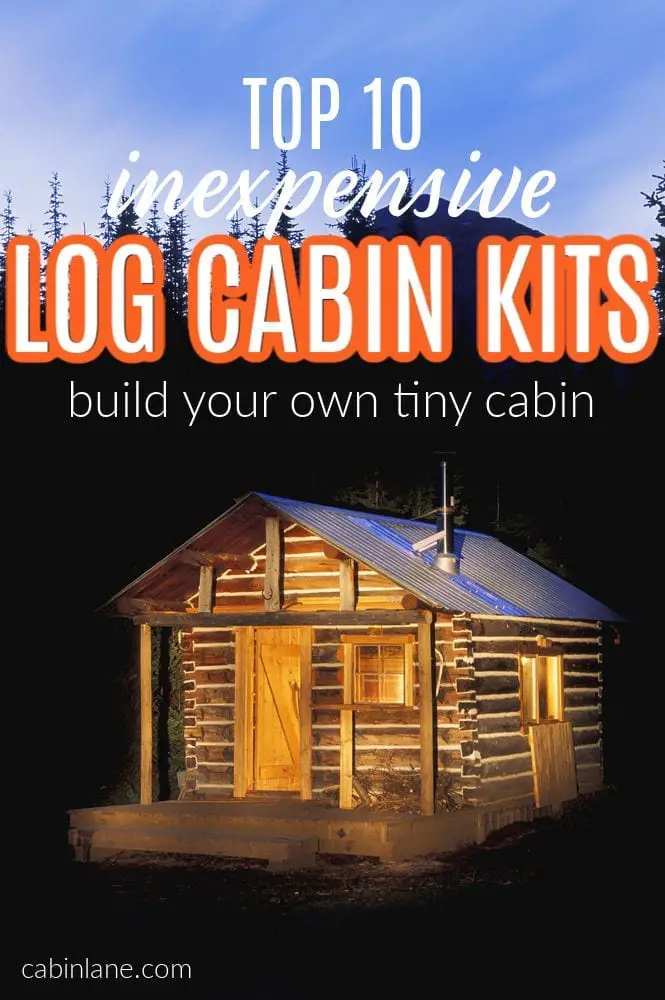 Katie Barton is the owner of Cabin Lane. She's also a home improvement writer for Bob Vila and Homedit. Her cleaning and organizing advice has been featured on Realtor.com, Yahoo News, GoBankingRates, and more. In her spare time, you can find her with a paintbrush in hand, searching for her next project.