There's nothing more annoying than grabbing a banana and ending up with a swarm of fruit flies in your face.
But unfortunately, as annoying as fruit flies are, they're a common occurrence. Especially in late spring through fall.
There's some good news, though – it's not hard to trap these little pests, and you probably already have the stuff to do it.
 Here are six homemade fruit fly traps that work fast.
Top 6 Homemade Fruit Fly Traps that Really Work
Put Apple Cider Vinegar + Dish Soap in Jar
Fruit flies are attracted to the smell of vinegar. So, as long as you don't have any overripe or rotten fruit lying on the counter, you can use it as bait for a trap.
Here's what to do:
Add 1 cup of apple cider vinegar to a jar 
Squirt dish soap into the jar (DO NOT MIX)
Set the trap by your fruit
Now when a fruit fly comes to get a whiff of your apple cider vinegar, it'll land on the dish soap and get stuck in the jar. 
Trap them in a (Mostly) Empty Wine Bottle
If you've been working on a bottle of wine, you can use it to trap fruit flies. 
There needs to be some wine left at the bottom of the bottle for this to work. The smell will attract the flies. The fruit flies will then fly into the neck of the bottle to check out the scent and get stuck or drowned.
Try the Plastic Bottle Trick
If you have a plastic water bottle lying around, you can use it to make a pretty effective fruit fly trap. Here's how:
Remove the lid from the water bottle
Using a knife or scissors, carefully cut the top ¼ portion of the water bottle off (keep it)
Put a little bit of apple juice, vinegar, or wine in the bottom part of the bottle
Now, take the top ¼ you cut off, turn it upside down, and stick it in the bottle
The result will look like a cone going into the bottle. When the flies go to check out the liquid in the bottom, they won't be able to get back out of the bottle.
Attract and Trap with Beer
Beer isn't just for the boys. It turns out fruit flies love it too.
If you have a can of beer laying around and a jar with a metal lid, here's what to do:
Poke a few holes in the top of the metal lid
Pour beer in the jar (about a ¼ full is plenty)
Put the lid on the jar and place the jar near your fruit
Beer will attract the fruit flies. They'll fly into the trap and won't be able to escape.
Kill Them with a Rubbing Alcohol Spray
When you see fruit flies gathered, sometimes it's nice to be able to spray them. The problem, though, is that many store-bought bug sprays are toxic…which isn't ideal if you're spraying around food.
Fortunately, you can make your own DIY fruit fly spray. 
Mix equal parts rubbing alcohol and water in a spray bottle
When you see a bunch of fruit flies congregating, spray them on contact
If you get this spray on your food, you need to wash it off before eating it.
Jar + Plastic Wrap
If you're like me, you may have plenty of jars and absolutely no lids for them. In this case, you can use plastic wrap.
Simply decide what kind of bait you want to use (juice, wine, vinegar, beer.) Then, put plastic wrap over the top of the jar, secure it with a rubber band, and poke some holes in it.
What Attracts Fruit Flies?
As the name suggests, fruit flies are attracted to fruit – mainly if it's overly ripe or rotting. So, if you have bananas starting to brown or apples that have softened, they're likely attracting these pests.
Another attractant for fruit flies is trash. Fruit flies will swarm your trash if you have produce or other decomposing organic matter in the garbage. 
How to Prevent Fruit Flies in the Future
The best way to prevent fruit flies is not to leave any overripe fruit on the counters. If you can't consume your produce before it gets overly ripe or rots, throw it away or into your compost bin. Also, take out the trash before it has time to attract insects.
Doing these two things can substantially cut down on the number of fruit flies in your home.
Tip: Here's how to deep clean your kitchen.
Where Can I Buy Fruit Fly Traps?
If you don't want to make your own fruit fly traps, you're in luck. There are some super effective ones on the market.
Fruit Fly Trap + Sticky Pads – This is one of the best fruit fly traps available. It comes with a reusable pineapple-shaped trap that has holes in the top. You simply fill the trap with the bait, put the lid on, and place it beside your fruit.
This kit also comes with sticky traps you can set out anytime you're dealing with a significant infestation.
Aunt Fannie's Fly Punch – This trap looks like a pretty spice bottle. Simply open up the lid, sit by your fruit, and catch the flies. One bottle can last up to 30 days.
Frequently Asked Questions
How do you get rid of fruit flies overnight?
The best way to get rid of fruit flies overnight is to start by throwing out any overripe or rotting fruit. Then, take out your trash. Now, grab a jar or small bowl and fill it with a little bit of apple cider vinegar (approximately 1 cup.) Add dish soap to the top of the vinegar (about 2 tsp) and do not mix. Place this jar beside your fruit fly problem.
In the morning, a lot of your flies will be dead.
How can I kill fruit flies in my drain?
If you have flies in your drain, they're probably drain flies – not fruit flies. (Although the two are similar.) The quickest way to kill drain flies is to pour boiling water down the drain.
Can you make a fruit fly trap with regular vinegar?
If you don't have apple cider vinegar, you can use regular vinegar in your fruit fly trap. However, since regular vinegar doesn't have as sweet of a smell, it might not attract flies as well. Other alternatives to attract fruit flies include red wine, apple juice, overripe fruit, and beer.
Final Thoughts
Fruit flies are a definite annoyance. Luckily, you can get rid of them with any of these homemade fruit fly traps that work fast.
All you need is a container to catch them and some bait. The best fruit fly bait includes apple cider vinegar, apple juice, beer, ripe fruit, and red wine. Before you put out your trap, get rid of any rotting fruit or smelly garbage.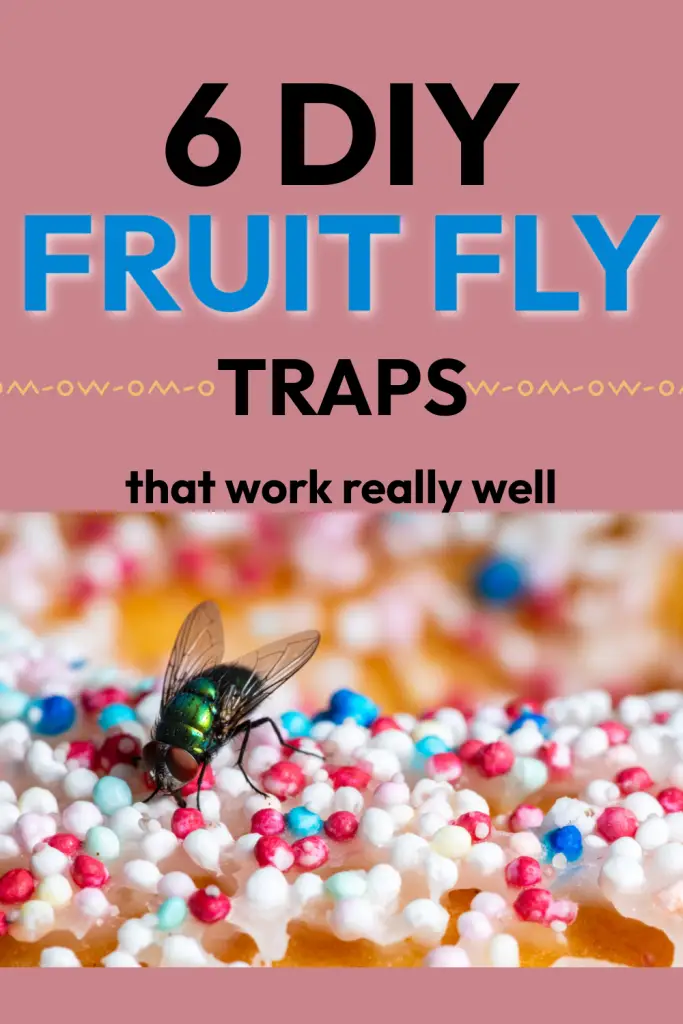 Katie Barton is the owner of Cabin Lane. She's also a home improvement writer for Bob Vila and Homedit. Her cleaning and organizing advice has been featured on Realtor.com, Yahoo News, GoBankingRates, and more. In her spare time, you can find her with a paintbrush in hand, searching for her next project.