Last Updated on October 30, 2021 by Katie Barton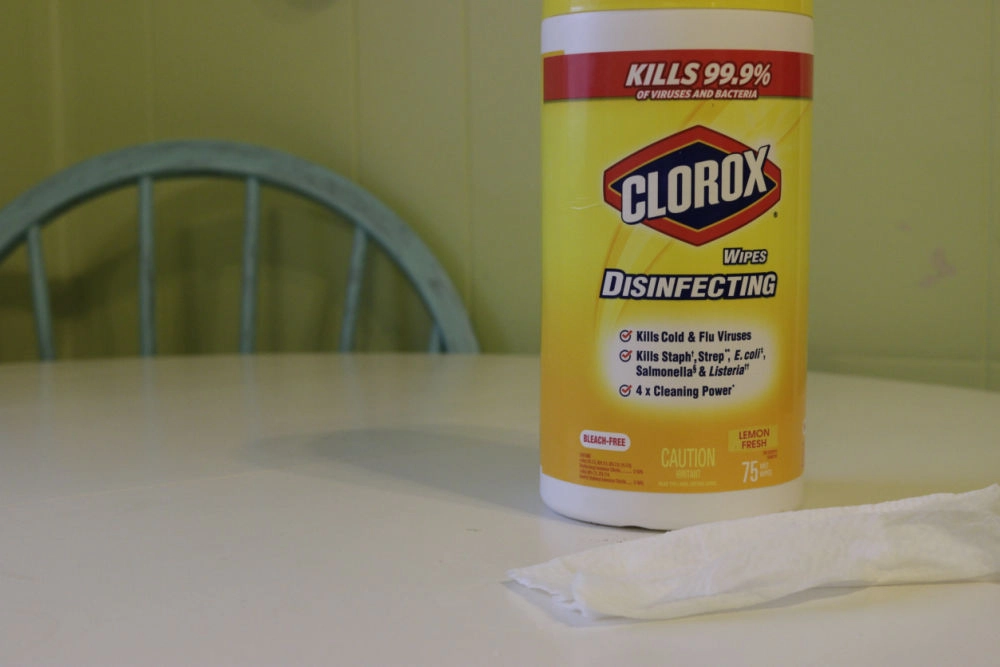 The majority of quartz countertops on the market are engineered. They're composed of quartz stone and a polymer resin.
The result is a non-porous countertop that is just as beautiful as natural stone but far more durable. Quartz countertops are less likely to stain and can better withstand heat and cleaning products than natural stone like granite or marble.
But that doesn't automatically mean it's safe to use any cleaner on them. Here's what you need to know.
Can You Use Clorox Wipes on Quartz Countertops?
Yes, you can use Clorox disinfecting wipes on Quartz countertops. The Clorox wipes are bleach-free, so they are safe for occasional use. 
However, since Clorox disinfecting wipes contain citric acid, you won't want to use them as your everyday cleaner. Instead, use the wipes when disinfecting is important (like after you've had raw chicken on the counters or someone has been sick.) For everyday cleaning, use a more gentle cleanser.
What Everyday Cleaner Should You Use on Quartz?
One of the best everyday cleaners for Quartz is a mixture of dish soap and water. This mixture is Ph neutral, which makes it safe for even the most delicate stone.
However, since quartz is so durable, there are plenty of other cleaners you can use. Some of our favorites include Mrs. Meyers Clean Day Countertop Spray and Simple Green.
What to Never Use on Quartz Countertops
Even though quartz counters are non-porous, they still need to be cared for properly. You should never use any of the following cleaners on your quartz counters:
Bleach
Vinegar
Highly Acidic Cleaners
Anything Abrasive
Steel wool/scrub pads
Never use any highly acidic cleaners (like vinegar) and only use soft cloths to clean. Highly acidic or harsh cleaners can cause discoloration of the counters, and abrasive pads will scratch them up.
Conclusion
If you need to disinfect your quartz counters, it is safe to use Clorox wipes. Clorox wipes are bleach-free, so they won't cause damage to your countertops. However, they're still not suitable for daily use.
Use a gentle cleanser for everyday cleaning and pull out the Clorox wipes when you need to disinfect.
Photo: ©mynewturtle/123RF.COM
Katie Barton is the owner of Cabin Lane. She's also a home improvement writer for Bob Vila and Homedit. Her cleaning and organizing advice has been featured on Realtor.com, Yahoo News, GoBankingRates, and more. In her spare time, you can find her with a paintbrush in hand, searching for her next project.