Last Updated on May 7, 2021 by Katie Barton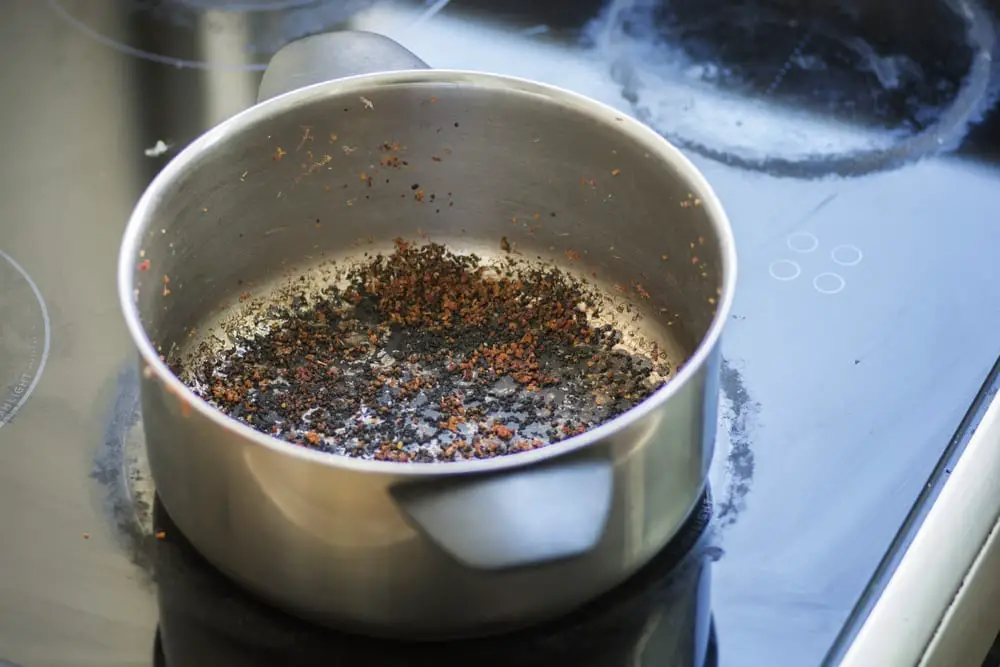 You've got pots on the stove, cooking up a delicious dinner. You get a bit distracted, and before you know it, you hear the smoke detector going off and start smelling a horrible smell.
You rush back to the kitchen to find your dinner burnt to a crisp at the bottom of your pan.
Your first thought is to toss your pan in the trash and chalk it up as a loss. I don't blame you, that's often my first thought too. 
But the good news is that you can clean most burnt pots and pans – and it's not even that hard, it just requires patience.
Here's how to clean a scorched pot or pan.
The Best Way to Clean a Scorched Pot or Pan
The best way to clean a scorched pot or pan is to coat the burnt areas with dish soap, fill the pot with hot water, and let it sit for hours. After letting it sit, scrape the pan with a wooden spoon or spatula. Repeat the process as many times as necessary to fully clean the pot.
5 Methods for Cleaning a Burnt Pot or Pan
Soak and Scrape
The best method to clean a burnt pan is using the soak and scrape method. Here's how to do it:
Coat the burnt spots of the pan in Dawn dish soap

Fill the pan with super hot water

Let sit for 2+ hours or overnight

Scrape off the burnt pieces with a wooden spoon or spatula

Repeat
Using this method, you should be able to fully clean your pot after only 2-3 soak and scrapes.
Use Vinegar and Baking Soda
The following method might have you thinking back to your fifth-grade science fair, but I promise, we're not building any volcanoes here. Instead, we're going to use the acidness of vinegar to help dissolve burnt pieces and the abrasiveness of baking to scrub off what's left.
Here's what to do:
Add equals parts water and distilled vinegar to your pan until the burnt spots are covered

Bring to a rapid boil and boil for 1-2 minutes

Drain the water and vinegar mix

Cover the bottom of the pan with baking soda and scrub until clean
Boil Lemons
Like vinegar, lemons are also acidic, which can help lift the burnt parts of the pan. Here's how to use lemons to clean a scorched pot:
Cut up three lemons into quarters

Add the lemons and plenty of water to your pan

Boil the lemons for 10-15 minutes

Discard the lemons and water and scrub your pan
This method is supposed to remove the burnt-on bits without requiring tons of scrubbing.
Scrub with Baking Soda + Aluminum Foil
If you don't have a pot scrubber, this method is for you. It can work well to remove the remaining burnt on crud after you use the soak and scrape method.
Liberally coat the bottom of your pan with baking soda

Add a tiny bit of water to create a paste

Ball up a piece of tin foil and use it to scrub the bottom of the pan
Soak a Dryer Sheet
What's kind of odd is that chemicals in a dryer sheet are pretty effective for cleaning a burnt pan. But this method works! So, if you have dryer sheets in your home and the other methods aren't working, give this one a try.
Add 1-2 dryer sheets at the bottom of your pot

Cover the dryer sheets with hot water (make sure it's fully submerged)

Allow the sheet to set for 2-3 hours

Dump the water and use the dryer sheet to scrub the pan
Frequently Asked Questions
How do I clean the outside of a burnt pan?
First, to clean the outside of a burnt pan, coat the pan with baking soda and add a touch of water to create a paste. Let that sit for 15 minutes. Next, add a few drops of white distilled vinegar and a couple of drops of Dawn dish soap.
Scrub the mixture with a non-scratch pad until your pan is clean.
How do you clean a burnt non-stick pan?
The best way to clean a burnt nonstick pan is by soaking it in dish soap and hot water for 2-3 hours and then scraping it with a wooden spoon. If that doesn't work, coat the burnt-on bits with baking soda and add a bit of water to create a paste. Let that sit overnight, and then scrub with a microfiber cloth the following morning.
Can I use salt to clean burnt food off of a pan?
Salt is abrasive, so yes, it can help remove burnt-on food from a pan, especially if you have soaked the pan in water for at least an hour. However, baking soda is a better alternative – it's abrasive yet gentle and won't scratch up your pans.
Final Tips – Make Your Burnt Pans Look Like New
Cleaning a burnt pan is entirely possible and mostly requires patience. Getting your pan to the point of cleanliness usually requires a few soakings and a little bit of elbow grease. So, the next time you scorch a pot, don't throw it out – instead, give one of these methods a go.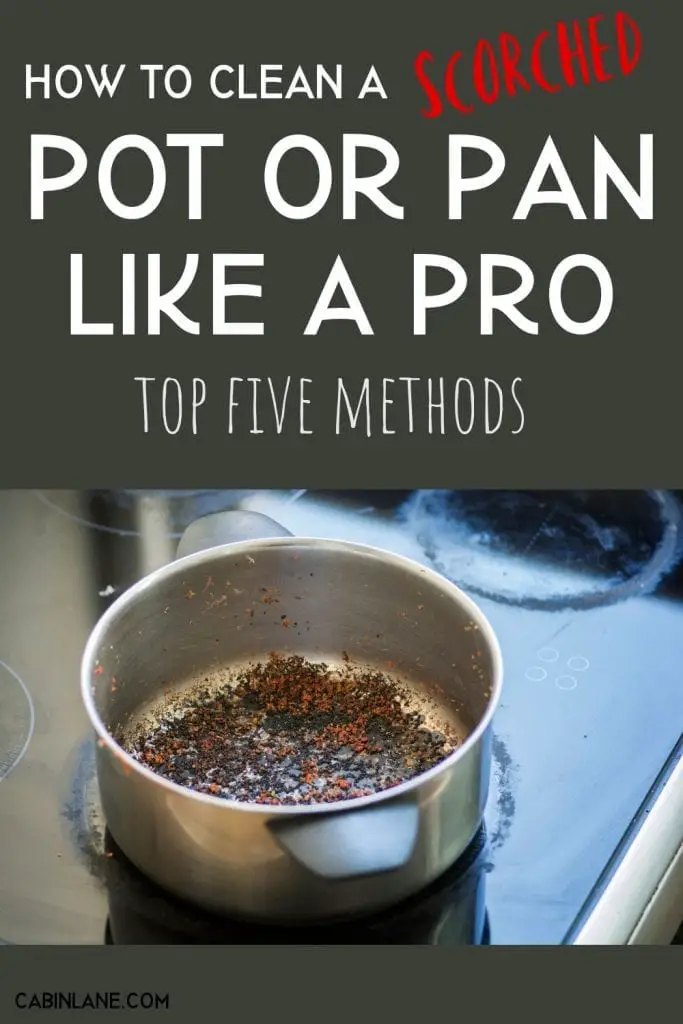 Katie Barton is the owner of Cabin Lane. She's also a home improvement writer for Bob Vila and Homedit. Her cleaning and organizing advice has been featured on Realtor.com, Yahoo News, GoBankingRates, and more. In her spare time, you can find her with a paintbrush in hand, searching for her next project.