Last Updated on November 8, 2022 by Katie Barton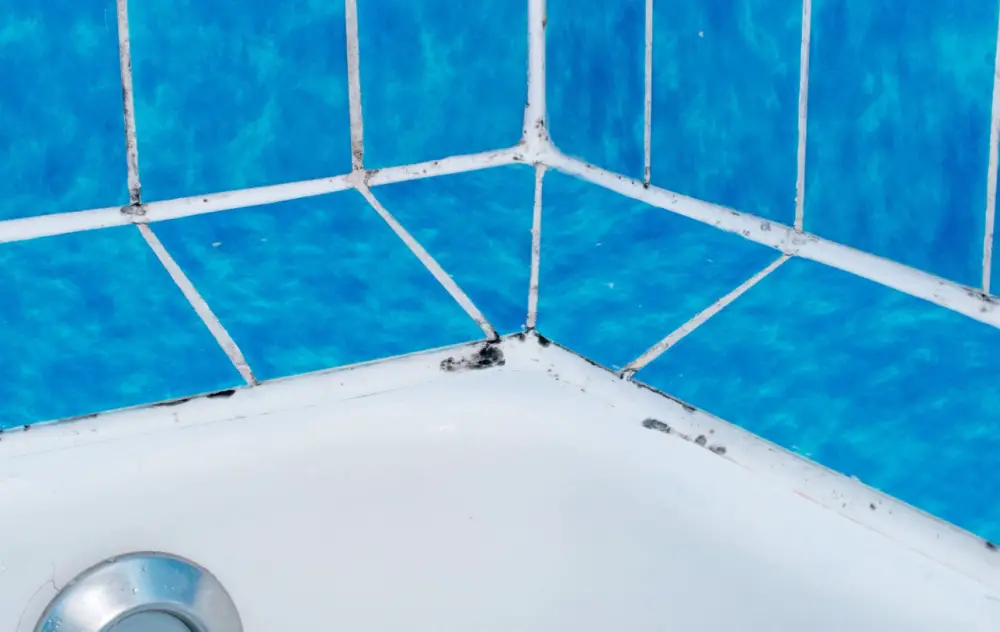 Getting black mold out of shower grout can feel like a lost cause, but I promise it's doable. You'll need the right product and a scrub brush.
When I bought my house, my kid's shower was covered in black mold. I got most of it out using a little-known technique (last on the list.) If you're dealing with the same problem, try one of these three effective ways to get black mold out of shower grout.
Precaution
Don't mix vinegar and bleach. Instead, choose one method to try and rinse well afterward. Mixing vinegar and bleach produces a toxic, sometimes fatal, chlorine gas.
Three Effective Methods for Removing Black Mold From Shower Grout
There are three effective ways to clean mold off of your grout. No matter which method you use, you'll need a scrub brush. I recommend this long-handled shower brush that makes it easy to reach awkward places. (It's the exact one I use.)
Warning: If your tile is delicate, all three of these methods can etch it. 
Kill Mold with Vinegar
Vinegar is one of the best substances for killing mold. Rather than only killing surface mold, it kills spores, preventing them from growing back.
To remove mold with vinegar, here's what to do:
Put on a respirator mask
Scrub off as much mold as possible with a dry scrub brush
Spray the grout with undiluted white distilled vinegar
Wait ten minutes, and then scrub with your shower brush
Repeat if necessary
Rinse the shower walls
Pros of using vinegar: Vinegar is a non-toxic product, capable of killing mold spores due to its high acidity. It's a top choice for anyone looking for a natural mold-killing method.
Cons of using vinegar: Because of vinegar's acidity, it can eat away at grout lines and etch unsealed stone surfaces.
Kill Mold with Bleach
Use bleach spray if you don't have white distilled vinegar. You can pick a standard premixed bathroom bleach cleaner or make your own by mixing 2 cups of water with 2 teaspoons of bleach and adding it to a glass spray bottle. (Refer to this bleach dilution chart if you need to make a larger batch.)
Before you start, put on a respirator mask and open the windows for ventilation.
Use a dry scrub brush to remove as much mold as possible
Spray your bleach solution on the grout lines
Wait ten minutes and scrub with your shower brush
Repeat if necessary
Rinse the shower walls
Pros of using bleach spray: It can brighten white grout and kill mold. 
Cons of bleach spray: It may be too harsh for natural stone tiles. Leaves behind strong fumes.
Kill Black Mold in the Shower with Cling Toilet Bowl Cleaner (Works the Best, Has Some Risks)
This last method worked best for my tile but has its risks. 
Cling gel toilet bowl cleaner with bleach effectively removes black mold from grout lines since it stays in place. The downside is if it's colored, it can stain your grout.
When I used this method, it removed all the black mold, but because I have white shower grout, some of the grout lines are stained green. But, for me, it was worth it. My shower is old, and I'd rather have stained grout than black mold.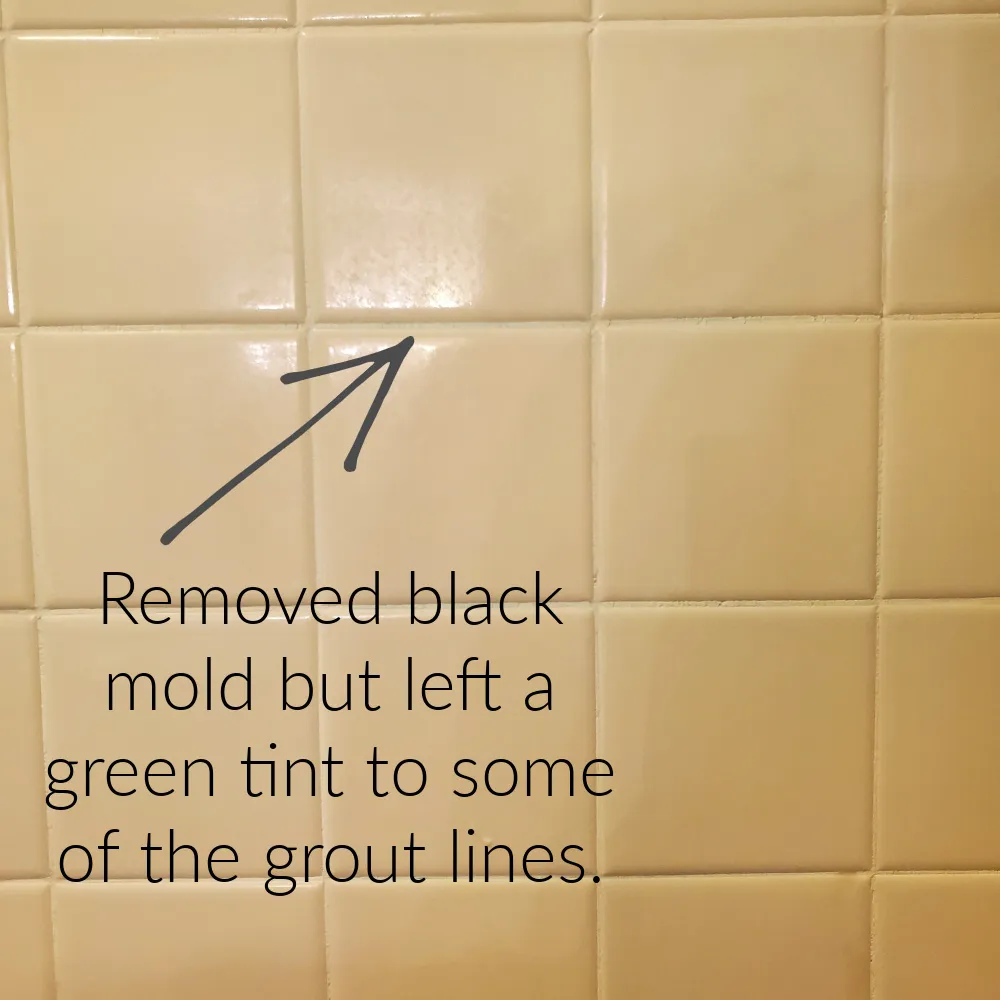 So, if you use this method, look for a clear toilet bowl cleaner with bleach.
Also, be warned that depending on the type of tile you have (especially natural stone), the gel might do some damage—spot test before trying this method and use it at your own risk. 
Put on a respirator mask and ventilate the room
Scrub mold off with a dry scrub brush
Apply clear cling toilet bowl cleaner with bleach to your grout lines
After ten minutes, scrub with your shower brush
Rinse with water
Pros: Works well at removing black mold from grout. 
Cons: It can stain your grout lines if you use a colored product. Also, it might be too harsh for certain types of tiles.
Tips for Keeping Black Mold Out of Your Grout Lines
Once you've cleared black mold out of your shower grout lines, you can take these steps to keep them mold-free.
Seal your grout. The sealant will help repel mold and dirt build-up.
Clean your shower once a week. A simple spray with your favorite tub and tile cleaner and scrub with your shower brush will keep mold and soap scum at bay. It takes less than five minutes.
Use your bathroom's exhaust fan. Mold develops due to constant moisture, and your exhaust fan will help with humidity levels.
Katie Barton is the owner of Cabin Lane. She's also a home improvement writer for Bob Vila and Homedit. Her cleaning and organizing advice has been featured on Realtor.com, Yahoo News, GoBankingRates, and more. In her spare time, you can find her with a paintbrush in hand, searching for her next project.