Last Updated on September 13, 2021 by Katie Barton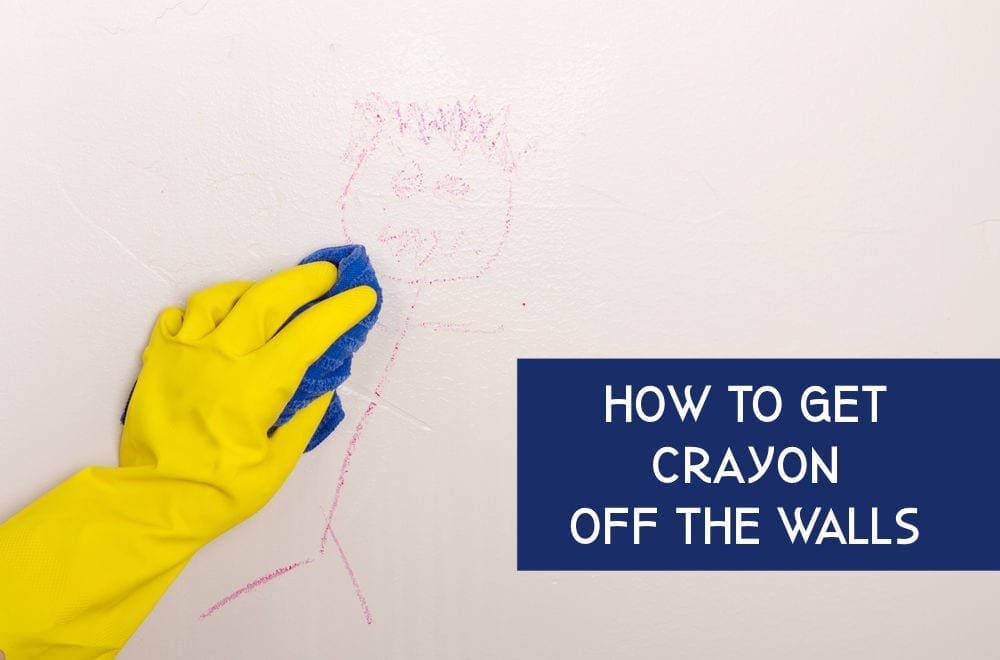 If you're a parent, you've probably dealt with this at least once, despite having the best of intentions…
You know, walking into a room and seeing a bunch of crayon marks on the wall.
I remember when it happened to me – I went into a bedroom of my new house and saw crayon stick figures that my daughter had proudly drawn.
Probably not my brightest mom moment, but it all worked out and I didn't have to repaint.
If you're in a similar situation, here's how to get crayon off the walls.
Cleaning Crayon off the Wall: Paint Sheen Matters
Before we get to crayon removal methods it's important to note that your paint sheen matters.
For instance, rooms with semi gloss or satin painted walls will be easier to clean up than those with eggshell or flat finishes. For semi-gloss and satin finishes, vinegar, mayo, dish soap, and WD-40 will quickly do the trick.
Walls with flat or matte finishes are a bit tricker. For these, we recommend trying the magic eraser, baking soda, or a pencil eraser.
However, no matter your sheen or the method you pick, spot test to make sure there's no bad reaction with your wall.
7 Methods for Getting Crayon off the Walls
Use a Magic Eraser
Magic Erasers can do some amazing things, including removing crayon.
Here's how:
Wet your magic eraser
Lightly scrub the wall to remove the crayon marks
While magic erasers are great at removing crayon sometimes they also remove paint. You may want to do a small spot test to make sure the magic eraser won't have a negative effect on your walls.
Try Vinegar and Water
The acidity in vinegar can help remove the wax crayon from your wall. In fact, this is one of the best methods to use since acetic acid (that acid in vinegar) can easily break down wax.
To try this method, mix half water and half white distilled vinegar in a small bowl or spray bottle.
Now, using a microfiber cloth or old toothbrush, use the vinegar mixture to scrub your wall lightly.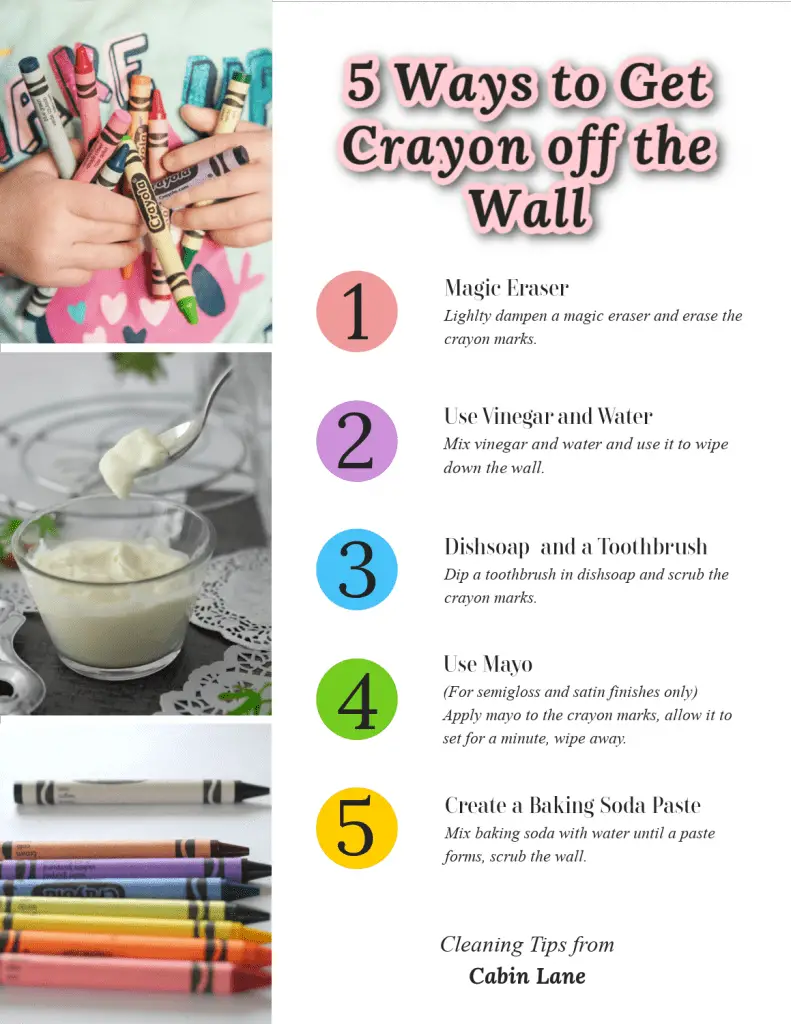 Scrub with Dishsoap + a Toothbrush
You can also try using dish soap and water, plus a toothbrush to clean the crayon off the walls. Simply mix a bit of dish soap and water and scrub the wall with a microfiber cloth.
Use Mayonnaise
It sounds gross – we know. But mayonnaise is excellent at removing all types of stains – including crayons. The oil in the mayo helps break down the wax in the crayon, making cleanup easy.
For this hack, you'll need to apply a little mayo to the crayon marks and let it sit for 1-2 minutes. After the mayo has sat for a few minutes, take a damp cloth and work in circular motions to remove the crayon.
*Important: Do NOT use mayo if your walls have a flat finish. It may cause a stain on the wall. Instead, only use this method for walls with a glossy or semi-gloss finish.
Try a Pencil Eraser
Here's an easy one that may do the trick without requiring you to put any household ingredients on your wall: a pencil eraser.
Use a gentle touch (especially if you're trying to remove crayon from wallpaper) and erase the crayon marks.
Use Baking Soda
Baking soda is slightly abrasive, making it good at removing many types of wall marks or stains. 
Here's how to use it:
Create a paste using baking soda and water
Gently rub the paste in a circular motion on the crayon marks
Use a damp cloth to wipe the baking soda paste off the wall
In the video below the Scott Brothers use a little bit of non-gel toothpaste before using the baking soda. You can try this too, but a baking soda paste by its self will probably do the trick.
Last Resort: Try WD-40
If nothing else is working, and you're feeling brave, you can use WD-40 to get crayon off the walls.
For minor crayon marks, spray a little WD-40 on a paper towel and wipe down the wall. For more stubborn spots, spray a little WD-40 on the crayon, let it sit for a minute, and then wipe off.
Frequently Asked Questions
Can you get crayon off the walls without removing paint?
Yes, you absolutely can get crayons off the wall without removing paint. It's essential, though, to take note of your paint sheen first.
For example, shinier paint sheens (gloss, semigloss, satin) do great with vinegar, mayo, baking soda, and WD-40. For flat paint sheens, try a magic eraser, pencil eraser, or baking soda before moving to a different method.
But no matter which method you use, do a spot test in an inconspicuous spot on the wall to ensure it doesn't remove the paint or leave a stain.
Can you paint over crayon marks on the wall?
No, you should not paint over crayon marks. In all likelihood, the marks will show through once the paint dries.
Instead, first, try to remove the crayon with one of the methods listed above. If there are still light marks on the wall that won't come off, use a primer before you paint.
How do I get crayon marks off of wallpaper?
You can try any of the methods listed above on your wallpaper. BUT wallpaper may react differently than paint, so spot test an area first.
It's also important to use a light hand when scrubbing and to not oversaturate your wallpaper. If you do, you take the chance your wallpaper will rip.
Conclusion
If your toddler had a drawing session on your wall, you're not doomed. You no longer have to wonder how to get crayon off the walls. You can remove your child's impromptu artwork, and many times it's relatively easy to do.
Just be sure to spot test and use the method most appropriate for your paint sheen.
Katie Barton is the owner of Cabin Lane. She's also a home improvement writer for Bob Vila and Homedit. Her cleaning and organizing advice has been featured on Realtor.com, Yahoo News, GoBankingRates, and more. In her spare time, you can find her with a paintbrush in hand, searching for her next project.