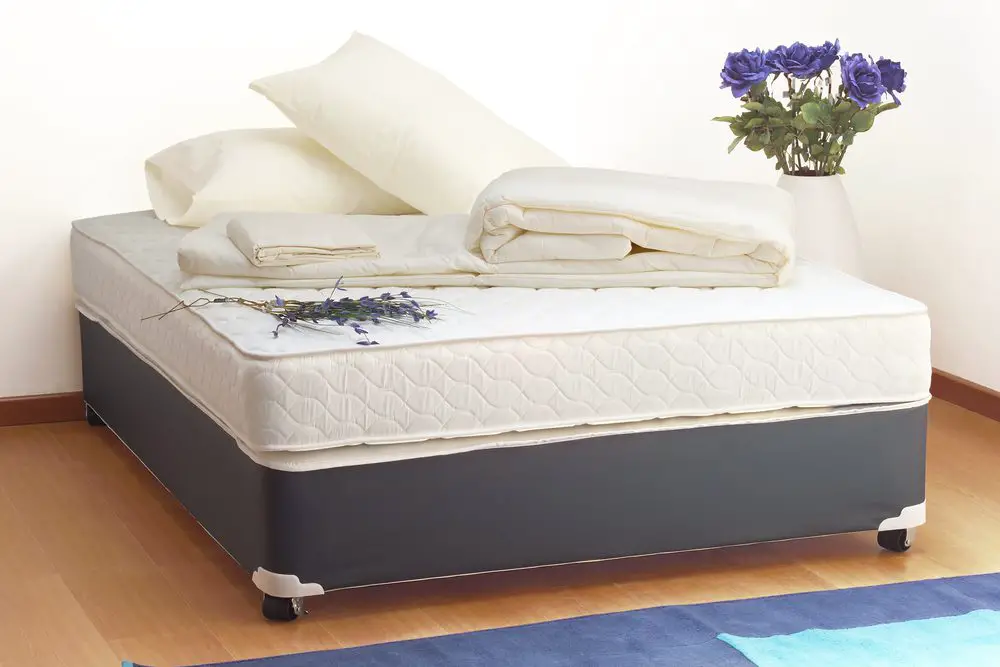 Is it just me, or is it hard to find a mattress with that perfect level of comfort?
Not only that, but mattresses are very expensive, which makes it a real bummer when you find mold spots on them. 
If you're dealing with mold on a mattress and you aren't ready to replace it, it is possible to clean it up. 
Here's how to get mold out of a mattress.
What Does Mold Look Like in a Mattress?
Mold often shows up as small black dots in a mattress. However, it can also look like a multi-colored stain.
The earliest signs of mold on a mattress are a musty smell and tiny black dots. As soon as you notice these signs, you should kill and remove the mold.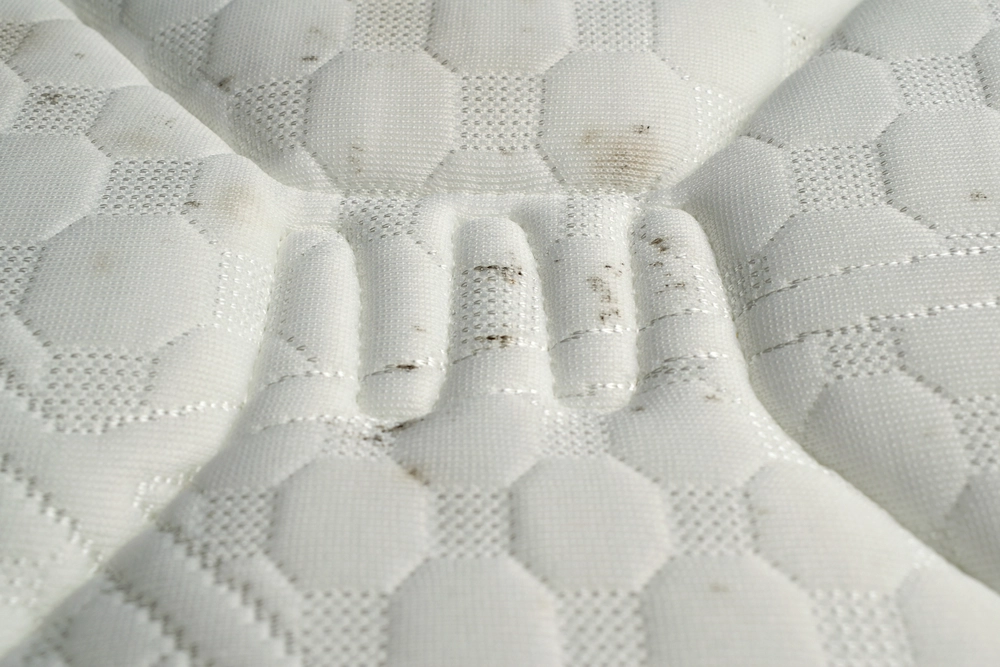 Why Mold Forms in a Mattress
Mold forms when mold spores come into contact with moisture. Mold spores are not visible to the touch and are almost always floating in the air. 
This means if you sweat a lot when you're sleeping, have spilled a liquid on your bed, have urine spots on the mattress, or simply live in a very humid environment, there's a potential for mold to grow.
Luckily, if you only have a few small mold patches on your mattress, you can get rid of them.
Here's how.
The Top 7 Ways to Get Mold Out of a Mattress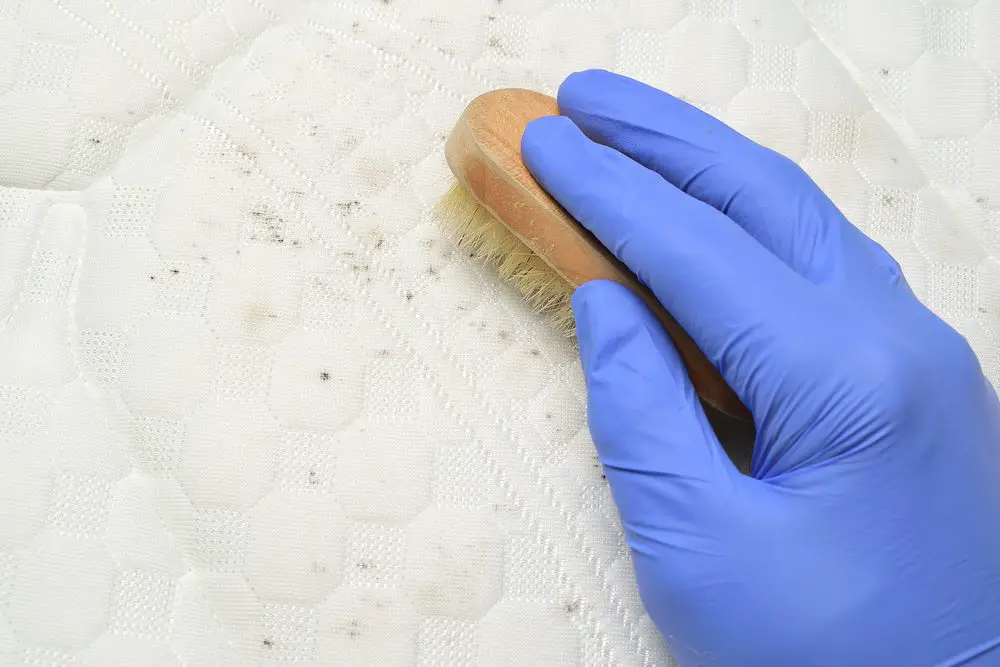 When it comes to getting mold out of a mattress, you have to kill it. Luckily, you can find a solution with any of these seven ways to get mold out of a mattress.
Before we get started, here are the warnings:
Before working in large sections, do a spot test in an inconspicuous area to ensure no adverse reactions.
Also, no matter the cleaner you use, DO NOT oversaturate your mattress. This will prevent the mattress from drying properly and may cause even more problems.
Ready to get the mold off of your bed? Try any of these cleaners.
Fabric Mold Remover
While there are many helpful home remedies for how to get mold out of a mattress, one of the best products to try is one that is specifically formulated to remove mold from fabric.
These cleaners are less likely to cause a bad reaction and won't damage your fabric.
Here are a couple of highly-rated fabric-safe mold removers for you to consider:
Lysol
Lysol is a powerful disinfectant that kills not only germs and viruses but also mold and mildew. Spraying your mattress with Lysol can even prevent future mold and mildew from forming.
To treat your mattress with Lysol, spray the entire mattress and then allow it to dry thoroughly. After the mattress is dry, vacuum it to remove remaining mold spores.
Hydrogen Peroxide
If you don't have Lysol but have hydrogen peroxide, you can use it to kill the mold on your mattress.
(Caveat** Hydrogen peroxide may bleach your mattress, so if it's not white, you may want to try something else.)
Start by spraying hydrogen peroxide all over the moldy parts of your bed. Allow the mattress to fully dry and then vacuum.
Bleach
Bleach is fantastic at killing mold, but it's not the top pick for mattresses. 
Since bleach is corrosive, it can damage the fibers in your mattress. Plus, since you can't rinse your bed, you'll be stuck with a bleach smell.
Bleach is a last resort for mold stains you can't seem to remove with any other method.
Here's what to do:
Open up your windows to ventilate the room. Place some diluted bleach in a spray bottle. Spray the mold area and scrub with a soft-bristled brush. Wipe with a wet washcloth to rinse. Repeat as needed.
Allow the mattress to dry and vacuum.
Vinegar
Vinegar is an excellent cleaning product since it's made of acetic acid. Acetic acid is capable of killing *some* types of mold and deodorizing your mattress.
If you want to remove mold from your mattress with vinegar, follow these steps:
Add white distilled vinegar to a spray bottle.
Spray the moldy areas of your mattress.
Work in with a soft-bristled brush.
Wipe the area with a wet washcloth and then respray the mold.
After the mattress is completely dry, vacuum it.
Rubbing Alcohol
A solution of at least 70% isopropyl rubbing alcohol works excellently when it comes to cleaning mold. 
To use this method, put a little rubbing alcohol into a spray bottle and spray the moldy area of the mattress. Scrub with a soft-bristled brush and then wipe with a clean, damp cloth.
Respray the mold, allow it to dry completely, and then vacuum.
Vodka
Vodka works similarly to rubbing alcohol, is an excellent disinfectant and household cleaner. 
If you'd like to use vodka to clean your moldy mattress, here's what to do:
First, add vodka to a spray bottle and spray the moldy parts of your mattress.
Scrub with a soft-bristled brush.
Wipe with a clean cloth.
Repeat steps one through three.
After your mattress has dried thoroughly, you need to vacuum it.
Frequently Asked Questions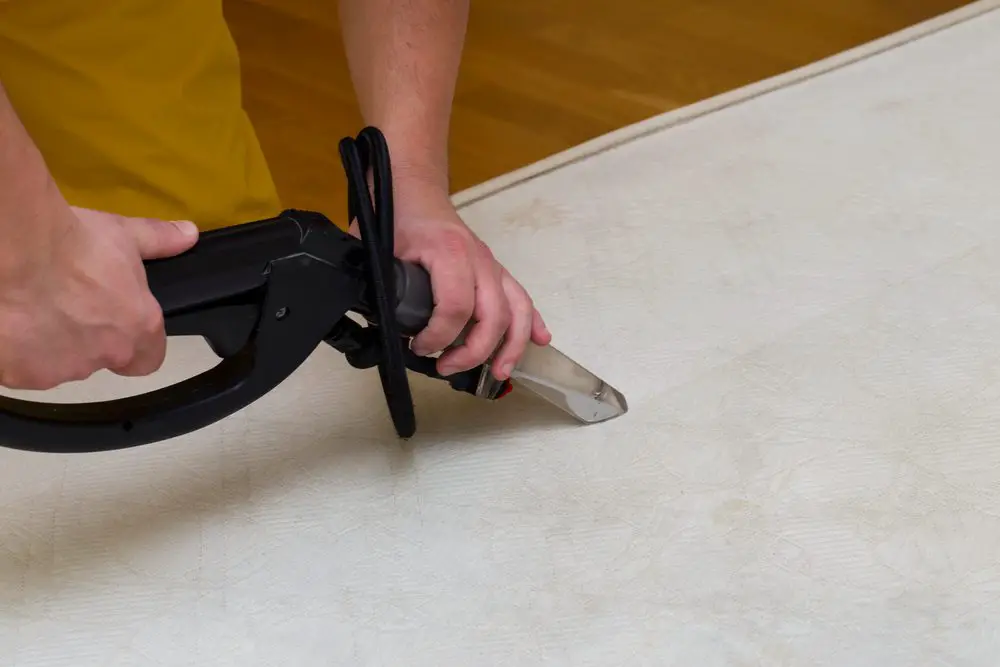 Can I get mold out of my bedsheets?
If you have mold on your bedsheets, try cleaning them with all-fabric bleach. If there are still mold or mildew stains on them afterward, consider replacing them.
Is mold on a mattress dangerous?
Yes, mold growth on your mattress is dangerous. In addition, mold can lead to respiratory problems such as asthma and allergies. Luckily, you can clean mold off of your mattress with many different household items.
Can memory foam mattresses grow mold?
Yes, all mattresses can grow mold. Since mattresses are likely to have moisture in them caused by sweat or humidity, they are susceptible to mold growth.
Conclusion
If you need to get mold out of a mattress, you have plenty of options. If you're worried about damaging your mattress, your best options are Lysol or a fabric cleaner.
If you're okay experimenting with other types of cleaners, give another one of these methods a try. And remember, after cleaning, always allow your mattress to fully dry and then vacuum it.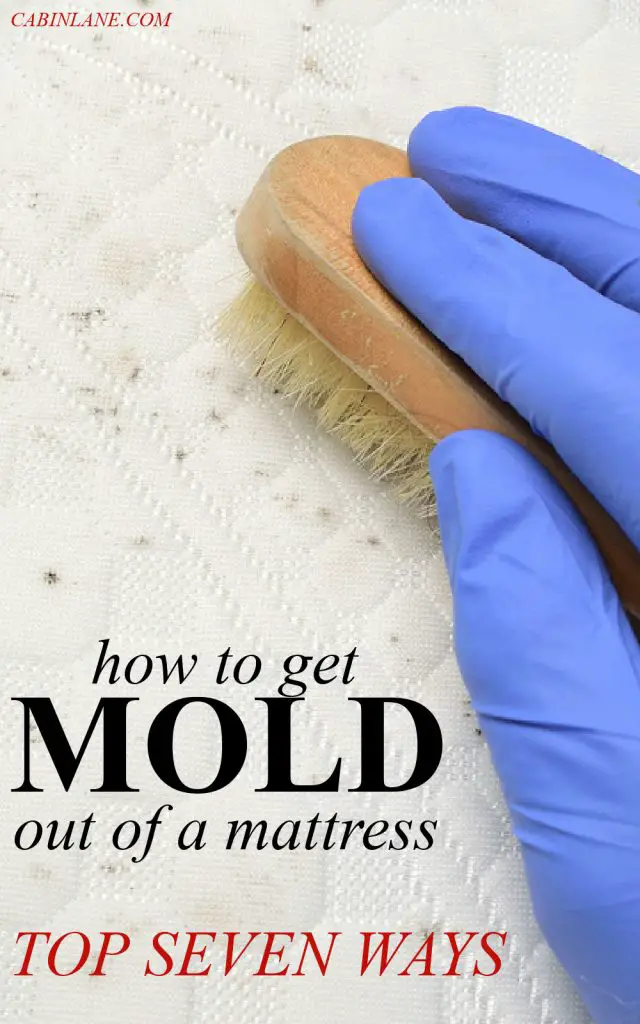 Katie Barton is the owner of Cabin Lane. She's also a home improvement writer for Bob Vila and Homedit. Her cleaning and organizing advice has been featured on Realtor.com, Yahoo News, GoBankingRates, and more. In her spare time, you can find her with a paintbrush in hand, searching for her next project.