Last Updated on September 30, 2023 by Katie Barton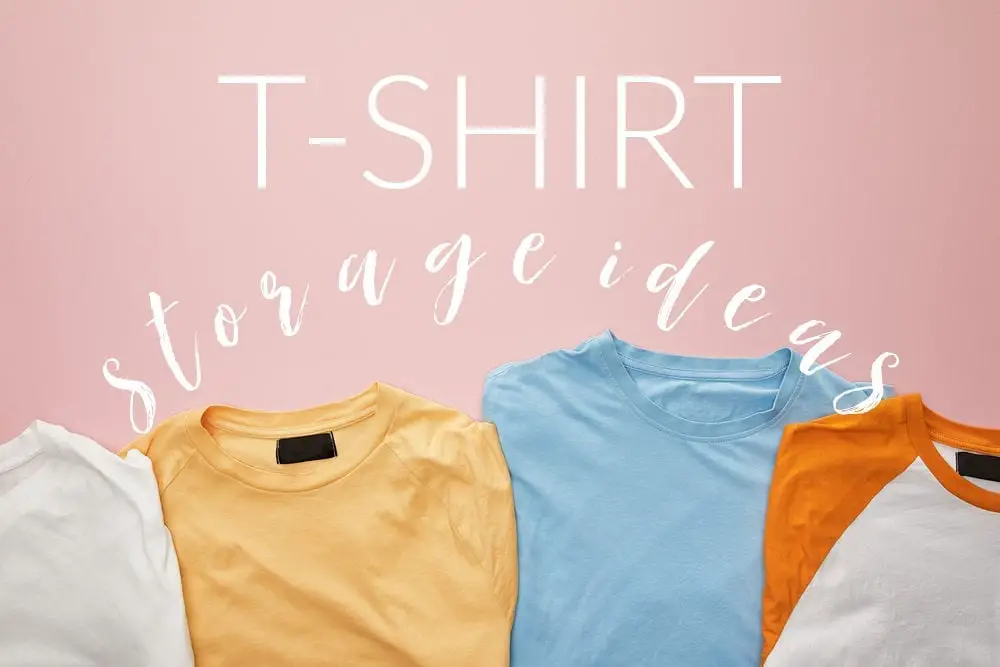 If you have a large t-shirt collection, keeping it organized can be a struggle.
Should you fold your t-shirts and put them in a drawer? Would they be better hung? Is there a "best" way to fold them?
Today we're going to cover all of these questions and look at a few t-shirt storage ideas.
What Is The Best Way to Store T-Shirts?
If you want to save space, the best way to store t-shirts is to fold them and place them in a drawer. If you use the "file folding" method or roll your shirts, you'll be able to maximize your space.
No dresser or drawer to put your t-shirts in? No problem, they can easily sit on a shelf or be placed in a storage bin.
What is the Best Way to Fold T-Shirts?
There is no "best way" to fold t-shirts. There are many ways to fold t-shirts, and the best one depends on the space you have and what YOU feel is aesthetically pleasing.
The most popular way to fold t-shirts is using the Marie Kondo file-folding method. This method involves folding shirts so that they stand upright in a drawer, allowing you to easily see everything you have.
Other methods include rolling or folding and stacking.
Rolling your t-shirts is just as effective as file folding – you can still see everything you own, and you save space.
Folding and stacking shirts in a drawer is the most traditional method. While it does save a lot of space, it has one major con: you can only see the shirts on top of the stack.
T-Shirt Storage Idea Examples
File Fold Your T-Shirts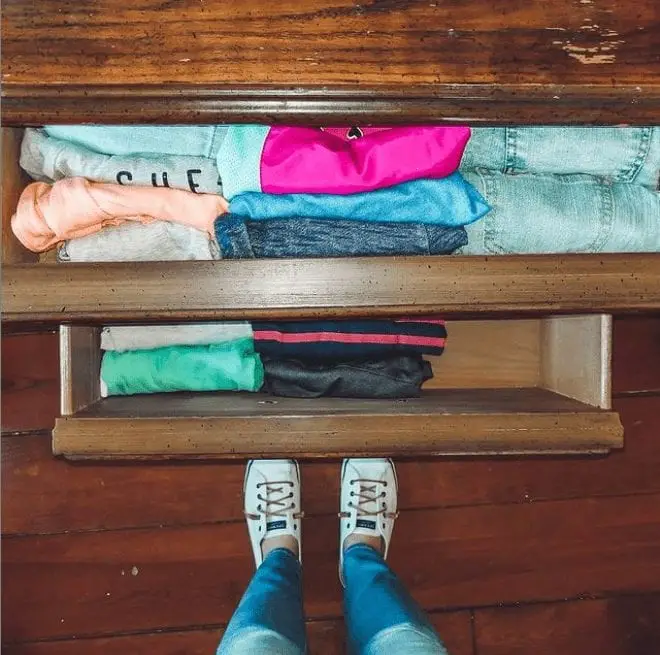 I use the file-fold method for my t-shirts. I started doing this even before KonMari became a trend. 
One of my first jobs was at a department store, so I got into the habit of neatly folding clothes from a very early age. I used the t-shirt folding method I learned at my job and added one extra fold to get the shirts neatly into my drawers. If you want to store your t-shirts in a drawer, this is the best organizational strategy.
Use Decorative Storage Boxes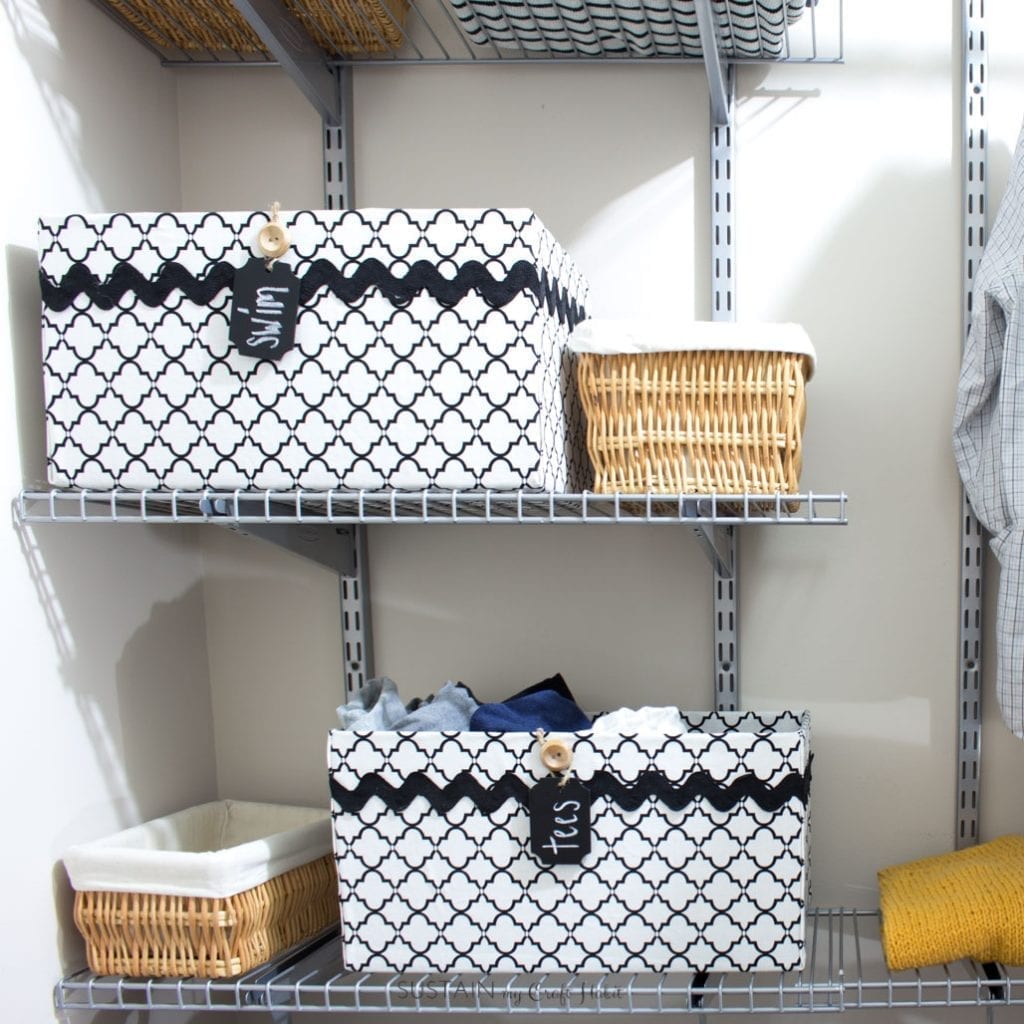 If you don't have a ton of t-shirts, you can purchase decorative storage boxes and put your t-shirts in a storage box on the shelf in your closet.
Make Your Own T-Shirt Storage Boxes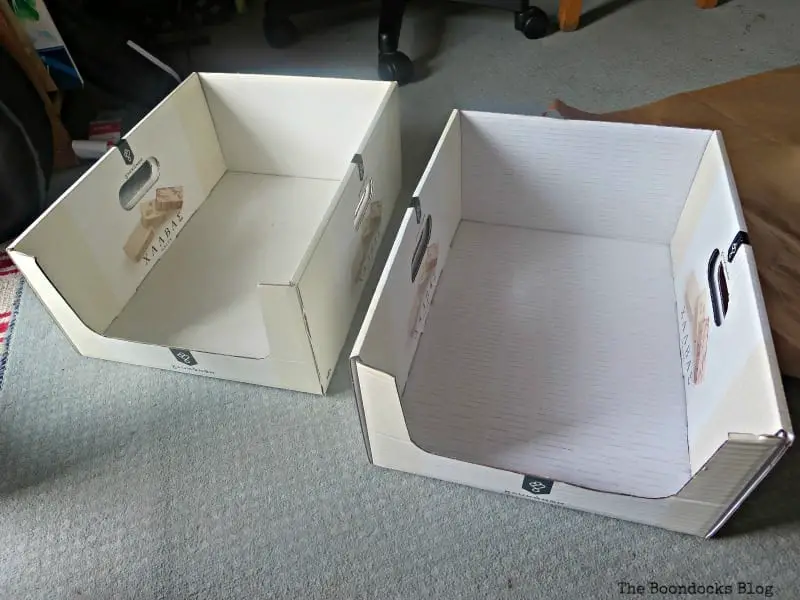 Along those same lines, you can use old boxes to create your own t-shirt storage solutions. This will put great use to any large Amazon or filing boxes you have lying around. You can even use wrapping paper and labels on them for a decorative touch.
Use Drawer Organizers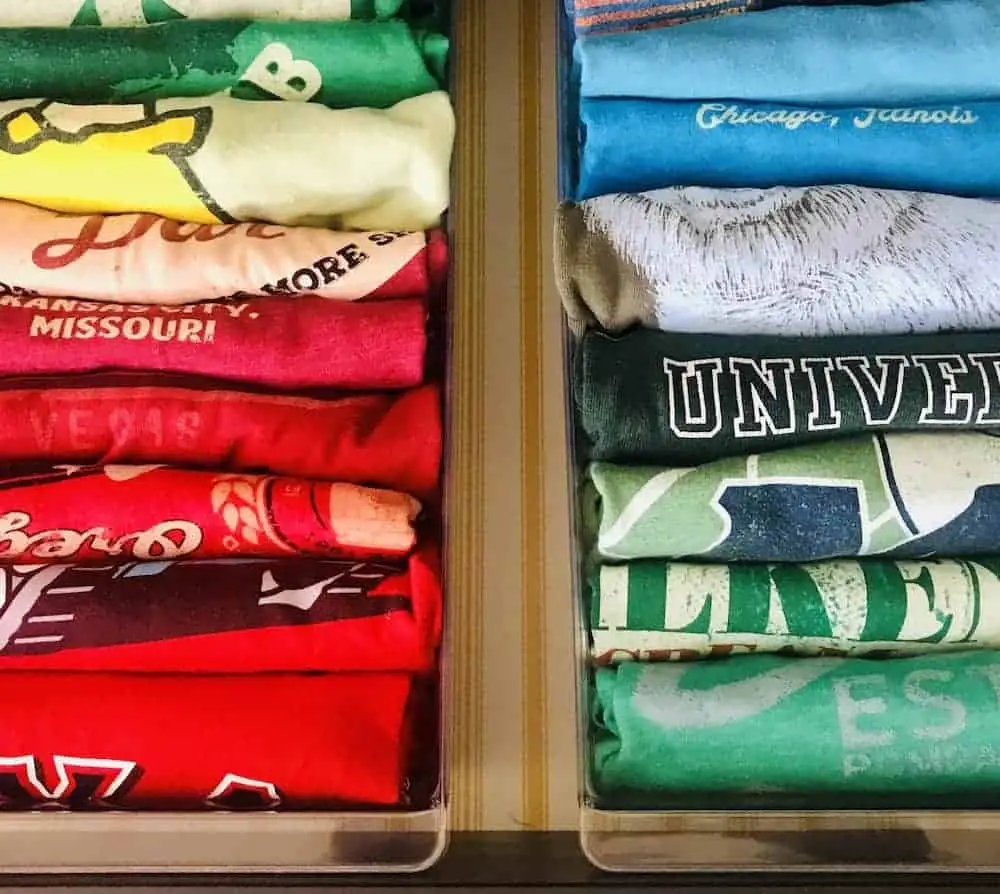 If you want an added touch of organizing, consider using bins or drawer organizers for your t-shirts. You can then file fold your t-shirts and place them in the dividers.
The results look fantastic.
How to Store T-Shirts on a Shelf
To store t-shirts on a shelf, neatly fold them and stack them in a pile. You can also place bins or storage boxes on your closet shelving and use them to keep your t-shirt collection organized.
Which shirts should you hang, and which should you fold?
Shirts prone to stretching, snagging, or losing their shape should be folded. Clothing that is prone to wrinkling should be hung.
There are no hard and fast rules, though. You can decide how you'd like to organize and store your clothing.
How to Store T-shirts Long Term
To store t-shirts long-term, place them in a plastic storage container with a lid. This will keep bugs and dust out.
If you're looking to save space, you can also store t-shirts in vacuum storage bags.
Play Around with Your Shirt Organization
There is no right or wrong way to store your t-shirts. Use these examples for inspiration and play around with the space and organizing materials you have on hand. 
And remember, organizing can take some experimenting. If you don't like how your t-shirt storage ideas are functioning, change it until you do.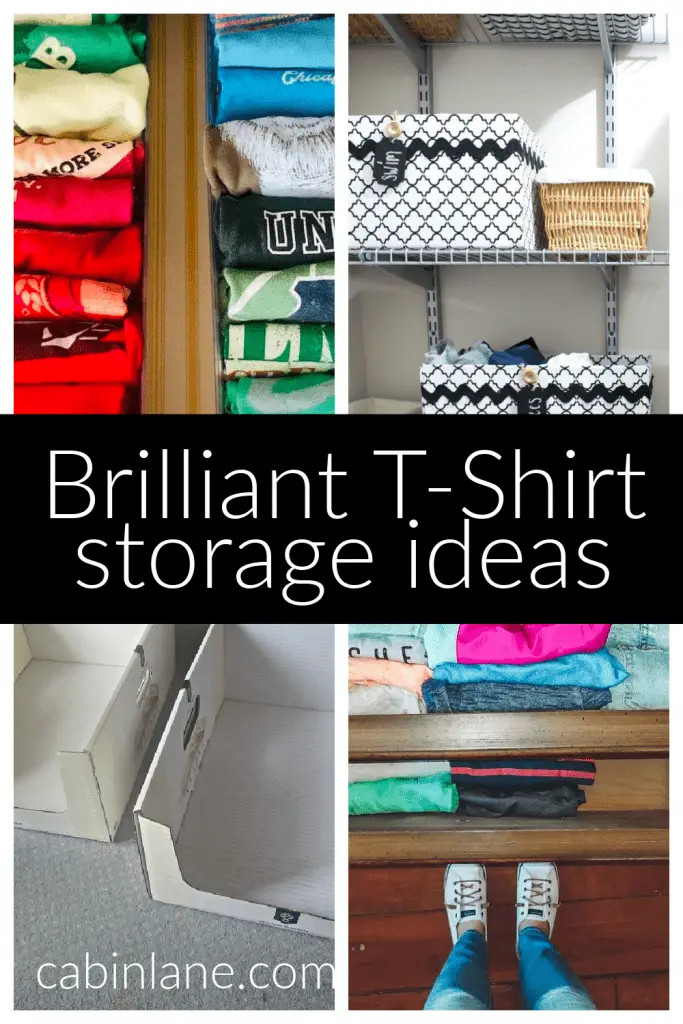 Katie Barton is the owner of Cabin Lane. She's also a home improvement writer for Bob Vila and Homedit. Her cleaning and organizing advice has been featured on Realtor.com, Yahoo News, GoBankingRates, and more. In her spare time, you can find her with a paintbrush in hand, searching for her next project.