Last Updated on October 12, 2022 by Katie Barton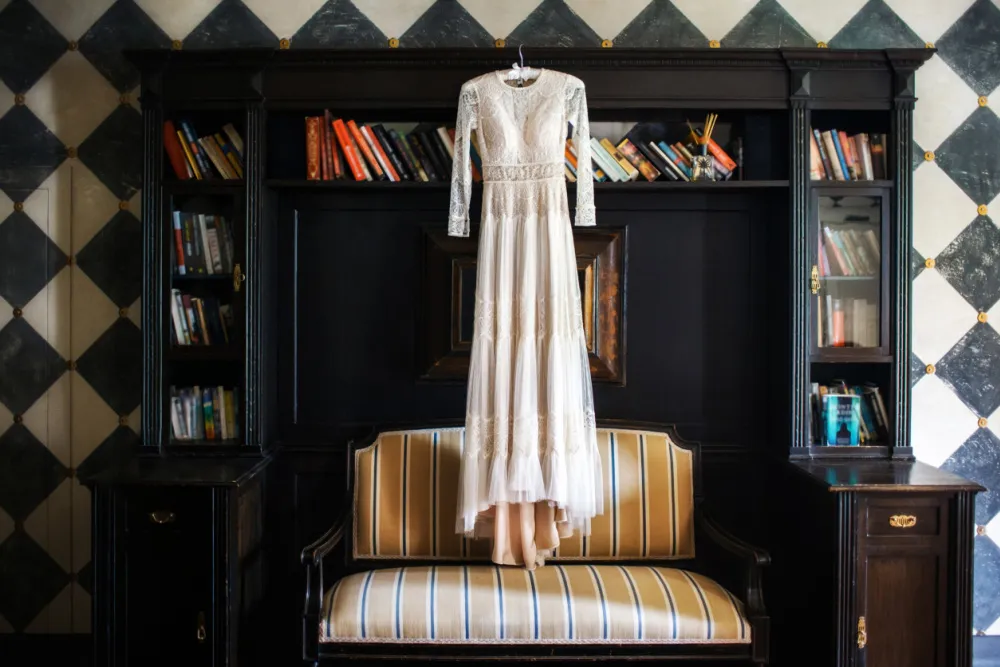 When the wedding day and honeymoon have come to an end, you might be wondering what to do with your wedding dress. While some brides prefer to preserve their gown in the back of the closet, others would rather their dress hit the dance floor a second time. 
Donating your dress is a great way to help someone in need while clearing out closet space — and getting a tax deduction while you're at it. Whether you want to donate to a cause that matters or simply need a reason to clean out old wedding garb, here's where to donate a wedding dress.
Top 7 Places to Donate a Wedding Dress
Adorned in Grace
With boutiques in Portland, Tacoma, and Mesa, Arizona, Adorned in Grace sells wedding dresses less than five years old, along with other formal attire. Brides around the country can donate their new and gently used dresses, and the company uses the proceeds from every sale to support sex trafficking awareness. 
This community-led effort is volunteer-run, with support from local businesses and individuals. Get started with your donation here.
Angel Gowns
Available nationwide, the NICU Helping Hands Angel Gown program provides much-needed support for grieving parents who have lost their babies. The organization accepts donations of wedding and bridesmaid dresses, which seamstresses then lovingly remake into gowns for burial services. 
Note that the program currently has a waitlist and operates on an "as-needed" basis. However, if it's a cause you care about and you're not in a hurry, it might be worth waiting it out. For those willing, the Pennies for Postage initiative can also help offset the organization's shipping costs.  
Becoming a Cupcake
As of 2021, some 50 million people were subjected to forms of "modern slavery"; Africa ranks among the highest in terms of human trafficking internationally. The Uganda-based Becoming a Cupcake boutique works to employ and empower women who have survived sex trafficking and forced marriage. 
The women-led nonprofit Becoming a Cupcake provides startup stipends and business mentoring services to survivors of such abuse. By helping them jumpstart their own shops within their communities, they're helping women rebuild their lives and pursue their dreams. 
To donate, start with the online form. Dresses that fit the Ugandan aesthetic will be made available for rental at one of the boutiques. Otherwise, the dress will be rented out or resold in the United States, with proceeds used to combat trafficking.
Brides Across America
Brides Across America is a nonprofit organization that outfits thousands of military and first responder brides in their dream dresses. Every July and November, the organization hosts Operation Wedding Gown giveaways at bridal salons around the country. Brides wishing to donate a dress can simply fill out an online form with information about the gown, veil, and jewelry. Brides Across America will then respond back with further instructions only if your dress meets the acceptance criteria. 
Be patient, as the process can take up to four weeks. Dresses must be in wearable condition and under four years old.
Brides Against Breast Cancer
By reselling donated wedding dresses, Brides Against Breast Cancer generates funds that support early detection education, research, and legislation. Beneficiaries include the Breast Cancer Research Foundation and Rachel's Gift, which provides support and guidance for those who have experienced a loss during pregnancy or infant loss. 
Dresses must be less than three years old and in excellent condition with no rips, stains, or tears. The original cost of the dress must also have been at least $999 for used dresses or at least $299 for new dresses. Additional restrictions apply on brands that are not accepted; for complete terms and details, click here.
Brides for a Cause
With locations in Portland, Seattle, Tacoma, and Sacramento, Brides for a Cause accepts wedding dresses year-round from brides across the country. 
Proceeds from the resale of donated wedding dresses support various women-focused charities nationwide, including the Loveland Foundation, Dressember, the Joyful Heart Foundation, Girls Who Code, and Dress for Success. See the complete list of supported charities here. 
Since 2012, Brides for a Cause has recycled over 23,000 wedding gowns and donated over $1.4 million to charitable causes (and counting). Dresses and accessories five years and newer are welcome. 
Goodwill or Salvation Army
For simplicity's sake, you can always donate your wedding dress to a local Goodwill, Salvation Army, or another local thrift store. Such organizations typically accept wedding gown donations without many caveats. In fact, many Goodwill locations have even hosted bridal-themed events featuring wedding dresses and how-to tips on making invitations, centerpieces, and other wedding-day items. 
Of course, your dress may also make it to a prominent rack in the store. After all, you never know when a budget-minded bride will stumble upon your gown while out thrifting, fulfilling her wedding-dress dreams. Call or stop by your local shop for further details, and make sure you obtain a tax receipt.
Frequently Asked Questions About Where to Donate a Wedding Dress
Can I donate a vintage dress?
Many organizations want only dresses that are less than three to five years old. If you have a vintage dress, consider donating to Goodwill, Salvation Army, or another local thrift shop. If you're comfortable fielding inquiries from the general public, you could also post your dress for free on OfferUp or a similar app.
Do I need to have my dress dry-cleaned before donating it? 
In most cases, having your dress dry-cleaned is best, so the charity can skip the expense. Ask for a receipt, as you may be able to write off the dry-cleaning expense, too. Note that some gowns may be machine-washable; read the care instructions if your dress has them. 
I already had my dress dry-cleaned. Should I keep it in the box before shipping?
If you've already dry-cleaned your dress and need to ship it to the charity, inquire with them as to whether to keep it in the box or ship it in something smaller.
How do I write off my wedding dress donation on my taxes?
Nonprofits operating as 501(c)3 organizations will provide you with a receipt for your donation. The receipt will not have a monetary value, as they do not determine the tax-deductible value of donations. Take it to your tax professional, who can help put a number on your donation according to IRS rules. 
Final Thoughts
If you're thinking about donating your wedding dress, there are plenty of worthy causes to consider. And while many charities accept wedding dresses, you'll want to do some research to find one that fits your needs and preferences.
 If you have a favorite cause or nonprofit organization, you can also find out if they accept donations by contacting them directly. No matter where you choose to donate your dress, you'll know that you helped not only a charitable cause but a bride in need. That's a win all around.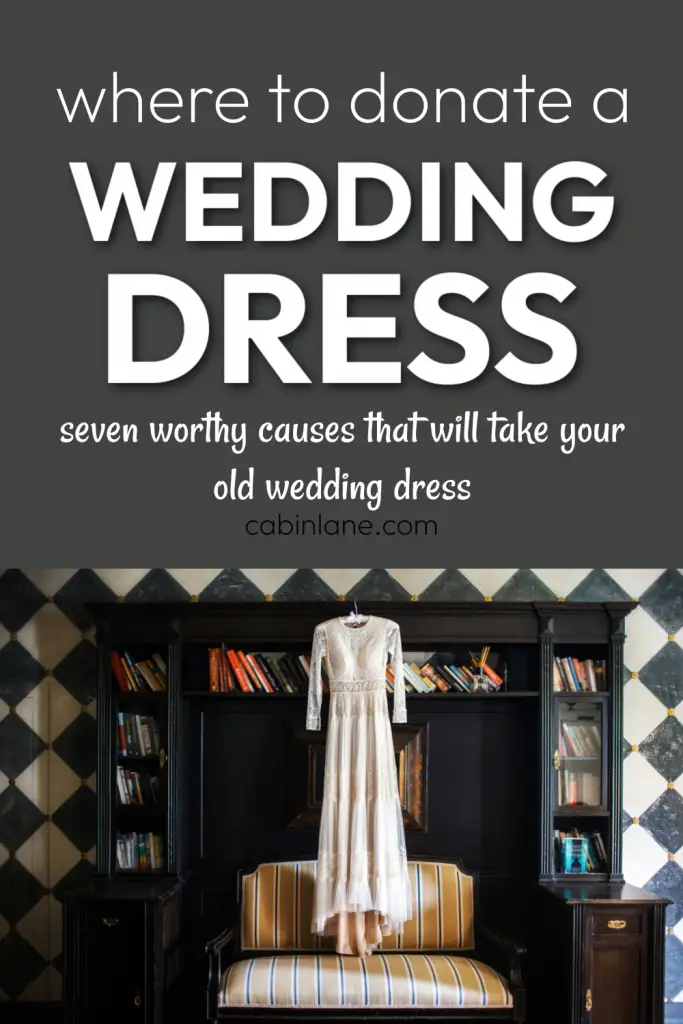 Katie Barton is the owner of Cabin Lane. She's also a home improvement writer for Bob Vila and Homedit. Her cleaning and organizing advice has been featured on Realtor.com, Yahoo News, GoBankingRates, and more. In her spare time, you can find her with a paintbrush in hand, searching for her next project.