Last Updated on October 29, 2021 by Katie Barton
You finally saved up and are getting the new appliances you've always wanted.
There's just one problem…
What do you with the old ones?
If you have used appliances on your hands and no one to pass them down to, consider donating. Many charities will gladly accept your used appliances and may even come to pick them up from your house.
Interested? Here's where to donate used appliances.
Top Places to Donate Used Appliances
The Salvation Army
The Salvation Army is probably the first thing that comes to mind when you think of donating.
And for good reason.
Donating your used appliances to the Salvation Army is easy. Also, most donated appliances are tax-deductible, and you have an option to arrange a free pick up or drop-off at most locations.
However, certain restrictions will depend on the location, type, size, and condition of the items you are willing to donate. Contact your local branch and specify all the details in advance.
Goodwill Industries
This organization sells your appliance in stores and uses the revenue to provide employment training and professional re-profiling, empowering local job markets. 
Goodwill has over 7,000 locations all over the United States. Therefore it won't be hard to find a branch close to you. However, there are specific rules and restrictions you should consider before heading to  Goodwill to donate your used appliance:
It should be gently used and in marketable condition
It must be a small appliance
Your donated appliance should have all necessary parts and operate smoothly
Responsible Appliance Disposal (RAD)
RAD is a program that the Environmental Protection Agency (EPA) established in 2006. Today it is one of the most extensive partnership programs that work with private consumers and appliance retailers to recycle refrigerators.
If you have a refrigerator that's not in good enough shape to donate, you can find a local RAD branch by looking up your zipcode here.
Local Thrift Stores
Donating to a local thrift store is another way to get rid of unwanted appliances.
This helps you get the appliance off your hands and allows someone else to buy the appliance they need at a reasonable price. Win-win.
Some thrift stores may even pick up the item from your house. You'll need to contact them to find out.
AMVETS National Service Foundation
This organization was established in 1944 primarily to serve and help WWII veterans. Today it is the world's largest community that supports both US Army Veterans and active duty servicemen and women.
AMVETS National Service Foundation has stores and pick-up locations in over 20 states all over the US. The profits from sales of donated items (like your old appliances) will go for job training courses and requalification and support of communities and organizations that help US Veterans adapt, find jobs, and establish private businesses.
Churches
Most churches in your areas have initiative groups that help people in need within your local community.
Some cooperate directly with the Salvation Army and other similar organizations; others are independent and self-administrating. Anyway, donating your appliance to a local church is a great way to take an active part in helping your local community.
The ARC
The ARC is an organization that supports children and adults with mental and learning disabilities. It has been established in 1950 and now works with more than 700 locations, thrift stores, and donation services.
Donation of your used appliance is a win-win solution. It allows you to quickly get rid of your unwanted things and serve the community helping people in need and supporting local businesses in this uncertain time.
Frequently Asked Questions
How do I get rid of broken appliances?
If you have broken appliances that are beyond repair, you have a few options. First, you can check to see if there is a RAD program in your area. RAD is a program created by the EPA that focuses on safely disposing of appliances.
Your other options including contacting your local hazardous waste collection site or contacting the manufacturer of your appliance to see if they offer a recycling program.
Does Goodwill accept small broken appliances?
No, Goodwill does not accept small broken appliances. Additionally, goodwill will not fix appliances. If you have broken appliances, you're better off finding a safe disposal program.
Can I drop off old appliances at Lowes?
Some Lowes locations may have an appliance recycling center, but not all do. According to the Lowes website, they'll only haul away old appliances if you buy new appliances, opt for delivery, and then pay an extra $30.
Conclusion
If you're wondering where to donate used appliances, there are many great options. Some of these places will even come to your house and pick up the appliances for you.
It's important to note, though, that in most cases, you CAN NOT donate broken appliances. If your appliances are broken, you'll need to look into recycling or safe disposal instead.
Related: Where to Donate Old DVDs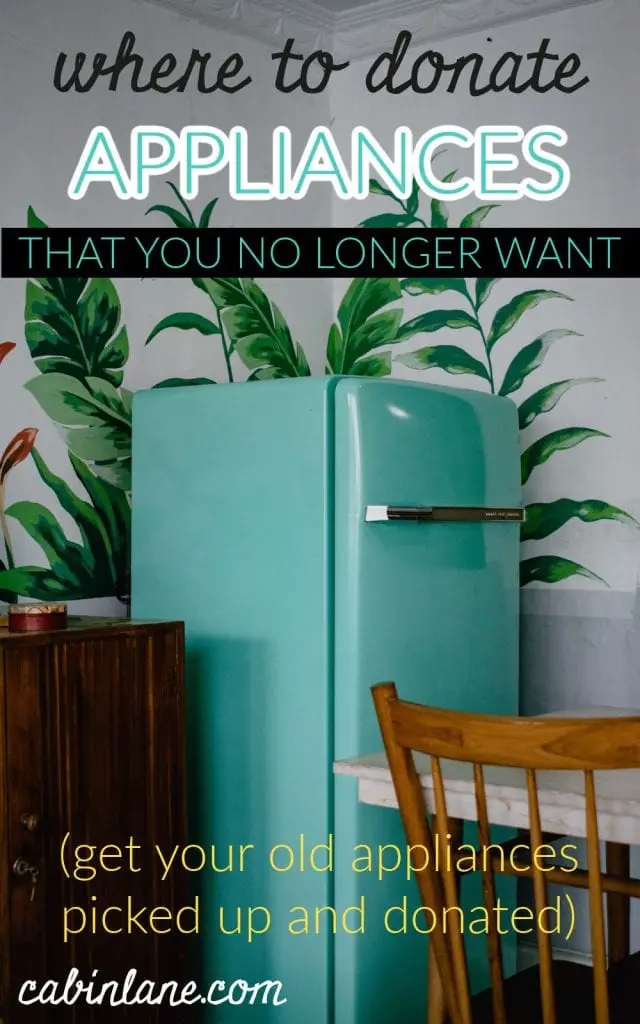 Katie Barton is the owner of Cabin Lane. She's also a home improvement writer for Bob Vila and Homedit. Her cleaning and organizing advice has been featured on Realtor.com, Yahoo News, GoBankingRates, and more. In her spare time, you can find her with a paintbrush in hand, searching for her next project.