Last Updated on September 3, 2022 by Katie Barton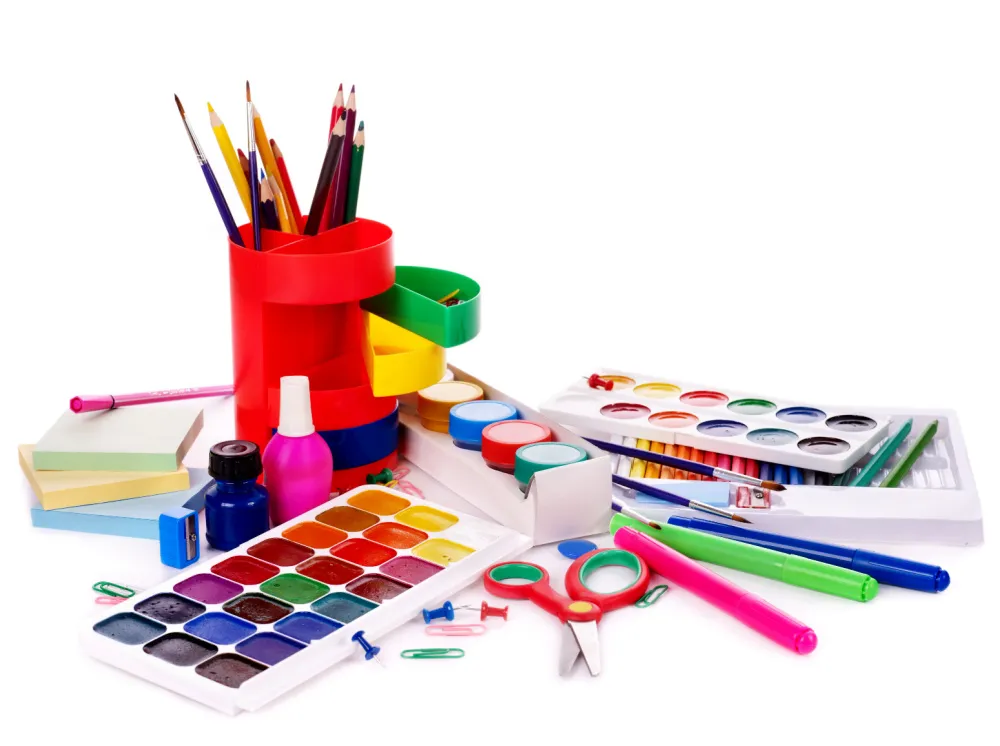 It's incredible how fast craft supplies pile up.
What starts as a few items to keep busy turns into a giant mess. And if you're anything like me, decluttering and organizing the craft stash usually falls low on the list.
If you're ready to wipe your slate clean and get rid of your craft material, you don't have to throw it all away. Here's where to donate your old craft supplies.
Top Places to Donate Old Craft
Supplies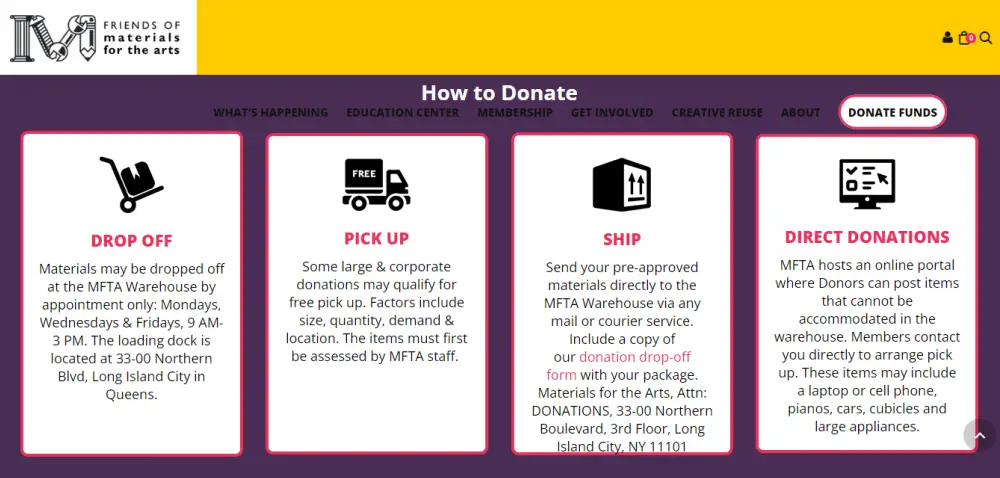 Materials for the Arts
If you're looking for the easiest way to give your old craft supplies a new home, Materials for the Arts might be it. Through this organization, you can pack up all your approved craft supplies, print a prepaid shipping label, and drop your package off at the post office.
Upcycling Colors 
Upcycling Colors is one of the top places to donate your old craft supplies. They accept used and new items and send them to underserved communities worldwide.
And the awesome thing is they accept almost anything. Here's a brief rundown of what you can send to Upcycling Colors:
Crayons, Markers, Pens, Pencils, Colored Pencils (Used and New)
Coloring Books
Paper of All Types
Glue
Play Dough
Paint Brushes
Stickers
Beads, Ribbon, Jewelry
Office Supplies
And Lots More
If you are local to Chicago, IL, you can fill a grocery bag and drop off your unused supplies at the Upcycling Colors center. If you're not local, you'll need to use the contact page on their website to get info for donating or creating a local drive.
Make and Mend
Make and Mend is an art and crafts thrift store based in Massachusetts. While they are open locally, they also have an online shop.
Make and Mend accepts many types of donations, which you can drop off via appointment if you're local or mail via USPS if you're not. 
The items they accept are too many to list; chances are, what you have to donate will be approved. Visit their website for complete details.
The Crayon Initiative 
The Crayon Initiative is an organization that collects old crayons, melts them down, and makes them into new crayons to give to children in hospitals.
If you have a lot of crayons to donate or would like to start a collection box, you can send in your old and broken crayons. You will need to cover the cost of shipping.
Goodwill
Goodwill accepts old craft supplies and sells them in their "bits and pieces" section. The items Goodwill takes vary by location. You can find your local Goodwill here.
FreeCycle and Facebook Marketplace
FreeCycle is an online forum where local members can give away and request items. You can also find "free groups" on Facebook. You can list your old craft supplies on either site if you want to donate them locally.
Local Organizations
While it might take slightly more legwork to donate your craft supplies to a local organization, it's usually worth it. 
Many organizations within your community can benefit from your extra stuff. But you'll need to call and ask them first.
Here are some organizations to check out:
Youth Centers
Churches
Preschools/Daycare
Boy Scouts and Girl Scouts Troops
If you know an elementary teacher, check with them. Elementary teachers often buy classroom supplies with their own money, so your donation can be helpful.
You can also do a local Google search to see if anything in your area pops up. For example, there's a "creative reuse store" in Cincinnati, Ohio, called Scrap It Up. They take new and used art supplies and make them available to their customers.
How to Recycle Your Old Craft Supplies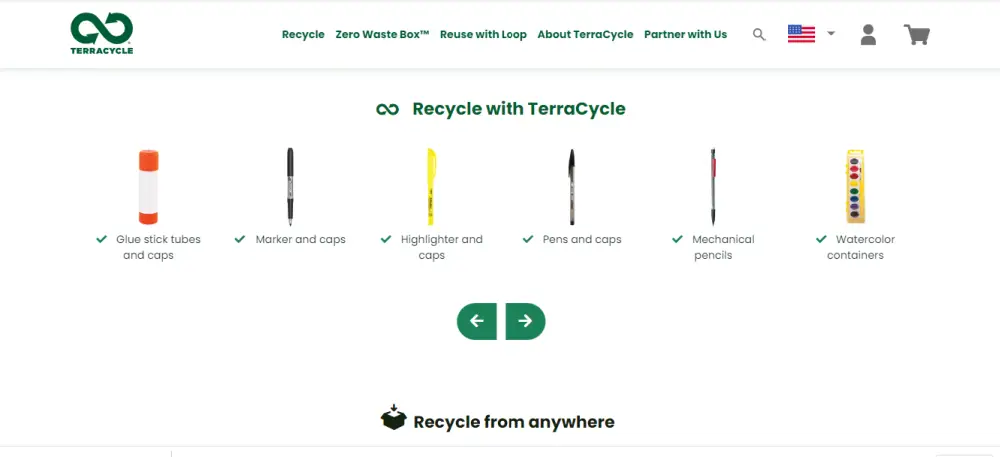 If your craft supplies aren't in good enough condition to donate, you can recycle them. Here's how.
Recycle Your Old Crayons
Crayon Collection is an organization that takes old crayons and upcycles them. Then, they send the crayons to schools across the country. If you're interested in holding a crayon drive, you can find information on how to do so here.
Building Materials – Habitat Restore
If your craft supplies contain building materials, you can donate them to Habitat Restore. The Habitat Restore makes your donations available for purchase. Sales benefit Habitat for Humanity, an organization that helps local families build and repair affordable homes.
Markers, Pens, Glue Sticks, and More 
If you have markers, pens, highlighters,  and glue sticks that aren't in good enough condition to donate but don't want to toss them in the trash, recycle them through Terracycle. This program is free but not always available. If the program is full, you can join the waitlist.
Final Thoughts
If you're ready to declutter your craft supplies, plenty of organizations are happy to take them off your hands. If your supplies aren't in good enough condition to donate, you can recycle them through a program like TerraCycle or hold a crayon drive for the Crayon Initiative.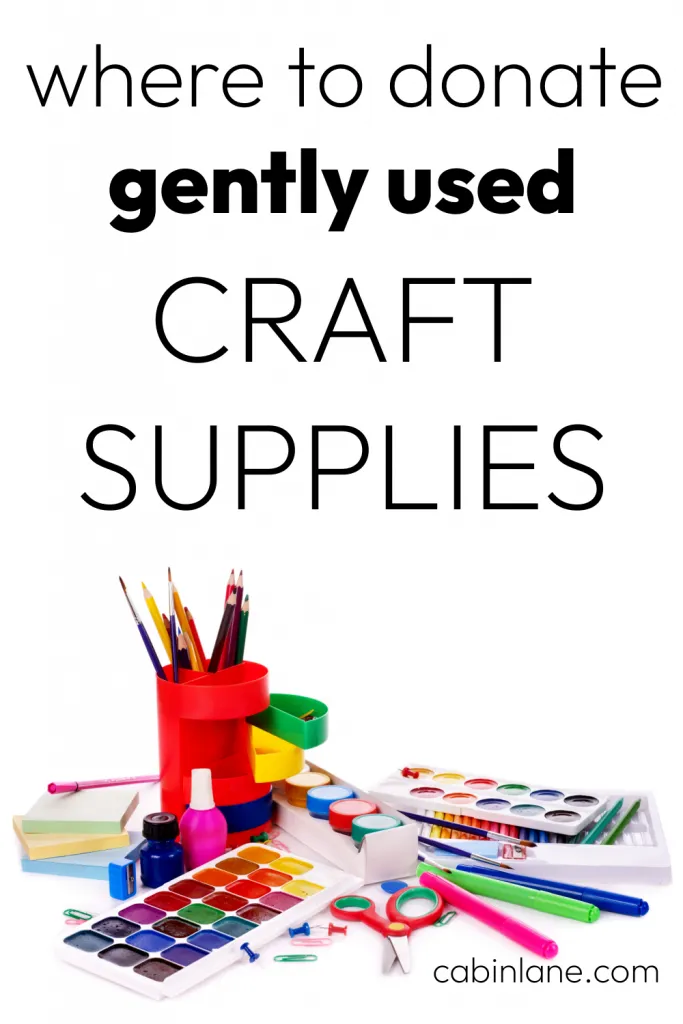 Katie Barton is the owner of Cabin Lane. She's also a home improvement writer for Bob Vila and Homedit. Her cleaning and organizing advice has been featured on Realtor.com, Yahoo News, GoBankingRates, and more. In her spare time, you can find her with a paintbrush in hand, searching for her next project.