Last Updated on June 3, 2022 by Katie Barton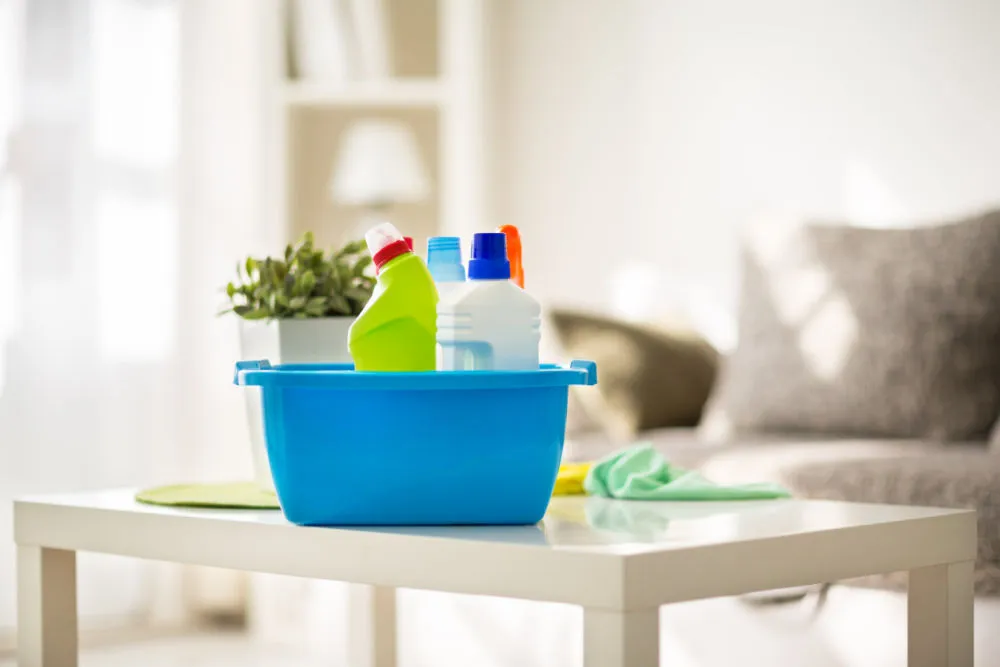 If you're anything like me, you've been using Mrs. Meyer's cleaners for quite some time. And maybe, you're ready to switch things up.
I get it.
While I love Mrs. Meyer's scents, I've tried many other natural or "safer" cleaning brands. Some were great, and others weren't.
Here are the seven best alternatives to Mrs. Meyer's cleaners.
Best Alternatives to Mrs. Meyer's
Cleaners Like Mrs. Meyer's Reviews
Better Life (For a Super Mild Scent)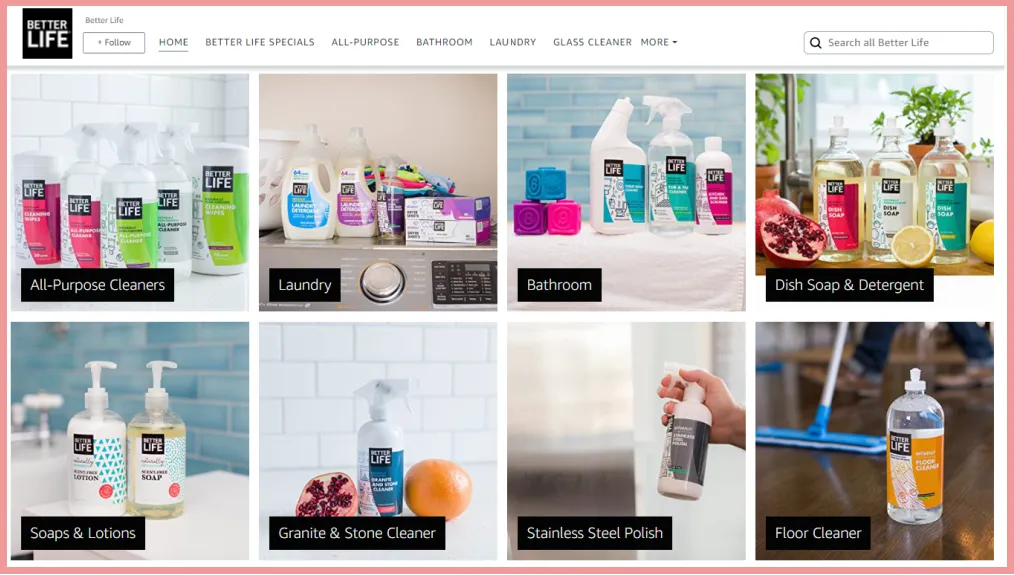 Better Life cleaners are plant-based and biodegradable. Two dads created the brand after growing concerns about their small children coming into contact with harsh chemicals.
I've tested ALL of the Better Life cleaners. And they work well.
For me, the biggest downside is that the scents are super mild. The only cleaner that left behind much of a smell was the citrus-mint floor cleaner. (And it smells SO good.)
So, if you're looking for a natural cleaner with a fresh but extremely mild scent, these are a great choice.
They have a range of products, including nursery, all-purpose, tub and tile, floor, and more.
Shop Better Life Products on Amazon
Pros:
Clean very well
Natural, safe around kids and pets
They offer a vast line of cleaners for every surface
Super cute packaging
Cons:
Super mild scent compared to Mrs. Meyer's
Method (Most Comparable to Mrs. Meyer's)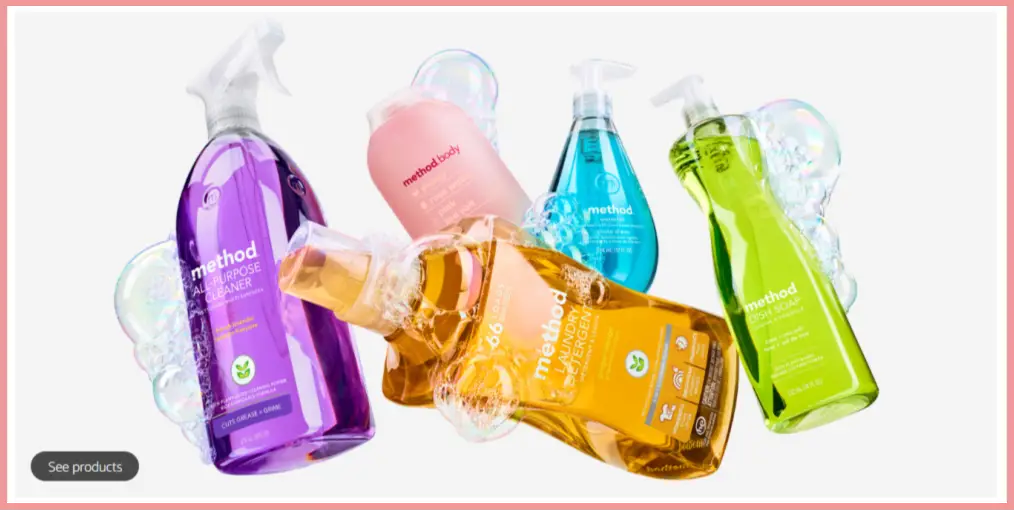 Method is a natural cleaning brand, about as popular as Mrs. Meyer's. Their cleaning solutions are plant-based and biodegradable and come in many scents.
While I don't often reach for the Method all-purpose spray, their toilet bowl cleaner is the only one I'll use. It has the perfect minty scent.
Method offers a wide range of cleaners for every type of household surface. Their cleaners work well and come in many scents that are fresh without being overpowering.
Shop Method Products on Amazon
Pros:
Clean well
Natural, plant-based cleaning power
A large line of cleaners
Fresh, pleasant scents
Cons:
None – a great alternative to Mrs. Meyer's
Ecos (Safer Choice)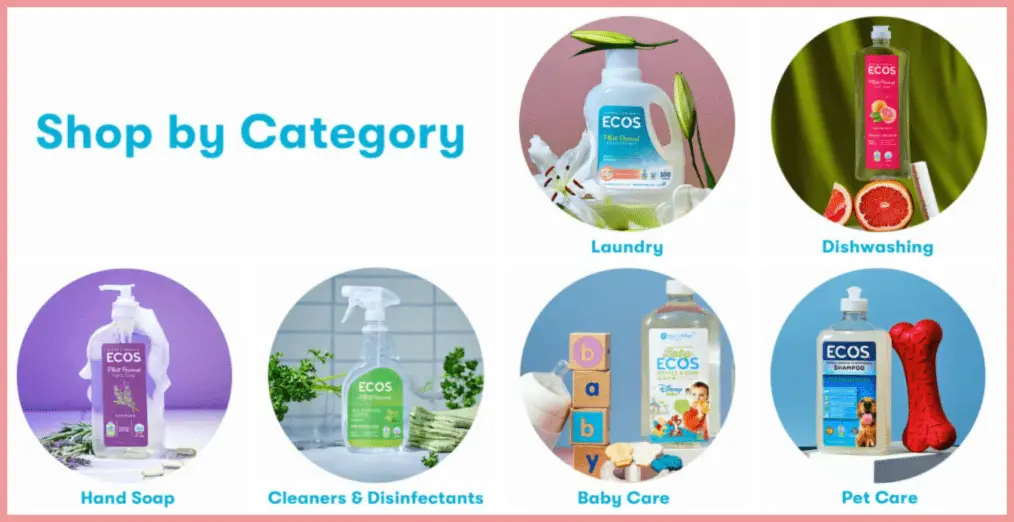 ECOS brands itself as "climate positive home cleaning." This company uses plant-powered cleaning ingredients that are globally sourced. However, they still make all their products in the USA.
If you're looking for cleaners free from harmful ingredients, this might be the brand for you. They have over 140 cleaners rated "Safer Choice" by the EPA.
Ecos has an extensive line offering cleaning, laundry, baby care products, and more. While the cleaners are highly-rated and work well, there's a minimal number of scents.
Pros:
Natural, plant-based cleaners
140 products rated "safer choice" by the EPA
A large product line
Cleans well
Cons:
A very limited number of scents
Honest Co. (Best for Low Waste)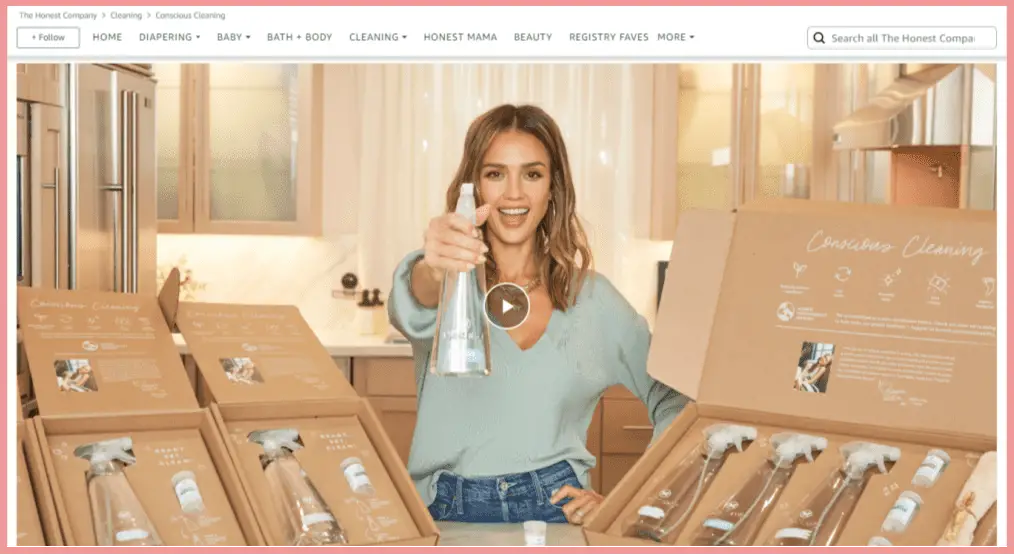 If you hate purchasing a new bottle of cleaner every time you run out, The Honest Co. conscious cleaning kits may be a good choice for you.
You probably already know The Honest Co. from their baby or beauty line, but they also offer cleaning supplies.
The cleaning products come in kits that contain a reusable bottle and refill packs. Simply drop the refill pods in the cleaning bottles and fill them with water.
Rather than purchasing a new bottle each time you run out, you can buy the refill pods.
Shop The Honest Co. Conscious Cleaning on Amazon
Pros:
Low waste refill pods
Made with naturally derived ingredients
Cleans well
Cons:
Not a lot of cleaners to choose from
Limited scents
Puracy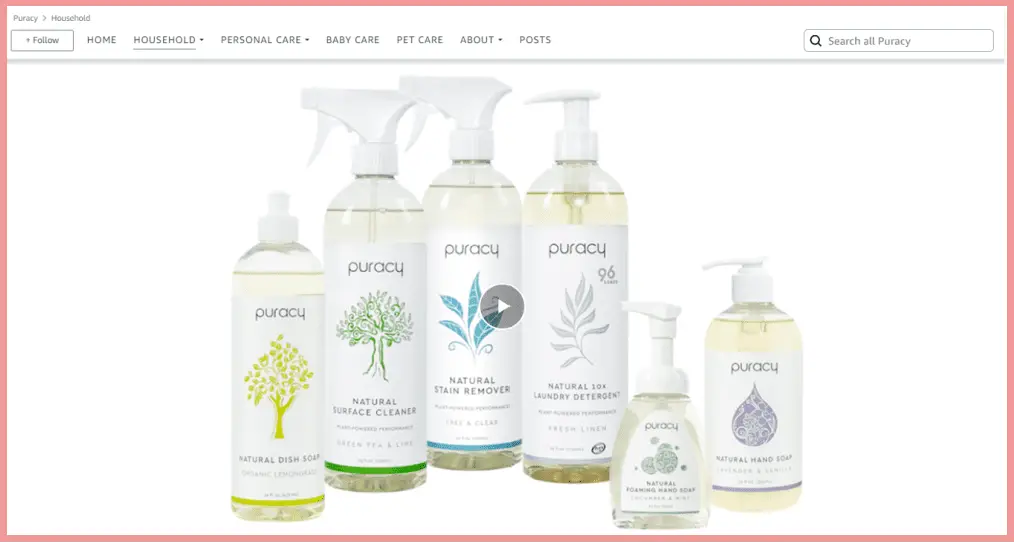 Puracy is a non-toxic cleaner that works on many surfaces. It's plant-derived and 99.6% natural, which is hard to beat.
The cleaners work well and are highly rated, but Puracy has a much smaller cleaning product line than the other brands on this list.
And they don't have a lot of scents to choose from, which can be a bummer if you're a Mrs. Meyer's lover. The multi-purpose cleaner only comes in one scent, "tea & lime."
Shop Puracy Products on Amazon
Pros:
99.6% natural, plant-derived cleaner
Cleans well
Cons:
Small product line
Limited scents
Seventh Generation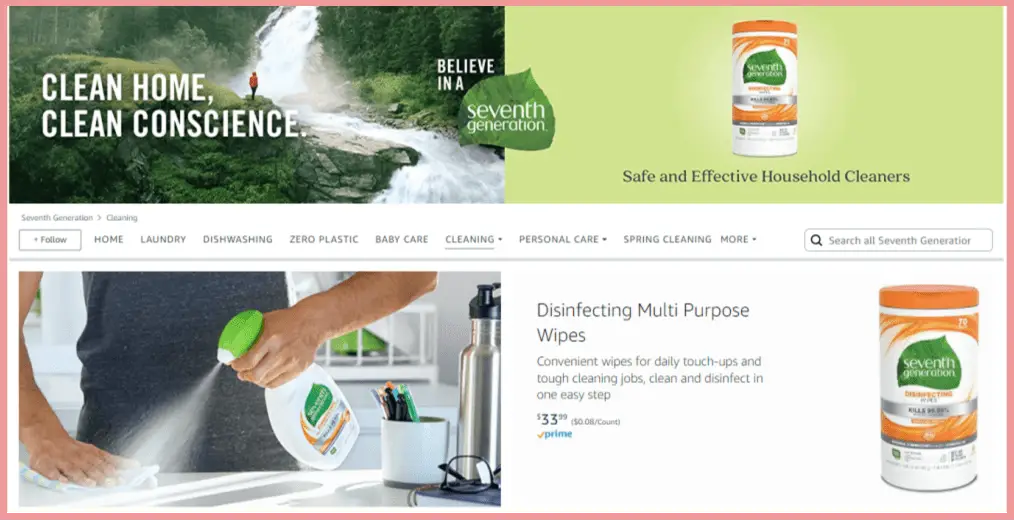 Seventh Generation is a popular "natural" brand that offers cleaners, baby products, and household goods.
I've got to be honest with you, though – they aren't my favorite. But, to be fair, I only tried one of their products (the disinfecting wipes), which was a few years ago. I thought the wipes smelled horrible – like weeds and lemongrass. And they majorly triggered my allergies.
Since then, I didn't bother trying anything else.
With that said, many people LOVE this brand, and it now looks like the product I tested has a different scent to it now.
Shop Seventh Generation Products on Amazon
Pros:
Natural, plant-powered clean
An extensive line of cleaning, household, and baby products
Cleans well
Cons:
Not a lot of different scents
Not the best fragrances (personal opinion)
Aunt Fannies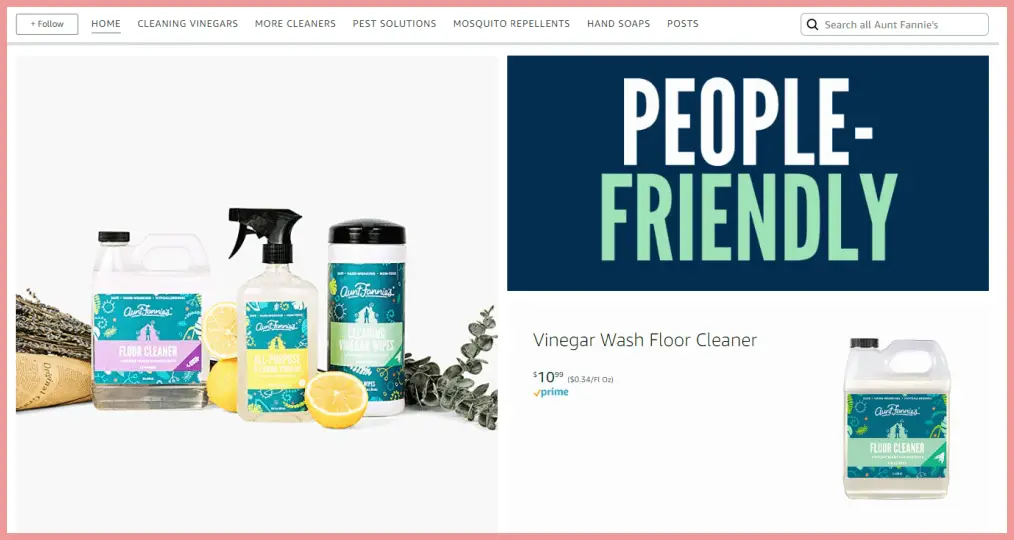 Aunt Fannies makes a line of household and cleaning products free from harmful ingredients. 
I first found this company when I was looking for a natural mosquito repellant for my kids. I tried MANY, and this was the only safe brand that worked.
Since then, I've gone on to use their floor cleaner. I don't love the smell as much as Mrs. Meyer's products, but it's light, pleasant, and gets the job done.
They have a line of cleaning vinegars and a few other products.
Shop Aunt Fannie's Cleaners on Amazon
Pros:
Products are free of harmful chemicals
Line of cleaning vinegars
Clean well
Safe for kids and pets
Cute packaging
Cons:
Limited cleaning products and scents.
Final Thoughts
If you love Mrs. Meyer's for their selection, the closest natural cleaning brand you'll find is Method. Method offers many different fresh scents, and their cleaners work well.
If you want a natural cleaner that cleans great but doesn't have a strong smell, Better Life is a great choice. The Better Life cleaners have a light, pleasant smell that doesn't stick around long.
And if you want to go the safest route, give ECOS a try. They're rigorous about their ingredients and have over 140 "safer choice" products.
Katie Barton is the owner of Cabin Lane. She's also a home improvement writer for Bob Vila and Homedit. Her cleaning and organizing advice has been featured on Realtor.com, Yahoo News, GoBankingRates, and more. In her spare time, you can find her with a paintbrush in hand, searching for her next project.