Last Updated on April 6, 2022 by Katie Barton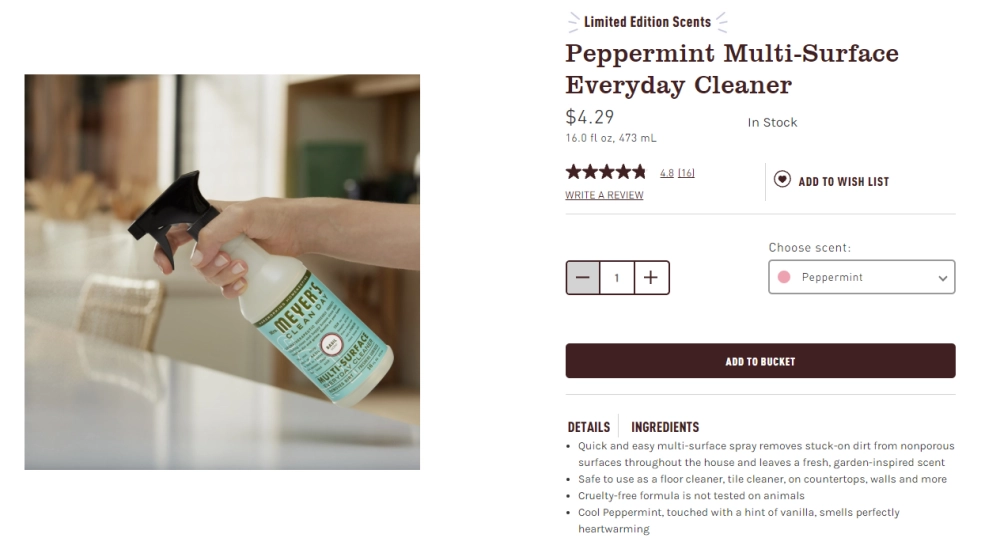 If you recently had quartz countertops installed you're probably wondering what cleaners are safe to use and which aren't.
Even though quartz counters have natural stone in them, they're combined with polymer resin. The result is an engineered countertop that is durable yet just as beautiful as the real thing.
It also means that you have a more extensive selection of cleaners available to you than you would with granite, for example.
Here's what else you should know.
Can You Use Mrs. Meyer's on Quartz Countertops?
Yes, Mrs. Meyers Countertop Spray and Mrs. Meyer's Multi-Surface Cleaners are both safe for engineered or sealed quartz countertops. According to their website, their multi-surface cleaners are safe for all non-porous surfaces and sealed stone. Luckily, quartz countertops are non-porous.
What's the Safest Daily Cleaner for Quartz Countertops?
The safest daily cleaner for quartz counters is a mixture of dish soap and water. This is because dish soap is Ph-neutral, meaning it is not too acidic but still powerful enough to clean.
If you prefer Mrs. Meyer's cleaners for daily cleaning, they are also acceptable. When you properly dilute Mrs. Meyer's cleaner, it will become pH neutral and won't cause any damage to your counters.
How Do You Disinfect Quartz Countertops
If you need to disinfect your quartz counters you can use Clorox wipes or Lysol disinfecting wipes. Just make sure the formula you use is bleach-free.
You shouldn't use these cleaners daily, but if you need to disinfect once per week or as needed, it's perfectly fine to use either.
What to Avoid Using on Quartz Counters
When cleaning quartz, you should avoid using any type of highly acidic cleaner such as vinegar. You also need to stay away from bleach products and anything abrasive.
Vinegar and bleach can break down the sealant on your counters and cause discolorations. 
Conclusion
So, can you Mrs. Meyers on quartz countertops? Yes, you can.
If Mrs. Meyers is your favorite cleaner and you have engineered or sealed quartz countertops, you can freely use as much as you'd like. Mrs. Meyers is a very gentle daily cleaner that won't damage your counters.
Katie Barton is the owner of Cabin Lane. She's also a home improvement writer for Bob Vila and Homedit. Her cleaning and organizing advice has been featured on Realtor.com, Yahoo News, GoBankingRates, and more. In her spare time, you can find her with a paintbrush in hand, searching for her next project.