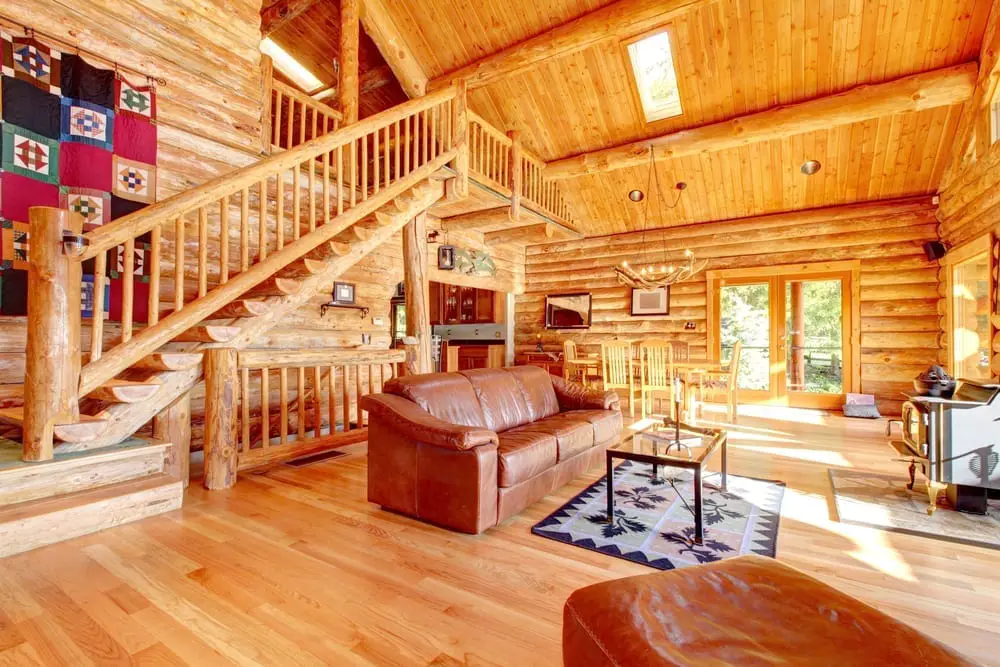 If you're looking to buy a cabin and aren't having any luck finding what you want on the market, you always have the option of purchasing a log cabin kit.
Log cabin kits generally come with everything needed to build the structure of a cabin. Some cabins are super small and can be put together by you and a few friends, while others are much larger and may call for an experienced crew to assemble.
No matter your budget or the size of the cabin you're looking for – you likely can find a kit for it.
Here are eight companies that sell log cabin kits that you should check out.
What's Included in A Log Cabin Kit?
In general, a log cabin kit includes the following:
Windows and Doors

Roofing Material

The Log Wall System
Some kits may also include subfloor, but not all do.
What log cabin kits don't generally include are flooring, any interior finishes, and the foundation.
Before you purchase a log cabin kit, you need to be fully aware of the total costs you'll incur. You'll need to factor in electrical, plumbing, heating, foundation work, flooring, cabinets, light fixtures, showers, and the cost of labor.
The cabin kit itself will only be a portion of what you need to spend for a complete, liveable home.
Companies that Sell Log Cabin Kits and Plans
Tar River Log Homes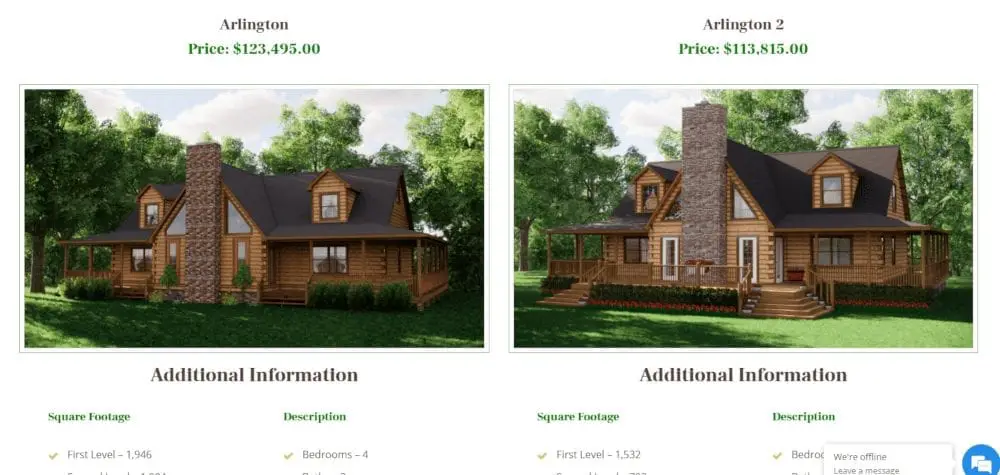 I will start with Tar River Log Homes because they have my favorite small log cabin kits. They have unique designs and plenty of options.
Tar River Log Homes is located in North Carolina, and they offer a 105% lowest price guarantee.
You can find kits that start at 168 sq. ft and are priced at $19,000 to cabin kits as large as 2,600 sq ft. priced at $158,000.
They even sell log-sided garage kits.
You can check out all Tar River Log Homes has to offer here.
Conestoga Log Homes

Conestoga log homes is based out of Pennsylvania. They put their log home kits into two categories: above 1100 sq. ft and under 1100 sq ft.
The lowest-priced cabin Conestoga Log homes has available is $16,900 and is 169 sq ft. Their most extensive log cabin kit is $179,900. It has three bedrooms, two and a half bathrooms, and is 2,312 sq. ft.
You can check out all Conestoga Log Homes has to offer here.
Coventry Log Homes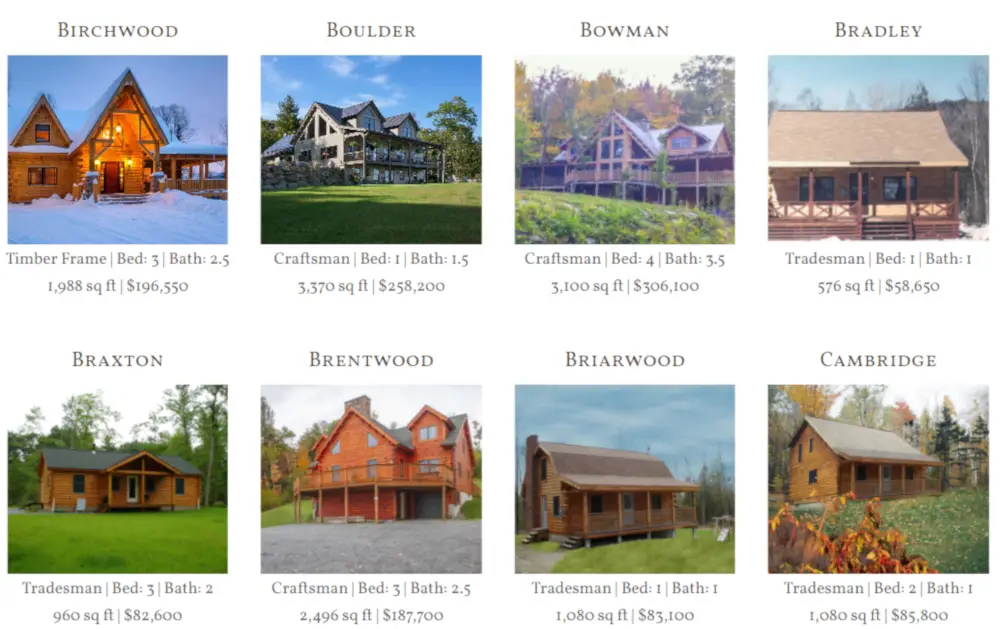 Coventry Log Homes is based out of New Hampshire. They offer a wide variety of log home packages.
One thing I appreciate about their website is they offer a construction calculator. This estimates how much you can spend on a log cabin kit based on how much in total you want to pay for a home. It also breaks down various other costs like foundation work, plumbing, electrical, and more.
When I plugged in $150,000 as the total I wanted to spend, the calculator gave me a budget of around $50,000 for purchasing a log cabin kit.
Coventry offers cabin kits that are as small as 192 sq. ft up to over 3,000 sq ft.
You can check out all the Coventry Log Homes has to offer here.
Southland Log Homes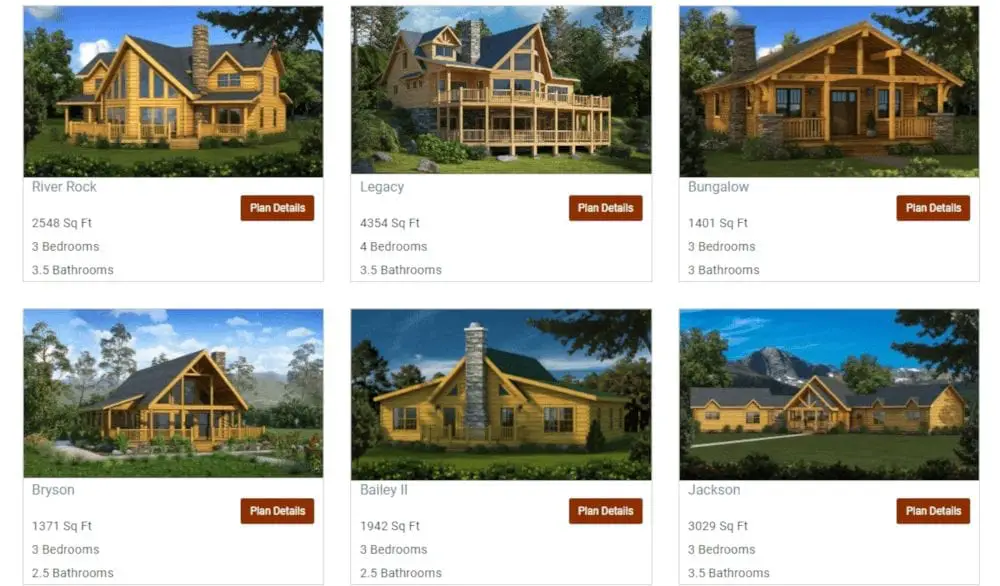 Southland Log Homes has offices out of the eastern and southern United States.
They have small log cabin kits up and log cabin plans for homes over 3,000 square feet.
Their small log cabin kit pricing starts at $12,289. They don't list prices for the larger size homes.
You can check out all Southland Log Homes has to offer here.
Honest Abe

Honest Abe is located in Tennessee, but they'll ship log cabins to anywhere in the United States, just like the other log home companies do.
They have a wide selection of log home plans – from small cabins to luxury log homes at over 3,000 square feet. They don't post prices online, though.
Honest Abe Cabins has an "Honest Value Guarantee." They claim that they'll beat any competitor's quote.
You can check out all that Honest Abe has to offer here.
BattleCreek Log Homes
BattleCreek Log Homes is located in Tennesse. They offer log home packages from tiny cabins to massive homes over 5,000 square feet.
Their largest cabin, The Ponderosa, is five bedrooms and five bathrooms with 5,358 square feet. The package costs $325,232. If you want them to assemble it the labor costs will run you a little over $214,000. 
They don't have prices published for their tiny houses, but I did find pricing for some of their smaller cabins.
Their Bearview cabin, which is one bedroom and one bathroom and 578 square feet, costs $43,999 for the kit. Labor is additional $22,900.
You can check out all the BattleCreek Log Homes has to offer here.
Frontier Log Homes

Frontier Log Homes is based out of Colorado. They offer log cabin kits that range from less than 1,500 square feet to 3,500+ square feet.
You can see a blueprint of the plans for each cabin kit on their website. Unfortunately, they don't have actual photos or pricing with them.
You can check out all that Frontier Log Homes has to offer here.
Golden Eagle Log Homes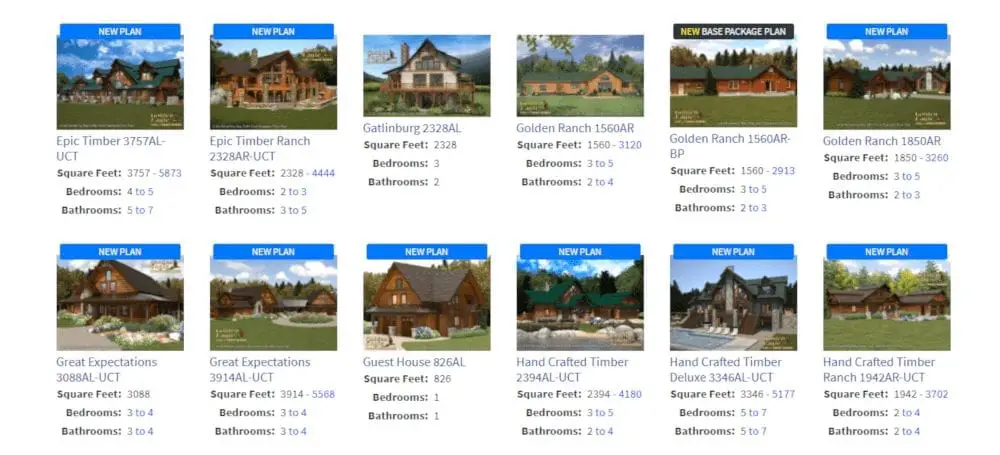 Golden Eagle Log Homes is based out of Wisconsin. 
I like this company because they sell several different packages based on what you want to be included with your log cabin kit. They also have a huge selection with over 1,200 different floor plans you can choose from.
You can check out all that Golden Eagle Log Homes has to offer here.
Explore Your Options Before Buying a Kit
Most companies that sell log cabin kits and log home plans will ship the materials to you, even if they aren't from your state.
Take your time and talk to a general contractor before making your final choice. There's a lot to consider – especially if you're building a large cabin.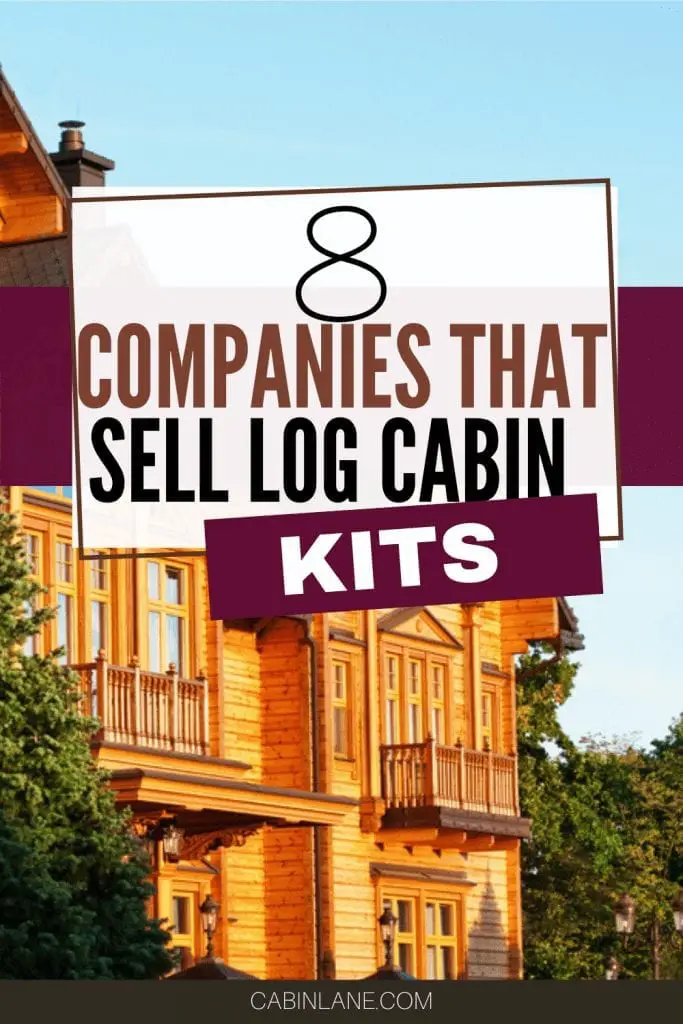 Katie Barton is the owner of Cabin Lane. She's also a home improvement writer for Bob Vila and Homedit. Her cleaning and organizing advice has been featured on Realtor.com, Yahoo News, GoBankingRates, and more. In her spare time, you can find her with a paintbrush in hand, searching for her next project.