Last Updated on February 13, 2021 by Katie Barton
The bear decor looks great in a cabin (or any rustic type of home, for that matter). It can be rustic, it can be sophisticated, it can be cozy, or it can be cute.
No matter the look you're going for, there is bear decor out there to match! Today I went through Amazon and picked out some of the best log cabin bear decor on Amazon.
I think you'll like it, too.
Best Log Cabin Bear Decor on Amazon
Here is some of the best bear cabin decor available on Amazon.
I absolutely love this bear and moose throw blanket. It's soft and cozy and would look amazing draping off of a recliner or couch.
And how about those throw pillows? There were SO many I liked. I limited myself to only sharing three so that this whole page wouldn't consist of anything but pillows. (You can click on the pillows to be taken to their respective Amazon pages.)
This rustic bear wall art measures 16″ long and 25″ wide.
I don't think a toilet brush holder could get much cuter. I know this would be a huge step up from what's currently in my house!
Here's a non-slip kitchen mat rug with just the right combination of cozy colors. I think this would also look great at a front or back door.
Another "don't wake the bear" piece of decor! This would look great in a bedroom or a nursery.
Don't worry. Amazon is not selling an actual bear fur rug! Nope. This is a faux fur bear rug made of acrylic and polyester and currently has 4.5-star reviews.
This LED candle feels super rustic and cozy.
This clock would look great up against a dark wood wall or even in a kid's room.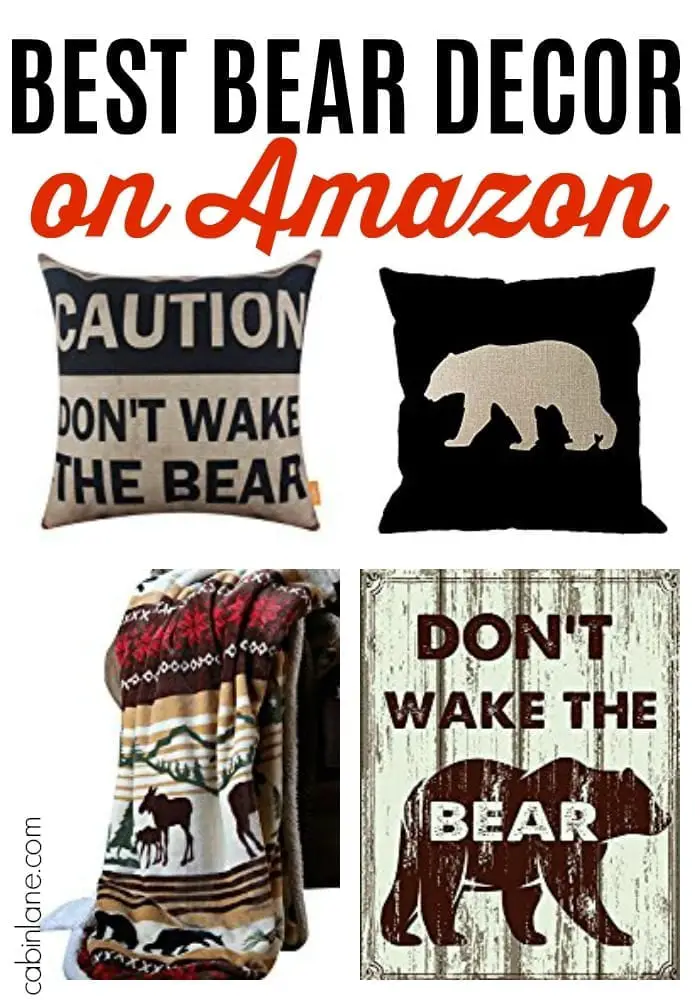 Katie Barton is the owner of Cabin Lane. She's also a home improvement writer for Bob Vila and Homedit. Her cleaning and organizing advice has been featured on Realtor.com, Yahoo News, GoBankingRates, and more. In her spare time, you can find her with a paintbrush in hand, searching for her next project.