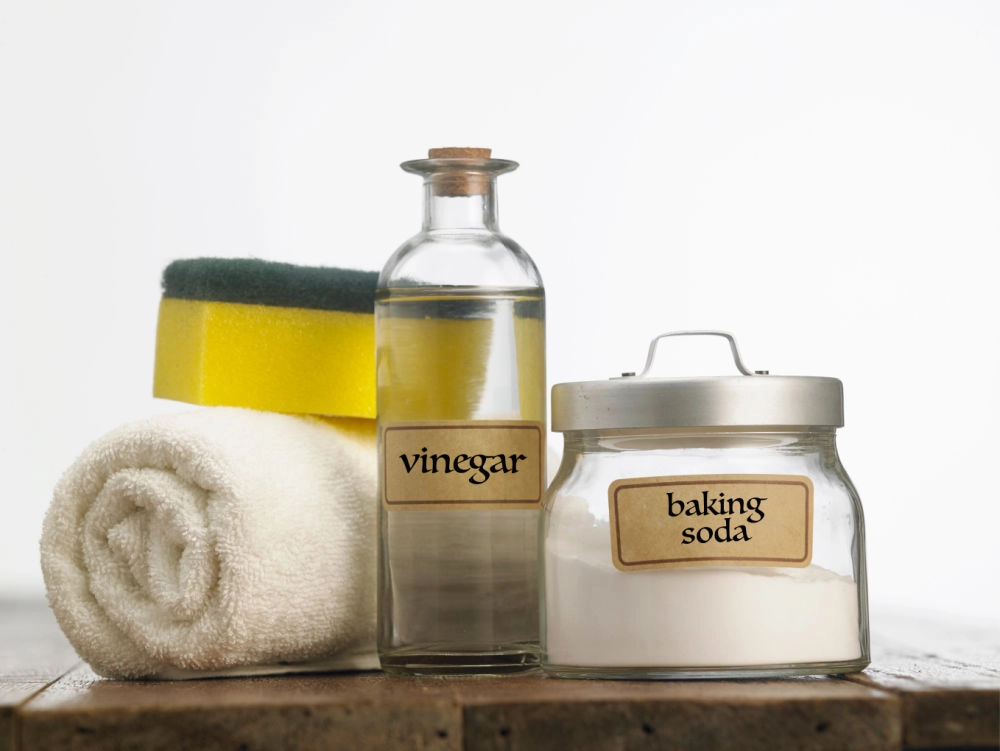 Quartz is an excellent choice for a kitchen countertop. Not only is quartz beautiful, but since it's engineered with a polymer resin, it's also very durable.
Quartz counters can handle a lot more wear and tear than other natural stones – but that doesn't mean all cleaners are a go.
Here's what you need to know.
Is it Safe to Use Vinegar on Quartz?
No, it's not safe to use vinegar on quartz countertops. Vinegar is highly acidic and can weaken the sealant on the quartz and cause discoloration. When it comes to quartz, the two cleaners you should always avoid are vinegar and bleach. 
Instead, use a gentle cleaner like dish soap and water or Mrs. Meyers.
Can You Use Baking Soda and Vinegar on Quartz Countertops?
You should not use vinegar in any instance on your quartz countertops, so using it with baking soda is out. 
If you want to use baking soda on your quartz, you need to do it by itself and spot test first. Baking soda may be able to lift stains from your counters, but it's also slightly abrasive, so use it at your own risk.
How Can I Safely Clean My Quartz Countertops?
The safest way to clean your quartz countertops is with a mixture of dish soap and water and a soft cloth. This is the perfect daily cleaner because it's pH neutral.
You can also use cleaners specially formulated for quartz or gentle multi-surface cleaners like Mrs. Meyer's.
To disinfect, you can use bleach-free Clorox or Lysol disinfecting wipes. Since these wipes contain citric acid you won't want to use them daily. However, they are perfectly safe for occasional use.
Conclusion
If you need to clean your quartz counters, vinegar is one of the worst cleaners you can use. You should avoid putting any kind of highly acidic cleaner on your counters as they can break down the sealant and cause yellowing or discoloration.
Katie Barton is the owner of Cabin Lane. She's also a home improvement writer for Bob Vila and Homedit. Her cleaning and organizing advice has been featured on Realtor.com, Yahoo News, GoBankingRates, and more. In her spare time, you can find her with a paintbrush in hand, searching for her next project.