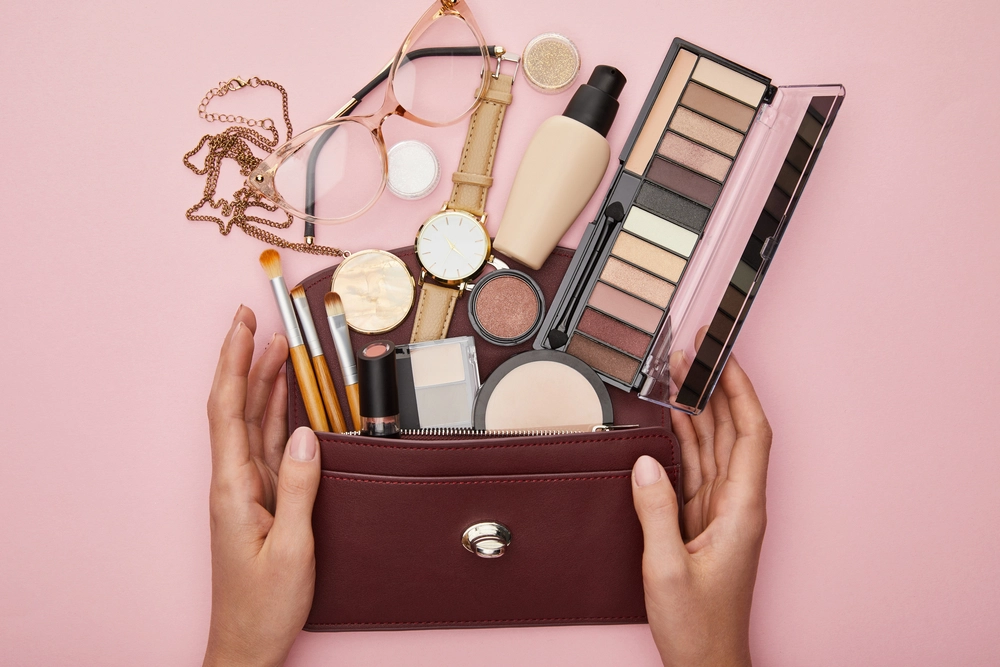 Your makeup bag is one of the dirtiest items you own.
It's where you store all of your beauty products, which means it's carrying a ton of dirt and bacteria. 
Dust, skin cells, sweat, and oil from your face are all on your makeup brushes. So if you don't clean them regularly, they can become a breeding ground for nasty bacteria that can make you sick and spread to the inside of your makeup bag.
Ready to get everything clean? Here's how to clean a makeup bag.
How to Clean a Makeup Bag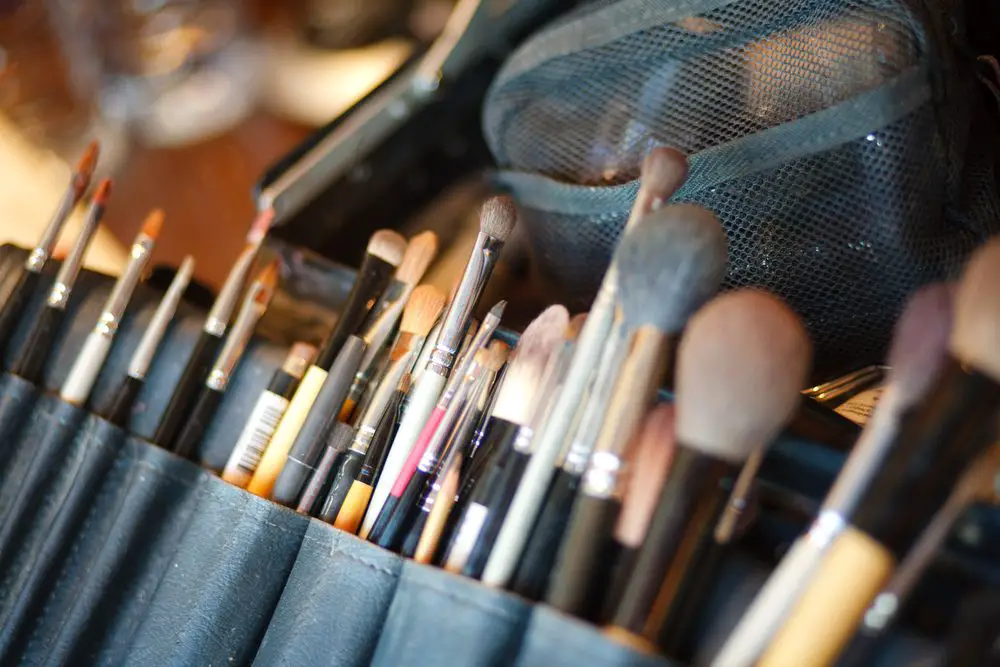 Empty Your Bag and Throw Away Old Product
When's the last time you sifted through your makeup bag?
If you're like me, regular makeup evaluations don't happen often enough. So, the first thing you should do is dump out your makeup bag and go through all the products.
Toss out any used up, expired, or no longer wanted items.
Set everything else to the side.
Clean the Inside of Your Bag 
Now it's time to clean the inside of your makeup bag because we all know how dirty those get.
The method you need to use depends on the bag's material.
Plastic/Vinyl Lined Makeup Bag- If your makeup bag is vinyl-lined, it will feel like a slick plastic inside. Many makeup bags have this lining, and it's the easiest to clean.
You can use a disinfectant wipe, rubbing alcohol, or soap and water to clean the inside and outside of this type of bag. After cleaning, allow the bag to air dry. 
Cloth Makeup Bag – If your makeup bag is cloth, you'll need to throw it in the washing machine on the hot cycle to kill all the germs. Air dry or tumble dry on low after you've washed the bag.
Leather Makeup Bag – If your makeup bag is leather on the inside, first remove residue with a makeup remover wipe. Afterward, wipe the inside of the bag with a cotton ball soaked in rubbing alcohol to disinfect.
Clean the outside of the bag with a gentle soap and water mixture.
Clean Your Brushes
Your makeup brushes can harbor all kinds of harmful bacteria, which is why you need to clean them before you put them back in your bag.
Luckily, cleaning your brushes is very easy to do. 
All you need is a makeup brush cleaner or a gentle soap like Dr. Bronner's, Mrs. Meyers, or your face wash.
Here's what to do:
Start by wetting the bristles of the brush in your sink. Next, apply one drop of soap to the bristles, work it in with your hand, and then thoroughly rinse. Now, form the bristles back into the shape you want them.
Lay your brush on the counter with the bristle side hanging over the edge. This allows air to circulate correctly and prevents mildew from forming as the brushes dry.
Allow the brushes to fully air dry before putting them back in your makeup bag.
Wipe Down Makeup
Using a makeup remover wipe, wet paper towel, or baby wipe, wipe down all of your makeup before putting it back in the bag.
This way, residue buildup doesn't transfer back to the inside of your bag.
Put Everything Back
Once everything is clean and fully dry, you can put everything back in your bag.
When Should I Throw Away Makeup?

Are you having a hard time deciding if you should pitch some of your makeup? Most makeup products have a label on them indicating how long they last.
Look on the back of your product for a number followed by "m."
This indicates how many months the product will stay good for.
If you can't find a marking on your product, here's a general guideline of how long each type of makeup product lasts:
Foundation/Concealer – 2 years
Blush/Bronzer – 2 years
Eyeshadow – 2 years
Pencil Eyeliner – 1 year
Liquid Eyeliner – 3 months
Mascara – 3 months
Frequently Asked Questions About How to Clean a Makeup Bag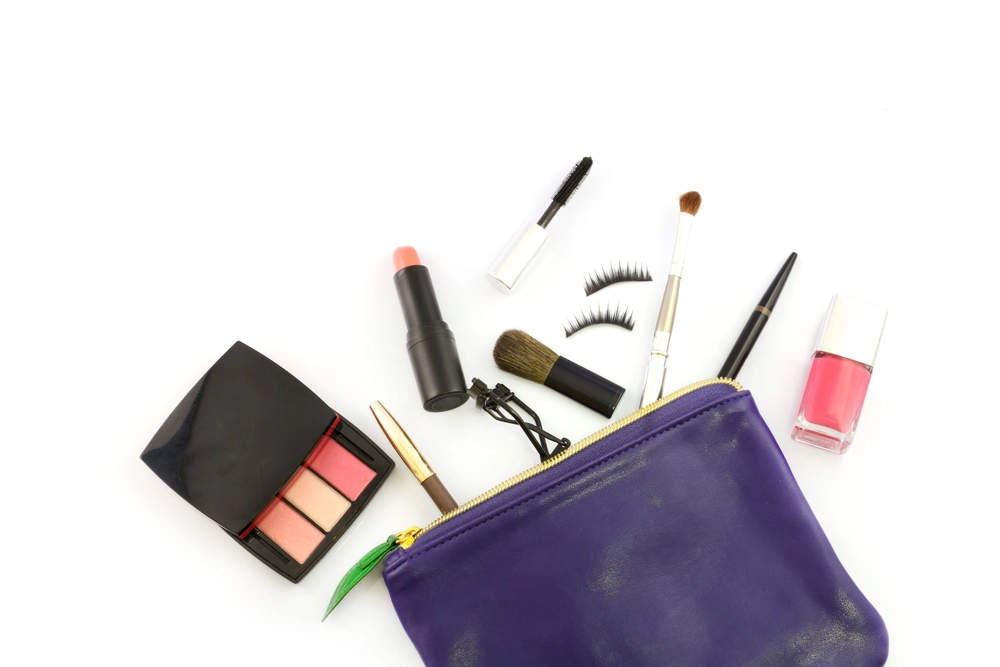 How do you clean a clear makeup bag?
Clear makeup bags are usually plastic and are the easiest makeup bags to clean. Start by wiping the makeup bag down with a makeup remover cloth. Afterward, use a bit of rubbing alcohol on a cotton ball to disinfect.
If you don't have rubbing alcohol, you can use a disinfecting wipe. Allow the bag to fully dry before putting makeup back in it.
How do you clean a polyester makeup bag?
Most polyester bags can be machine or hand washed. Look for the tag inside your polyester makeup bag for recommendations.
If you need to hand wash, wipe the bag down with soapy water and rinse with a damp washcloth. Disinfect the inside of the bag by spraying it with an antibacterial spray.
Can you put makeup brushes in the washing machine?
No, makeup brushes should only be hand washed. Putting them in the washing machine may cause them to fall apart.
Conclusion
If you're wondering how to clean a makeup bag, the steps are pretty basic, no matter the type of bag you have.
Remember to clean your bag often so that it doesn't build up any harmful bacteria.
Related: What are the Steps to Cleaning a Bathroom?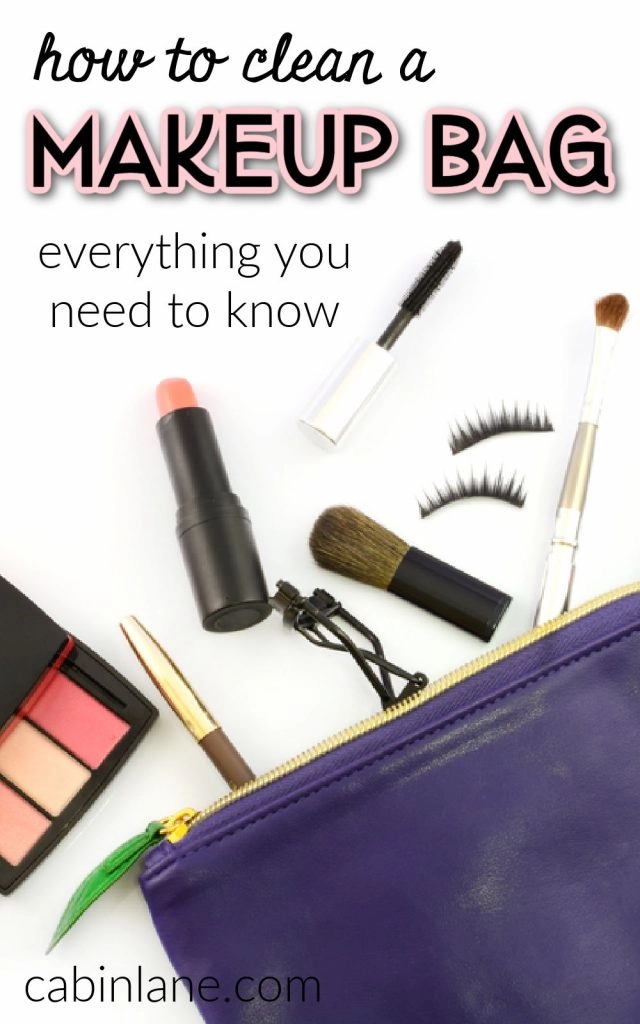 Katie Barton is the owner of Cabin Lane. She's also a home improvement writer for Bob Vila and Homedit. Her cleaning and organizing advice has been featured on Realtor.com, Yahoo News, GoBankingRates, and more. In her spare time, you can find her with a paintbrush in hand, searching for her next project.