Last Updated on August 6, 2021 by Katie Barton
"What are the steps to clean a bathroom?"
My daughters ask me this every time I tell them to clean their bathroom before a friend comes over. 
Which means I've written this list out a lot.
Really, cleaning a bathroom is very simple. But there are six different checkpoints you'll want to get through to ensure you've done a thorough job.
Here are all the steps for cleaning your bathroom.
(P.S. If you're looking for a free printable checklist to help you out, scroll down to the bottom of this post.)
What are the steps to a clean bathroom?
#1 Throw Away Trash and Pick Up Dirty Clothes
No matter the room you're cleaning, start by picking up all visible trash and clearing out any dirty clothes.
This will make everything else easier to do.
#2 Start with the Shower/Bath
Take everything out of the shower and wipe down any soapy or gunky messes left behind. Now, spray your shower with tub and tile cleaner and work it in with a scrub brush. 
I prefer a long handle scrub brush like this one. It makes cleaning so much easier.
After scrubbing the shower, rinse using your shower head or a cup you fill with water.
If there's still a lot of mold, mildew, or soap scum left behind, respray the shower and let the cleaner work while you finish cleaning the rest of the bathroom. (Just don't forget to come back and rinse it off.)
Now throw away empty shampoo and soap bottles and wipe down any that are messy.
#3 Wipe Down Your Vanity, Sinks, and Mirror
Use an all-purpose cleaner and a microfiber cloth to wipe down your vanity and sinks. Use glass cleaner and a fresh microfiber cloth to wipe down your mirror.
(If your countertops are durable and can hold up to it, use a disinfecting cleaner on your vanity top.)
If your cabinets are dirty, give them a quick wipe down with a damp microfiber cloth. This is a job where water only does the trick.
#4 Clean Your Toilet
Squirt toilet bowl cleaner into your toilet and brush around, removing any stains. Flush the toilet.
Use a disinfecting bathroom cleaner and a paper towel to clean the rim and base of your toilet. Don't forget to wipe down the toilet seat and top of the toilet as well. 
If you don't have a disinfecting cleaner for this, it's OK to use an all-purpose cleaner. Although you should consider buying one for future use.
P.S. If you've ever wondered if Coca-Cola will clean a toilet bowl, the answer is not very wll. You can watch my video on it here.
#5 Take Out the Trash
Empty your trash can and place a new trash bag inside. Next, wipe down the outside of your trash can.
Optional: wipe down your baseboards.
#6 Sweep and Mop
Your final step is to sweep and mop your bathroom floor. 
Start by sweeping your bathroom floors with a broom and dustpan or a vacuum. (I use a vacuum in my bathroom.)
Vacuum any bath mats as well.
After sweeping, mop with your regular mopping solution.
You'll be left with a sparkling clean bathroom that smells amazing.
What are the Best Cleaners for the Bathroom?
Honestly, the brand of cleaner you use doesn't matter when it comes to cleaning. What does matter is the type of cleaner you use.
That might sound like a lot of different cleaners, but most can be used in multiple rooms and will last you for months.
If you'd like to use a homemade cleaner, mix half white distilled vinegar and half water. Put that in a spray bottle, and it will serve as your all-purpose cleaner and glass cleaner.
For homemade tub and tile cleaner, mix one cup of baking soda with a couple of drops of dish soap until it forms a paste. Scrub this paste on your shower with your brush and then rinse off with water.
The baking soda is slightly abrasive so it will help loosen up soap scum and mildew without damaging your shower or bathtub.
I recommend that you still purchase a toilet bowl cleaner and NEVER mix vinegar with any bleach products.
How to Keep Your Bathroom Clean Going Forward
There are a few simple steps you can take to ensure that your bathroom stays clean going forward.
These are the most important ones:
Keep a dirty clothes hamper in or near your bathroom – In my bathroom, especially my kids' bathroom, dirty clothes thrown on the floor makes it look cluttered and messy the quickest. Luckily, this is an easy solution.
All you need to do is place a hamper in or near the bathroom.
Wipe counters and sinks daily – A quick 30 second wipe down of your vanity counter and sink will prevent it from building up nasty residue between deep cleanings.
Empty trash weekly – On trash pick-up day, empty all of your bathroom trash. This will keep your bathroom looking so much nicer.
These three steps don't take any time and can make a HUGE difference in keeping your bathroom clean.
However, regardless of whether or not you take these steps, you should still do a full clean once a week.
How to Clean a Bathroom: Free Checklist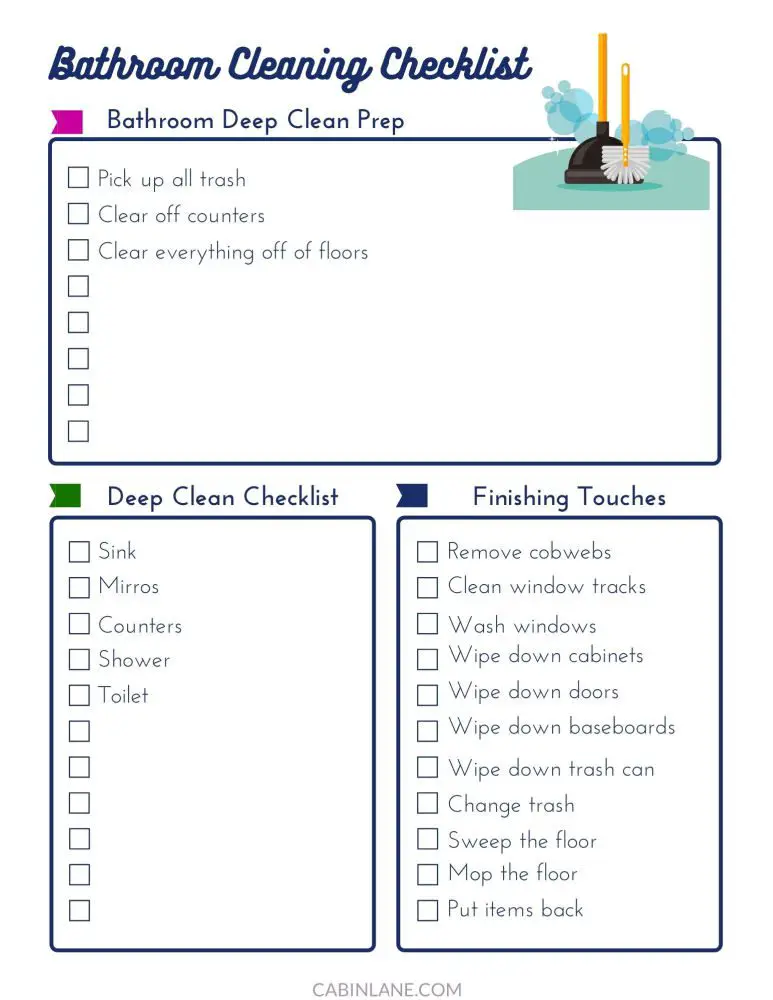 If you like working off of a checklist so that you don't forget any steps of cleaning the bathroom, you can download our bathroom cleaning checklist here.
This checklist is for deep cleaning and has a couple of extra steps like washing windows and removing cobwebs from the ceiling.
Conclusion
The steps to cleaning a bathroom are pretty simple. And fortunately, the more you do them, the easier they become.
This is because not only do you get better at cleaning, but all of the surfaces in your bathroom won't get as dirty and therefore take less time to clean.
Katie Barton is the owner of Cabin Lane. She's also a home improvement writer for Bob Vila and Homedit. Her cleaning and organizing advice has been featured on Realtor.com, Yahoo News, GoBankingRates, and more. In her spare time, you can find her with a paintbrush in hand, searching for her next project.