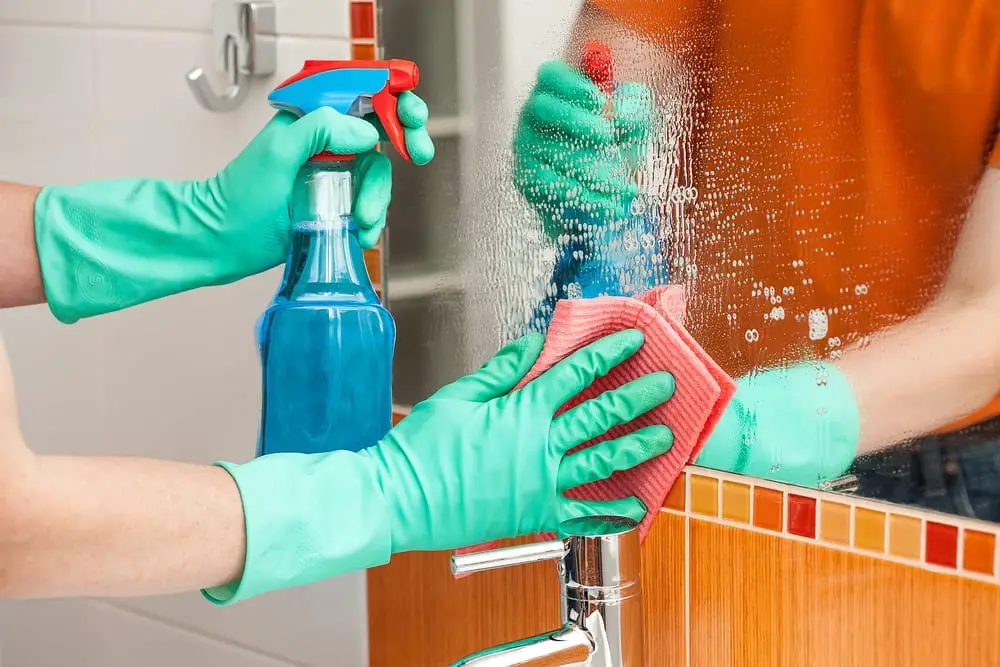 Is your mirror streaky no matter what you try?
When streaks are left behind on mirrors, it's usually the result of one of two causes. First, the mirror is super dirty, and one cleaning didn't remove all of the build-up. Or secondly, the cleaning cloth you're using is smearing the dirt instead of removing it. #Gross
If you're ready to achieve a streak-free shine, let's do it! Here's how to clean a mirror without streaks.
What's The Best Way to Clean a Mirror without Streaks?
I've tried many different cleaners – homemade and store-bought – and while most do a good job, nothing beats out a vinegar and water solution for cleaning mirrors and windows.
To clean mirrors with vinegar, add a solution of 50% water and 50% white distilled vinegar to a spray bottle. Lightly spray the solution on your mirror and wipe clean with a microfiber cloth.
Other Ways to Clean a Mirror Without Streaks
Windex
I don't want to sound obvious here, but you can totally use store-bought window cleaners to achieve a streak-free clean. 
Here's how to do it:
LIGHTLY spray Windex or another commercial cleaner on your mirror.

Wipe until fully dry with a microfiber cloth.
That's all there is to it. The key is not overdoing it with the spray – a little goes a long way. 
Use Rubbing Alcohol
If you didn't know, rubbing alcohol is the main ingredient in most glasses cleaner wipes – it's excellent at cleaning glass and mirrors.
For this method, mix 1 part rubbing alcohol to 3 parts water. (Example: ¼ cup rubbing alcohol to ¾ cup of water.) Put the mixture in a spray bottle and use it just as you would any other cleaner.
Replace Paper Towels with Newspaper
An old trick for getting mirrors streak-free is using newspaper. Newspaper absorbs liquid instead of moving it around, which is what helps to achieve that streak-free look.
For this trick, use newspaper to wipe up your cleaner instead of a paper towel or microfiber cloth.
Use a Microfiber Cloth
I used to avoid using a microfiber cloth because I hated the way they felt on my skin. But the truth is, there's no better tool for cleaning windows…or any surface, for that matter.
Microfiber sucks up whatever cleaning solution you put on your mirror and has the texture to remove stuck-on toothpaste. I now use microfiber cloths to clean just about every surface in my house. 
(I use these inexpensive ones from Amazon. They clean amazingly well.)
Step by Step Instructions for Achieving a Streak-Free Mirror
Do you want me to walk you through getting a streak-free mirror? Good. Here's how you do it.
Dampen the tip of your microfiber cloth and use it to scrub off any stuck-on toothpaste or other harsh build-ups on your mirror.

Using your glass cleaner of choice *lightly* spray your mirror.

Using your microfiber cloth, start at the top of the mirror and wipe your way down using a slow side to side motion.

Wipe until fully dry. (If your cloth gets too wet, flip it over.)
Using that method, your mirror should be streak-free. If there are still streaks or build-up on your mirror, grab a fresh microfiber cloth and repeat the process.
Final Thoughts on Achieving a Clean Mirror with No Streaks
If your mirror is streaky after cleaning it, you either had a super dirty mirror that needed to be wiped down multiple times, or your cleaning rag is smearing the dirt instead of removing it. The best thing you can do is use a microfiber cloth and see if that fixes your issue.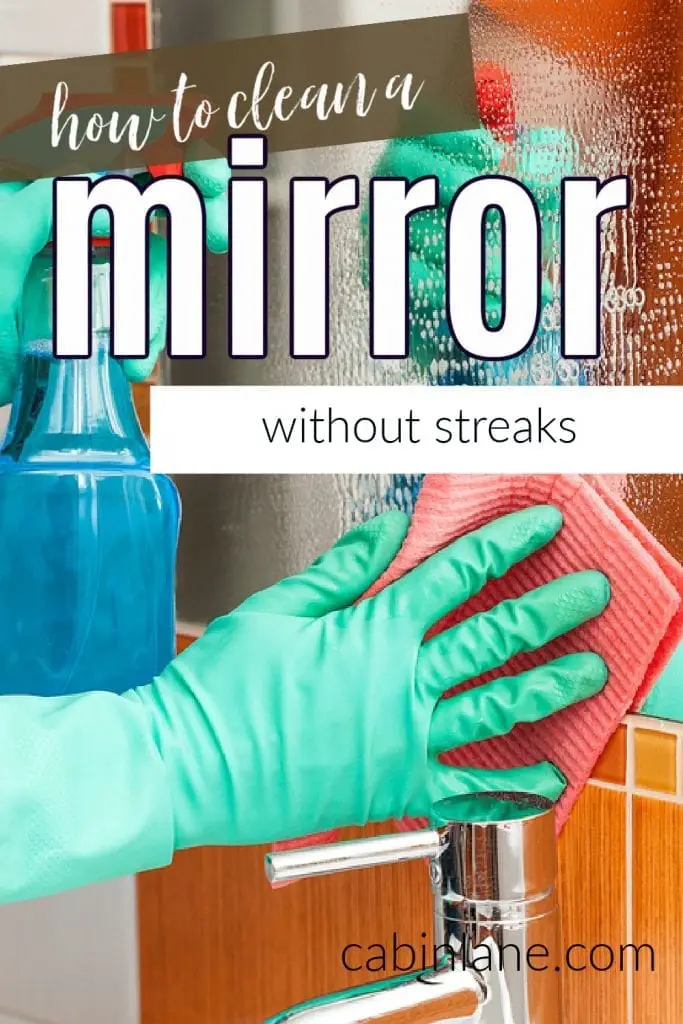 Katie Barton is the owner of Cabin Lane. She's also a home improvement writer for Bob Vila and Homedit. Her cleaning and organizing advice has been featured on Realtor.com, Yahoo News, GoBankingRates, and more. In her spare time, you can find her with a paintbrush in hand, searching for her next project.