Last Updated on December 9, 2021 by Katie Barton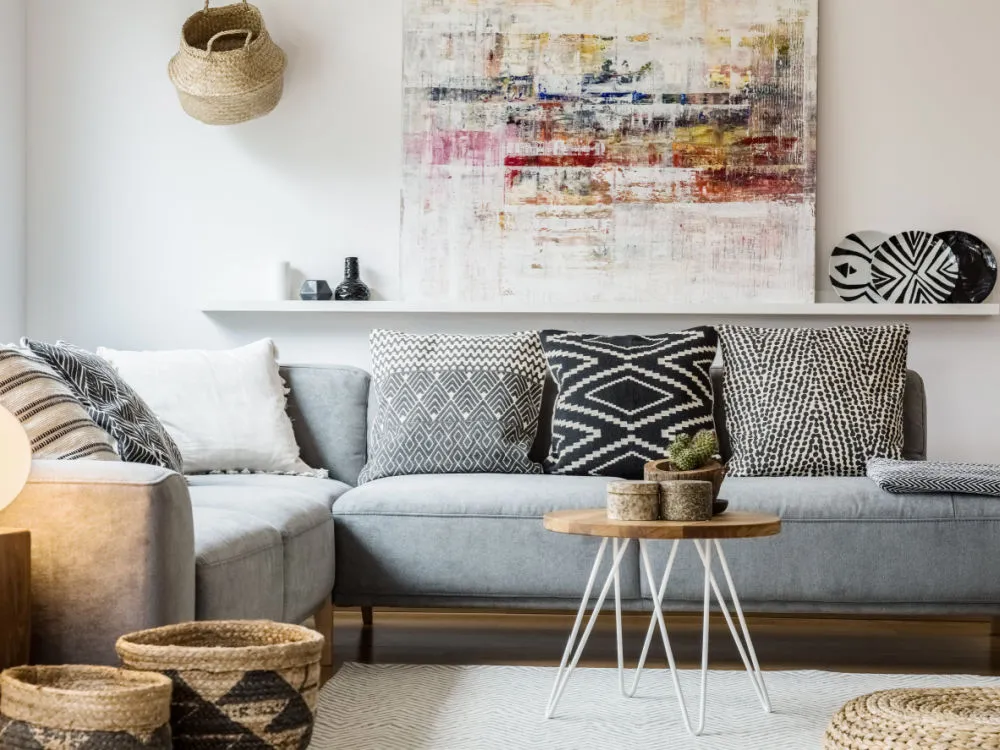 While comfy and practical, fabric couches are the perfect breeding ground for germs.
If you've had a virus floating around your house or are deep cleaning your living room, disinfecting your couch should be a priority.
Luckily, doing so isn't hard.
There are three super effective ways to disinfect, depending on the supplies you have on hand.
Ready to deep clean? Here's how to disinfect a fabric couch.
Before You Start: Vacuum Your Couch
Before you start the disinfecting process, you need to vacuum your couch.
Vacuuming will remove grime build-up and prevent the dirt in your couch from turning muddy – because every way to disinfect requires a small amount of moisture that you don't want to mix with dirt.
So, thoroughly vacuum all cushions, crevices, and cracks before moving on.
Top Ways to Disinfect a Fabric Couch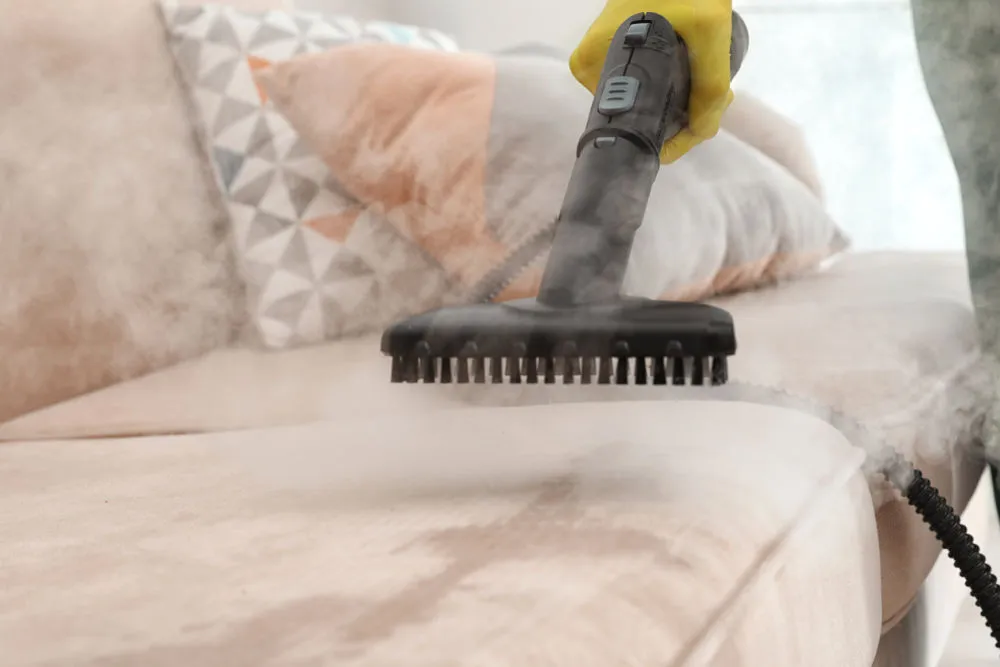 A Steam Cleaner
Steam cleaning is the most effective way to get germs and bacteria from a fabric couch. Steam cleaning will sanitize, deodorize, and even break down stains.
Doing this on a couch will require an upholstery steam cleaner, not a steam mop.
(Also, check the care tag on your sofa to ensure it's steam-clean safe.)
Here's how to disinfect your couch with a steam cleaner:
Start by thoroughly vacuuming
Fill the steam cleaner's reservoir tank with water (do not overfill, or you'll saturate your couch)
Start with the underside of your cushion so you can see if it causes any adverse reactions
Slowly and evenly run the steam cleaner over your couch
Be sure to work in sections and never hold the steam cleaner in one place too long. If you do, you'll saturate your couch, leading to mold and mildew buildup. 
Make sure to get the sides of your couch as well. Let all of the cushions completely dry before placing them back on the sofa.
Lysol Disinfecting Spray
Do you want the simplest way to disinfect your couch? It's Lysol disinfecting spray. 
Lysol is fabric-safe, but each material reacts a bit differently. So, it's always a good idea to do a spot test before spraying your entire sofa.
To disinfect your couch, here's what to do:
Spray your entire couch until slightly damp (Not saturated)
Allow to air dry
For the disinfectant to work fully, your couch must remain damp for at least 30 seconds.
Homemade Disinfecting Spray
If you don't have any Lysol handy and need to disinfect quickly, you can make your own disinfectant spray.
Simply combine the following in a spray bottle:
2 Cups Rubbing Alcohol
1 Cup Water
Of course, I've got to give you the obligatory warning (because I don't want you to ruin your couch!) do a spot test.
If the spot test comes out good, mist the spray all over your couch and allow it to air dry.
How to Disinfect Your Couch's Slipcover
If you have a slipcover on your couch, you need to disinfect that too. 
The care instructions for most slipcovers are machine wash cold and air dry or tumble dry low. So go ahead and clean your slipcover with a mild cleaner on cold, then allow it to air dry.
If your slipcover isn't machine washable, have it dry cleaned.
You can disinfect with Lysol or your homemade disinfecting spray.
Frequently Asked Questions
What's the best disinfectant spray for a couch?
The best disinfectant spray for a couch is Lysol Disinfecting Spray. Lysol will kill up to 99% of germs, viruses, and bacteria and is safe for most fabrics. To sanitize with it, you'll need to spray your couch thoroughly (but not saturate it) and allow the spray to air dry.
How can I clean a fabric sofa naturally?
If you don't want to use chemical sprays on your couch, use an upholstery steam cleaner. A steam cleaner will remove built-up dirt, stains and will disinfect your fabric couch. And best of all, you only need water for it to work.
Can baking soda clean a fabric sofa?
While baking soda doesn't technically clean a sofa, it can absorb odors and moisture. If you want to treat your couch with baking soda, start by thoroughly vacuuming it. Next, liberally sprinkle baking soda on the cushions and allow it to sit for at least 8 hours. Finally, sweep up the baking soda.
When finished, you'll have a couch that smells much better than it did when you started.
Final Thoughts
If you have germs floating around your home and are worried about your couch, try one of these methods for disinfecting.
Steam cleaning is the easiest and best way to disinfect, but Lysol and homemade disinfecting sprays will also get the job done.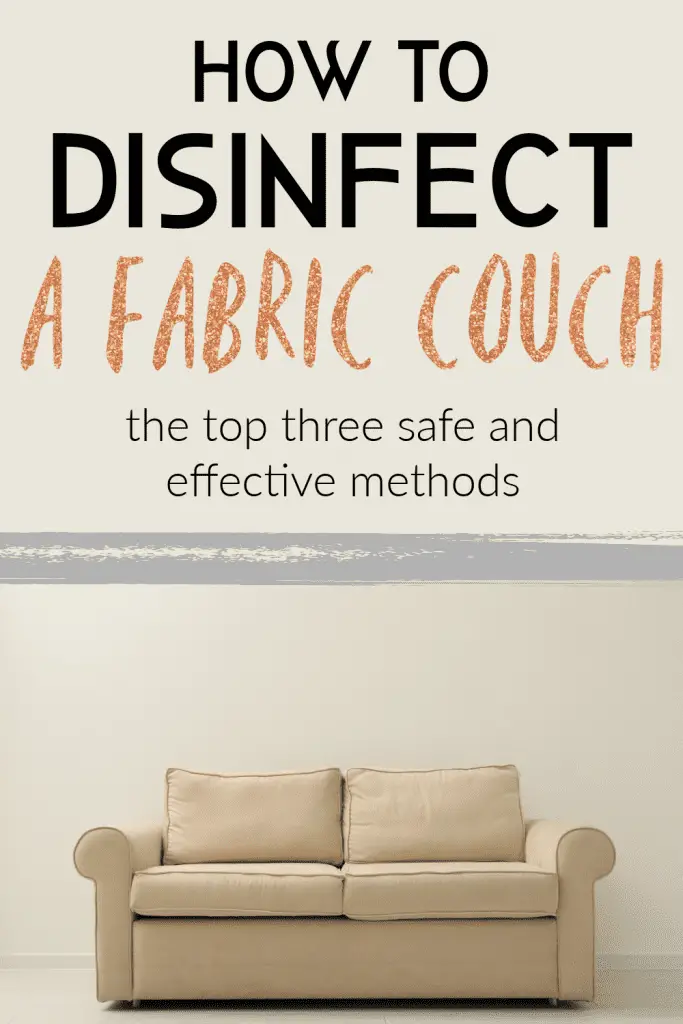 Katie Barton is the owner of Cabin Lane. She's also a home improvement writer for Bob Vila and Homedit. Her cleaning and organizing advice has been featured on Realtor.com, Yahoo News, GoBankingRates, and more. In her spare time, you can find her with a paintbrush in hand, searching for her next project.