Last Updated on March 3, 2023 by Katie Barton
If you're looking to give your living room a proper cleaning, look no further! From dusting and vacuuming to organizing and disinfecting, our printable checklist will guide you through the process of deep cleaning your space for a fresh and tidy living area.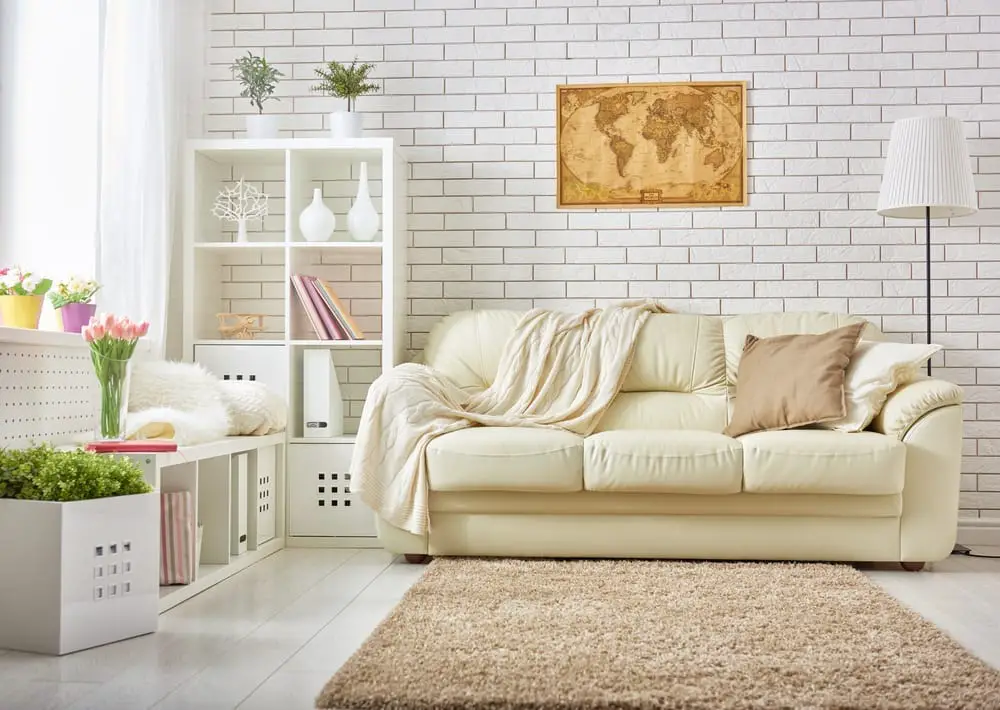 It's no secret – the kitchen is the "hub" of the home and gets the most practical use. But the messiest room is often the living room.
In most households, the living room is used by everyone and for multiple purposes – playing with toys, doing homework, eating a snack, and watching tv.
If you're ready to bring this common room back to sparkling clean, here's how to deep clean a living room.
Supplies You'll Need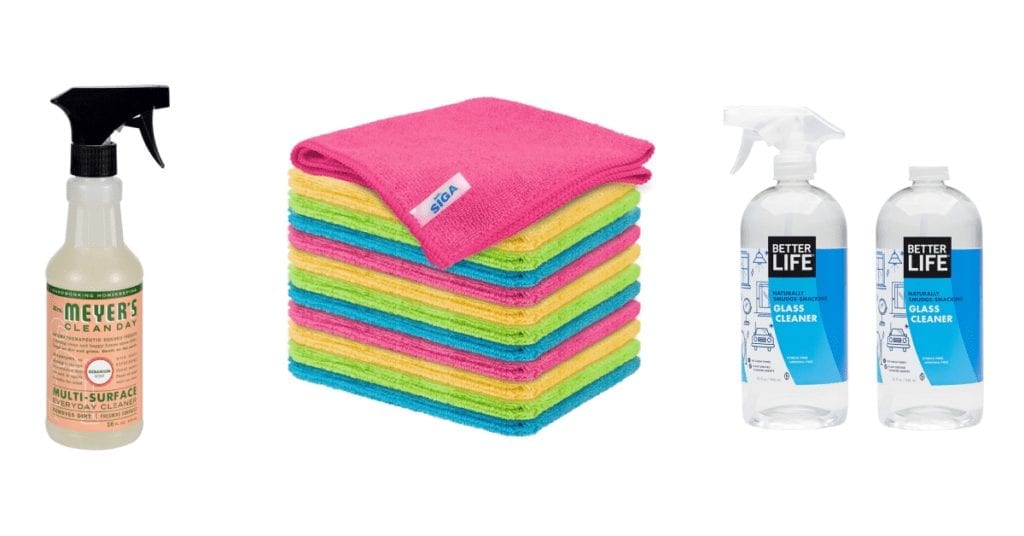 Here are the supplies you'll need to deep clean your living room:
How to Deep Clean Your Living Room – Prep Tasks
Before you deep clean, a couple of prep tasks are in order. Doing these will help you efficiently tackle the more significant chores.
Pick up All Trash – Walk around the room, pick up trash, and throw it away.
Put Up Items that Don't Belong in the Living Room – Round up all the items that don't belong in the living room, place them in a basket or put them in the room they belong. (If you have items you'd like to donate, these charities will pick them up from you.)
Put Throw Pillow Covers and Blankets in Washer – If you have any throw pillows or throw blankets in the living room, remove the pillow covers and put them in the washer.
Deep Clean Tasks
Remove Dust and Cobwebs from the Ceiling and Walls
Using a vacuum attachment or a broom, walk around the living room and remove all cobwebs on the ceiling and wall. (Here's how to dust wood ceiling beams.)
Dust Light Fixture/Ceiling Fan
If you have a ceiling fan, use your vacuum attachment to suction the dust. Next, use a microfiber cloth and a general-purpose cleaner to remove any remaining build-up.
Clean Your TV
Use a dry, clean microfiber cloth to wipe all the dust off of your TV. Wipe in circular motions.
If there's built-up dirt or grime, use a screen cleaning spray with your microfiber cloth.
Dust Your Lamps
Use a duster or dry cloth to dust your lamp shape. Use your microfiber cloth to clean the base of the lamp.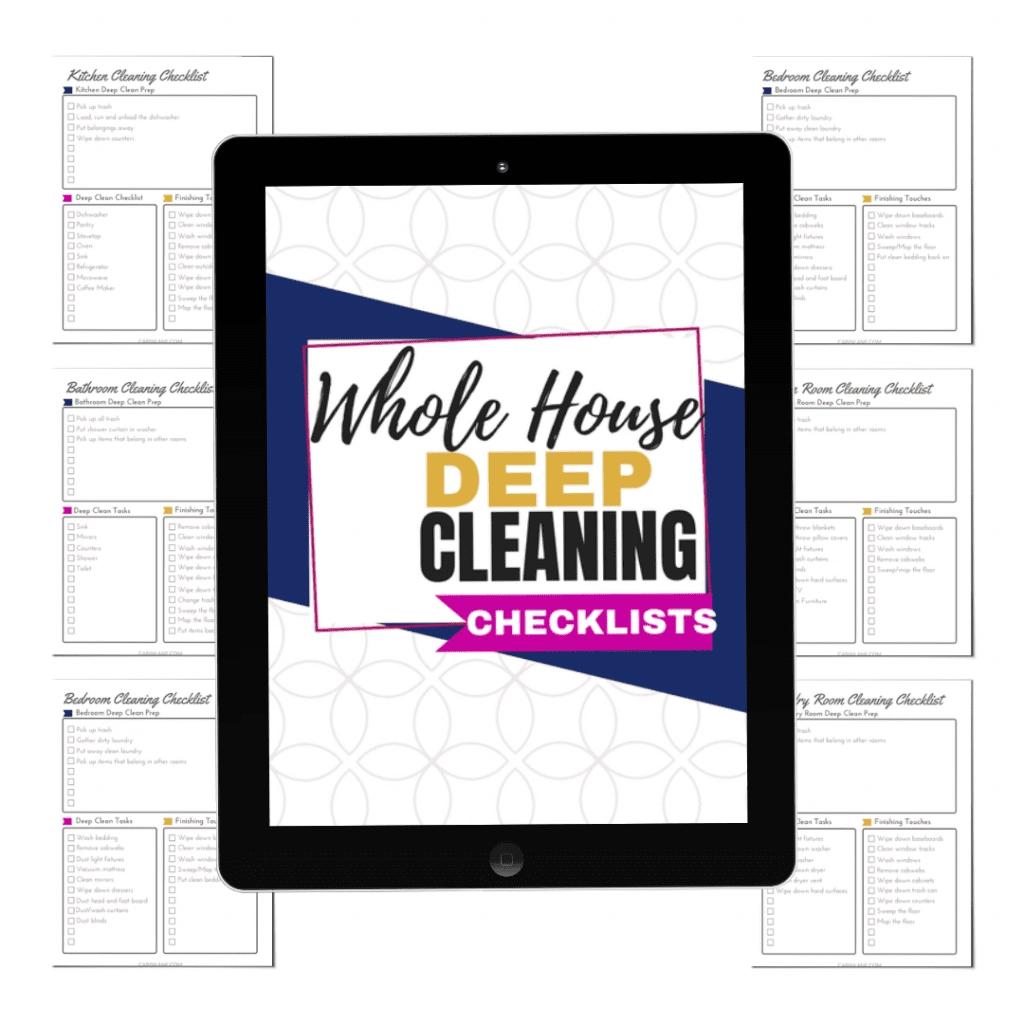 Download Living Room Deep Clean Checklist
Wipe Down Tables, TV Stands, and Hard Surfaces
Use your all-purpose cleaner or wood cleaner to wipe down tables, tv stands, and other hard surfaces. Get the tops, bottom, and sides of each surface.
Vacuum Furniture
Remove any cushions from your furniture and use an attachment to vacuum crumbs and dirt. Vacuum the cushions as well.
(Tip: How to Disinfect Your Couch)
Vacuum Under Furniture
Move furniture piece by piece and pick up trash you find underneath. Vacuum and mop if needed.
Finishing Touches
Clean Windows and Window Tracks
Pull out your vacuum or shop vac, open the windows, and vacuum the tracks. If you haven't done this in a while, you'll probably find a collection of bugs in there. After the tracks are swept, wipe them down with an all-purpose cleaner.
Last, use a glass cleaner on your windows.
Wipe Down Baseboards
Spray a microfiber cloth with your favorite all-purpose cleaner and wipe down all baseboards and trim work.
Sweep and Mop
Do a final sweep and mop of the living room.
Replace Throw Pillows and Blankets
Once throw blankets and pillow covers are washed and dry, put them back where they belong.
You're All Done!
Once you've made it through those tasks, you'll officially have a deep cleaned living room. And if you need a bit of guidance or just like checklists, be sure to download by whole-house cleaning checklists below.
Download Whole House Deep Cleaning Checklists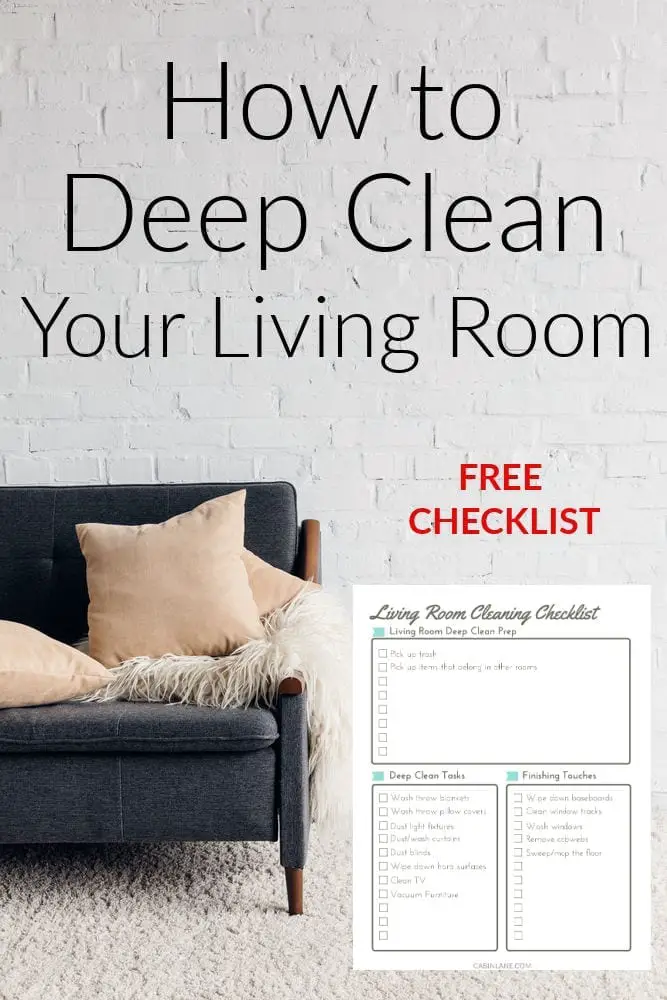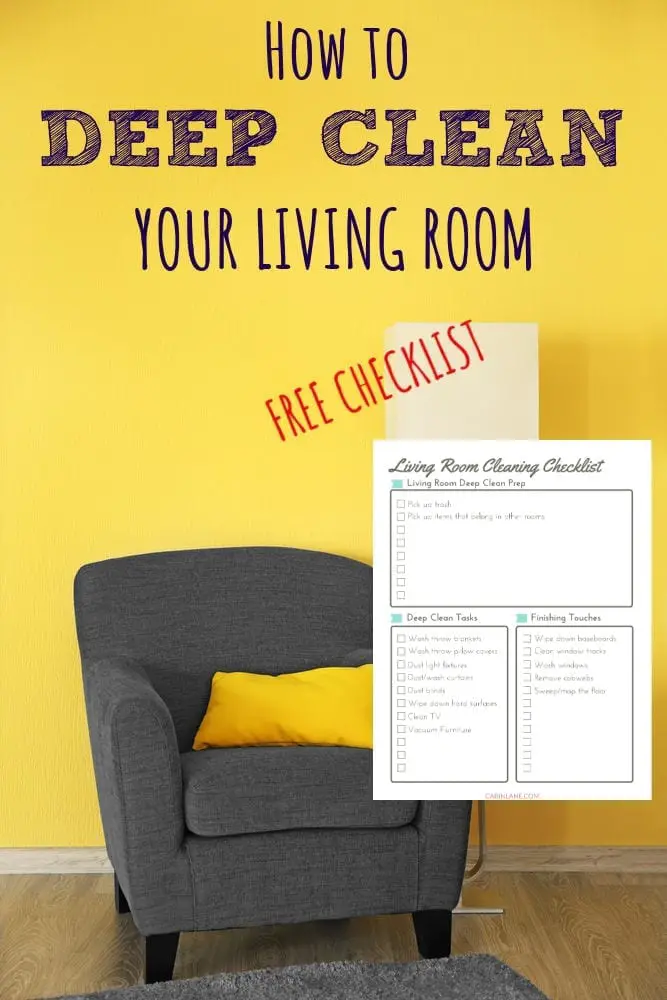 Katie Barton is the owner of Cabin Lane. She's also a home improvement writer for Bob Vila and Homedit. Her cleaning and organizing advice has been featured on Realtor.com, Yahoo News, GoBankingRates, and more. In her spare time, you can find her with a paintbrush in hand, searching for her next project.