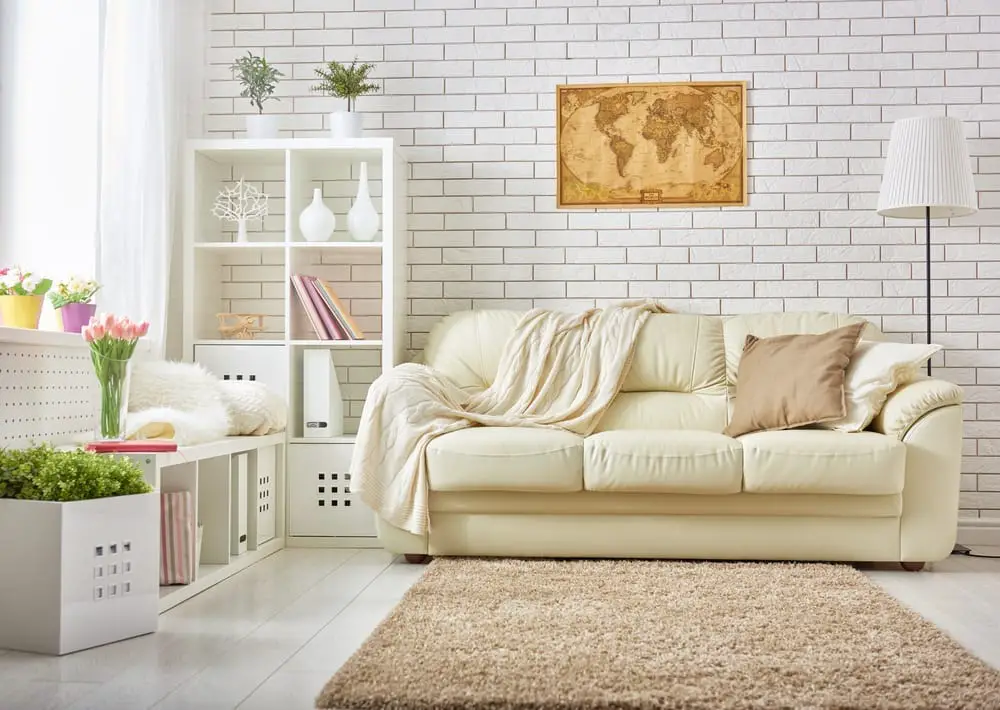 It's no secret – the kitchen is the "hub" of the home and gets the most practical use. However, the one room in my house that is the most messy-looking is always the living room.
It's where toys are dumped, and kinetic sand is strewn about. It has become a hotspot for homeschooling, and the recliner is my husband's go-to after work.
It's easily the room used most often by the most number of people in my family. And while it's never truly dirty, it's often messy, which is why it deserves a nice deep cleaning to get it back on track.
Maybe you're in the same boat?
If so, here's how to deep clean your living room.
Supplies You'll Need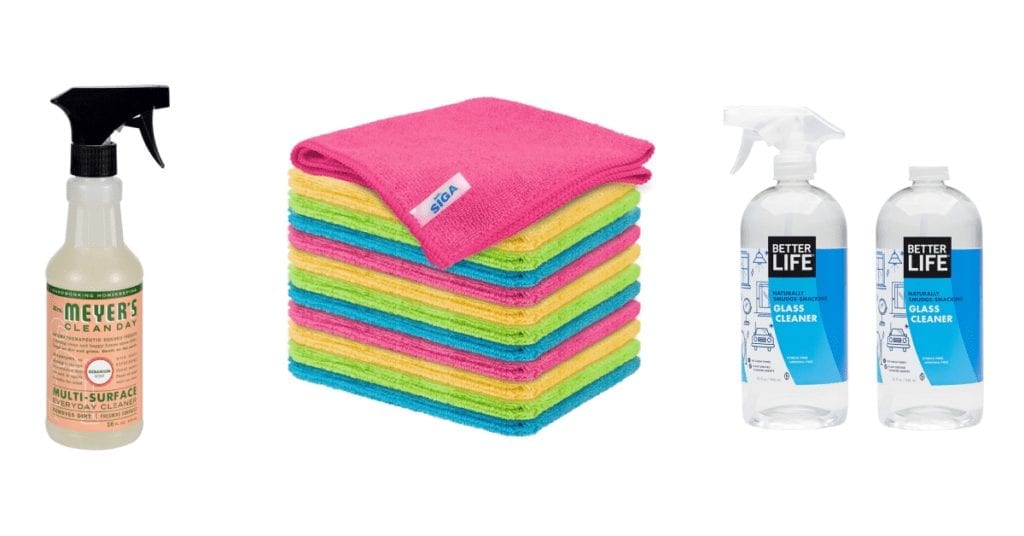 Here are the supplies you'll need to deep clean your living room:
How to Deep Clean Your Living Room – Prep Tasks
Before you get down to deep cleaning, a couple of prep tasks are in order. Doing these things will help you more efficiently tackle the more significant tasks.
Pick up All Trash – Walk around the room picking up and disposing of all trash.
Put Up Items that Don't Belong in the Living Room – Round up all the items that don't belong in the living room, place them in a basket or put immediately put them in the room in which they belong. If you have items you'd like to donate, these charities will pick them up from you.
Put Throw Pillow Covers and Blankets in Washer – If you have any throw pillows or throw blankets in the living room, remove the pillow covers and throw the covers and blankets in the washer.
Deep Clean Tasks
Remove Dust and Cobwebs from Ceiling and Walls
Using a vacuum attachment or a broom, walk around the living room and remove all cobwebs on the ceiling and wall. (Here's how to dust wood ceiling beams.)
Dust Light Fixture/Ceiling Fan
If you have a ceiling fan, use your vacuum attachment to suck the dust off. Next, use a microfiber cloth and a general-purpose cleaner to remove any remaining dust.
Clean Your TV
Use a dry, clean microfiber cloth to wipe all the dust off of your TV. Wipe in circular motions.
If there are problem spots of built-up dirt or grime, lightly mist the TV with a TV cleaner and wipe with your microfiber cloth.
Dust Your Lamps
Use a duster or dry cloth to dust your lamp shape. Use your microfiber cloth to clean the base of the lamp.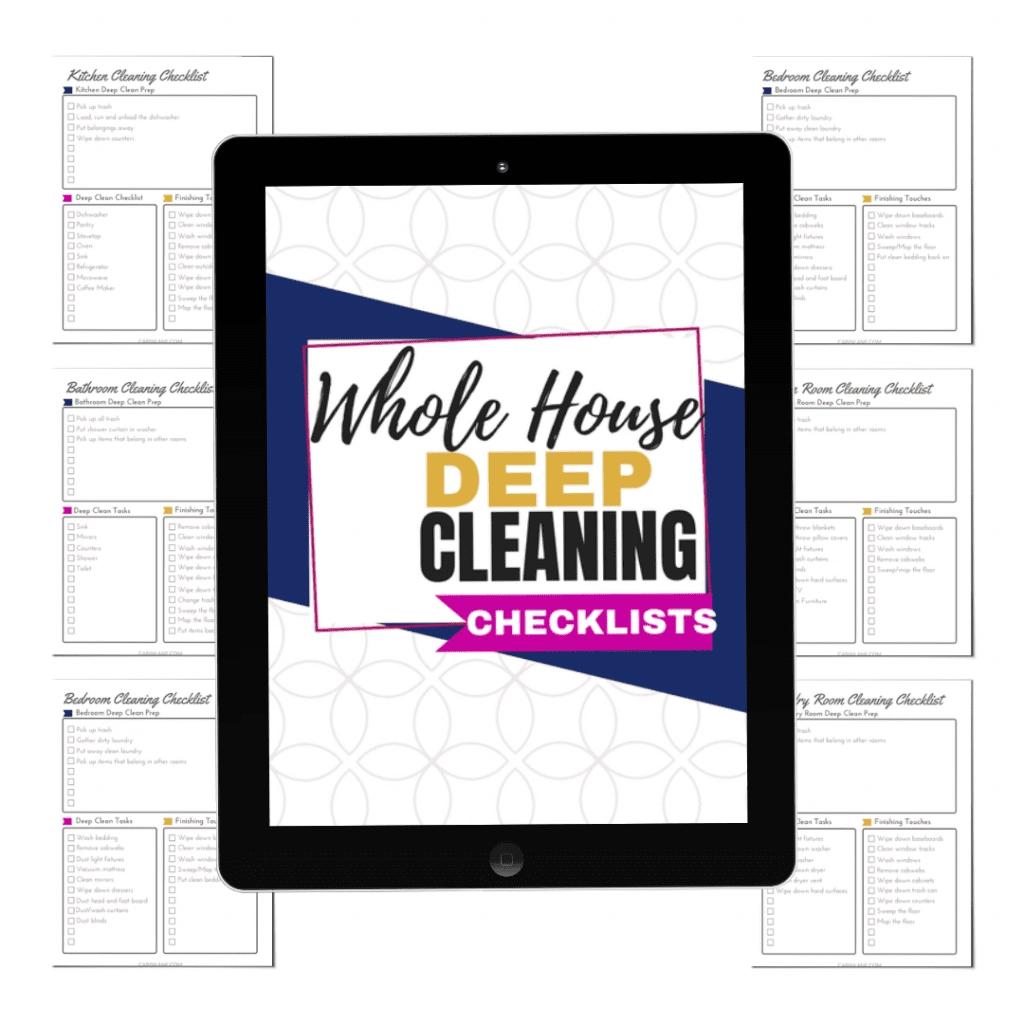 Download Living Room Deep Clean Checklist
Wipe Down Tables, TV Stands, and Hard Surfaces
Use your all-purpose cleaner or wood cleaner to wipe down tables, tv stands, and other hard surfaces. Make sure to get the tops, bottom, and sides of each surface.
Vacuum Furniture
Remove any cushions from your furniture and use an attachment to vacuum any crumbs thoroughly. Vacuum the cushions as well.
(Tip: How to Disinfect Your Couch)
Vacuum Under Furniture
Move furniture piece by piece and pick up any trash you find underneath. Vacuum and mop if needed.
Finishing Touches
Clean Windows and Window Tracks
Pull out your vacuum or shop vac, open up the windows and vacuum the tracks. If you haven't done this in a while, you'll probably find a collection of bugs in there. After the tracks are swept, wipe them down with an all-purpose cleaner.
Last, use a glass cleaner to wipe down your windows.
Wipe Down Baseboards
Spray a microfiber cloth with your favorite all-purpose cleaner and wipe down all baseboards and trim work.
Sweep and Mop
Do a final sweep and mop of the living room.
Replace Throw Pillows and Blankets
Once throw blankets and pillow covers are finished washing and drying, put them back where they belong.
You're All Done!
Once you've made it through those tasks, you'll officially have a deep cleaned living room. And if you need a bit of guidance or just like checklists, be sure to download by whole-house cleaning checklists below.
Download Whole House Deep Cleaning Checklists