Last Updated on February 15, 2022 by Katie Barton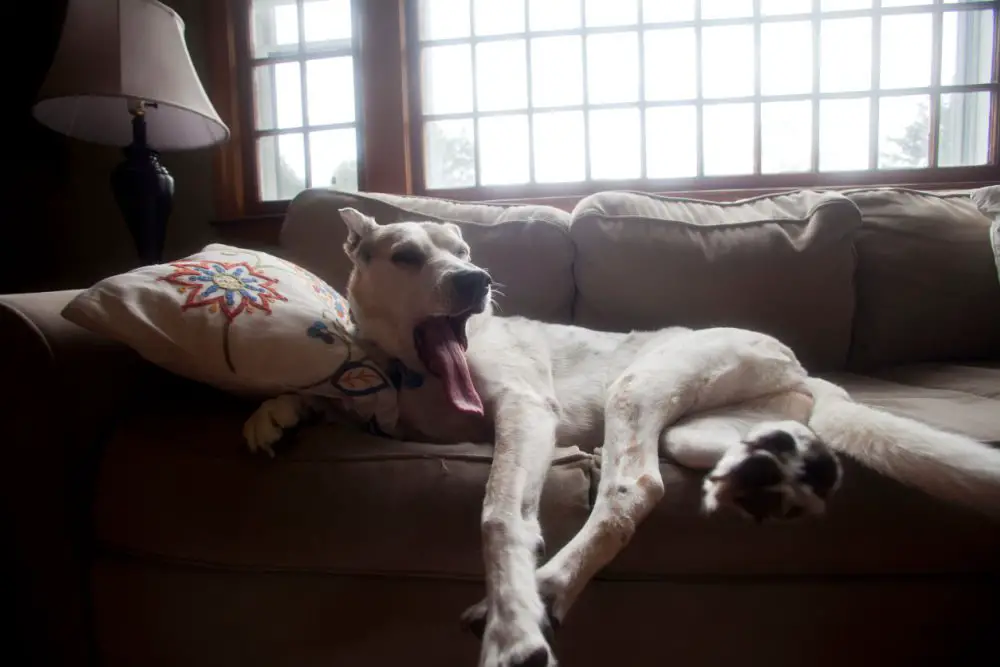 If your couch reeks of dog, you're not alone.
Unfortunately, when potty training a pup or leaving a dog home alone for the first time, accidents happen, which can leave your house smelling less than pleasant.
Fortunately, it's possible (in most cases) to remove the foul odors from your couch – especially if they're new and haven't fully set in.
Here's how to get a dog smell out of your couch – the best way plus possible alternatives.
How to Get a Dog Smell Out of Your Couch: Step by Step
The number one way to remove the dog smell from your couch is to treat it with an enzymatic cleaner. 
Enzymatic cleaners are full of good bacteria. When sprayed on your couch, they'll look for waste and soil to feed off of. Doing this breaks down and eliminates the source of the foul odors rather than masking them.
If you're looking for the best enzymatic cleaner for dog smell, here are two highly-rated options to check out:
I recommend treating your couch with an enzymatic cleaner before trying anything else. Here's what to do:
Thoroughly Vacuum the Couch
Before treating the couch, remove all pillows and blankets and thoroughly vacuum. Be sure to clean the cushions, the back of the sofa, and the cracks.
Put Pillows and Blankets in the Washer
Now, throw all of your pillows and blankets in the washer. You can wash most pillows on the cold cycle with your regular detergent and then tumble dry low.
(However, be sure to check the tags on anything you're washing to ensure it's machine safe.)
Treat with an Enzymatic Pet Odor Remover
Once you've vacuumed the sofa and thrown any loose items in the washer, it's time to treat the couch.
You'll need to follow the instructions on the cleaner you're using and do a small spot test before treating your entire couch. However, almost all of these cleaners are the same. Simply remove your pet from the area, spray the sofa, and allow it to air dry.
Alternative Ways to Get a Dog Smell Out of the Couch
If you don't want to purchase an enzymatic cleaner or it didn't quite get the smell out, try one of these other methods.
Absorb Odors with Baking Soda
Baking soda is an inexpensive and effective odor absorber. It works best on fresh smells and stains but can still help eliminate old odors.
Start by vacuuming your sofa and putting pillows and blankets in the wash. Now liberally sprinkle baking soda all over the couch. Let this sit for 24 hours and then vacuum.
Steam Clean the Sofa
You can use an upholstery steam cleaner to deep clean your couch. The steam will help loosen up soiled spots on the fabric. 
Here's what to do:
Check the tag to make sure your sofa is steam clean safe (not all are)
Thoroughly vacuum
Spray the couch with an upholstery conditioner (Will help loosen dirt)
After a few minutes, spray with an upholstery shampoo and use a fabric-safe brush to gently rub stains
Using a handheld upholstery steamer, gently but steadily clean your entire couch, working in sections
Allow the sofa to dry
(Again, spot testing products and the steam cleaner in an inconspicuous area are great ideas.)
Put Cushions in the Sun
If it's sunny where you live, take your couch cushions and put them outside. The Sun's UV rays will kill the bacteria in your sofa, which causes lingering odors. 
The amount of time you'll need to leave your cushions out depends on how bright the sun is and how bad the odors on your couch truly are.
Spot Treat Urine Stains (Huge for Removing the Smell!)
The number one way to prevent your entire couch (and house) from smelling like dog is to deal with the messes as they come. So, if there are urine spots on your couch, clean them up with a pet urine cleaner.
Frequently Asked Questions
Does vinegar get the dog smell out of a couch?
While vinegar has some deodorizing properties, it's not the best choice to get dog odors out of a couch. By FAR, the best way to get the dog smell out of a sofa is to use an enzymatic cleaner. The enzymes in these cleaners feed on the source of the odor, removing it instead of masking the smell.
How do I stop my house from smelling like a dog?
If you want to keep your home from smelling like your furry best friends, you need to keep your dog washed, pet messes treated, and deep clean your furniture from time to time. As long as you stay on top of urine, feces, and puke messes, your house won't smell bad. 
If you have old messes causing odors, treat them with an enzymatic cleaner.
What's the best pet odor eliminator plugin?
For pet odor, try an air purifier plugin. They're about $30 but will help eliminate odors rather than simply masking them. This one has a carbon filter that cleans the air as well as a scent cartridge.
Final Thoughts
Dealing with bad smells is an unfortunate byproduct of dog ownership. Luckily there are some really great cleaners on the market that can help you keep your house smelling good.
So, if you're wondering how to get a dog smell out of your couch, start by treating it with an enzymatic cleaner. You may have to treat it a couple of times to get the results you'd like. If that doesn't work, try a different method.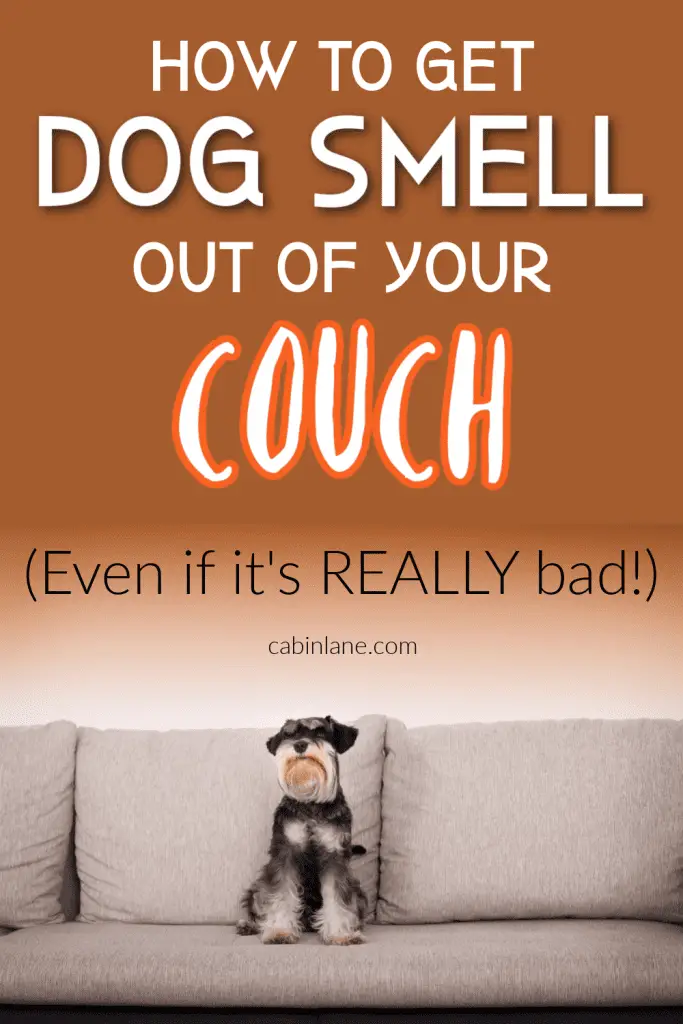 Katie Barton is the owner of Cabin Lane. She's also a home improvement writer for Bob Vila and Homedit. Her cleaning and organizing advice has been featured on Realtor.com, Yahoo News, GoBankingRates, and more. In her spare time, you can find her with a paintbrush in hand, searching for her next project.