Last Updated on May 5, 2022 by Katie Barton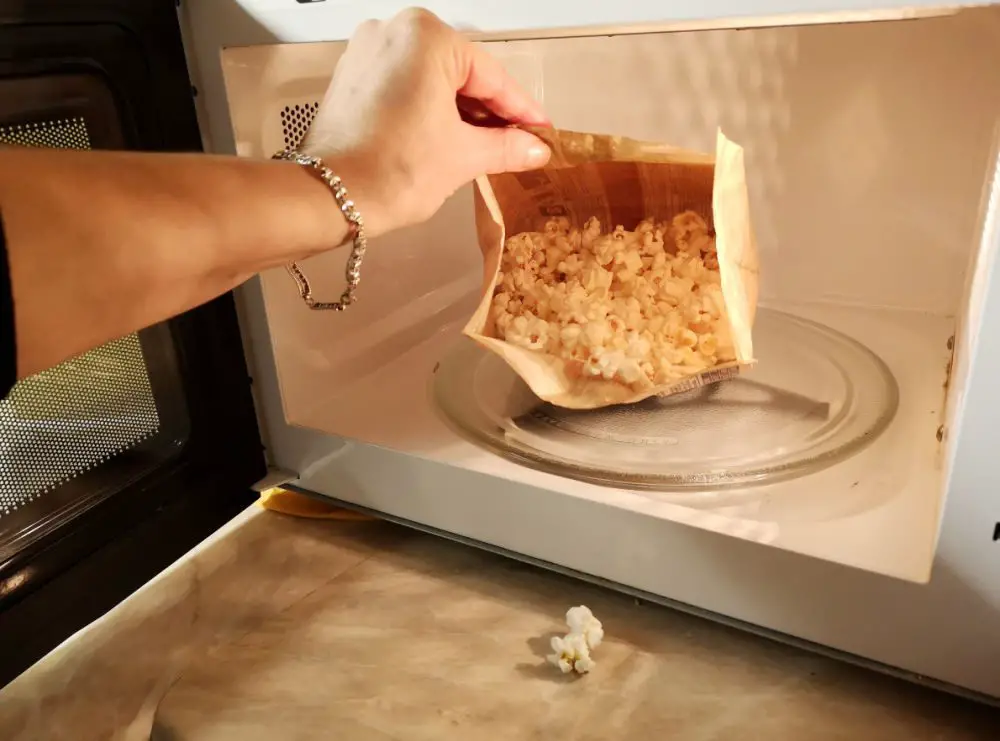 While making popcorn in a microwave is quick and easy, it will leave you with a terrible smell if you overcook it.
Burnt popcorn has a pungent odor that can remain in your microwave for days, sometimes even weeks.
If you're ready to rid your home of odors from overcooked popcorn, here's how to get burnt popcorn smell out of the microwave.
How to Get Burnt Popcorn Smell Out of the Microwave?
Steam Your Microwave With Lemon Water
Your first line of defense against burnt popcorn odors in the microwave should be steamed lemon water. The steam will clean your microwave, while the lemon will naturally deodorize it.
Here's what to do:
In a microwave-safe bowl, pour half a cup of water. 
Cut a lemon in half and squeeze the lemon juice from both halves into the water bowl.
Microwave for three minutes.
After three minutes, open the microwave and remove the bowl using oven mitts. 
Using a moist sponge or towel, wipe the inside of the microwave.
After cleaning the stains, wipe down the microwave with a dry cloth. This will clear the moisture from the microwave's interior.
Deodorize with Vinegar
If lemon water isn't strong enough, add a dash of vinegar. This won't leave your microwave smelling as nice as lemon but works wonders for odor removal.
 The steps to implement this method are as follows:
Fill a small bowl halfway with water and halfway with white vinegar.
Microwave for three minutes on high.
Once done, leave the microwave door shut for a few minutes. Then carefully take out the bowl.
Using a clean towel or cloth, rub the inside of the microwave.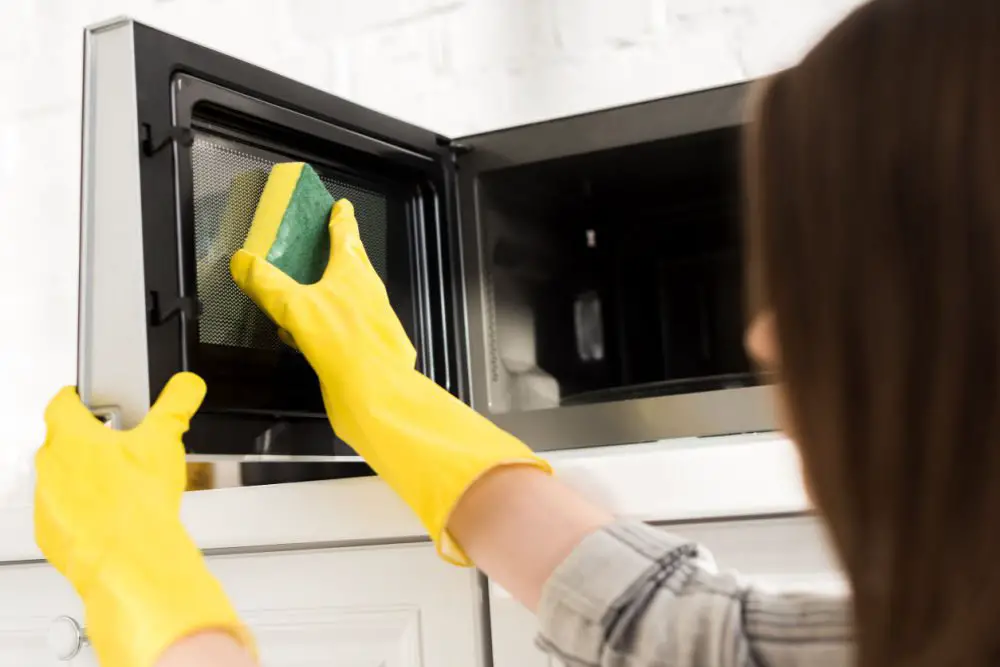 If the steam treatment fails, use the vinegar solution directly. Clean the microwave using a sponge soaked in vinegar and baking soda.
Here's how:
On a damp sponge, pour half a tablespoon of vinegar and a teaspoon of baking soda.
Microwave the sponge for 20-30 seconds, then use the sponge to scrub the inside of the microwave.
Let Baking Soda Absorb the Bad Odors
Baking soda is a strong deodorizer, so it can help get rid of any residual popcorn odors. Follow these steps to get rid of the smell of burnt popcorn in your microwave with baking soda:
In a shallow bowl of water, mix a large spoonful of baking soda until the mixture is thick but still liquid.
Microwave the bowl for 5 minutes, then let it sit for an hour in the microwave.
To get rid of extreme odors, place a box of baking soda in your microwave overnight. There's no need to turn on your microwave; the powder should absorb any remnant odors.
Remove and Cover the Popcorn Smell with Coffee
Coffee can both draw out and cover unpleasant odors. Because of this, you can use it to get rid of the smell of burnt popcorn in your microwave. 
Follow these steps to do so:
In a microwave-safe cup or bowl, mix two tablespoons of ground coffee and 1/2 cup of water.
Place the coffee and water in a microwave-safe cup or bowl. 
Then microwave the coffee for 3 minutes on high.
After the cycle is over, leave the coffee in the microwave for two minutes.
Remove the bowl and wipe and dry all inside surfaces of the microwave.
Mask the Msell
With Vanilla Extract
To mask the odor, use vanilla. 
If you can't completely get rid of the smell of burnt popcorn, there are a few things you can do to mask it until it goes away. Follow these steps:
Pour one tablespoon of vanilla extract into a coffee cup, then microwave it.
Vanilla has a strong and pleasant aroma that will conceal the odor of burnt popcorn by spreading the vanilla scent around your kitchen.
Light candles
Lighting candles will help mask the smell of burnt popcorn. 
Find candles in your favorite scents and leave them burning whenever you're in the kitchen. Make sure to put them out if you plan on leaving the house or going to bed.
Alternatively, you can use a diffuser.
Cooking other things in the microwave
Microwave other foods that have a strong odor.
Doing so might conceal and cancel out the smell of burnt popcorn. Any food with a lot of cheese, like pizza, is good for disguising the smell. Bacon, soups, and sweet-smelling pastries like cinnamon rolls are also suitable options.
Frequently Asked Questions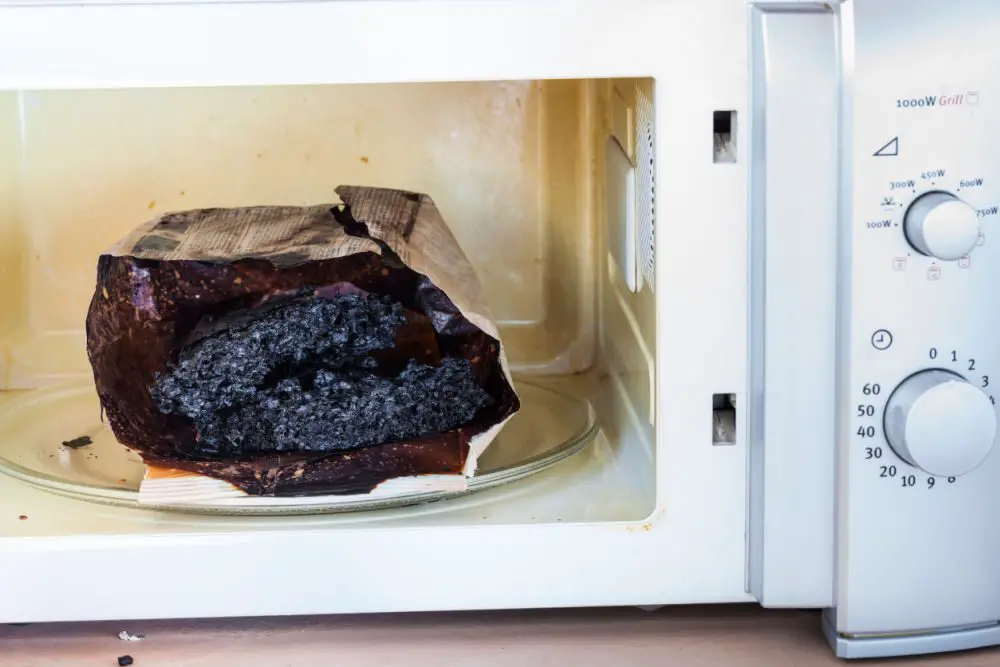 Does burnt popcorn damage a microwave?
Microwaves are durable, and a little burnt popcorn won't destroy them unless you see sparks or a fire. Make sure to remove any burned residue from the microwave. If the door appears to be in good working order and closes, it is safe to use.
How long does the smell of burnt popcorn last?
Depending on the ventilation and microwave cleaning, the smell of burnt popcorn might persist anywhere from a few days to a week. However, the odor will dissipate quickly if you clean the microwave right away.
Final Thoughts
We hope you found this article about how to get the burnt popcorn smell out of the microwave helpful.
The methods listed above effectively get rid of the smell, and most don't require many supplies. If your microwave has a burnt popcorn odor, try one of these techniques to eliminate it.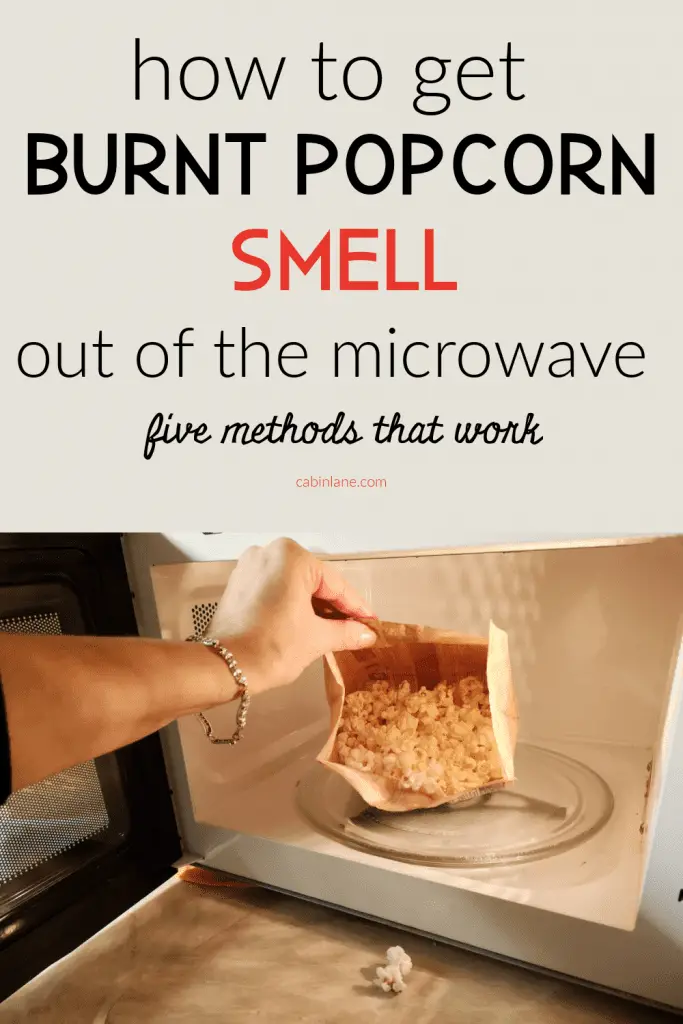 Katie Barton is the owner of Cabin Lane. She's also a home improvement writer for Bob Vila and Homedit. Her cleaning and organizing advice has been featured on Realtor.com, Yahoo News, GoBankingRates, and more. In her spare time, you can find her with a paintbrush in hand, searching for her next project.