Last Updated on May 23, 2022 by Katie Barton
Your kids are working on a craft project with glue and paper spread across the floor. Unfortunately, the glue gets knocked over without you noticing.
The next day, after picking up the mess, you spot a big chunk of dried glue on your carpet.
While you might be ready to pull out the scissors and get to chopping, you can probably remove the glue using one of the methods listed below.
Here's how to get glue out of carpet.
How To Get Glue Out Of Carpet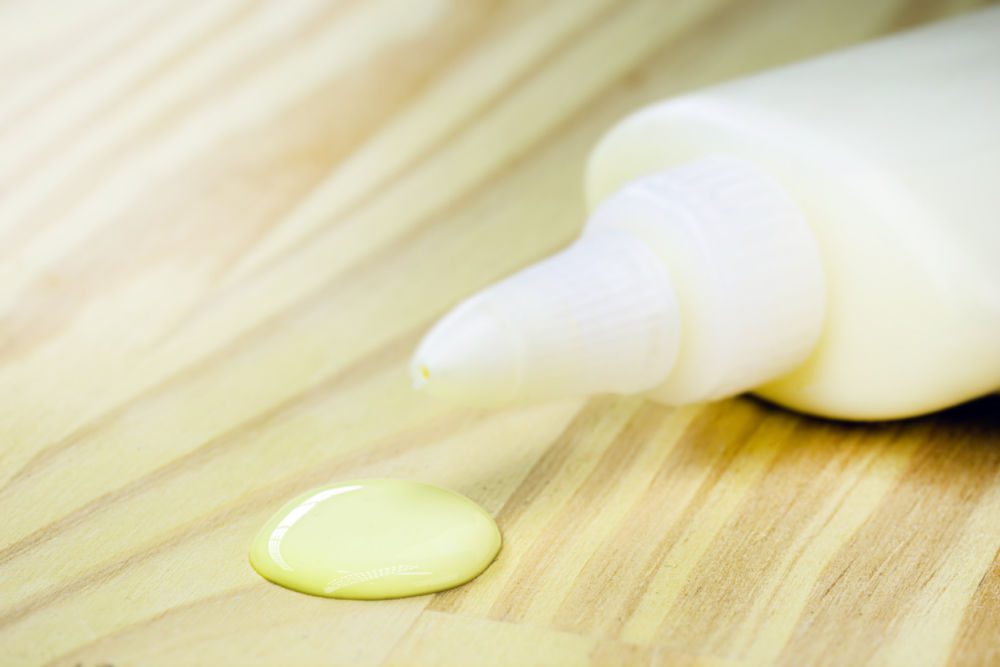 A couple of methods work to get glue out of carpet effectively. Here's what to try:
Method 1: Iron the Glue 
This procedure is ideal for removing adhesive from thick, long carpet (like shag.)
Scrape as much dried glue off the carpet as possible using a butter knife. 
Cover the remaining glue with a thin towel.
Iron the fabric over it. 
Heat will soften the glue, allowing it to migrate from the carpet to the towel.
Method 2: Use Vinegar and Dish Soap
Vinegar and dish soap are a dynamic duo fit for removing many types of stains. This combination also works well with glue, particularly craft glue.
Here's how to remove glue with vinegar and dish soap.
If the glue is still fresh, dab it with a towel.
If the glue is dry, use a butter knife to scrape as much as possible out of the carpet.
Soak a rag in vinegar and rub it on the glue, saturating it. Allow it to sit for 15 minutes.
Combine one tablespoon of dish soap with one cup of warm water. Then, use a rag to wipe up the vinegar and glue.
Scrub the area and use your butter knife to scrape more glue out of the carpet if necessary.
Once you've given the area a good scrub, go back over it with a dry cloth to blot the water, dish soap, and vinegar out of the carpet.
Method 3: Use Ammonia
If the first two methods don't work, you can try ammonia.
Ammonia is much harsher, so make sure to wear gloves and ventilate the room before handling it. 
Here's what to do:
In a cup of water, dissolve one teaspoon of ammonia. 
Soak a clean cloth in the solution while wearing gloves.
Blot the glue stain on the carpet until it transfers to the fabric.
Repeat till the stain disappears.
Method 4: Try Acetone
Another great product that you may already have on hand is acetone. This approach is appropriate for both fresh and dried glue.
Here's how to use it:
First, dab as much glue off the carpet as possible with a paper towel or rag.
Soak a cotton ball or swab in acetone nail polish remover. Press down on the glue spot. Repeat until the glue begins to peel away. 
Wipe the carpet with a warm wet towel after the stain has disappeared.
Pat dry with a fresh towel.
How to Get Gorilla Glue Out Of Carpet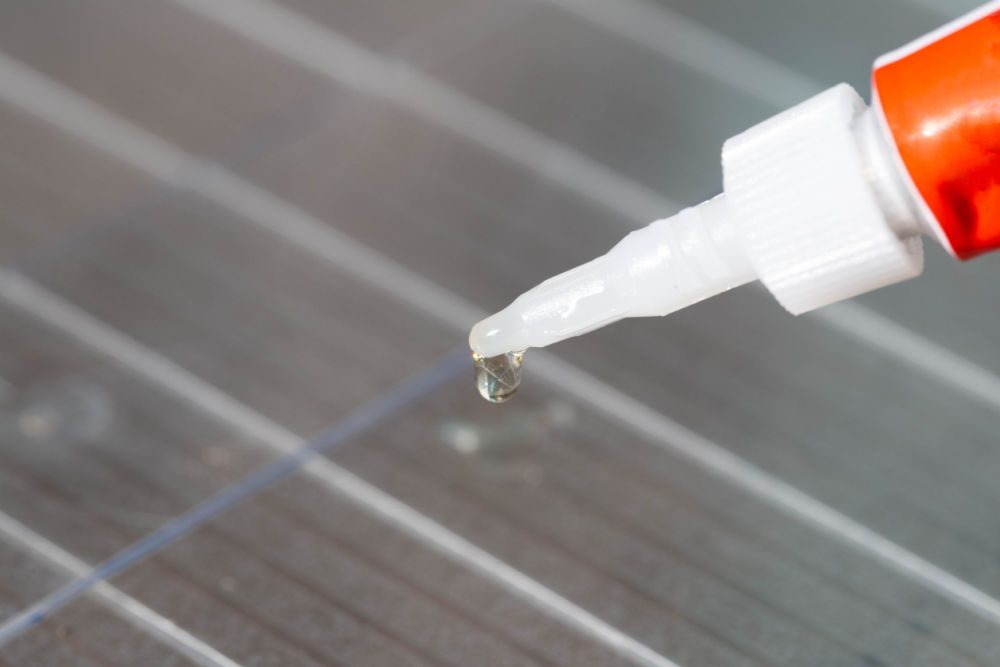 Gorilla glue is much stronger than regular glue, making it harder to remove from carpet.
Before trying these, use a butter knife to scrape as much glue as possible out of the carpet fibers.
Once you've done that, try one of these steps.
Use Rubbing Alcohol
Isopropyl alcohol, often known as rubbing alcohol, can melt and dissolve things such as glue, nail polish, and paint. 
Here's how to use it to remove glue:
First, cover the glued area of your carpet with rubbing alcohol.
Allow it to sit for 5 minutes.
Next, rub a cloth over the glue to soften it. 
Finally, scrape the glue away from the surface with the cloth.
If you don't have access to alcohol, nail polish remover and hand sanitizer will work.
Use Acetone
You can use acetone to dissolve Gorilla glue from your carpet. Start by scraping the dried glue. Next, pour a small amount of acetone on the glue stain and wipe it with a microfiber cloth. Leave it to soak for 5-20 minutes. After soaking, scrape any remaining glue away and then clean the carpet with a rag and freshwater.
Final Thoughts
Your best bet for getting glue out of your carpet is to act fast. If you spot the glue before it's completely dry,  you'll have a better chance of removing it.
However, that doesn't mean all is lost if the glue is dry. Start by scraping the carpet with your butter knife, and then use an appropriate solution to remove the rest of the adhesive.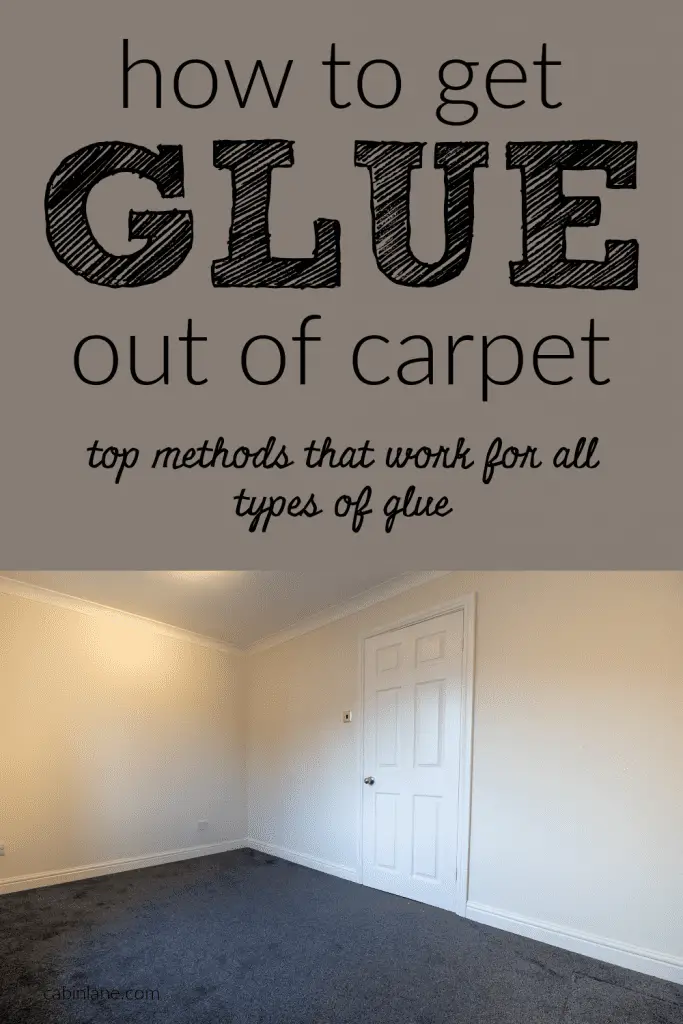 Katie Barton is the owner of Cabin Lane. She's also a home improvement writer for Bob Vila and Homedit. Her cleaning and organizing advice has been featured on Realtor.com, Yahoo News, GoBankingRates, and more. In her spare time, you can find her with a paintbrush in hand, searching for her next project.