Last Updated on February 15, 2021 by Katie Barton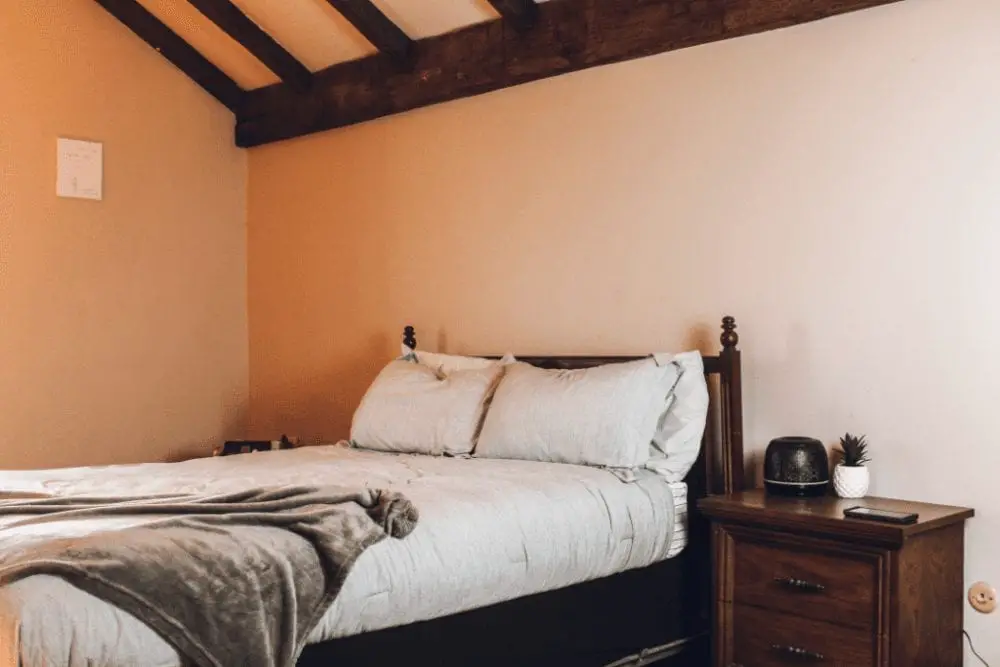 Tell me if this sounds familiar…
Covid hit, and your responsibilities piled on. Not only are you working, but now you're also hybrid/homeschooling, spending loads of time at home, and scrambling to keep your house clean.
You're picking up the same crap over and over and have finally realized that you have too much stuff.
If this sounds like you, there is good news.
I've been in the same boat, and the clutter problem can be dealt with.
While I've always leaned toward the minimal side, being home 24/7 gave me a real look into the "stuff creep" happening in my house. (If you have kids, I know you can relate.)
Luckily, even though I have to work through eliminating excess in the rest of my home, I still have my minimalist master bedroom to retreat to. Take a look.
A Look at My Bedroom Setup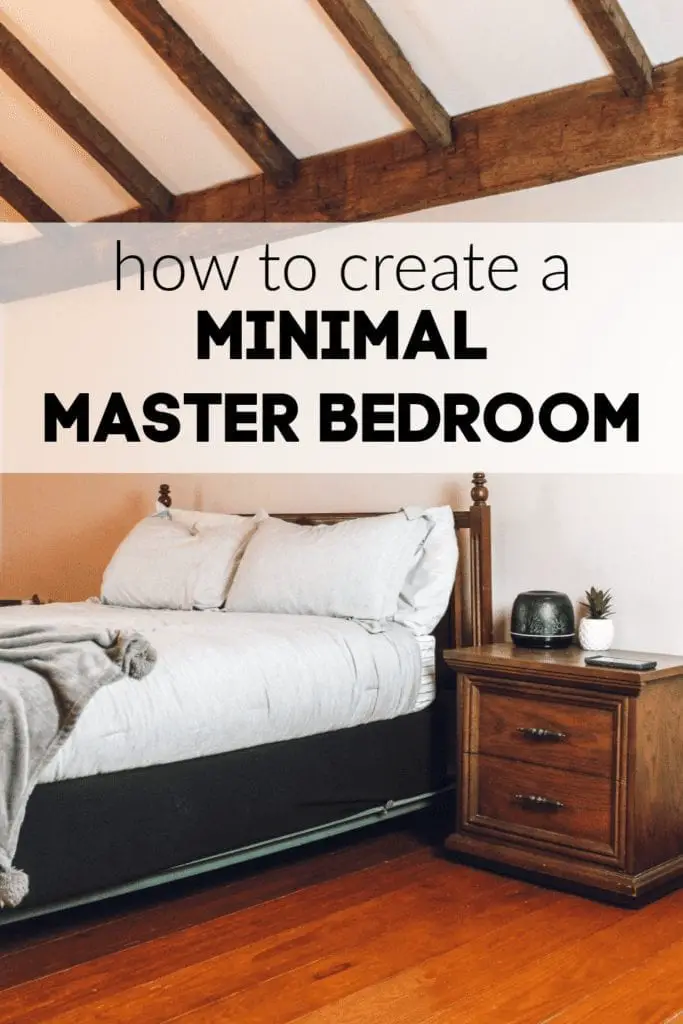 My bedroom is one of the biggest rooms in the house. (If it weren't for the beamed ceilings, I'd actually have this room turned into two bedrooms.)
I've intentionally kept it simple. Only one small canvas hanging on the wall, a leather rocking chair, two dressers, and my three-year-old's toddler bed.
My husband and I both have separate midsized closets. And then a door leads to the master bath. The bathroom is also kept uncluttered and simple, making getting ready in the morning a much more enjoyable and quick experience.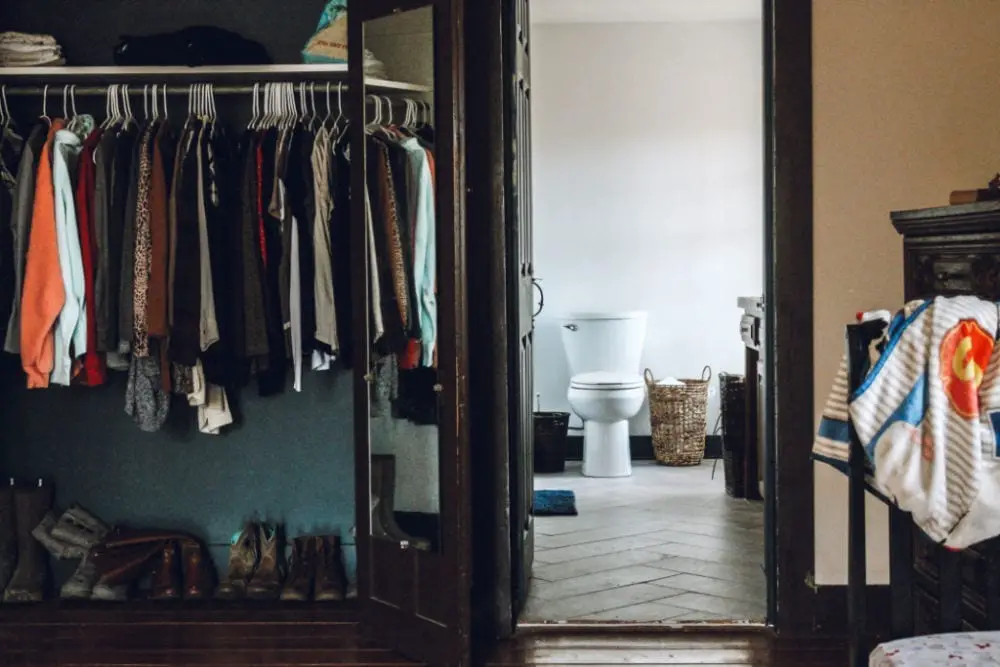 Benefits of Having a Minimalist Master Bedroom
A serene calm space to unwind for the day – When you walk into your bedroom at night to go to sleep, you should feel calm and collected rather than frazzled by the piles or messes lying everywhere.
Fewer clothes make it easier to get ready in the morning – When you declutter your clothes and keep only things you actually feel good wearing, it is SO much easier to get dressed.
Super easy to clean up – The less stuff you have, the less time it takes to clean and maintain it.
Tips for Creating a Minimalist Master Bedroom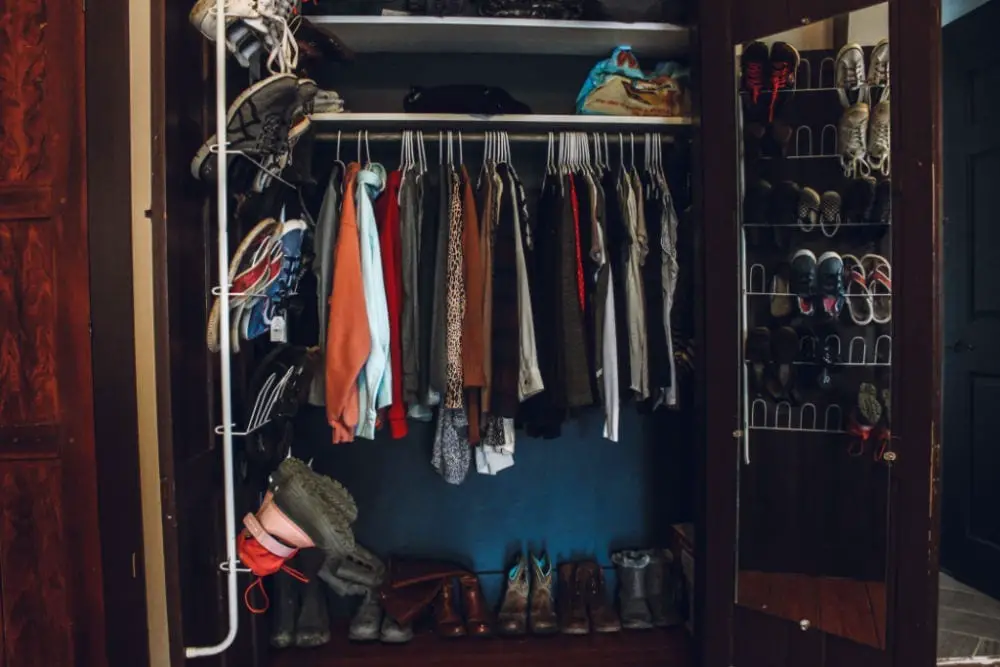 Keep flat surfaces clear – The number one rule for keeping your room visually minimal – keep your flat surfaces clear. This doesn't mean that you can't have anything sitting on your dressers or nightstands, but it does mean items should be severely limited.
Aim to have less than three items out on any flat surface.
Avoid excessive decor – The only real "decor" items I have in my bedroom are a canvas my oldest daughter made and a plant on my nightstand.
Instead of cluttering my room with decor, I let the elements in the room act as my decor. For instance, the beams on the ceiling, my painted closet, cozy comforter, and leather chair are all items that make the room feel pretty without adding excess stuff.
Declutter your clothes – Hands down, the best thing you can do for your master bedroom is to declutter your clothes.
This is especially important if you can never find anything to wear or have piles of clothes lying around.
Get rid of all clothes that don't flatter you, don't fit, and that you don't wear. By waking up to only clothes, you love and look good on you, getting ready in the mornings will be much easier.
Katie Barton is the owner of Cabin Lane. She's also a home improvement writer for Bob Vila and Homedit. Her cleaning and organizing advice has been featured on Realtor.com, Yahoo News, GoBankingRates, and more. In her spare time, you can find her with a paintbrush in hand, searching for her next project.