Last Updated on February 14, 2021 by Katie Barton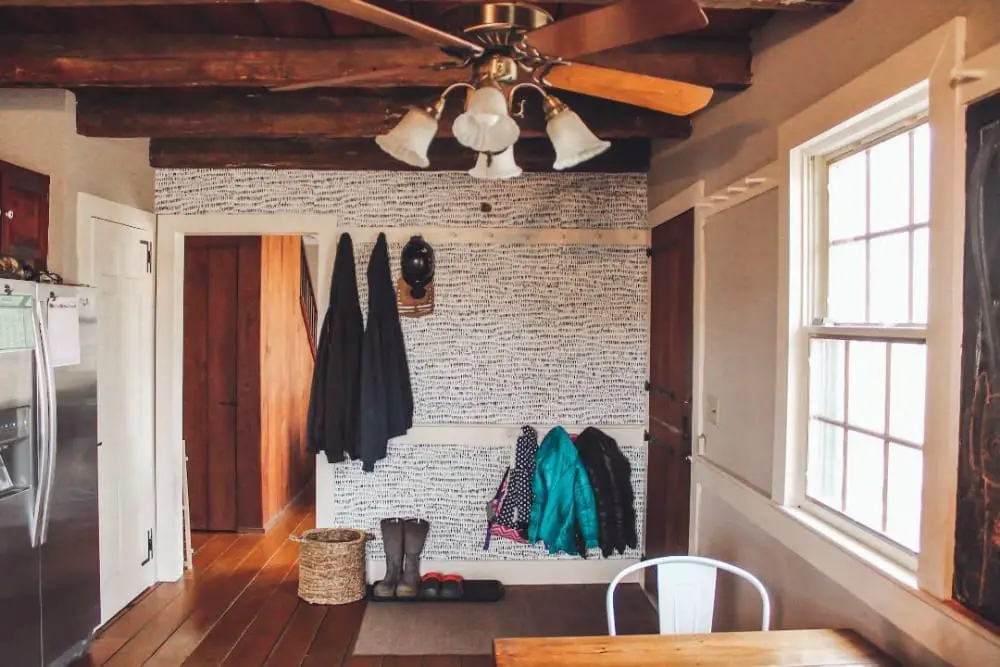 In my 2019 projects list, one of the things I wanted to do was install removable wallpaper. I had originally decided to do the hallway and dining room but changed my mind and added some wallpaper to our entryway.
Since our entryway is the kitchen, I thought adding wallpaper would be a good way to give the space some definition.
I chose NuWallpaper from Wall Pops. I got the Kylver, which was only $39 per roll.
(There were some other styles from different brands that I liked better (like this one), but those were outrageously expensive. Who would've thought that peel and stick wallpaper could cost that much?!)
Installing the Wallpaper
I've never installed wallpaper, so I was a bit nervous about getting started. Once I got started, though, I learned that there was nothing to be worried about – it was 100% easy.
There was one thing about this wallpaper that was a bit tricky – you can't match it up. It's darn near impossible to match random dots, so I did the best I could. (Wallpaper with repeating patterns would be easy to match up.)
Other things I learned:
If you mess up, it's straightforward to reposition.
It didn't pull any of the paint off the wall after being repositioned.
It seems like it would be super easy to remove if you got tired of it.
How to Hang Up Removable Wallpaper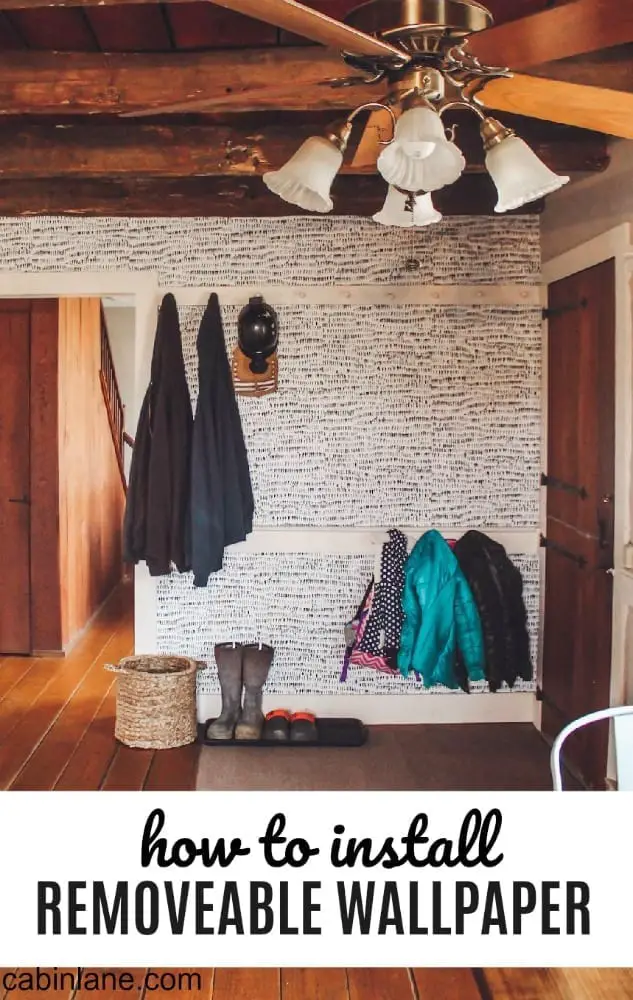 If you've never installed removable wallpaper, you'll need a smoother and a utility knife. (I used this Exacto Knife.)
Step 1 – Clean your wall.
Clean your wall off. My wall wasn't terribly dirty, so I just wiped it down with a wet washrag and then air dry.
Step 2 – Start wallpapering.
Start at one end of the wall so that you can use the corner as a guide. (Although it's important to note that your walls probably aren't completely level.)
Leave 3-5 inches of extra paper at the top and bottom.
Pull the backing off and expose just a few inches of the wallpaper at a time. This will help you keep the paper straight and prevent the bottom from sticking to the wall.
Smooth out air bubbles as you go.
Step 3 – Match up the pattern.
Repeat the previous steps matching up the pattern as you go.
(Remember, if you mess up, it's easy to reposition.)
Step 4 – Trim off the edges.
Once your wall is done, you can go back and trim off the excess paper. I used my smoother as a straight edge and ran the Exacto Knife over it.
Before & After of Removable Wallpaper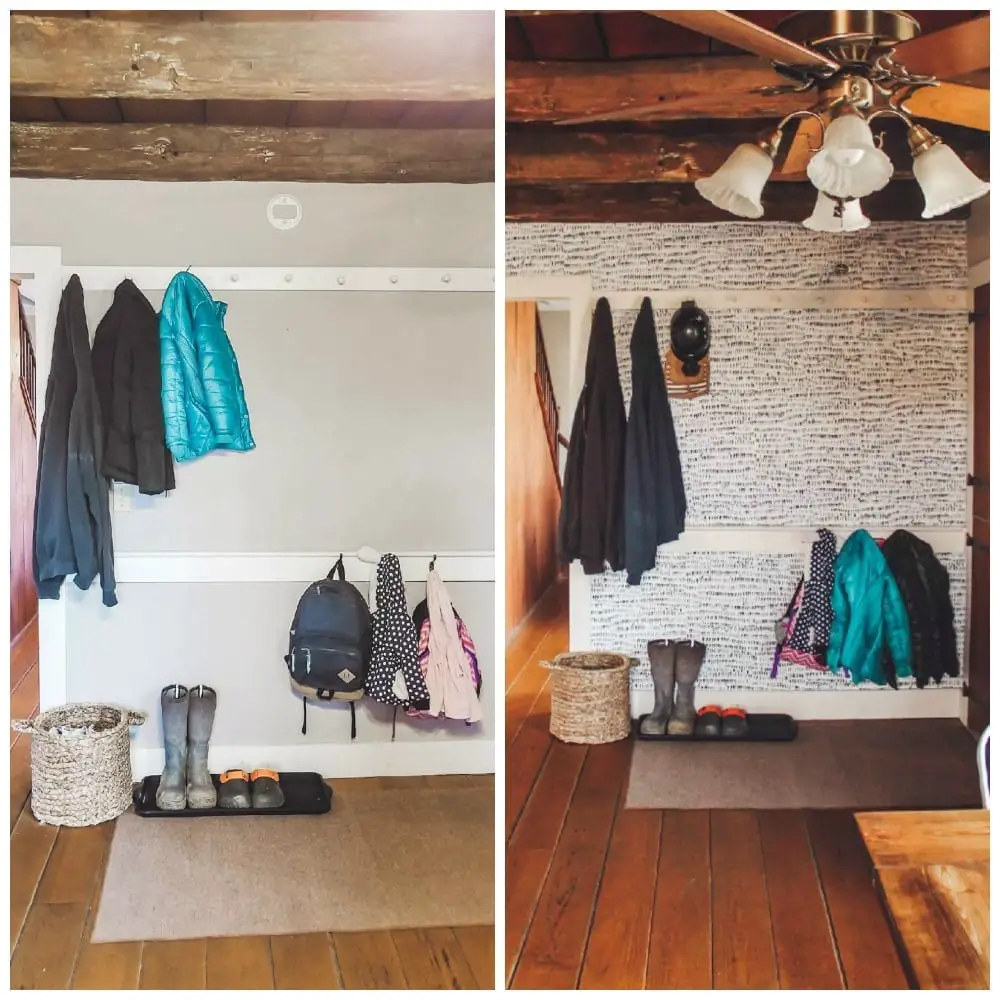 Here's a side by side of the before and after.
This was a fast and easy project that really added a lot of interest to the room. I can't wait to do another wall!
Have you used removable wallpaper yet?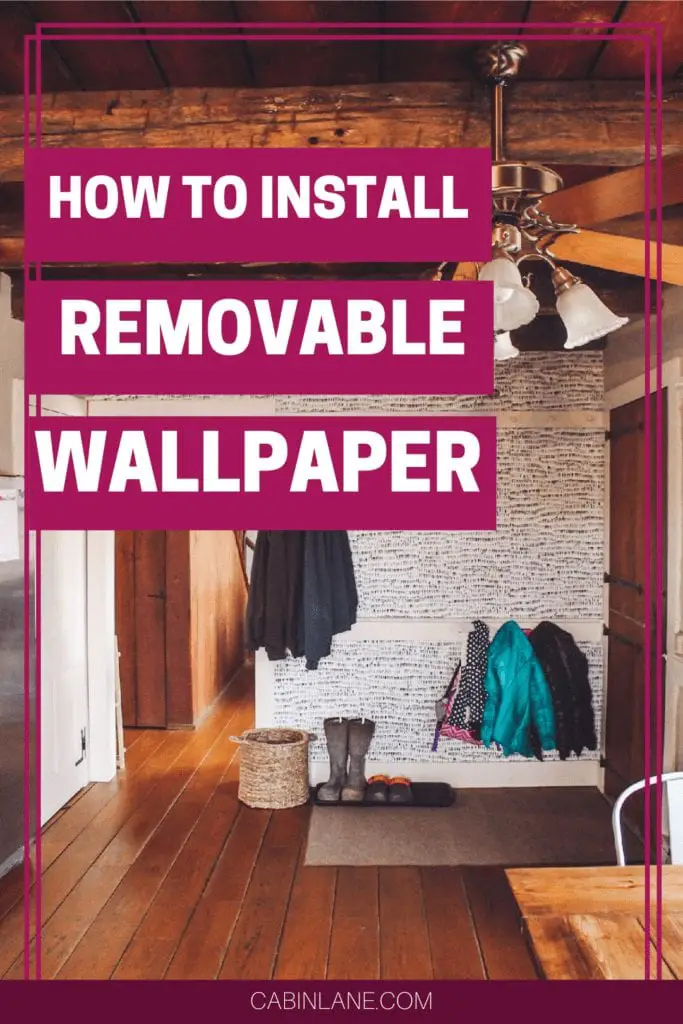 Katie Barton is the owner of Cabin Lane. She's also a home improvement writer for Bob Vila and Homedit. Her cleaning and organizing advice has been featured on Realtor.com, Yahoo News, GoBankingRates, and more. In her spare time, you can find her with a paintbrush in hand, searching for her next project.