Last Updated on November 10, 2022 by Katie Barton
Find out what this holiday-inspired cleaner smells like in our Mrs. Meyer's Snowdrop scent review.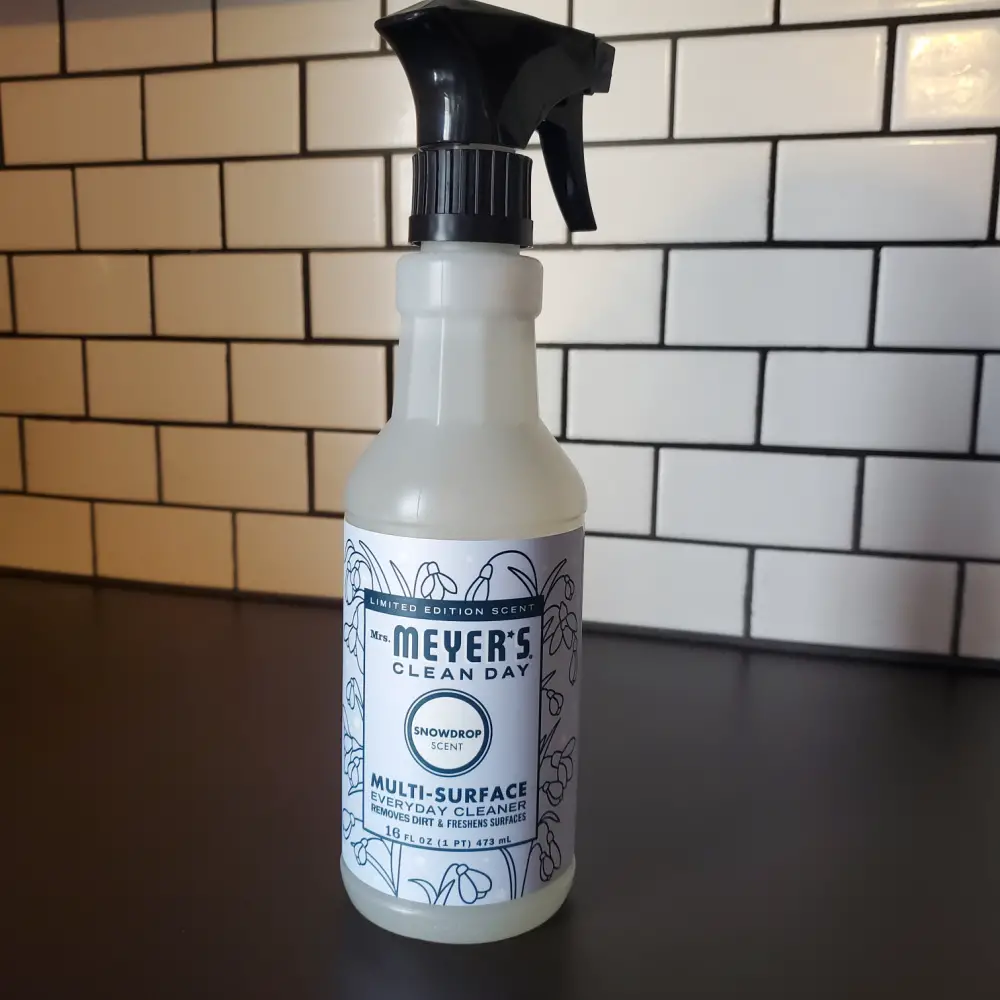 There's nothing quite like finding a good-smelling cleaner to motivate you to jump on top of household chores. Because Mrs. Meyer's is one of my favorite brands, I ordered all of the holiday scents to test out.
Here's my honest opinion of what Mrs. Meyer's Snowdrop scent smells like.
Mrs. Meyer's Snowdrop Scent: How it Smells
According to Mrs. Meyer's website, snowdrop is a citrus floral scent with mandarin, iced petunia, and praline. 
What does it smell like? Shampoo.
While there's something nostalgic about it, I can't pinpoint it. But out of all of the Christmas line of scents, this one smells the least like Christmas. I can't pick up any citrus in it, just floral. 
I give this one a medium on a scale of light to overpowering in fragrance. The smell is noticeable and fills the room. The scent doesn't aggravate my allergies or give me a headache, but it is a bit perfumey. If you prefer a light scent, I don't recommend this one.
Keep in mind this is my opinion. I'm giving you my honest impressions. You may feel differently.
Mrs. Meyer's Snowdrop Multi-Surface Cleaner: How it Performs
The multi-surface cleaner tackles dirt and grime, leaving countertops spotless. It's safe for hard non-porous surfaces, so you can use it in the kitchen, bathroom, and bedroom. You can also use the multi-surface cleaning spray as a mopping solution.
What Products Does the Snowdrop Scent Come in?
You can get Mrs. Meyer's Snowdrop scent in the multi-surface spray, room freshener, dish soap, liquid hand soap, and candles. But, unfortunately, you can't get it in a cleaning concentrate.
The holiday scents, including snowdrop, are seasonal. Mrs. Meyer releases them each fall. You can purchase these products from the Mrs. Meyer's website, Amazon, Target, and Walmart.
Who This is For
Get this scent if you like clean floral smells. Snowdrop is reminiscent of florally fragranced shampoo.
Katie Barton is the owner of Cabin Lane. She's also a home improvement writer for Bob Vila and Homedit. Her cleaning and organizing advice has been featured on Realtor.com, Yahoo News, GoBankingRates, and more. In her spare time, you can find her with a paintbrush in hand, searching for her next project.