Last Updated on February 28, 2022 by Katie Barton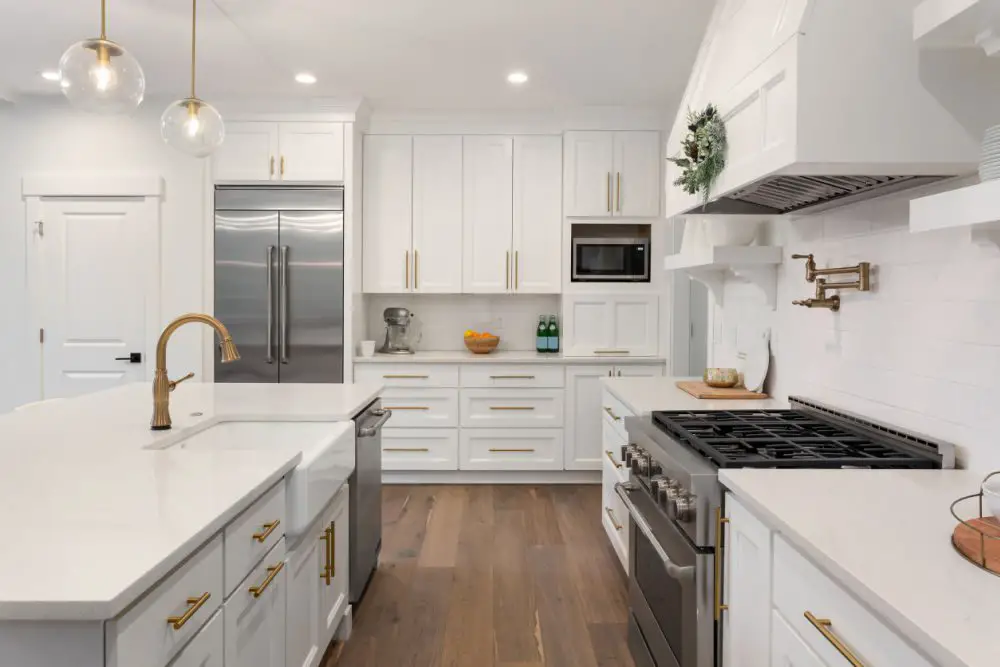 If you're embarrassed by the smell coming from your sink drain, don't be. That rotten egg smell, although awful, is super common.
Sink smells result from food and other organic material getting stuck in the drain and decomposing – which is why the worst sink smells are usually in the kitchen. 
If you're currently dealing with a stinky sink drain, you can get rid of the smell with one of these methods.
Top Ways to Get Rid of a Stinky Sink Drain
Pour Boiling Water Down the Drain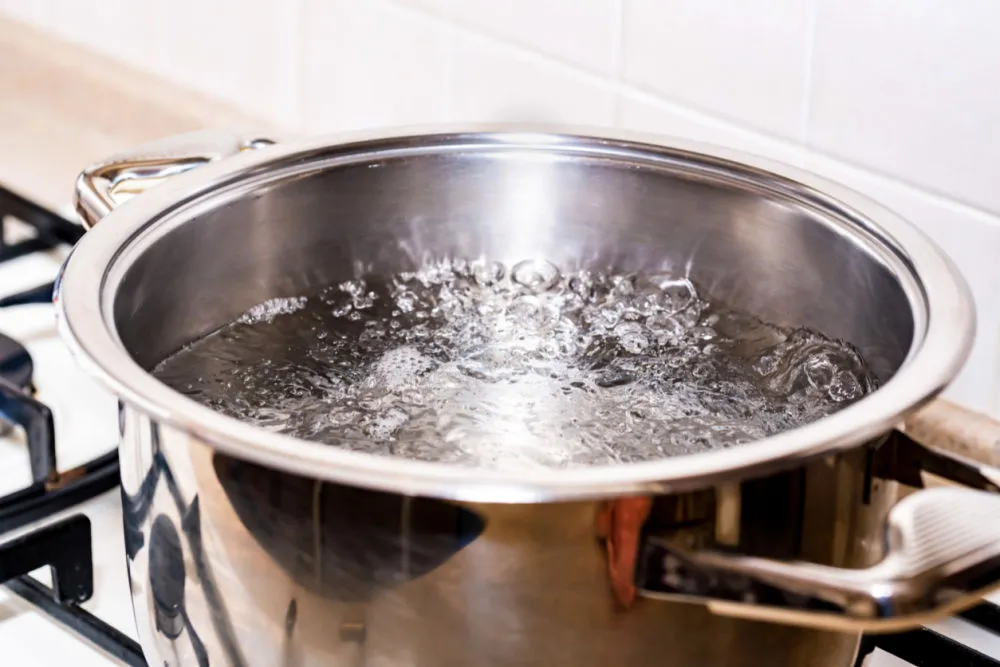 Boiling water is the best, easiest, and cheapest way to rid your drain of a foul smell. It loosens any stuck-on debris and flushes it out.
For this method, boil a large pot of water and slowly dump it down the drain. That's it.
Repeat every week to keep your drains clear.
Use Baking Soda + Vinegar
Baking soda and vinegar are both natural deodorizers – perfect for use after you've flushed your drain with boiling water. They'll get rid of any lingering odors.
Here's how to most effectively use baking soda and water for drain cleaning.
Start by pouring boiling water down the drain
Allow the drain to cool, then add 1 cup baking soda
Follow it with 1 cup white distilled vinegar
Place a rag over the drain
After ten minutes, dump another pot of boiling water down the drain
Let the Water Run for 3 Minutes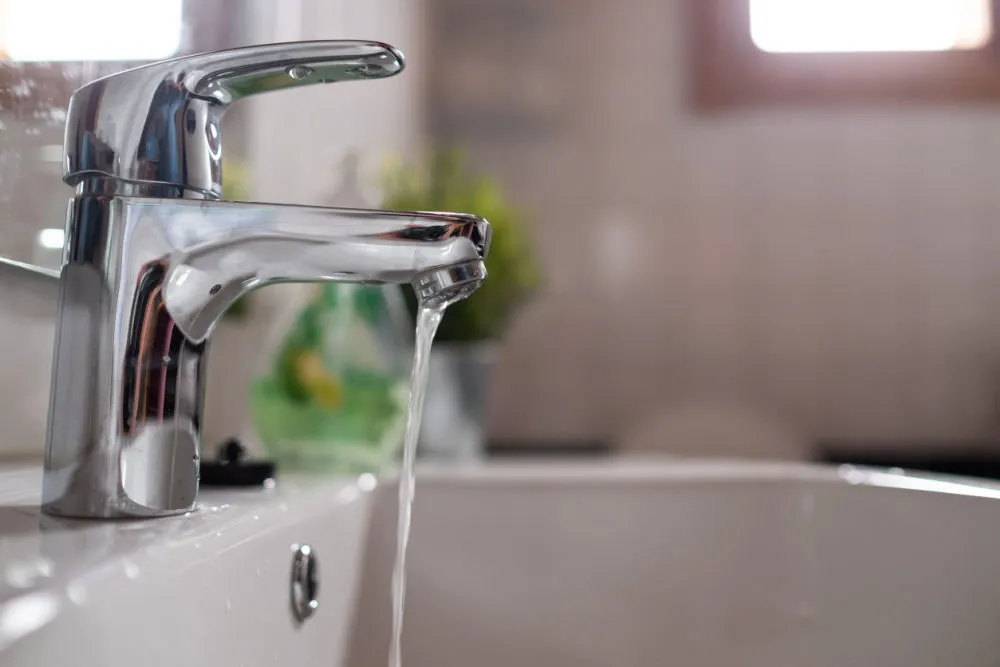 I know, it seems like such a waste of water. But, according to some master plumbers, this is an easy and effective way to make your sink smell better.
Often, nasty build-up accumulates in the drain because homeowners don't run the water long enough to wash everything down – especially after using the garbage disposal.
So, make sure you don't prematurely shut the water off next time you're emptying a bowl into the sink.
And for now, leaving the water run for three minutes can help clear out any decomposing food.
Drop Some Disposal Tabs in the Drain and Run the Garbage Disposal
If you're looking for an easy way to clean the drain, try a disposal tab. Disposal tabs look similar to a dishwasher tab but are usually baking soda with essential oils.
To use one, just drop it in the drain, run some hot water, and turn your garbage disposal on.
Here are some highly-rated options available on Amazon:
Wash the Garbage Disposal with Ice
Another easy method for potentially washing out dirt and stuck-on food is dropping a few pieces of ice into your garbage disposal. According to Horizons Plumbing, putting ice in your garbage disposal is safe and can even help sharpen the blades.
All you need to do is put a few pieces in the disposal and run it. For extra cleaning power, consider freezing vinegar and using the vinegar ice instead.
Clean the P-Trap
The curved pipe under your sink is called a P-Trap. Depending on what you put down the drain, the P-trap can sometimes fill with debris, hair, or decomposing food, causing nasty odors.
Naturally, cleaning your P-trap can help eliminate those smells.
Here's what to do:
Place a bucket or bowl under the p-trap
Using your hands, loosen the connection above and below the curved portion of the trap. If the connections don't budge, use a pipe wrench.
Pull the p-trap loose.
Empty any debris hanging out of the trap.
Use a wire brush to clean it thoroughly.
Once clean, put the p-trap back in place following the same steps you took to remove it.
Why Does My Sink Drain Smell?
If you have a stinky sink drain, the culprit is whatever you're putting down it. For example, if you put food down the drain, even if you have a garbage disposal, small pieces can stick in the drain and decay, causing horrid odors. 
The same happens when you put any liquid besides water down the drain – it can stick to the sides of the drain and attract bacteria.
What Is The Best Drain Odor Eliminator?
The best drain odor eliminator combines boiling water, vinegar, and baking soda. Together, these items flush stuck-on debris and deodorize the drain.
If you want a commercial option, try an enzymatic drain cleaner. Enzymatic cleaners feed on the bad bacteria, eliminating it rather than masking the odor. You can also occasionally treat your garbage disposal with baking soda cleaning tabs.
What Can I Do About a Stinky RV Sink Drain?
The best way to deodorize a stinky RV sink drain is to treat it with baking soda and vinegar. Start by pouring boiling water down the drain to loosen any stuck-on debris. Then add a cup of baking soda to the drain and a cup of vinegar. Finally, cover the drain hole with a rag.
Allow the mixture to sit for fifteen minutes and then flush it out with another pot of boiling water. Your drain should smell much better afterward.
Final Thoughts
As gross as stinky drains are, everybody deals with them at some point. To keep your drain clear of debris, make sure you run your water long enough to flush the drains after using your garbage disposal.
For an effective clean, use boiling water, vinegar, and banking soda to eliminate bad smells. You can also try garbage disposal tabs, ice, and cleaning out your p-trap.
Katie Barton is the owner of Cabin Lane. She's also a home improvement writer for Bob Vila and Homedit. Her cleaning and organizing advice has been featured on Realtor.com, Yahoo News, GoBankingRates, and more. In her spare time, you can find her with a paintbrush in hand, searching for her next project.