Last Updated on February 14, 2021 by Katie Barton
I often say my home style is eclectic – which isn't entirely a lie. However, if I had to pick one style, it would definitely be Boho. I love the cozy, casual vibes of a good Boho inspired room.
And if you like that style but don't have the capabilities to redecorate fully, adding a touch of Boho decor can be just what you need, especially when it comes to these throw pillows.
You can place a throw pillow just about anywhere – a pile on the floor, your bed, the couch, a kitchen chair -you get the idea.
Tips for Buying a Pillow Insert
I've rounded up 10 super-affordable boho throw pillow covers. The big catch is, they are just the covers. This means if you don't already have inserts, you'll need to buy some.
Here's my pillow insert tip – if you want that full look, buy your pillow insert one size larger than your pillowcase. For instance, if you're buying an 18-inch pillowcase, purchase a 20-inch pillow.
You can find very inexpensive pillow inserts on Amazon here. (As of this writing, you can find them for about $10 apiece.)
The Best Boho Throw Pillow Covers
Set of four 18 x 18 in. Boho throw pillow cover set.
Set of two velvet pom throw pillow covers. (These come in various sizes and colors.)
Set of 1 woven and tufted pillow cover.
Pink tufted 18 x 18-inch pillow cover.
Set of 2 black and white 12 x 20-inch tassel pillow covers.
Set of 2 velvet Boho pillow covers. (Comes in various colors and two different sizes.)
Set of 2 faux leather 18 x 18-inch covers.
Set of four geometric, 18 x 18-inch pillow covers.
White pom pom 16 x 16-inch pillow covers.
Tufted pillow cover with hand-woven stripes, 18 x 18 inches.
I loved all of these pillows covers so much. Which one is your favorite?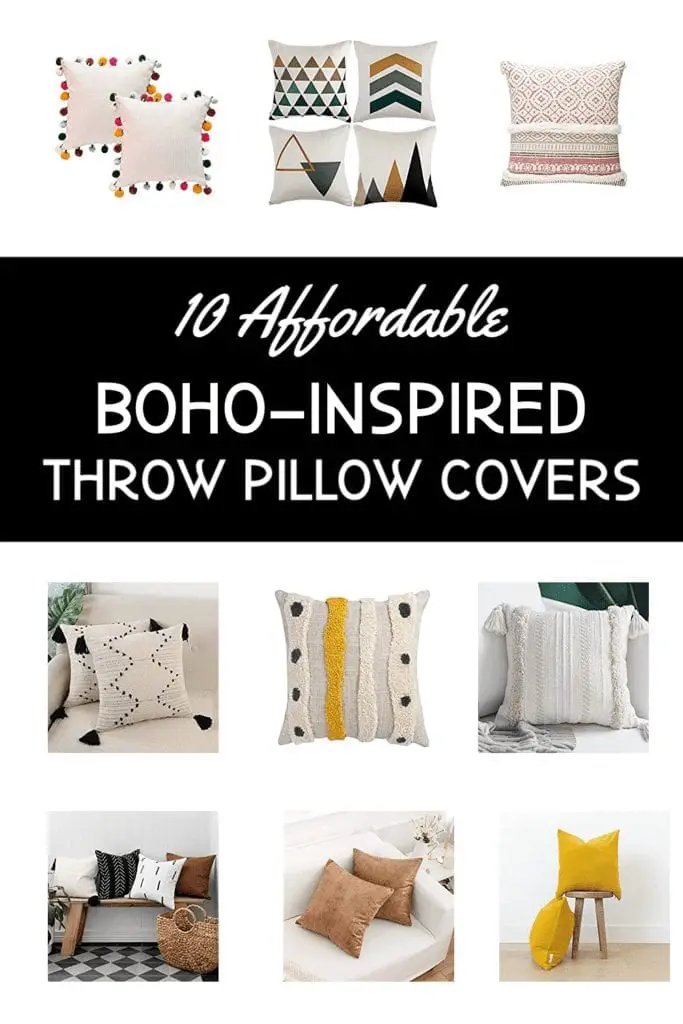 Katie Barton is the owner of Cabin Lane. She's also a home improvement writer for Bob Vila and Homedit. Her cleaning and organizing advice has been featured on Realtor.com, Yahoo News, GoBankingRates, and more. In her spare time, you can find her with a paintbrush in hand, searching for her next project.