Last Updated on February 14, 2021 by Katie Barton
While the kitchen is considered the "hub of the home," it's also the germiest area. Yes, even worse than the bathroom, according to this study. Yuck.
If you want to get rid of germs and keep your kitchen looking and feeling clean for longer, here are some of the best kitchen cleaning hacks to try.
Use a Toothbrush to Clean the Edge of Your Sink
The kitchen sink harbors more bacteria than any other spot in your home. While it's easy to kill germs with a kitchen cleaner, a cleaner and rag don't usually work for the build-up around the sink's edge and the faucet. To clean this, use a toothbrush and hot water, and your preferred kitchen cleaner. (I use Dawn to do it.)
Using the toothbrush on your sink at least once per week keeps the dirt and grime from building up.
Use a Butter Knife for Tight Spots
Do your cringe at the buildup in between your countertop and stove? I know, I do. Luckily, I've found an easy solution for keeping this area clean.
Spray a thin rag or kitchen towel with your favorite cleaner, and then wrap the towel around a butter knife. Stick the knife in those little cracks to remove crumbs and clean the surface.
Effectively Clean Your Garbage Disposal
Keep your garbage disposal from stinking by regularly cleaning and disinfecting. Here's how?
Pour 1/2 cup of baking soda down the drain, then carefully pour a cup of white vinegar into the drain. Cover with your stopper and wait 3 minutes. Turn the hot water on and run the garbage disposal until you no longer see fizzing.
To further deodorizer, you can thinly slice up a lemon or orange and run it through the disposal.
One of my favorite kitchen cleaning hacks is adding a drop or two of essential oils to drains and the garbage disposal.
Steam Vinegar to Clean the Microwave
Stuck on food splatters in the microwave can be extremely hard to clean off. Luckily, there is a kitchen cleaning hack that works amazingly well for cleaning the microwave.
In a microwave-safe bowl, add  1/2 cup vinegar and 1/2  cup of water. Microwave for 3-5 minutes or until your microwave becomes very //steamy. Let the solution sit for another 5 minutes. Very carefully remove the bowl. (It will be HOT!) You should now be able to wipe away all dirt and grime easily!
Clean Your Oven with Baking Soda
If you're weird like me and super nervous about using your oven's self-cleaning function, rest assured there is a kitchen cleaning hack you can use.
You can use a combination of baking soda and vinegar to get your oven super clean. It does take a few steps and requires some overnight action. Get the full tutorial at TheKitchn.
Vacuum Refrigerator Coils
Look at the bottom of your refrigerator. Is it covered in dust? If so, use a handheld vacuum or shop vac and suck all that dirt up.
Add Essential Oils to Drains
An easy kitchen cleaning hack to keep your drains smelling great is to add a few drops of your favorite essential oil. I do this in both my kitchen and bathroom sinks.
Deodorize Kitchen Towels and Rags with Vinegar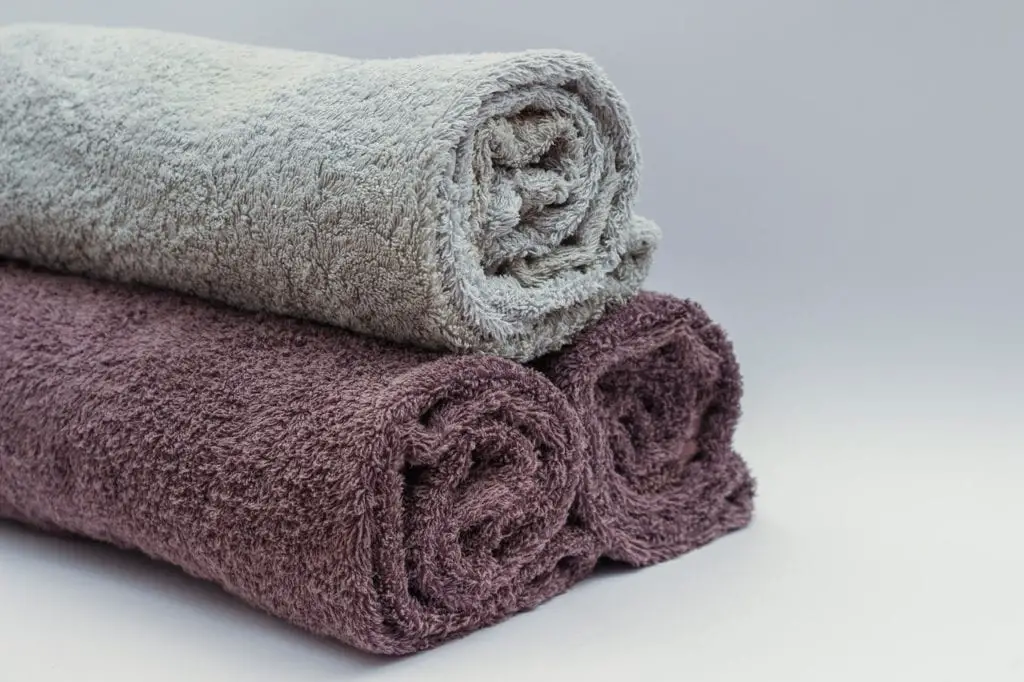 If your towels are smelling musty, refresh them with vinegar. It will ultimately take the bad smells out of them.
Here's what to do:
Add 1 Cup of Vinegar to Your Washing Machine (Do NOT add any other detergent.)
Wash on the Hot Cycle
Dry Like You Normally Would
Clean Wood Cutting Boards with Lemon and Sea Salt
I've made the mistake of putting my wood cutting boards in the dishwasher a time too many. Do you know what happened? It became rough and cracked down the middle. ?
Don't be like me. Avoid damaging your cutting board by cleaning it with lemon and salt.
Sprinkle coarse salt all over your board. Cut a lemon in half and then rub the cut side all over the salt. Let it sit for 5-10 minutes and rinse off with a washrag and water.
Clean Your Dishwasher with Vinegar
It's not uncommon for your dishwasher to build up some funky smells. You can eliminate the stench by first cleaning your filter and then sanitizing the dishwasher with vinegar. To do this, empty your dishwasher and place one cup of white distilled vinegar on the top rack. Run your dishwasher.
Clean Stove Top Glass with Baking Soda
If you have some burnt-on stains on your glass cooktop, remove them with baking soda paste. First, try to remove any debris gently. Next, make a baking soda paste ? 4 tablespoons of baking soda to 1 tablespoon of water.
Apply the paste to the stain, cover with a warm, damp cloth and let it sit for 30 min. Wipe away the burnt-on mess! (If the stain persists, repeat the process.)
Disinfect Your Coffee Maker
Have you noticed the gunk your coffee maker builds up over time? It's pretty dang gross! That's why disinfecting your coffee maker every month should make it to your to-do list.
Here's how to do it:
Empty your coffee pot, removing any coffee grains from the basket.
Add 1-part white distilled vinegar to 2 parts water.
Run the coffee pot.
Dump out and run the coffee pot 2 more times with only water to eliminate the vinegar taste.
Easily Remove Stains from Your Stainless-Steel Sink
If your stainless-steel sink is stained up, you can remove stains and disinfect it by using a combination of baking soda and white distilled vinegar.
First, make a baking soda paste that's 4-parts baking soda to 1-part water. Apply the mixture all over your sink. Wash away with white vinegar, and then rinse with water.
Clean Baseboards with Dryer Sheets
Is cleaning your baseboards ever enjoyable? Not really? However, this hack does make it a little more fun!
Run a dryer sheet over your baseboards. They do an excellent job of holding onto dust and add a touch of fragrance to the air as well.
Clean Your Sponges in the Microwave
Your kitchen sponge harbors more bacteria than any other item in your house! (Even more, you're your toilet.) Luckily, you can zap away the germs by microwaving your sponges. Wet them with water, place in a microwave-safe dish, and microwave for 2 minutes.
Use Baking Soda and Vinegar on Dirty Grout
Does your white grout look brown? Clean it by sprinkling some baking soda on it. Next, using a spray bottle, mist the baking soda with white vinegar. Finally, scrub the grout lines with an old toothbrush.
Keep Your Trash from Stinking
While it might be impossible to cover up the odors of certain items (like poopy diapers?), you can still make your trash smell better.
Put a few drops of your favorite essential oils on a cotton ball or paper towel and place it in the trash can before you put a new bag in.
Kitchen Cleaning Hacks that Actually Work!
The next time you're-cleaning your kitchen, try a few of these kitchen cleaning hacks to get an extra deep clean. And if there's something you do that's not on this list, please leave it in the comments. I'd love to know!
Katie Barton is the owner of Cabin Lane. She's also a home improvement writer for Bob Vila and Homedit. Her cleaning and organizing advice has been featured on Realtor.com, Yahoo News, GoBankingRates, and more. In her spare time, you can find her with a paintbrush in hand, searching for her next project.