Last Updated on June 13, 2023 by Katie Barton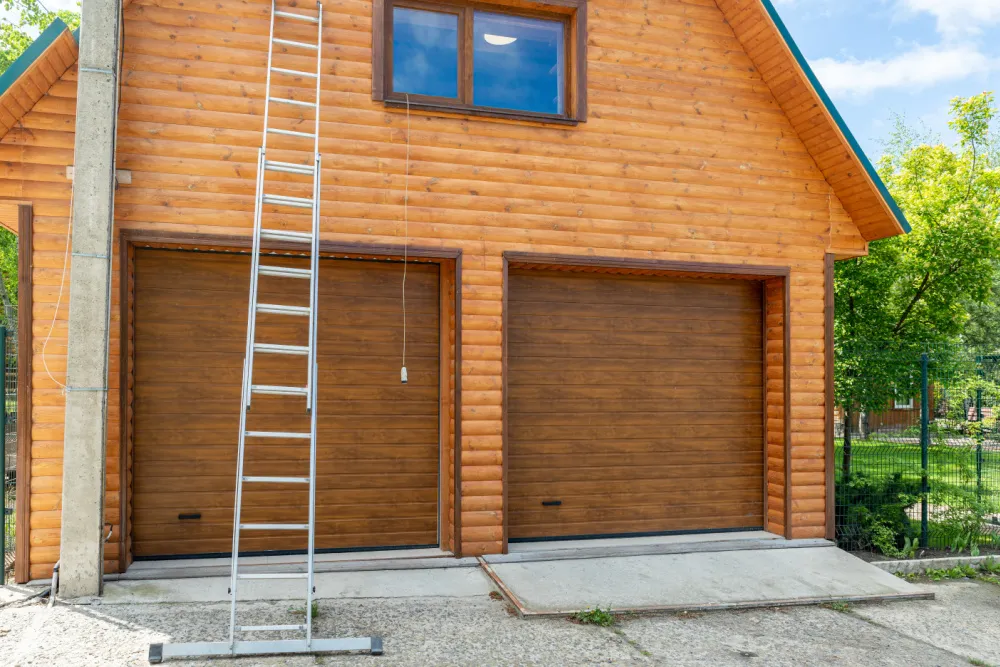 Garage cabin kits come with all materials necessary to build the shell of the garage. They're an excellent option for those with intermediate construction experience. 
You can get them in sizes ranging from a one-car bay to an oversized cabin garage with an apartment. If you're in the market for a DIY cabin garage, we've rounded up our favorite kits.
Best Log Cabin Garage Kits
These log cabin garage kits come with prices ranging from $18k – $94k. You can find small kits, ideal for DIYers, or hire a construction crew to tackle larger options with loft apartments. 
24' x 24' Log Cabin Garage – $18,878
If you're looking for a basic two-car garage with wood siding, this one from Jamaica Cottage Shop is a good option. The 24 x 24 garage features 576 square feet, two bays, and pine board and batten siding. There's also a log cabin siding option for an additional fee.
The garage cabin kit contains everything to build the shell of the garage. There are optional upgrades, including a 6 x 6 box beam loft, different siding or wood shake, and four roofing options.
Modern 2-Car Log Garage – $18,908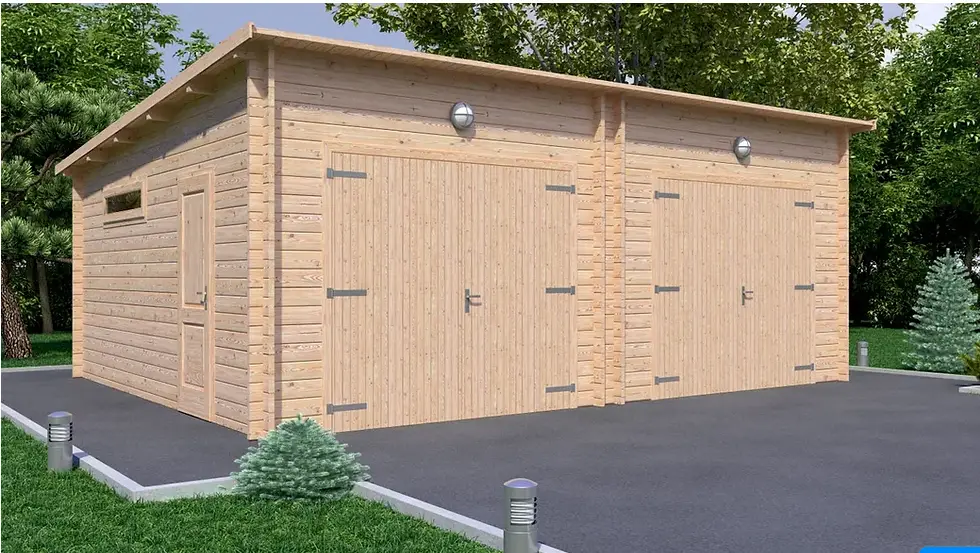 This modern log cabin garage is 22 ft x 17ft x 9ft, featuring 376 square feet and providing enough space for two vehicles. It has a modern sloped roof with rustic garage doors. 
The kit includes a tongue and groove log system, garage doors, a side door, and a single-glazed window. It doesn't come with a garage floor or shingles. You'll need to purchase roofing material separately.
One Car Garage with Lean-To and Loft – $19,619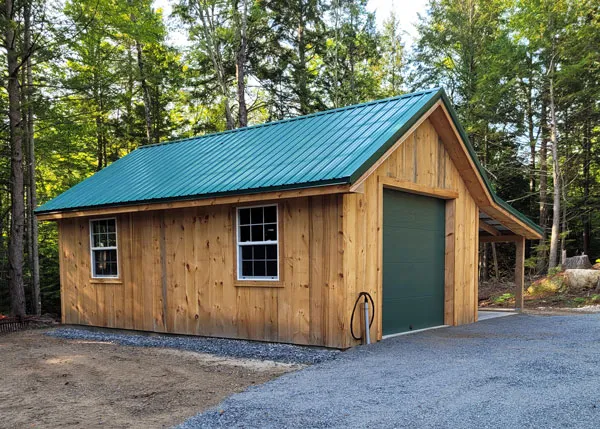 Measuring 16 x 24', this one-car log cabin garage kit includes a loft and an optional lean-to overhang on the side. The lean-to is ideal for storing firewood to heat your log cabin or recreational vehicles.
This kit includes many optional upgrades like log cabin siding, window upgrades, and four types of roofing material to choose from. The kit comes with framing, siding, roofing material, doors, and windows. 
Live-In Log Cabin Garage – $43,515
If you're looking for an affordable garage kit with an apartment, this model from American Log Homes and Cabins is one to consider. The garage level features space for two vehicles plus storage. The upstairs loft has enough space for a bathroom, dining room, living room, and kitchen.
You'll need to contact the company for a complete list of materials in their garage kits. They don't provide many details online.
3 Car Log Garage – $44,680
When you need a lot of space at an affordable price, this three-car log garage is a possible solution. At 36' x 24', it features three bays and 864 square feet. You can order it with log siding for $44,680 or a full log system for $62,865. It doesn't come with garage doors.
This model was the exact log cabin garage at my house when we bought it. We've since replaced the roof, restained the log siding, and replaced the garage doors, so it now has a slightly different look. (See below.)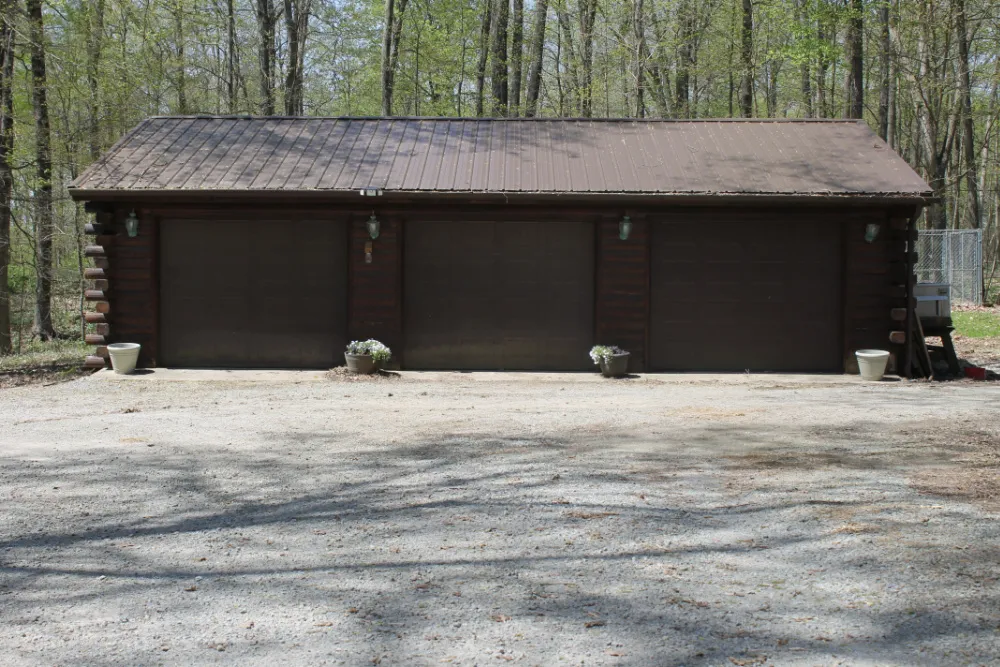 2 Car Log Garage with Loft – $56,995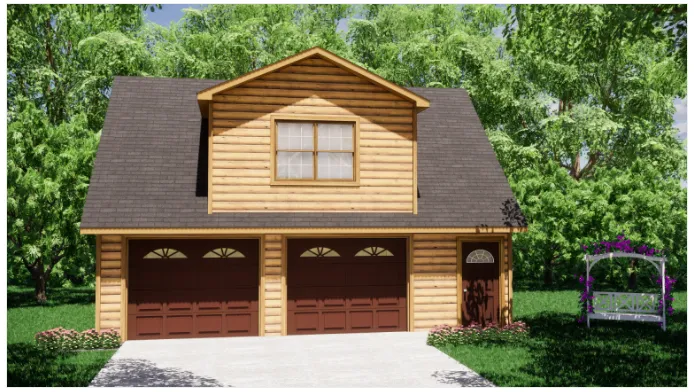 Tar River Log Homes offers this quaint log cabin garage kit with a second-story living space. The first floor features a two-car garage, while the second floor boasts space for a bedroom, bathroom, kitchen, dining room, and great room.
The premium package contains the wall, floor, porch, and roof systems. It also comes with windows. It doesn't include any interior finishes.
2 Car Garage with Bedroom and Bathroom – $60,995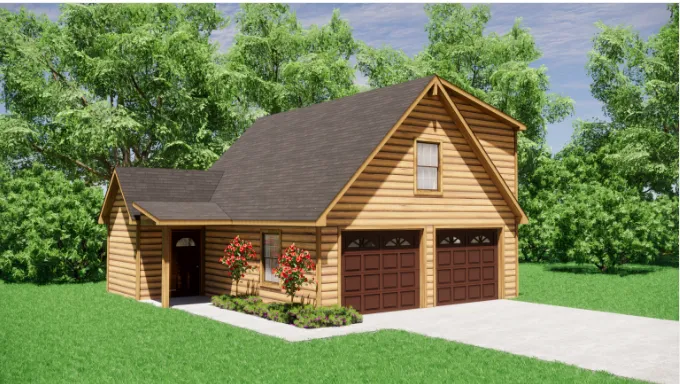 Dubbed the "Graham," this log cabin garage provides space for vehicles and living quarters. It boasts 1,254 total square feet with a two-car garage and a small porch on the first floor. The second floor contains a bathroom, bedroom, kitchen, living room, and storage area.
The kit comes with everything to complete the shell of the home. It doesn't come with the finished roofing material or any interior finishes. 
2 Car Garage Apartment – $93,750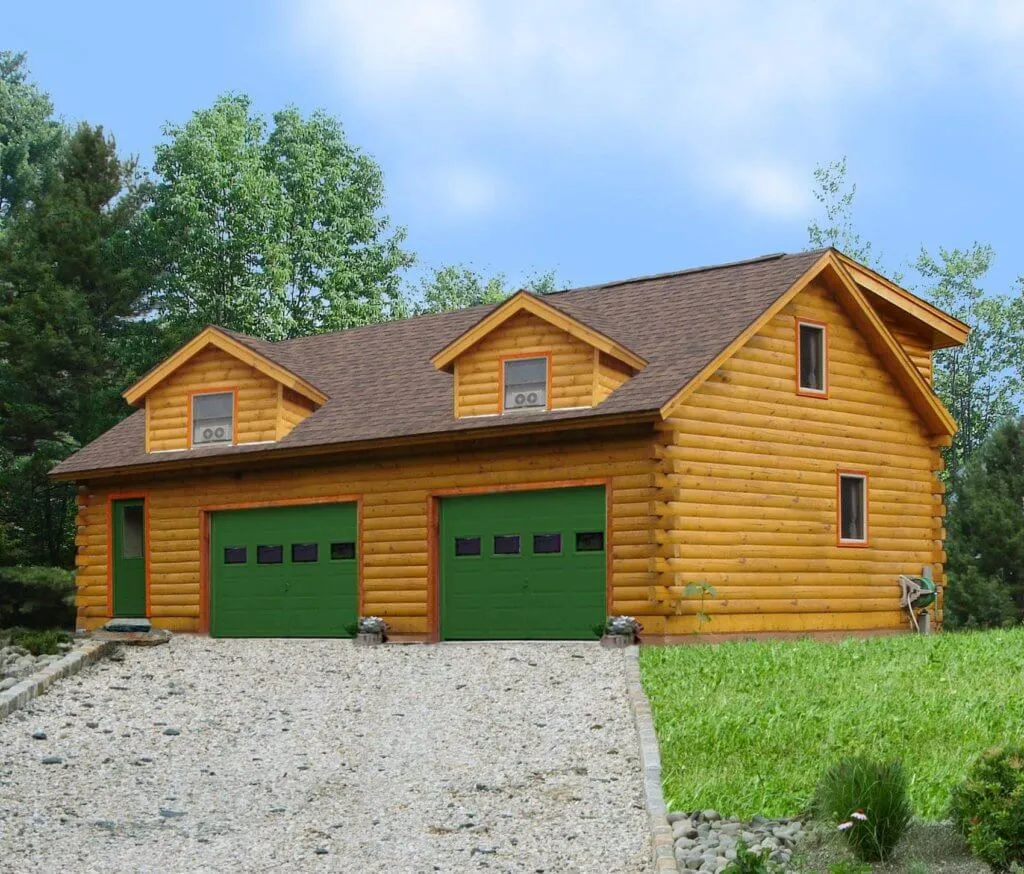 Coventry Log Homes also has a log cabin ADU for those needing living quarters. The first floor boasts a two-car garage and utility area. The second floor contains two bedrooms, a kitchen, a bathroom, and a living room. 
With two bedrooms, this garage cabin can work as a family home. The price for the shell of this garage kit is $93,750, although there are upgrades for a complete package.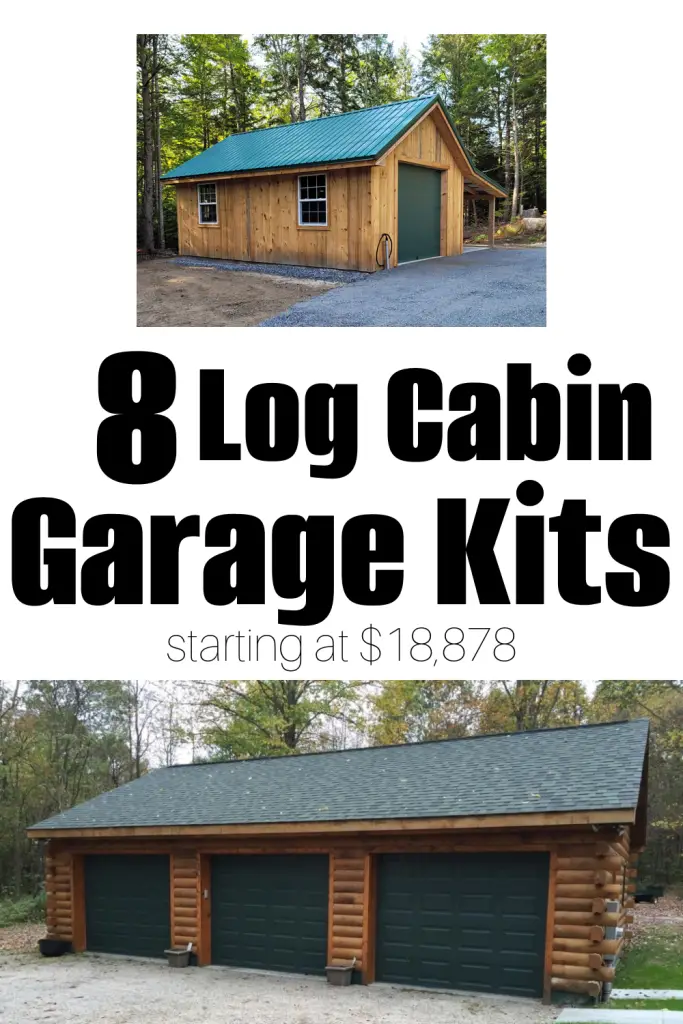 Katie Barton is the owner of Cabin Lane. She's also a home improvement writer for Bob Vila and Homedit. Her cleaning and organizing advice has been featured on Realtor.com, Yahoo News, GoBankingRates, and more. In her spare time, you can find her with a paintbrush in hand, searching for her next project.