Last Updated on April 19, 2023 by Katie Barton
A garage cabin serves as a garage and a living area. While most garages with living spaces are called garage apartments or accessory dwelling units (ADUs), a garage cabin mimics the look of a log cabin.
 In large garage cabins, the living space may include a full apartment. In smaller versions, the living space is suitable for a guest bedroom or office.
The Garage Cabin, Explained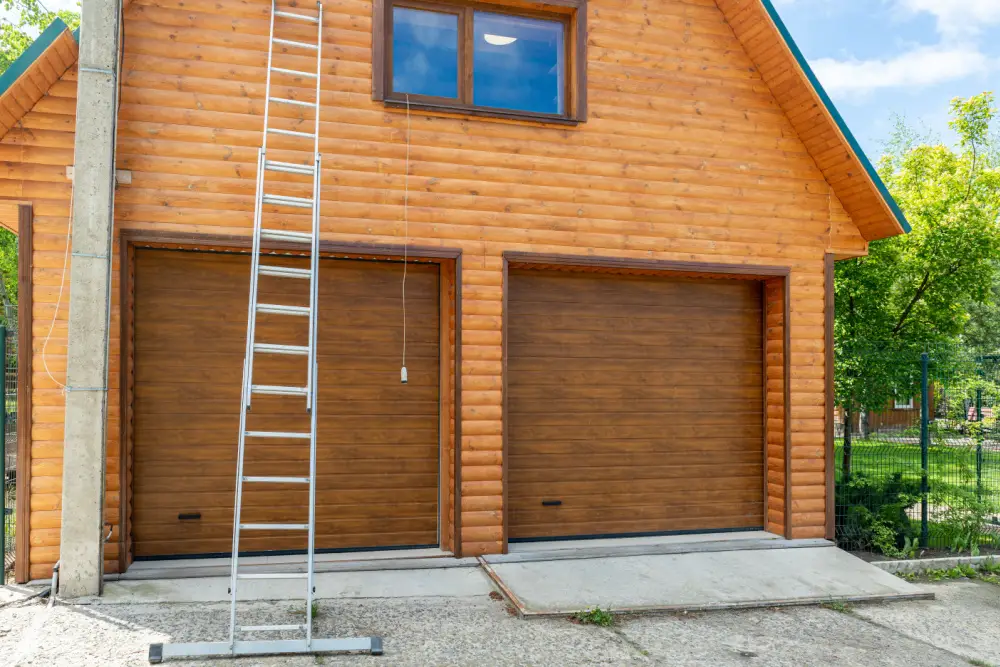 A garage cabin consists of a garage area to park cars and a living space you can use as a home office, apartment, or guest room. You can access the living area via a staircase or external entrance.
Garage cabins come in various sizes and styles, ranging from small, one-car garages with a loft above to large, multi-car garages with multiple rooms and amenities. They can be built from a variety of materials, including wood, metal, and concrete, and customized to suit the specific needs and preferences of the owner.
How Much Do Garage Cabins Cost?
Prices for a two-car cabin-style garage with a second-story start at $25,000 – $30,000, depending on the materials and specifications. Apartment-style log cabin garages start at $60,000 and cost over $100,000, depending on size and material.
Just like small log cabin kits, small garbin kits will be less expensive than large ones.
Types of Garage Cabins
There are two types of garage cabins: attached and detached.
Attached Garage Cabin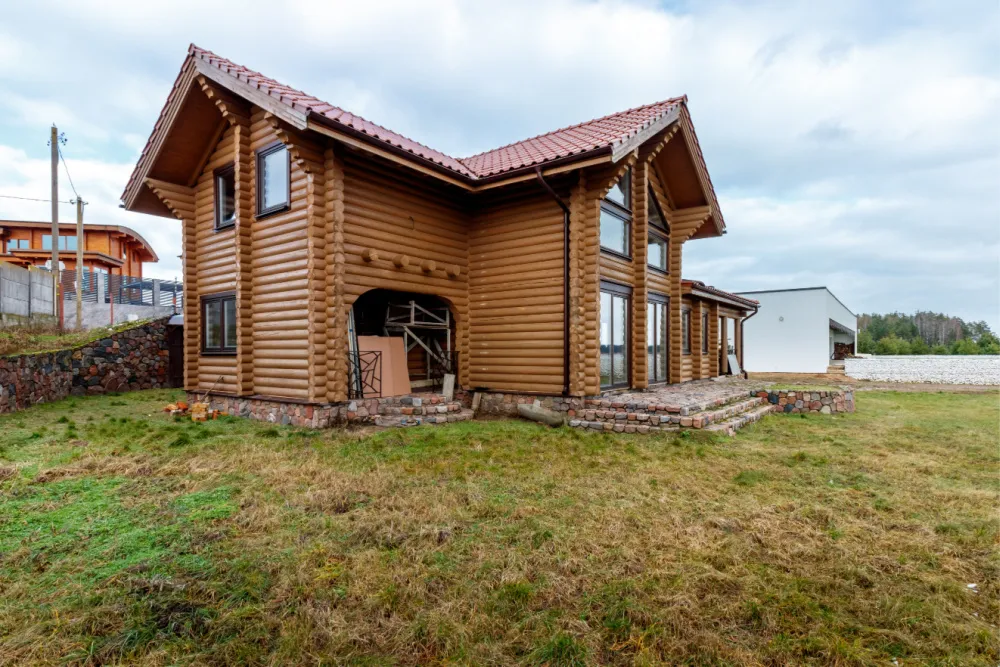 An attached garage cabin connects to the main house, usually built with the same materials as the home. It serves as an extension of the living space.
Attached garage cabins are convenient for homeowners who to avoid the hassle of walking outside in inclement weather. They can also add value to and increase a home's curb appeal.
Attached garages are slightly less expensive to build than detached garages.
Detached Cabin-Style Garage with Living Space
A detached garage cabin is separate from the main house. These garage cabins, also known as "garbins," are ideal for homeowners who want to keep their vehicles separate from their living space or who want to use the garage cabin as a workshop or studio. 
You can design a detached garbin to match the style and materials of the main house or go with a different design.
Garage Cabin vs. Log Cabin Garage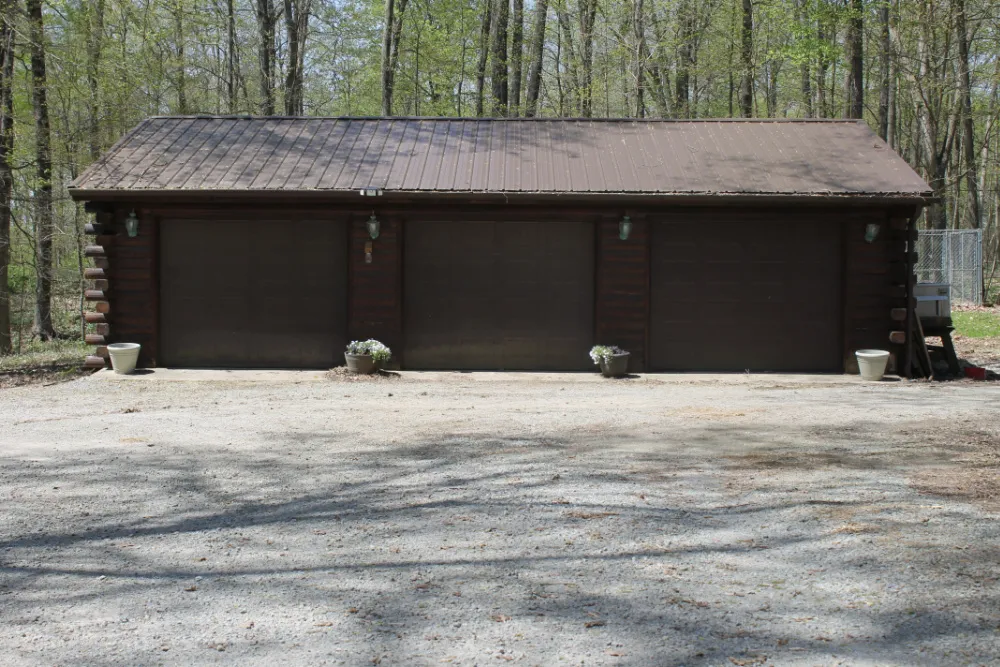 A garage cabin offers living space on the second level. On the other hand, a log cabin garage is a standard garage with a log or wooden exterior without a living area. The photo above is of my standard log cabin garage.
Design Decisions
The Size
The size of the cabin garage depends on your budget, the number of vehicles you need to store, and how big you want the living area. For example, If you opt for a small, one-car garage, your living space will be small versus the option for a double two-car garage or three-car garage.
Exterior Style
Like there are multiple types of log cabins, there are numerous garage styles to choose from. The most popular choice is tongue and groove logs that fit together like a puzzle piece. You can buy these in a kit from log home manufacturers, with prices ranging from $20,000 – $100,000+.
Other choices include using a log and chinking system or wooden clapboard.
Utilities
Creating a living space above your garage will require the proper electrical and plumbing outlets. But, if you're only opting for a guest bedroom and not a full apartment, you'll only need to worry about electricity and a heat source.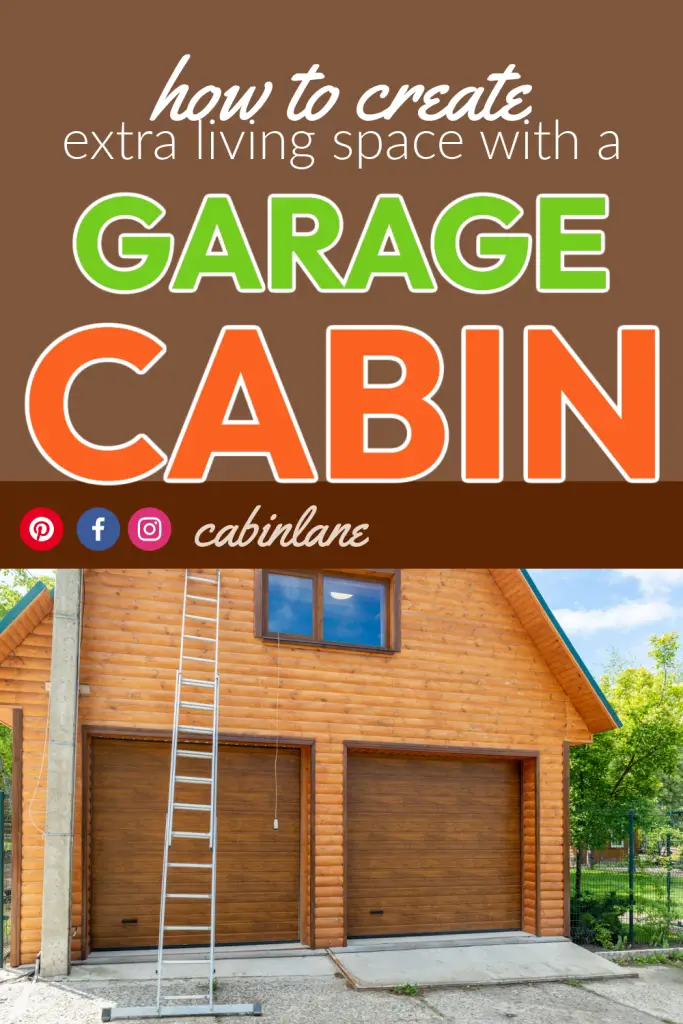 Katie Barton is the owner of Cabin Lane. She's also a home improvement writer for Bob Vila and Homedit. Her cleaning and organizing advice has been featured on Realtor.com, Yahoo News, GoBankingRates, and more. In her spare time, you can find her with a paintbrush in hand, searching for her next project.