Last Updated on February 14, 2021 by Katie Barton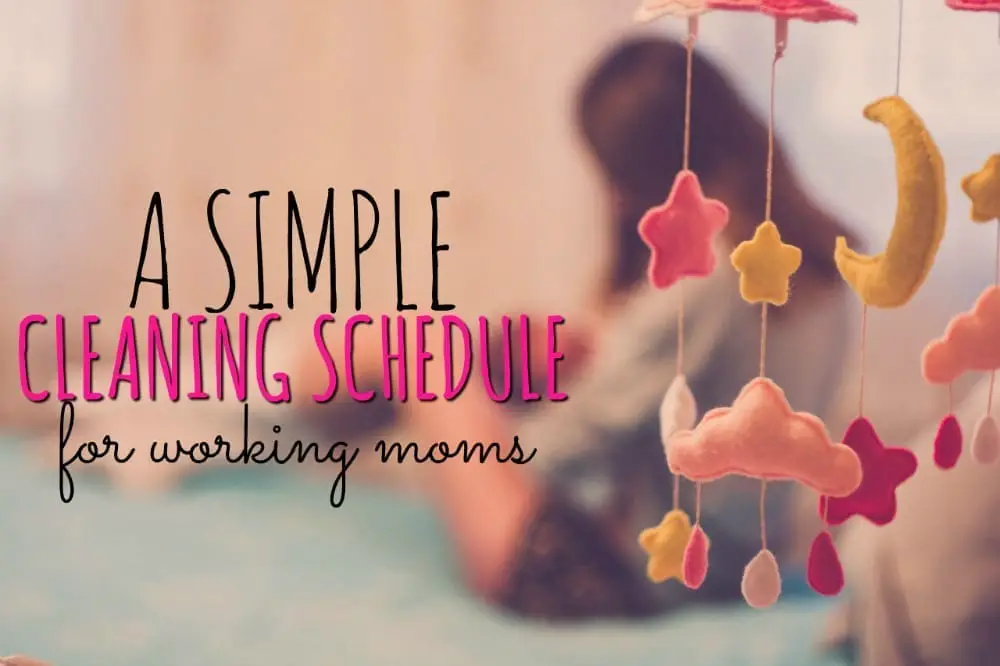 It's no secret that it can be hard to stay on top of housework as a working mom.
By the time you get home from work, you're ready to relax and enjoy your house versus scrubbing it down. I get it.
If you're looking for a manageable way to stay on top of cleaning, I'm sharing a schedule that has helped me in the past. To make it work, you'll need to devote half an hour each weeknight plus one hour (or less) on Saturday and Sunday. The result will be a clean, organized house.
First, A Prerequisite
Before we get into the actual schedule, we need to talk about what your kids do or don't do.
If your child is 3 or older, she should be able to do at least some of the picking up after herself. (A child six or older, is perfectly capable of putting away her own toys and throwing away her own trash.)
If you frequently have to clean up after your older kids, this system will take much longer than thirty minutes per day.
So, if your kids aren't cleaning up after themselves, your first step is to teach them, and here's a good way to do it.
A Simple Cleaning Schedule for Working Moms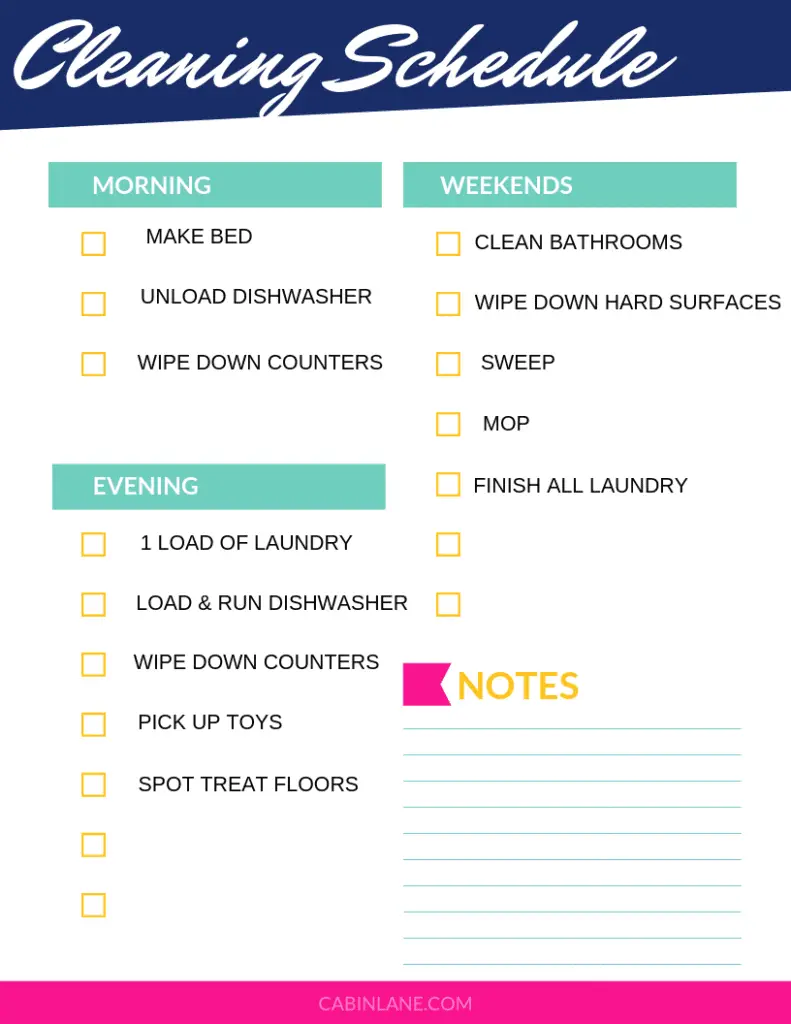 If you're looking for a simple cleaning schedule that's easy to stick to, this is it. It's broke down into three sections: morning, evening, and weekends.
Morning
These are all meant to be quick items. As soon you wake up, make your bed. Unload the dishwasher while breakfast is cooking, and then wipe down the kitchen counters.
Make Your Bed
Unload Dishwasher
Wipe Down Kitchen Counters
Evening
You can choose to do these tasks while your kids are playing or wait until after they go to bed – whatever works best for you. You should be able to get these tasks done in under thirty minutes.
Load and Run Dishwasher
Wipe Down Kitchen Counters
Have Kids Pick up Toys Before Bed
Spot Treat Floors (If there's a big mess, sweep/mop it up.)
Do One Load of Laundry and Put Away
Weekends
Now it's time to do some heavier cleaning. Blast some music, have your kids help you out, and complete the following:
Clean Bathrooms (Clean Toilet, Clean Shower, Wipe Down Sink and Counter, Mop)
Dust Main Living Areas (Do Bedrooms as Needed)
Sweep/Mop House (Sweep and Mop Main Living Areas, Do Bedrooms as Needed)
Finish Up Any Remaining Laundry While Working on Other Chores
Optional
There will be times when other things need your attention. This could be things like cleaning out the refrigerator, going through old clothes, etc. If there's something that needs to be done, add it to your weekend tasks.
Set a Timer – I Bet You Get Stuff Done Quicker Than You Think
We often put off a task because we think it will take forever when, in reality, we can conquer it quickly. Cleaning is one of those things!
Set your timer in the evenings for 30 minutes and on the weekends for one hour and see if you can beat the clock. Maybe you won't at first, but after a couple of weeks of sticking with the schedule, I'm betting you will!
If you're a working mom, what helps you stay on top of the housework?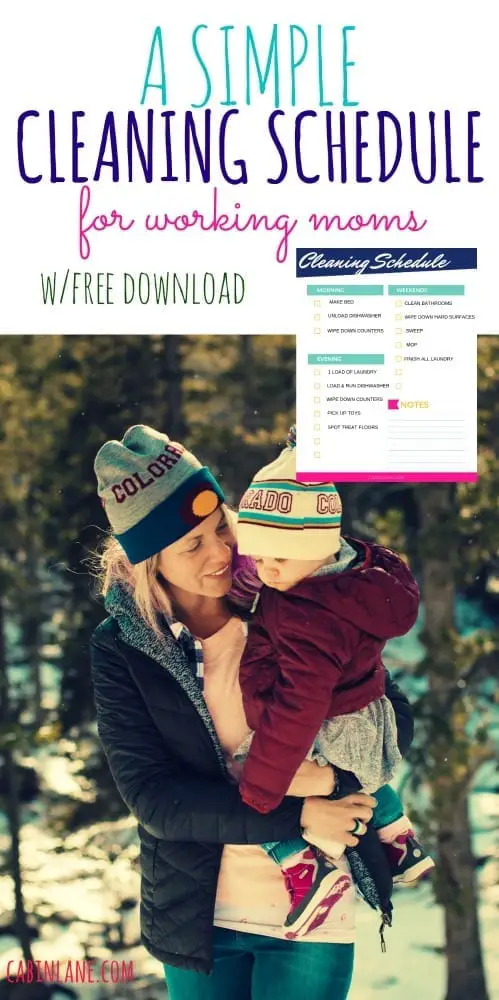 Katie Barton is the owner of Cabin Lane. She's also a home improvement writer for Bob Vila and Homedit. Her cleaning and organizing advice has been featured on Realtor.com, Yahoo News, GoBankingRates, and more. In her spare time, you can find her with a paintbrush in hand, searching for her next project.