If you're wondering if you can use Mrs. Meyer's Multi-Surface Cleaner on a glass cooktop, the answer is yes, you can. It wipes away everyday messes like cooked-over food and crumbs.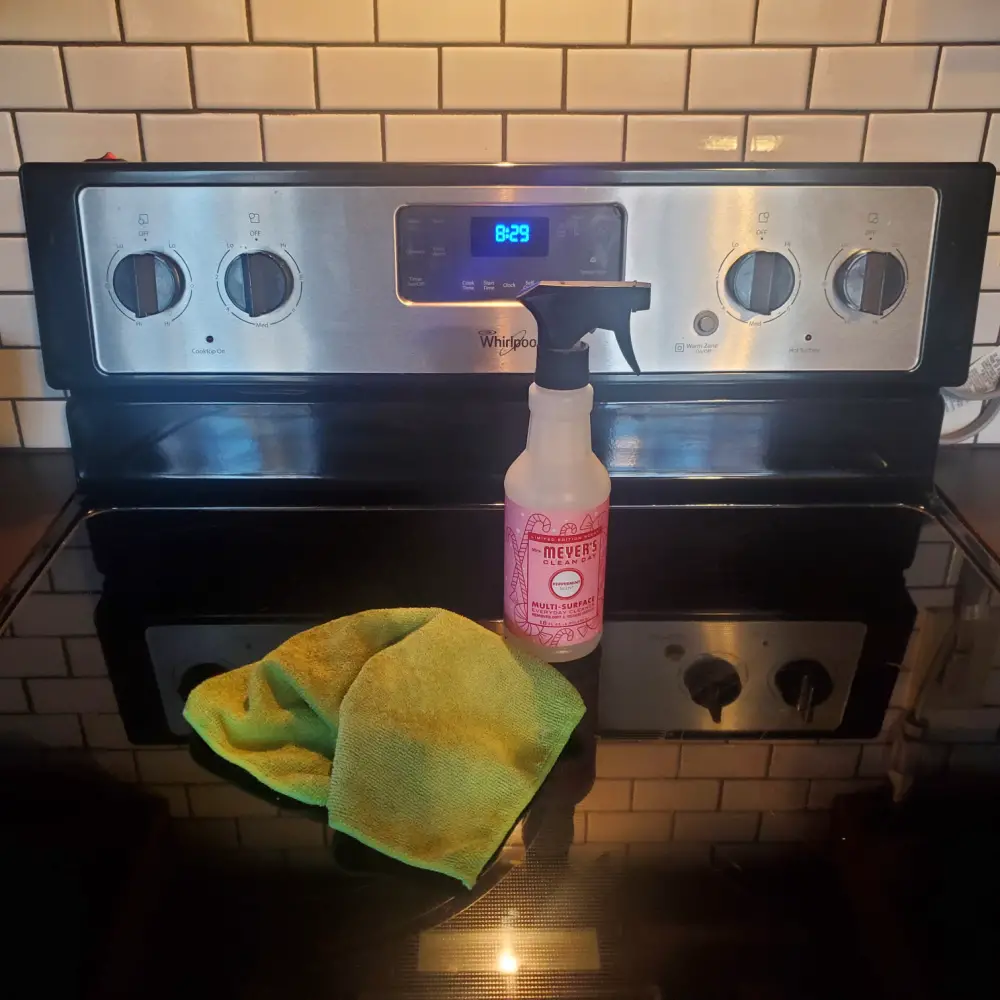 I use Mrs. Meyer's multi-surface cleaner on my glass stovetop every day. While it might not be the best for removing weeks' worth of grime or burnt-on food, it works well for keeping the surface clean.
Here's how to use it.
How to Clean a Glass Cooktop with Mrs. Meyer's Multisurface Spray
Keep your cooktop looking squeaky clean by wiping it daily.
Spray Mrs. Meyer's Multi-surface Cleaner on your glass cooktop and wipe it clean using a microfiber cloth
If there are bits of food that didn't come off, spray them liberally, wait a few minutes, and then scrub them with your microfiber cloth. The cleaner will soften the food splashes, making them easy to remove.
How to Clean Deep Clean a Glass Cooktop
If it's been a while since you've cleaned your glass cooktop, you'll need to do a deep clean. Here are two effective methods:
Deep-clean your glass cooktop with Mrs. Meyer's Baking Soda Cream Cleanser:
Deep-clean your glass cooktop with vinegar and baking soda: 
Spray the cooktop with white distilled vinegar
Sprinkle baking soda over the vinegar
Lay a towel dampened with hot water over the solution and wait 15 minutes
Use a damp microfiber cloth to wipe away the baking soda, vinegar, and stuck-on food
Use a second wet cloth to rinse the surface
With your glass cooktop deep cleaned, you can spray it daily with Mrs. Meyer's multi-surface cleaner to keep it that way.
Katie Barton is the owner of Cabin Lane. She's also a home improvement writer for Bob Vila and Homedit. Her cleaning and organizing advice has been featured on Realtor.com, Yahoo News, GoBankingRates, and more. In her spare time, you can find her with a paintbrush in hand, searching for her next project.