Moving out is a big deal.
Not only do you have to worry about packing up and moving all your stuff, but you need to get the home you're leaving clean.
Especially if you're a renter who wants their deposit back or a homeowner who has just sold their house.
If you're looking for cleaning checklists for moving out, we have some for every room.
Free Cleaning Checklists for Moving Out
Our deep cleaning checklists are perfect to use before moving out. They'll walk you through deep cleaning every space in your home so that's there nothing you forget.
You can download the checklists for free by clicking the link below. 
Download: Deep Cleaning Checklists for Moving Out
The checklists are for the following rooms:
If you're not sure how to perform a particular cleaning task, click the link to the appropriate room above for details.
How Do You Clean Before Moving Out?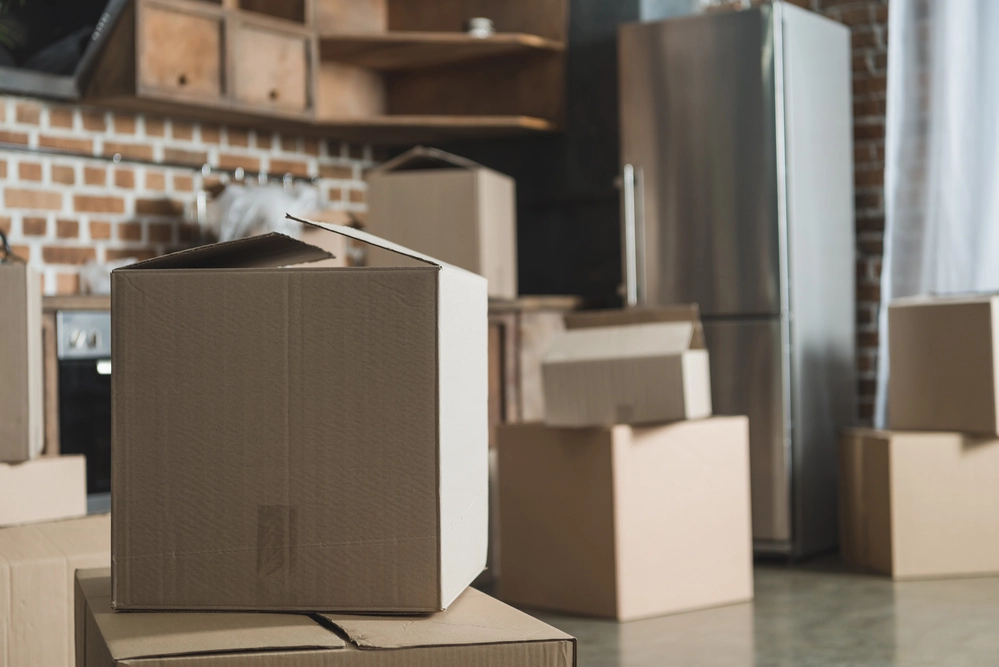 Cleaning before moving out isn't too different than regular deep cleaning. There are just a few extra steps you need to take. 
These are best left after you've packed up and moved your personal belongings out of the home.
Here's what to do.
Wipe Down the Insides and Outsides of All Cabinets
When your cabinets have been cleared out you need to make sure the insides of them are clean.
Start by knocking any crumbs out of the cabinets and onto the floor. (You can vacuum the cabinets if you prefer.) Now, use a damp microfiber cloth to wipe down the insides.
After the insides are clean, use a fresh, dampened microfiber cloth to wipe down the outside of the cabinet.
You can use an all-purpose cleaner for this if you prefer, but generally, water is enough.
Dust Ceiling Fans
When cleaning, it's essential to work from top to bottom, which is why you'll want to dust your ceiling fans before you wipe down counters or vacuum.
Dust your ceiling fans by using a vacuum attachment, large duster, or by wiping each blade with a wet cloth.
Wipe Down Countertops
Wipe down the countertops with an appropriate cleaner. You need to wipe down all backsplashes as well.
Clean Appliances
Before moving out, you need to clean all appliances. This includes the inside and outside of them.
Wipe down the outside of the appliances with a wet microfiber cloth. 
If your appliances are stainless steel, you can use stainless steel cleaner, OR you can wipe them down with a wet microfiber cloth and then buff and dry with a dry microfiber cloth. Both methods work well.
After the outside of the appliances are wiped, you need to clean the inside of the dishwasher and refrigerator.
Wash Windows and Mirrors
Go around the house or apartment and give each mirror and a quick cleaning. Use glass cleaner a fresh cloth for this.
Clean Sinks, Showers, and Tubs
Spray sinks with an all-purpose or disinfecting cleaner and wipe clean.
To clean showers and tubs, spray them with a tub and tile cleaner, scrub with a brush, and then rinse.
Remove Cobwebs, Wipe Baseboards
Walk around the house and remove any cobwebs on the ceiling with a broom.
Wipe down baseboards with a damp microfiber cloth.
Sweep and Mop
Once you've done all other tasks, sweep and mop your floors. If there are stains on any carpeted areas, use a stain remover on the spots.
Make Sure all Personal Property is Removed
Before you leave, do a final walk-through to ensure that you've removed all of your personal property. Check closets, drawers, and cabinets.
Optional: Patch Holes and Paint
One task you definitely need to do is remove any nails or command strips you have on the wall.
If the holes you've left behind are pretty large or unsightly, you may want to consider patching them or hiring a contractor to do this for you.
Also, if you've rented a home that you previously painted and are required to paint back to a neutral color, now is the time to do so. But, again, if you want to ensure a good job is done, you can hire this out.
Frequently Asked Questions About Cleaning Before Moving Out
Can I hire cleaners before moving out?
Yes, if you're not an experienced cleaner or have no interest in cleaning yourself, hire a professional service to do a move-out clean for you.
According to Home Advisor, the average cost for a move-out cleaner is $350. If you're in a smaller apartment, you can expect this cost to be $110-$350, depending on size and the area you live in.
While services vary by company, a move-out clean usually includes all cleaning tasks listed in our deep cleaning guides.
How clean does a house need to be before moving out?
If you're a renter, the house or apartment you're leaving should be at least as clean as it was the day you moved in.
Are you a homeowner selling your house? The house should have zero personal property left behind, and you should deep clean every room.
If I rent, can I paint before moving out?
That is between you and your landlord. Some landlords allow tenants to paint, while others do not.
If you're trying to touch up imperfections in the wall and don't know what color paint your landlord initially used, you need to contact him. Trying to guess on a paint color will probably only lead to obvious spots in the wall, which is what you're trying to avoid.
Conclusion
If you need cleaning checklists for moving out, our deep cleaning lists have you covered. They'll walk you through deep cleaning every room so that there's nothing you forget. You can download and print these lists as many times as you need.
Leaving your home freshly cleaned for new tenants or homeowners is not only the right thing to do but can help you get your deposit back if you've been renting.
Katie Barton is the owner of Cabin Lane. She's also a home improvement writer for Bob Vila and Homedit. Her cleaning and organizing advice has been featured on Realtor.com, Yahoo News, GoBankingRates, and more. In her spare time, you can find her with a paintbrush in hand, searching for her next project.