Last Updated on February 14, 2021 by Katie Barton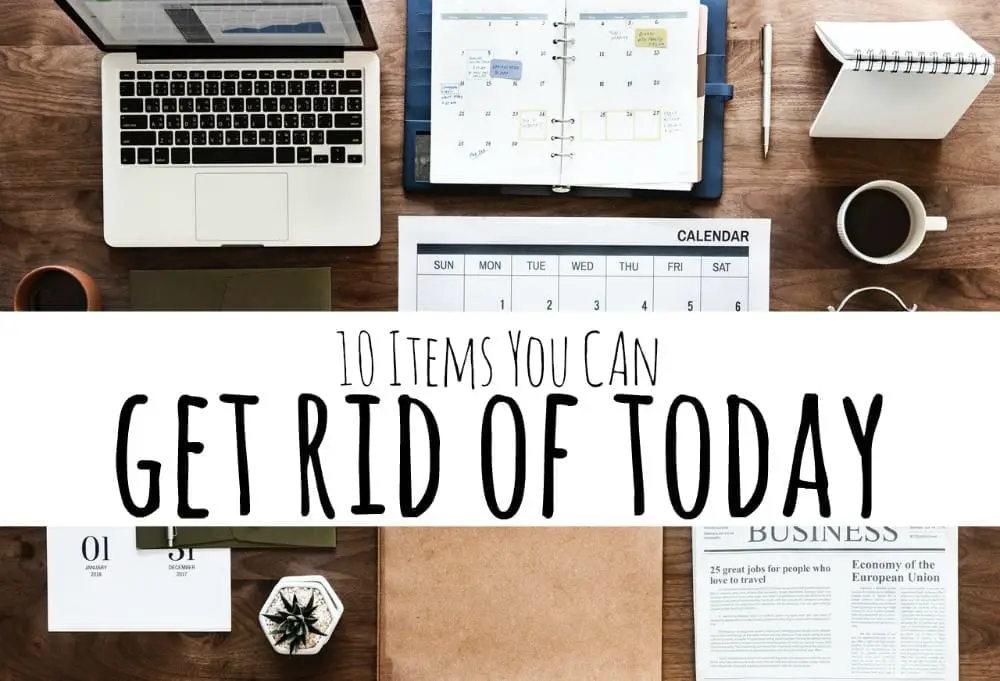 Looking to do some easy decluttering today?
Even if your house is organized, there are probably some items you completely forget about!
Next time you're in the decluttering mood, set a timer and collect these ten items you can get rid of right now.
10 Items You Can Get Rid of Right Now
Expired Medication
Wherever you have your medication at go through and get rid of anything that's expired, also, toss the things you bought but will never use.
If you're worried about disposing of prescription medication, here are some tips from the FDA for doing it safely.
Mismatched Socks
How does one always end up with socks without a mate? Nobody really knows!! But what I do know is that this happens to everyone.
If you've been hanging onto mismatched socks for a while, go ahead and toss them.
Old Underwear
While we're on the subject of socks, let's talk about underwear?
I kind of hate admitting this, but I hang onto old underwear WAYY too long. I know I can't be the only one. Go through your panty drawer and get rid of the items that aren't in the best condition.
Kid's Schoolwork/Junk Papers
My kids bring home an INSANE amount of papers from school every day.
When they were younger, I felt so bad about throwing away the stuff they made and let it accumulate – bad idea! I've since changed the system, and almost everything goes straight to the trash.
Each year I keep a few things like unique artwork and anything they seem extremely proud of – it all goes in a binder. (And the "keep" papers are very, very few.) Everything else goes straight to the trash can every day.
If you've been accumulating school work, go through it and only hang onto the best of the best.
Broken Crayons/Markers without Lids
If you have kids, broken crayons and markers with missing lids is the norm.
If your kids have a ton of art supplies, it can be a total pain to go through all of them. Instead, start throwing away any cap-less marker or broken crayon when you cross paths with them.
(Or, you could assign this job to your kids!)
Junk Toys
There's nothing worse than having a million junk toys scattered throughout the house.
I give you permission to throw away all the toys with missing pieces that have come from fast-food chains or otherwise don't get played with.
Jeans that are 2 Sizes Too Small or Too Big
We, women, tend to hold onto jeans that don't fit for far too long.
If your drawers are full of jeans that are two sizes too small or big, donate them. If you need jeans that size at a future date, you can buy ones you like.
Extra Toiletries
Go through your bathroom cabinets and purge all of the things that you don't use. This includes perfume, body wash, face products, and shampoos.
Makeup You Don't Like
Are you holding onto makeup "just in case"?
If you've held onto that same "just in case" makeup for more than six months and haven't used it, it's time to get rid of it.
Unused Kitchen Gadgets
I have been handed down SO many types of kitchen gadgets that I would never use. Maybe you're in the same situation?
If so, do a purge of the gadgets you don't use and find better homes for them.
Living Clutter-Free
It's so EASY to let some of these items go for way too long. (Trust me, I know!) Try going through your house 2-3 times per year to purge these less thought about items.
Also read: The Best Strategy for Getting Kids to Clean Up After Themselves
What else should I add to the list?
Katie Barton is the owner of Cabin Lane. She's also a home improvement writer for Bob Vila and Homedit. Her cleaning and organizing advice has been featured on Realtor.com, Yahoo News, GoBankingRates, and more. In her spare time, you can find her with a paintbrush in hand, searching for her next project.