Last Updated on February 15, 2021 by Katie Barton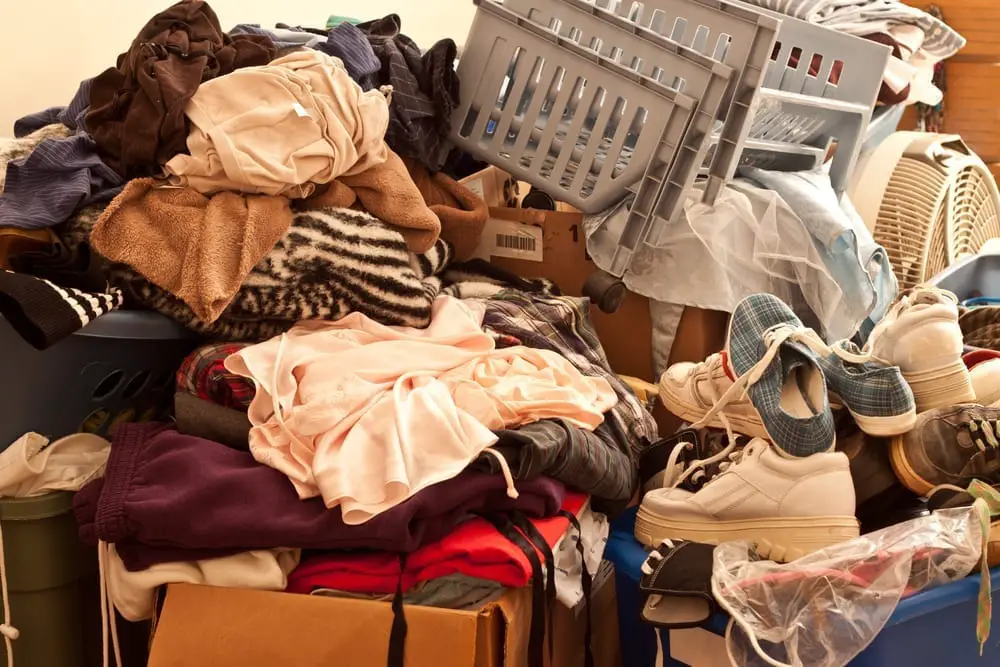 Now, tell me, is this or is this not super annoying (and almost insulting!)?
You go to your neat-freak friend's house whom you love dearly. You walk through the door and the first thing you hear –
"Oh my gosh. I didn't have time to clean before you come – please excuse all the messes."
Meanwhile, the "messes" she's referring to are two toys lying on the living room floor and a package of opened cookies sitting on the kitchen counter.
"Yeah, I wish my house was this messy," you sarcastically tell her. And you mean it.
BUT…Let Me Make You Feel Better
In just a minute, I'm going to show you exactly how to declutter a messy house.
But first, I have a confession.
I used to be that mom – the super annoying one who was genuinely embarrassed about one toy being on the floor.
And let me tell you something – it was hell. 
I was stuck in a trap of thinking my home needed to be "perfect" all the time, which I'd say is just as dangerous as it is super messy all the time. 
And whether you're the woman with the outrageous neat-freak tendencies or the one with the always messy house, you're likely struggling from this one thing?
Perfection.
How Perfection is Holding You Back
Perfection manifests differently in different people. For you, it might come in the form of feeling so overwhelmed by trying to get things "just right" that you don't start at all.
Which is keeping you from living your best life. And girl, you NEED to live your best life.
Things to accept:
It's ok for my house to be a little messy because people LIVE here.
Done is better than perfect.
I shouldn't keep items I'll never use.
I do NOT have to get everything done now.
If you're struggling with a super cluttered house, repeat after me – Nothing needs to be perfect. Consistent action, even if small, is better than doing nothing.?
So, let's start decluttering and find that balance of a neat and organized but still-lived-in-home.
Here's how to declutter a messy house.
Step 1: Choose One Item in One Room
Pick one room to start decluttering, and in that room, pick one item.
If you're in your kitchen, for example, and the cabinets won't shut because your Tupperware collection is falling out – start there. Go through all of your containers, getting rid of anything you don't need or use.
After you have finished that one item in that one room, move to the next.
Step 2: Don't Organize Trash
Organizing should 100% be part of your decluttering process. (In fact, I believe this so much I created a manageable home organizing course.)
However, if you don't use, need, or absolutely LOVE something- get rid of it. If you are trying to organize items that are better off trashed or donated, you'll always have a cluttered home.
Step 3: Be Consistent
When it comes to decluttering, you don't have to be extreme, only consistent.
If you can contribute 20 minutes per day to decluttering and do that consistently, think of where you'll be in 1 month? 6 months? 1 year?
The progress will be incredible.
How to Declutter a Messy House – Gain Momentum
Have you ever heard the saying, ?a body in motion stays in motion?? It's Newton's first law. And it works with decluttering too.
The sooner you get started, the sooner you'll gain momentum.
And if you need help with a jumpstart, I have a special treat for you 🙂
I have a three-day declutter jumpstart challenge that will get you started decluttering important areas of your home. It also comes with a free whole-house decluttering checklist.
Plus, whenever you need extra motivation or ask a question, you can reply to one of the emails and have access to me as your declutter-cheerleader.
Click here to take the declutter challenge.
Don't wait – get your decluttering in motion. In a week from now, you'll be so glad that you did.
Katie Barton is the owner of Cabin Lane. She's also a home improvement writer for Bob Vila and Homedit. Her cleaning and organizing advice has been featured on Realtor.com, Yahoo News, GoBankingRates, and more. In her spare time, you can find her with a paintbrush in hand, searching for her next project.