Last Updated on May 25, 2021 by Katie Barton
Tell me if this sounds familiar…
You clear off space, making some headway in the decluttering department, and the next day your husband's clutter has drifted over to your clear space.
🙄🙄🙄
Or even worse, you decide to declutter together, but he then protests about getting rid of the smallest thing, even though you both know it will never get used.
I've been there. Heck, sometimes I'm STILL there.
When it comes to stuff, my husband and I are polar opposite. He holds a lot of sentimental value to belongings, and I don't. I could live with hardly any extras while he wants ALLLL the extras. So, over our years of marriage, we've had to strike a compromise.
And even though it didn't happen overnight, he's now much more willing to declutter and let things go than he was eight years ago.
If you're in a spot where you are trying to declutter but are often struck down by your spouse, it can feel a bit pointless and upsetting. But there is hope.
Today I'm sharing a few strategies that have worked for me, allowing me to have a decluttered and *mostly* minimal house.
Some of these ideas will depend on how open your spouse is and how willing he is to work with you. At the end of the day, as much as you'd like to declutter, you still have to respect your spouse. (And yes, trust me, I know how frustrating that can be.)
Start By Only Decluttering Your Stuff
The best thing you can do when faced with an opposing personality is to focus on your stuff only in the beginning. Declutter and organize your clothes, shoes, socks, kitchen utensils, books, etc. – anything that is yours or primarily used by you.
Doing this gives you a bit of control and may inspire your spouse to jump on board.
Have His and Her Spaces
If you declutter a few spaces and then notice your spouse's stuff migrating to those spaces, it's time to lay some ground rules. 
You need his and hers spaces.
Obviously, don't be a jerk or overbearing about it – but ask your husband if he could please keep his stuff in his space so that you can enjoy your cleared-off spaces. Setting boundaries is a very reasonable ask.
Disguise Clutter in Storage Pieces
Here's something I've done more than a few times…
If your husband is dead-set against parting with stuff that he doesn't use, and it has no sense being displayed, put it in a storage piece. This way, you don't have to look at it every day, but your husband has peace with it still being in the home.
Revisit the items in a year. Maybe by then, he'll see there's no point in hanging on to it.
Focus on Your Own Progress
Even though you're married, you are still two separate people. And unfortunately, what's important to you right now (decluttering) may not be important to your spouse. If he's not willing to get rid of any of his belongings, you need to shift the focus to what you can control.
With time, your habits will probably wear off on him and even if not, try coming up with solutions that both of you can live with.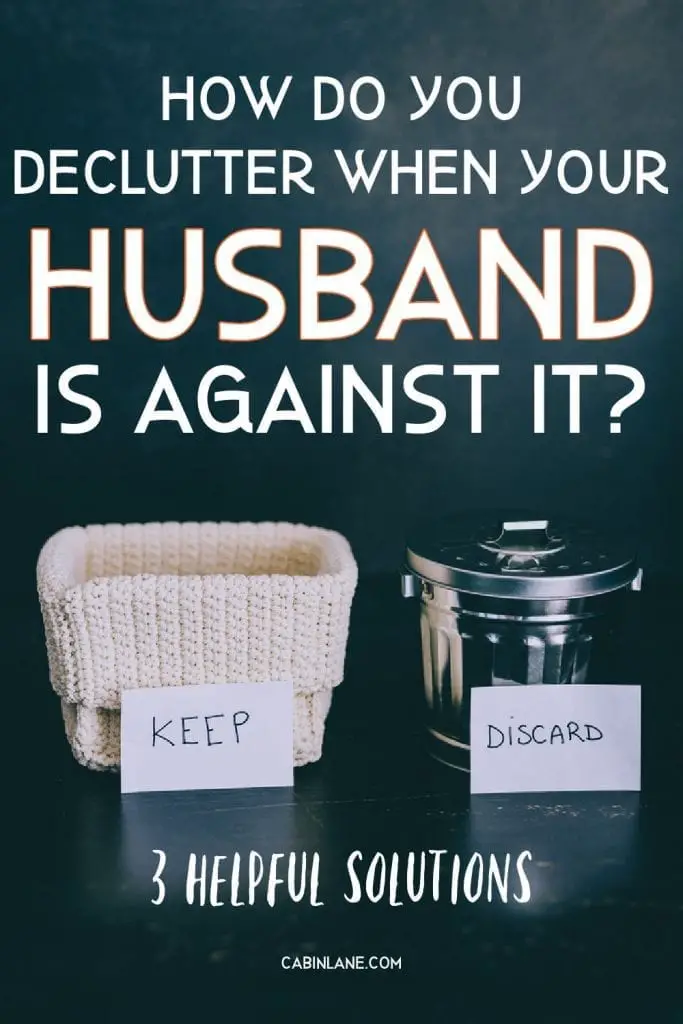 Katie Barton is the owner of Cabin Lane. She's also a home improvement writer for Bob Vila and Homedit. Her cleaning and organizing advice has been featured on Realtor.com, Yahoo News, GoBankingRates, and more. In her spare time, you can find her with a paintbrush in hand, searching for her next project.