Last Updated on December 27, 2021 by Katie Barton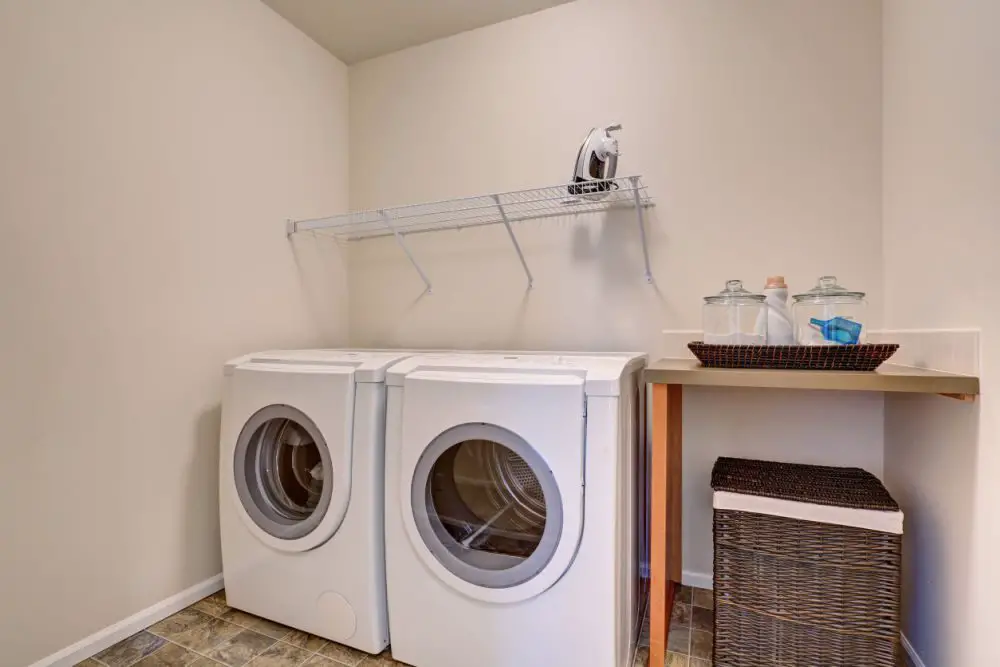 If you have a tiny laundry room, you might think you're stuck with permanent disorganization – especially if you have a large family.
But this isn't true.
If you're willing to do a thorough clean-out, you can organize the stuff you truly need in a clever and visually appealing way.
Here's how to organize your small laundry room – seven brilliant ideas.
Put a Cabinet or Shelves Over Your Washer and Dryer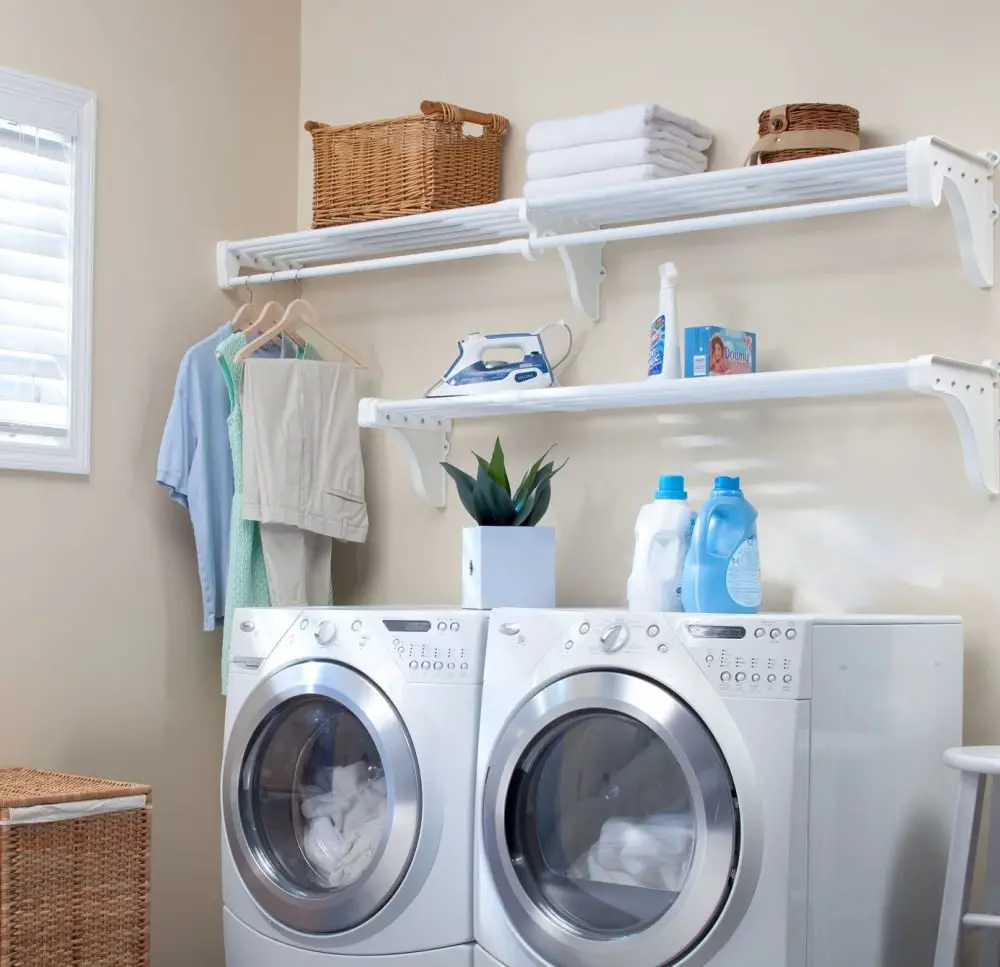 If you're lacking a lot of floor space, one of the most crucial things is to work with the vertical space in your room. This means installing a shelf or cabinet over your washer or dryer if you haven't already done so.
You can use the shelf to store your laundry detergent, dryer sheets, and other supplies.
The shelf pictured above is extendable. So, you can do like shown and keep some space to hang clothing or extend it to the wall.
Utilize a Laundry Hamper Cart with a Hanging Bar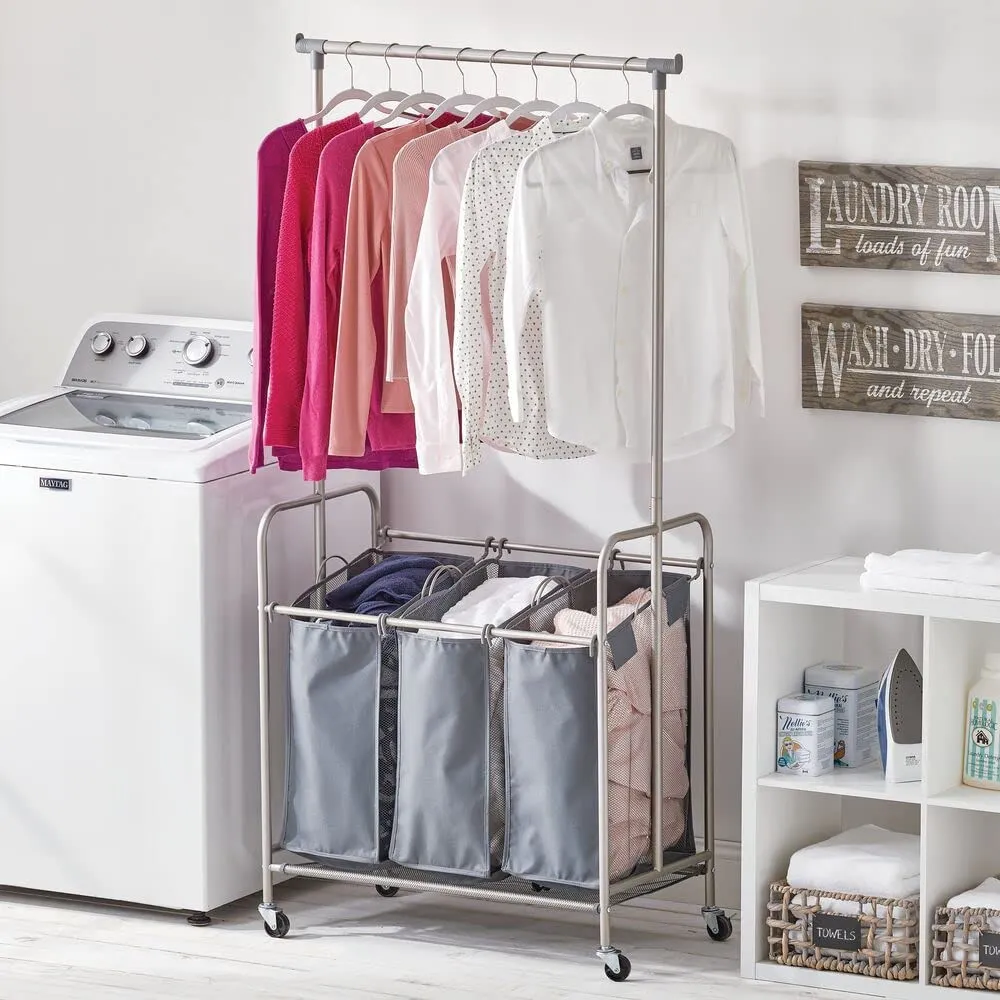 In a small room, you need to look for multifunctional pieces. And for a laundry room, a great one to consider is a laundry hamper with a hanging bar on top.
These hampers are on wheels, so you can easily move them in and out of the room if needed. They have three bins on the bottom to sort your dirty clothes and a bar on top to hang the items you'd like to air dry.
Place a Mobile Caddy In Between Your Machines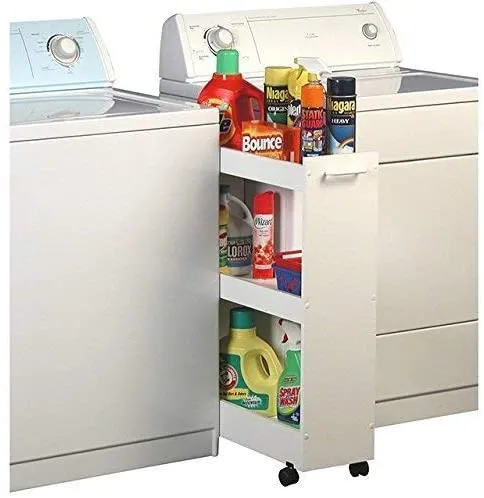 Do you need to increase your storage space? One of my favorite ideas is placing a mobile caddy between your washer and dryer.
Not only does the mobile caddy provide you extra storage, but it often looks custom, so it appears you have a high-end design even if you don't.
You can easily find these caddies in gray or white.
Keep Supplies on a Rolling Utility Cart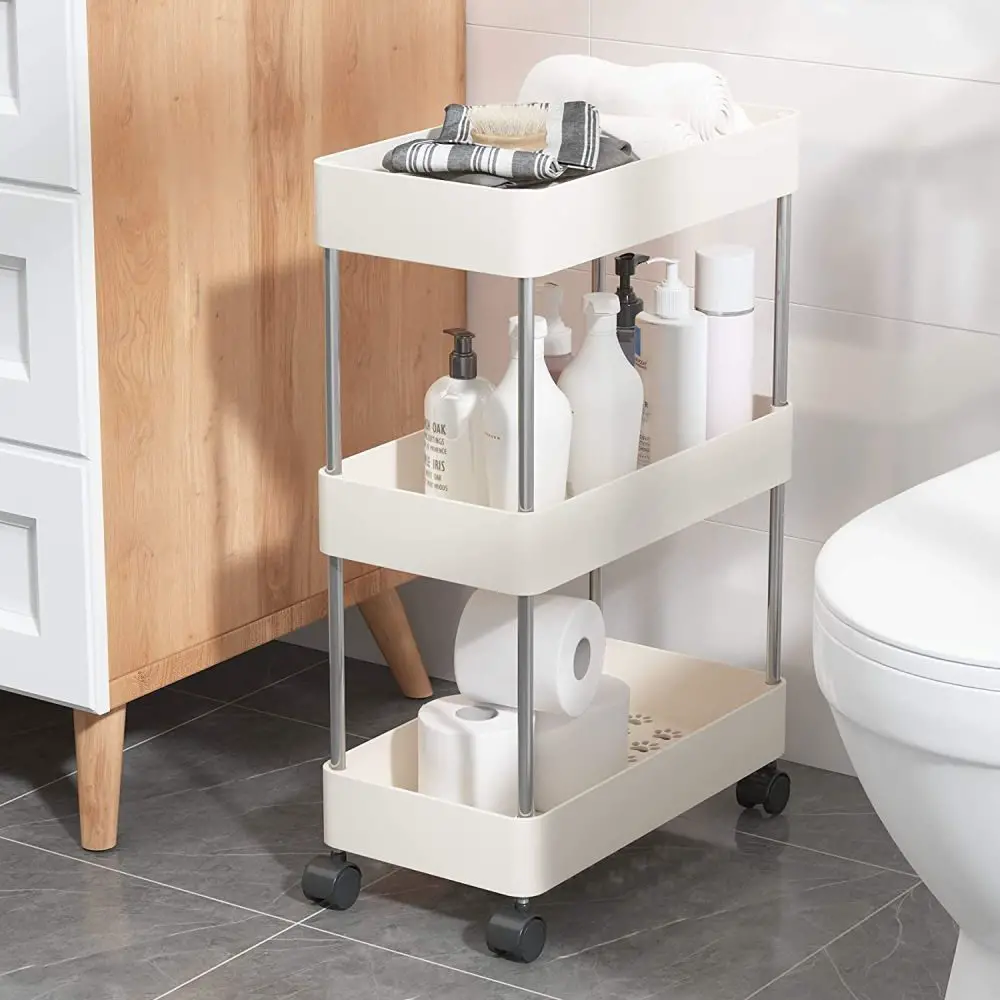 If you don't have space in between your washer and dryer to place a caddy, try a rolling utility cart instead. You can find these carts in various sizes, depending on your needs.
Try placing one of these beside your washer or dryer, in an empty corner, or between your laundry hampers. You can set your extra supplies on a caddy like this.
Mount Laundry Tools to the Wall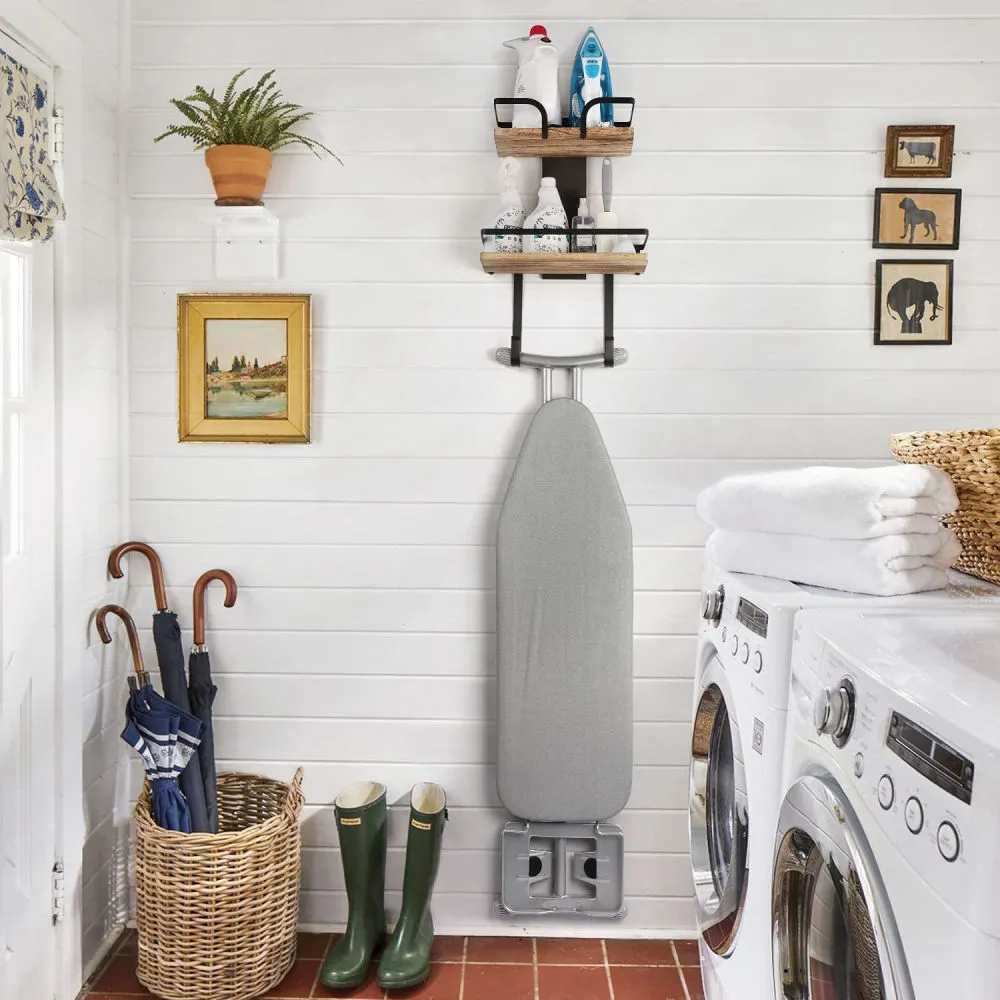 Looking for the perfect place to keep your iron and ironing board? Try a laundry organizer like this to mount your supplies to the wall.
This organizer is perfect if you have a large ironing board you need to keep out of the way. It keeps all of your supplies nice and neat.
If you keep cleaning tools like a broom and mop in the laundry room, you can also find wall hangers for those.
Organize in Glass Containers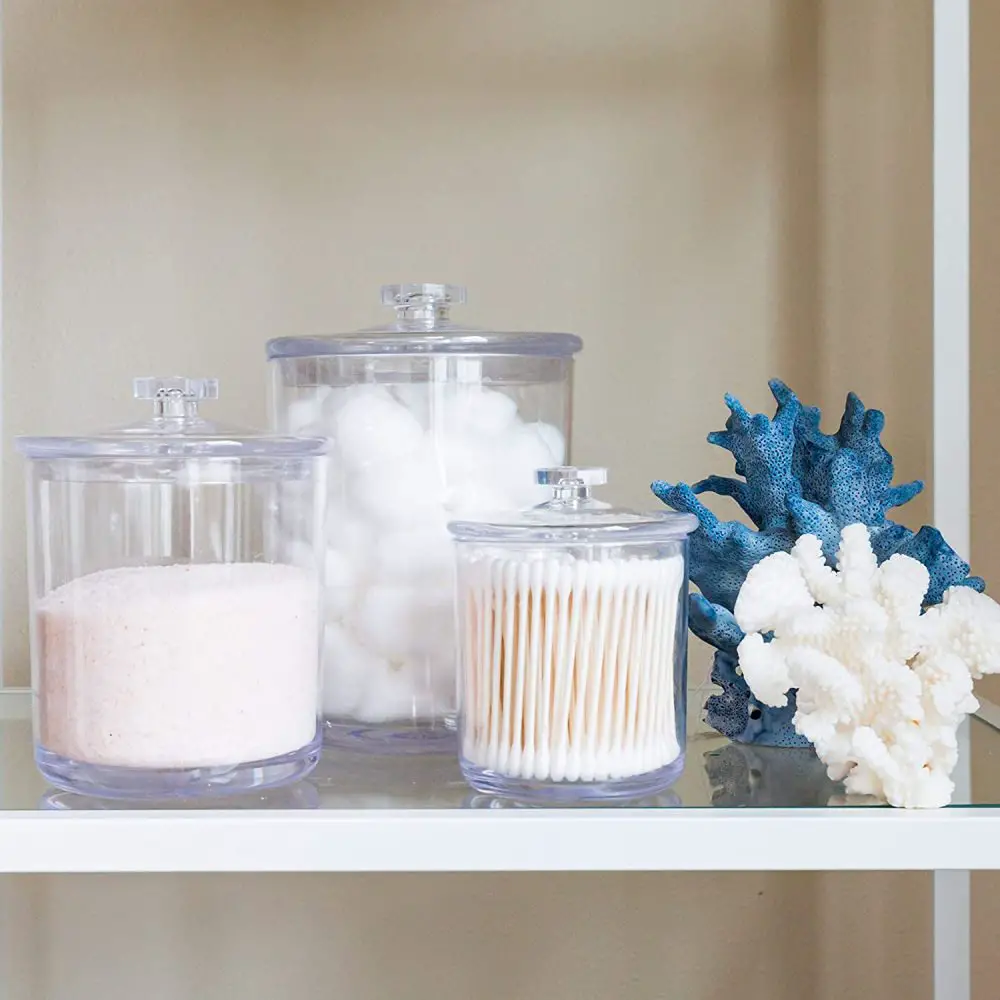 Let's get straight to the point – you 100% do NOT need to transfer your laundry soap and supplies to different containers. I'd argue that it makes you less organized because you have your container plus your original bottles to store.
But let's face it – putting supplies in decorative containers is popular.
So, if that's something you want to do, stick with clear glass containers. Clear containers are perfect for small rooms because they appear like they don't take up much space.
Don't Buy A lot of Extra Stuff
Lastly, we have the golden rule. If you want an organized laundry room, don't buy a lot of extra stuff. The less stuff you have, the cleaner your room stays.
This rule works for every single room.
So, when you organize, start by decluttering, donating old clothes and supplies, and organizing what's left.
Final Thoughts
If you want to know how to organize your tiny laundry room, start with a thorough clean-out. Only keep the things you need, love, and use regularly.
Then, you can decide what organizational supplies you need based on what's left. Some easy ideas are bringing shelves above the washer and dryer and a caddy in between.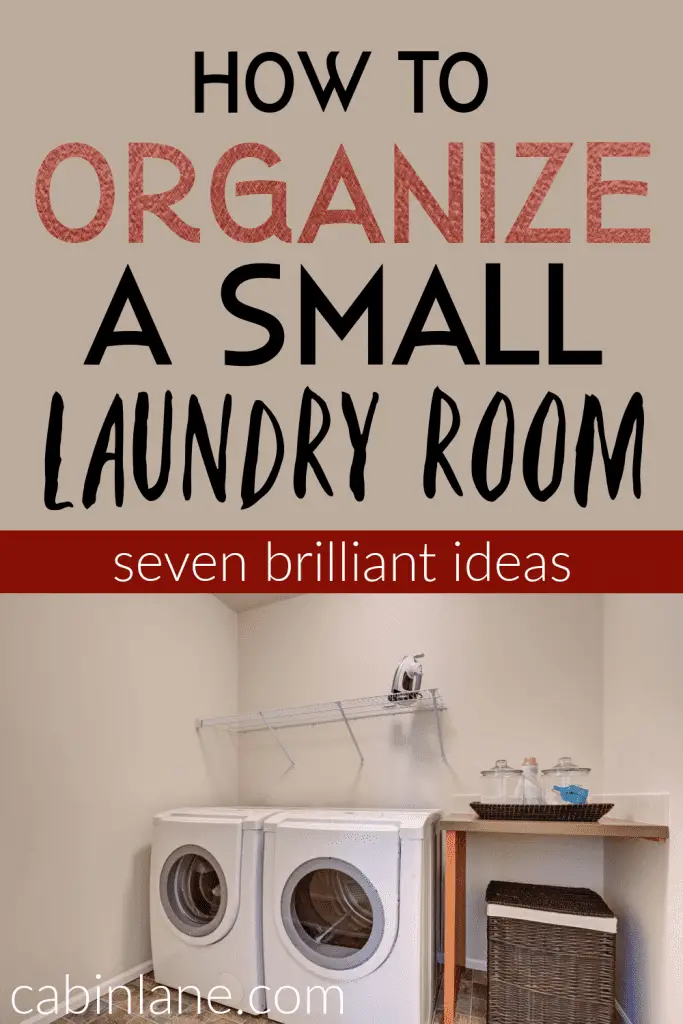 Katie Barton is the owner of Cabin Lane. She's also a home improvement writer for Bob Vila and Homedit. Her cleaning and organizing advice has been featured on Realtor.com, Yahoo News, GoBankingRates, and more. In her spare time, you can find her with a paintbrush in hand, searching for her next project.