Last Updated on February 15, 2021 by Katie Barton
If you've let your house go and you're surrounded by piles upon piles of stuff, it's easy to feel overwhelmed by decluttering.
In fact, even if you aren't dealing with extremes, decluttering can still feel like a completely overwhelming process.
Because it is.
It's more than getting rid of items. 
It's confronting decisions you've made to purchase and hang on to items, even when you're not sure why you did in the first place. Which can make you feel bad about yourself and start the cycle of overwhelm.
So, what's a well-intentioned girl to do?
First, Get Rid of the Guilt
The first step to decluttering when facing overwhelm is to get rid of all the guilt. 
This can come in many forms:
Guilt over spending money on useless items
Worry over getting rid of items that were gifted to you
Guilt over letting your house spiral out of control
Guilt over feeling guilt
You get the idea?
Relieve yourself from all guilt. Decisions made in the past are in the past, and you're working on improving your future.
Now, try these 10 easy decluttering ideas when you're feeling overwhelmed. You can do a different one of these every day!
1. Get Rid of 10 Items of Clothing You Don't Need
Go through your closet and dresser and pull out the first ten things you know you?ll never wear. These can be pieces of clothing that are ripped, stained, way too big or small, or that you bought but have never worn.
Do it quickly!
2. Set a Timer for 15 min.
Pick a room, set a timer for 15 minutes, and see how many items you can get rid of—Toss usable items in a donation box and trash the trash.
3. Go Through Sock Drawers
How annoying is it to always have old, holey, and unmatched socks in your drawers every morning? Super, super annoying.
Go through your and your kids' sock drawers, getting rid of all junk socks. Make a pile of the ones that don't have a match, and if they haven't been matched up in a week, pitch them.
4. Throw Out Expired Makeup
Go through all of your makeup and get rid of any expired items and makeup you hate or have never used.
You can refer to this guide if you're unsure whether your makeup is fit to keep or should be tossed.
5. Donate Too-Small Kids Clothes
Grab your child(ren), head to their room, and go through all the clothing. Anything that is too small or has never been worn needs to be put in the donate pile. 
Kids don't wear or need nearly as much clothing as most adults buy for them. So, don't feel bad if your kid's closet looks half as full after you're done purging. This will be a good thing!
After you have your donate box full – donate it. Please DO NOT leave it lying around the house.
6. Go Through Your Shoes
We all buy shoes with the best of intention, but the truth is, some end up not being comfortable, fitting right, or we don't wear them as we'd envisioned. This is all normal. And there is no need to hang on to shoes that have never been and never will be worn.
Get rid of any shoes you've completely worn out; donate the ones you don't want.
7.  Throw Out 10 Toys
Quickly grab 10 broken, disgusting, or junk toys and toss them in the trash.
8. Go Through Toiletries
Toiletries like shampoo, conditioner, and skin products are easy to accumulate if they're not regularly gone through. Throw out any items you've had for more than one year and the items you bought but don't like.
9. Expired Medication
Here's an easy one. Pull out all the medicine in your home, look through the expiration dates and get rid of all meds that are past expiration.
10. Edit Your Pantry
Go to your pantry or food cabinets and get rid of all expired and stale items. Regularly doing this will help you keep tabs on what you have and what needs to be used up in the future before it expires.
Eliminate Overwhelm with These Decluttering Ideas
The fastest way to feel overwhelmed is by trying to do too much at once. Not even the most organized person can completely declutter their house in one day. So, don't think that you need to either!
Consistent effort will produce the results you're looking for. Give these ten decluttering ideas a go, and in ten days, you'll start to see the fruits of your labor.
Want more ideas? Check out this free decluttering checklist.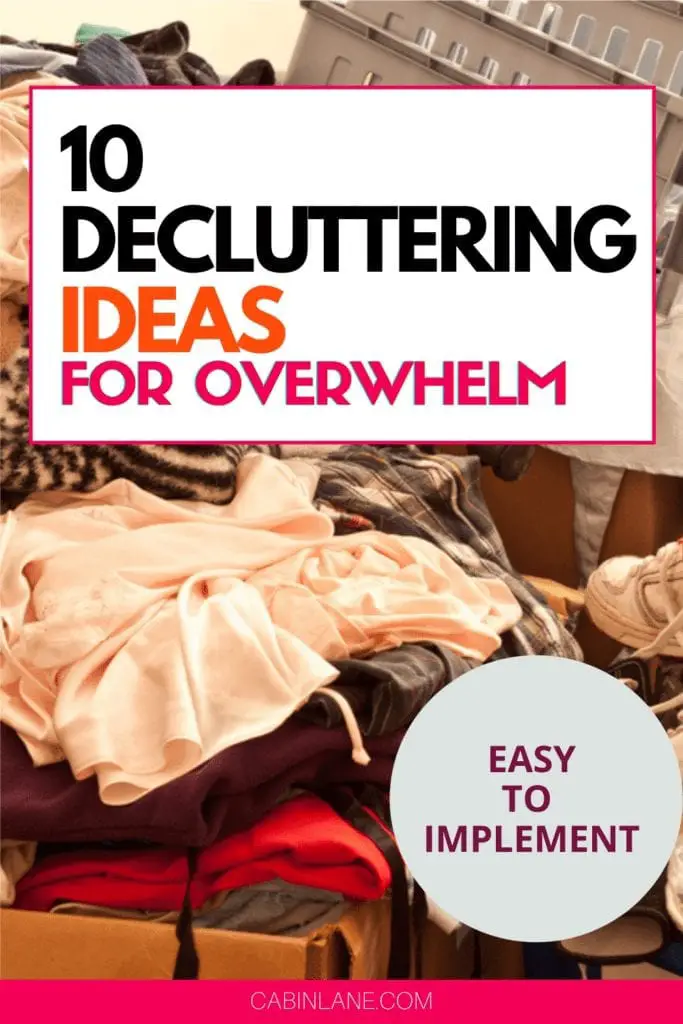 Katie Barton is the owner of Cabin Lane. She's also a home improvement writer for Bob Vila and Homedit. Her cleaning and organizing advice has been featured on Realtor.com, Yahoo News, GoBankingRates, and more. In her spare time, you can find her with a paintbrush in hand, searching for her next project.