Last Updated on February 14, 2021 by Katie Barton
The One Room Challenge for spring has just begun. If you aren't familiar, the one-room challenge is a challenge to fully redo one room in only six weeks.
And it came at the PERFECT time because I just started working on my master bathroom. So, I decided to join as a guest participant.
The Journey of My Master Bathroom
When we purchased this house, the master bathroom was BY FAR the worst room in the entire house. It was full of water damage – complete with spongy floors and a rotting wall.
It was also covered in old wallpaper, had pink trim (not in a good way), and three hideous linoleum flooring layers.
I'm kicking myself for not taking pictures. But I didn't because…it was an embarrassing room.
A couple of years ago, I gave the room a very cheap facelift. I took down the wallpaper, painted, and put down vinyl plank flooring.
What I didn't do was address the water damage…which only grew worse. #DUH
So, earlier this year, we ripped out the shower and replaced the rotting drywall and subfloor. And the bathroom has set like ever since.
No floors, an unpainted wall, and an absolutely unusable bathroom. (We've been using the kid's bathroom instead.)
The New Bathroom Plans
My husband is not the handy type. It became clear to me that he was never going to install the tile we had purchased. So, I started doing it myself.
This whole bathroom will be DIYed by yours truly and on a budget.
Still, I've got a strong plan, and I think it's going to look amazing!
Here's the plan:
Grey Ceramic Herringbone Tile
DIY White Concrete Countertop
Dark Blue Trim, White Walls
New Sink and Faucet
New Shower Curtain
Possibly Refinishing the Vanity (Not sure yet.)
Here's my mood board. I'm going for a fresh, clean, and minimal look.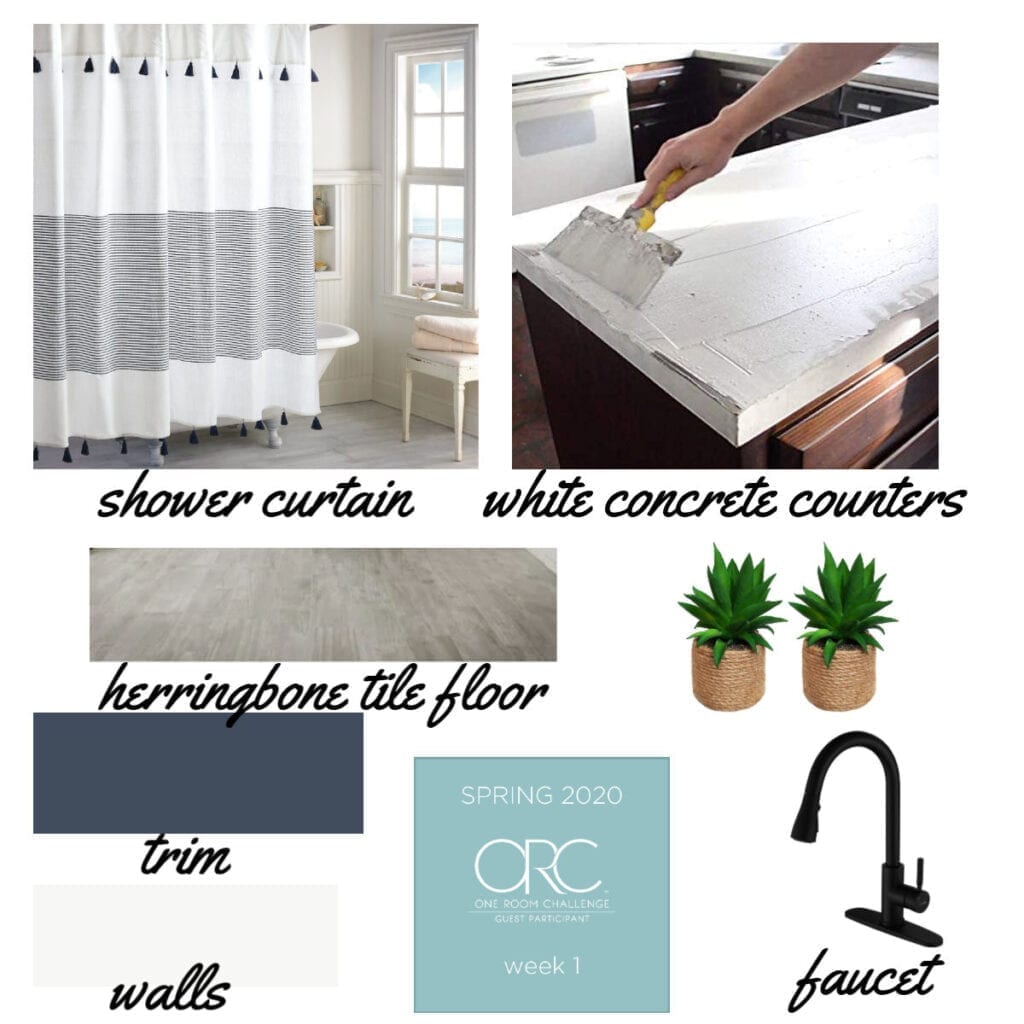 Here's a look at the bathroom's current state and a sneak peek of my tile progress.
I hope to have the tile complete in a few days and will give you an update then.
In the meantime, check out all of the other guest participants in the One Room Challenge.
Katie Barton is the owner of Cabin Lane. She's also a home improvement writer for Bob Vila and Homedit. Her cleaning and organizing advice has been featured on Realtor.com, Yahoo News, GoBankingRates, and more. In her spare time, you can find her with a paintbrush in hand, searching for her next project.