Last Updated on October 6, 2022 by Katie Barton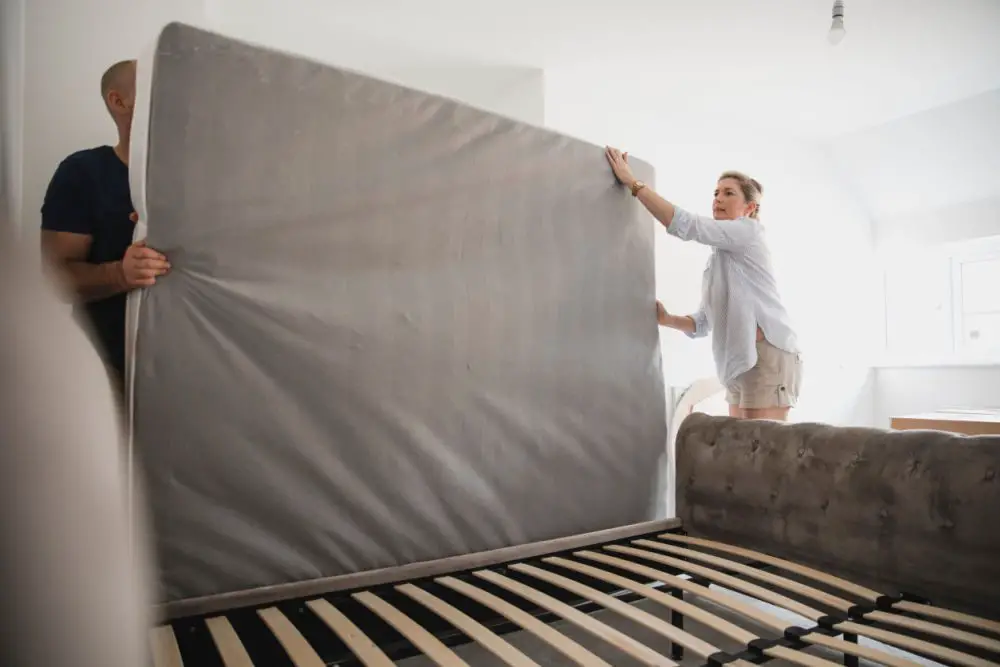 If you're redecorating a room or replacing your bed, you've probably figured out that mattresses are more challenging to get rid of than other household items.
This is because mattresses have expiration dates and are highly personal belongings. That doesn't mean you can't get rid of an unwanted mattress, though. 
If your mattress has been lightly used and is free of stains, you have some options. And if your mattress isn't donation-worthy, you can recycle.
Here's where to donate a mattress.
Is Your Mattress in Good Enough Condition to be Donated?
Before we get to donating and recycling options, you need to determine whether or not your mattress is in good enough shape to be passed onto another family.
Before heading to a donation center, check your mattress for the following:
Stains (especially blood, urine, or sweat)
Rips and holes
Bad smell
Discoloration
Mold
If there are many of these issues in your mattress, most donation centers won't accept it. Luckily though, you can recycle.
On the other hand, if your mattress still looks new and has been gently used, it's a prime candidate for donation.
Where to Donate a Mattress: Top 4 Places
Furniture Bank Network
The Furniture Bank Network is a non-profit organization with branches all over the country. These branches accept donations of new and gently used furniture and sell them at low or no cost to families in need.
You can search for a furniture bank network location near you here.
The Salvation Army
The Salvation Army accepts mattresses at the majority of their locations. In fact, you can find mattresses on their list of estimated donation values.
However, before lugging your mattress into a drop-off center, check with your local store since needed items vary by location.
If you don't have a vehicle big enough to haul your mattress, no worries. You can schedule a pickup by visiting the Salvation Army website.
To Friends or Family
It can be hard to donate a mattress to someone who doesn't know you because most people worry about used mattresses carrying bed bugs or being full of dirt and sweat.
This means, if your mattress truly is in good condition, one of the best ways to get rid of it is to find a friend or family member in need.
Facebook/Craigslist/Freecycle
Another option is to list the mattress in Facebook "Free" groups, Freecycle, and Craigslist. You might find a local family who needs the size of mattress you're getting rid of.
How to Recycle Your Old Mattress
If your mattress isn't in good enough shape to donate, or you can't find a donation center, you can send it in to be recycled.
The best place to start your search is on Earth911. 
All you need to do is type "mattress" in the what box and your zip code in the location box. Earth911 will then list all recycling facilities near you that accept mattresses.
Or, if you're having a new mattress delivered, the manufacturer or store you bought from may take your old mattress as a courtesy. So definitely ask when you buy.
If you live in California, Connecticut, or Rhode Island, you're in luck – retailers must take your old mattresses when you buy a new one and recycle it through the Bye Bye Mattress program.
Frequently Asked Questions About Donating Old Mattresses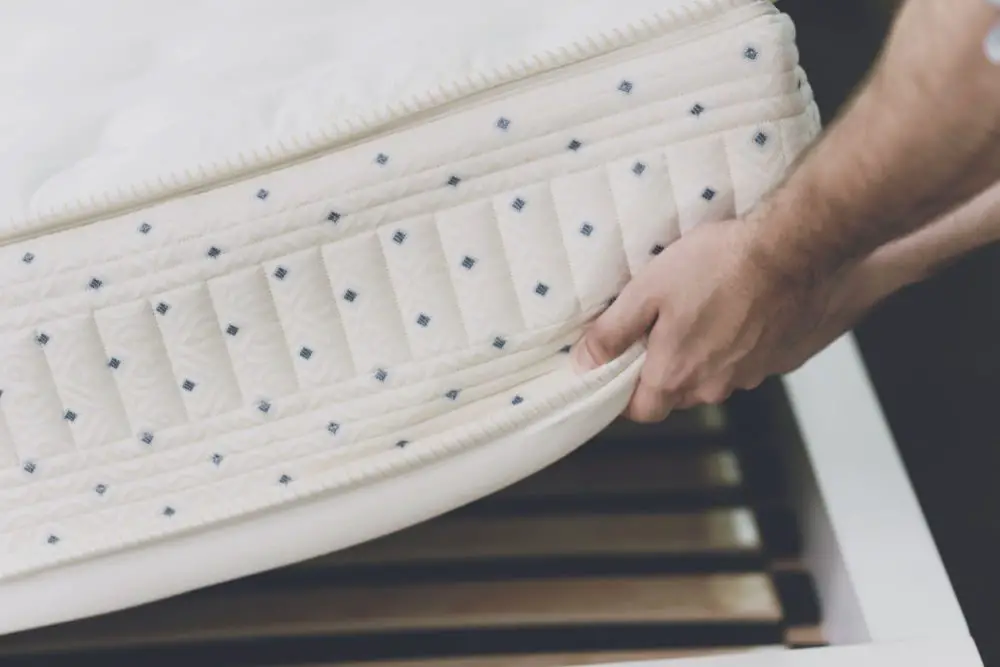 Do Habitat for Humanity Restores accept mattresses?
No, Habitat Restores do not accept mattresses or box springs. Instead, they recommend you find another donation center or recycle your old mattress. Many articles suggest you can bring in your old mattress to Habitat for Humanity, but it will likely be a massive waste of your time.
Does Goodwill accept mattresses?
No, Goodwill does not accept mattresses or box springs. However, most Salvation Army locations will take like-new mattresses, so you can check there.
How do I prep a mattress for donation?
If your mattress is in good enough shape to donate, start by stripping the mattress of sheets and protectors. Now, thoroughly vacuum the mattress and spot treat any stains. That should be all that you need to do.
Conclusion
Mattresses are a little harder to donate than many other household items or pieces of furniture. Still, if you're wondering where to donate a mattress, you have at least a few options.
If you don't have any family members or friends who want your mattress, the next best option is to donate it to the Furniture Bank.
Alternatively, if your mattress is in too bad of shape to pass on, you can find a local recycling center that will accept it.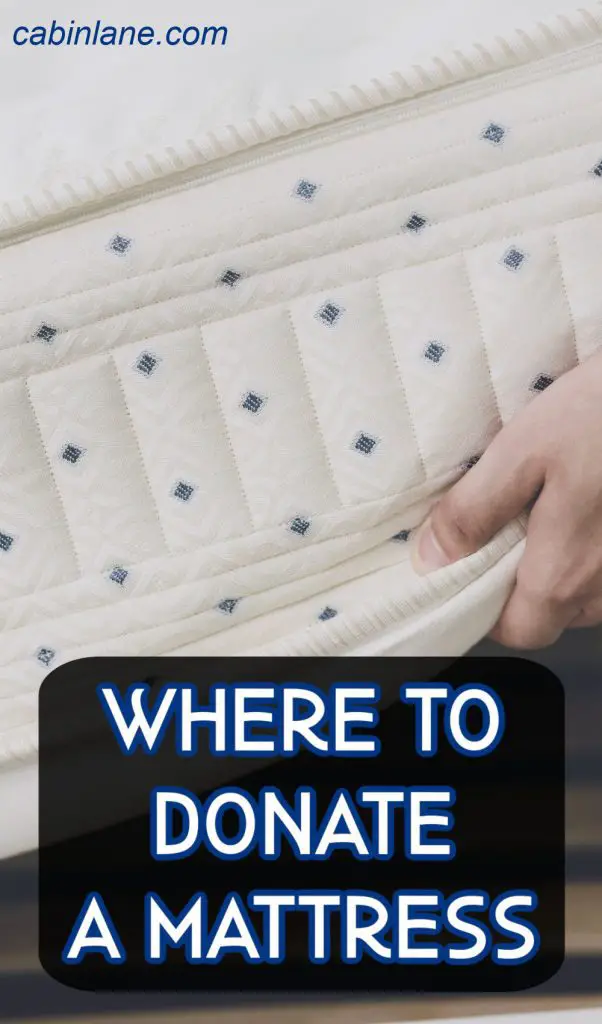 Katie Barton is the owner of Cabin Lane. She's also a home improvement writer for Bob Vila and Homedit. Her cleaning and organizing advice has been featured on Realtor.com, Yahoo News, GoBankingRates, and more. In her spare time, you can find her with a paintbrush in hand, searching for her next project.