Last Updated on November 21, 2021 by Katie Barton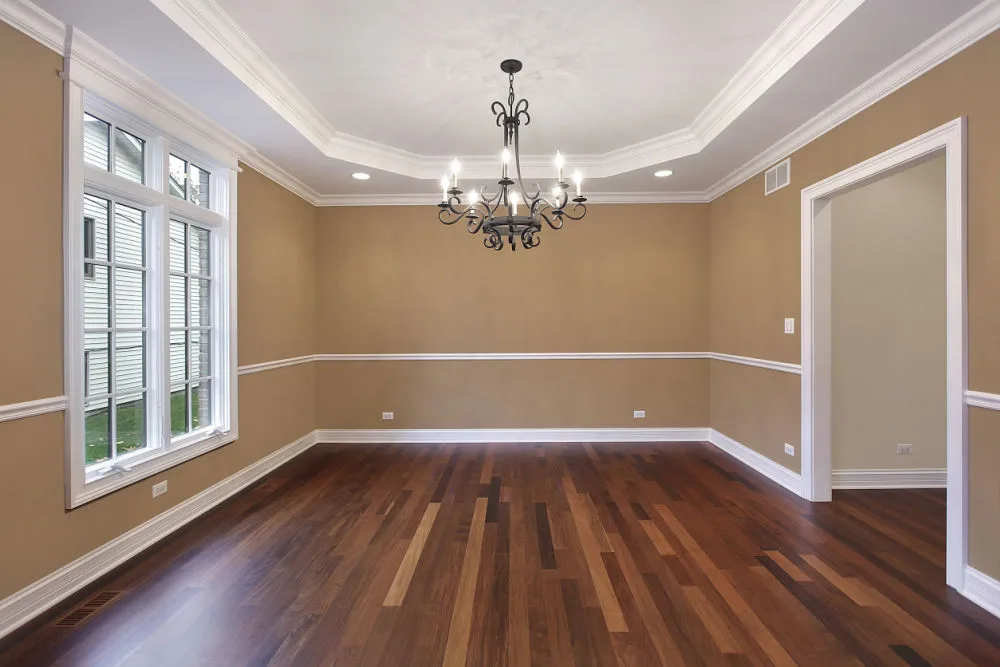 If you're updating the light fixtures in your home, throwing out the still perfectly good ones seems like a waste.
Luckily, you don't have to toss them in the dump. While there aren't as many places to donate light fixtures as items like clothes, you still have a few options. 
Here's where to donate light fixtures and ceiling fans that are used but in excellent working condition.
Top Places to Donate Light Fixtures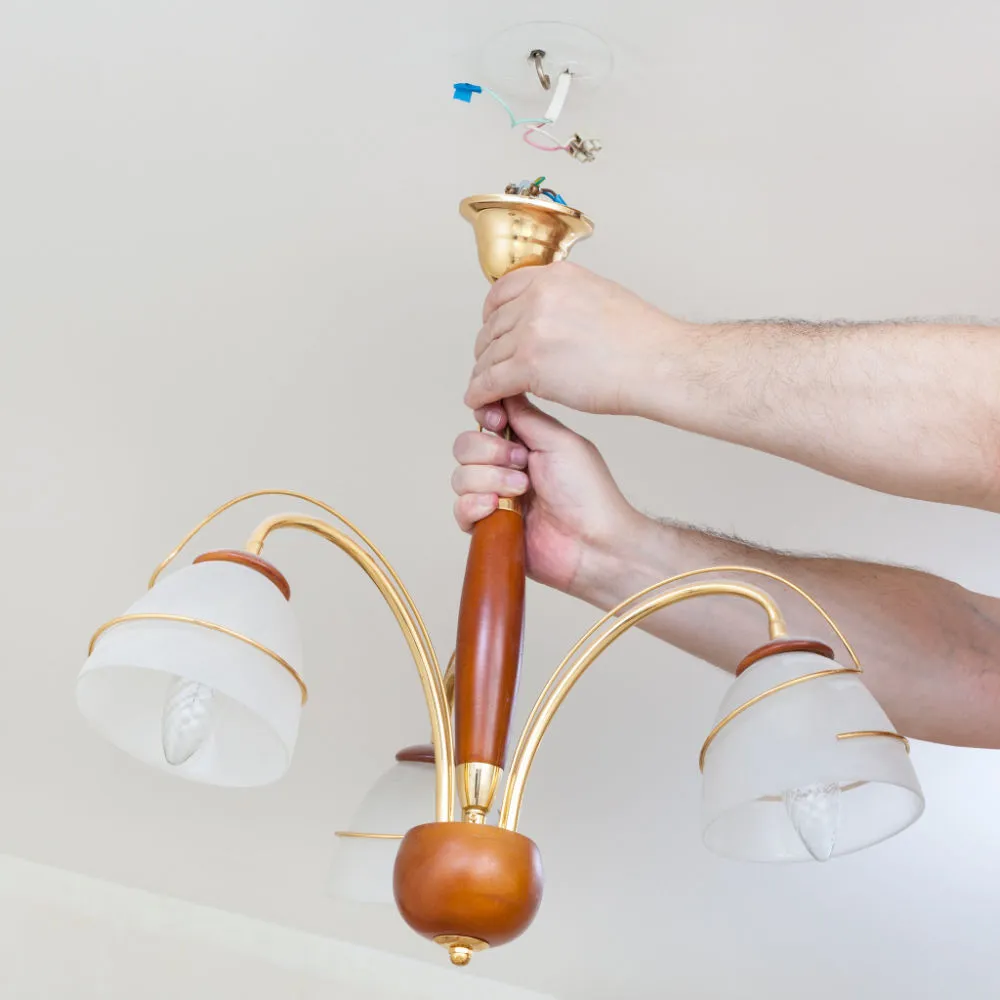 Habitat for Humanity Restore
The Habitat for Humanity Restore will accept your old light fixtures as long as they're still in excellent condition and come with all working pieces. The ReStore accepts both indoor and outdoor lighting with one exception – some locations do not accept ceiling fans.
You can drop off your donations at your local ReStore or schedule a pickup if you have a lot of items to donate.
Salvage Shops/ReUse Center
If you've never been to an architectural salvage shop or reuse center, you need to check one out. Not only because you can donate your used building materials like old cabinets and light fixtures, but because they have a unique selection.
ReUse centers and salvage shops work by going into old buildings or homes, deconstructing them, and putting the materials up for sale. These shops also accept donations from individuals and businesses.
If you don't have a local ReStore, a salvage shop is a great place to donate your old light fixtures. They'll be especially interested in any unique or antique fixtures.
Freecycle or Facebook Buy Nothing Groups
Your final option for donating is on Facebook or Freecycle. 
You can list the items on your personal Facebook page to see if any friends are interested. Alternately, you can put the items on a "Buy Nothing Group."
Buy Nothing Groups are where members donate items they no longer want or request things they need. Everything is free. These groups aim to reuse, recycle, and curb consumerism.
You can find a group on Facebook by searching "buy nothing groups" in your area or find your local group on Freecycle.
Can You Recycle Light Fixtures?
Unfortunately, light fixtures are hard to recycle simply because they're composed of so many materials. For example, while you can recycle the brass or metals pieces, fan blades, plastic pieces, and even most beading cannot be recycled.
Unless you're willing to dismantle your light fixture and separate the recyclable pieces, you're out of luck.
Depending on where you live, you will need to recycle your old CFL bulbs since they contain small amounts of Mercury. You can find a recycling center here. The states that require recycling of these are Maine, Massachusetts, California, Vermont, Washington, Minnesota, and New Hampshire.
How Do I Dispose of Old Light Fixtures?
If you can't donate your light fixture, you have two options: put it with your regular garbage or bring it to an eWaste facility.
In most states, putting a light fixture with your garbage is entirely acceptable – just make sure you remove the light bulbs first. 
Some areas may require that you bring your light fixture to an eWaste dump. A quick search or phone call to your trash service provider will steer you in the right direction.
Frequently Asked Questions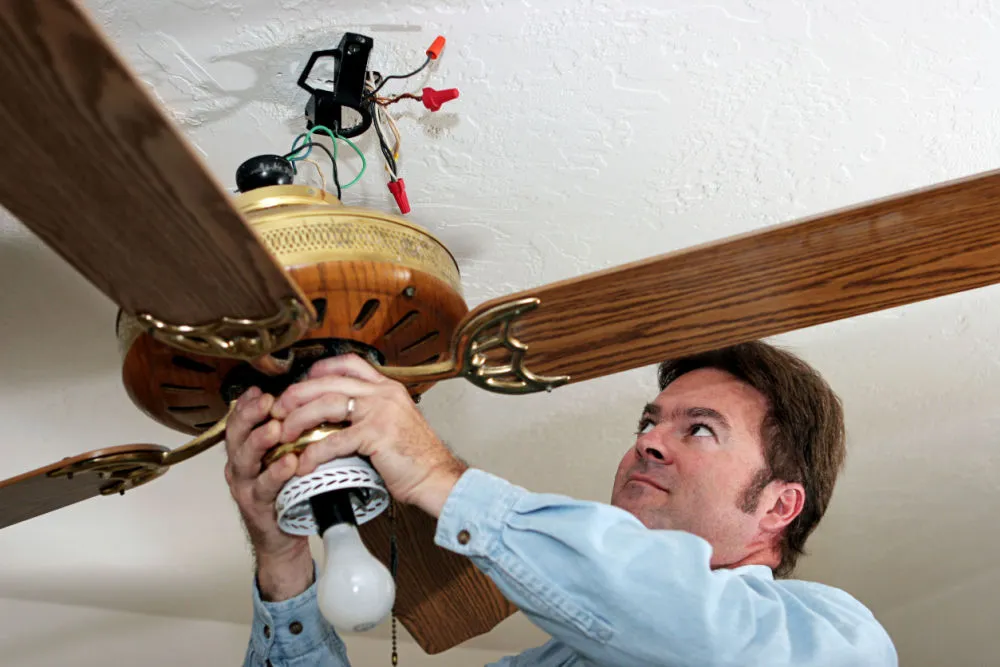 Does Goodwill accept used light fixtures?
While Goodwill does not explicitly state that they don't accept old light fixtures, it's doubtful that they'll take them. Goodwill does accept lamps, though. You're best off taking your old light fixtures to the Habitat Restore, a ReUSe center, or giving them away.
How do you dispose of a chandelier?
If your chandelier is still in good condition, donate it to the Habitat Restore or your local reuse center. If it's not in good working condition or missing pieces, you'll need to dispose of it. Start by removing the light bulbs (recycle them if they're CFL) and either put the chandelier in with your garbage or take it to an eWaste center.
Where to donate a ceiling fan?
If your ceiling fan is in good condition, your best bet is to donate it to a reuse center. Some Habitat for Humanity branches will also accept ceiling fans, but some don't, so call ahead. 
Conclusion
If the light fixtures you're removing from your home still work, have all their pieces, and are in excellent condition, they're perfect for donating. You can pass them on by taking them to a ReStore or Reuse center.
If your light fixtures aren't in excellent condition, recycle the pieces you can, and throw out the rest.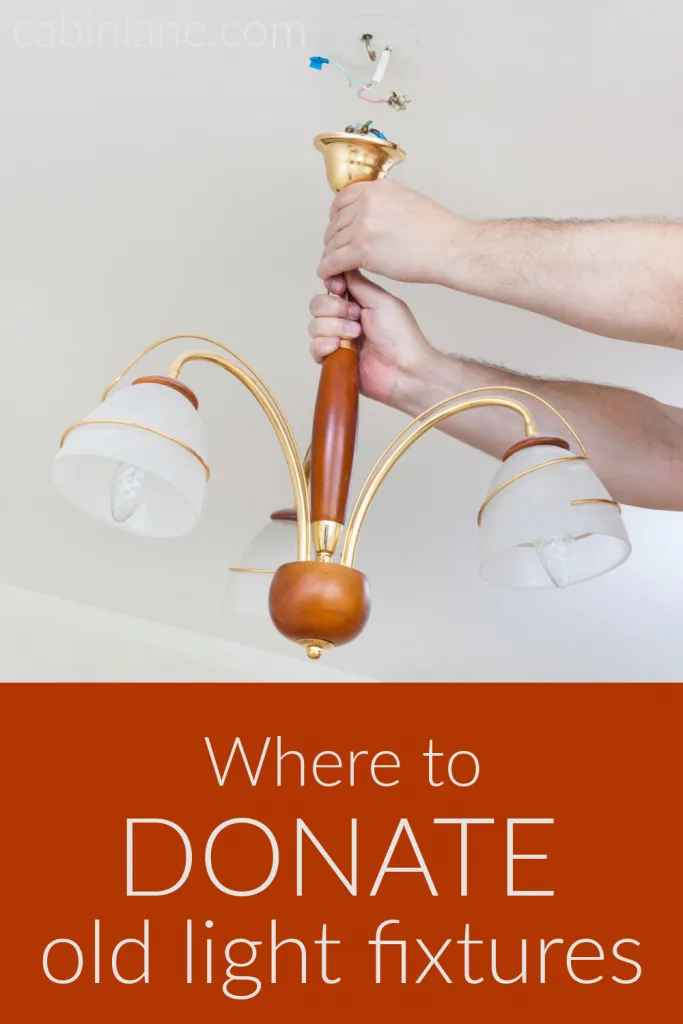 Katie Barton is the owner of Cabin Lane. She's also a home improvement writer for Bob Vila and Homedit. Her cleaning and organizing advice has been featured on Realtor.com, Yahoo News, GoBankingRates, and more. In her spare time, you can find her with a paintbrush in hand, searching for her next project.