Last Updated on February 14, 2021 by Katie Barton
Do you have a black thumb? If so, you're not alone!
One of the most common complaints I hear about those who want house plants is that they can't keep them alive. Luckily, faux plants are now looking pretty dang realistic.
Last year after killing a couple of my house plants, I decided to opt for faux plants and found some great ones on Amazon. They looked amazing and were very affordable.
Here are ten of the best faux plants on Amazon.
# 1 – Four ft. Ficus Bush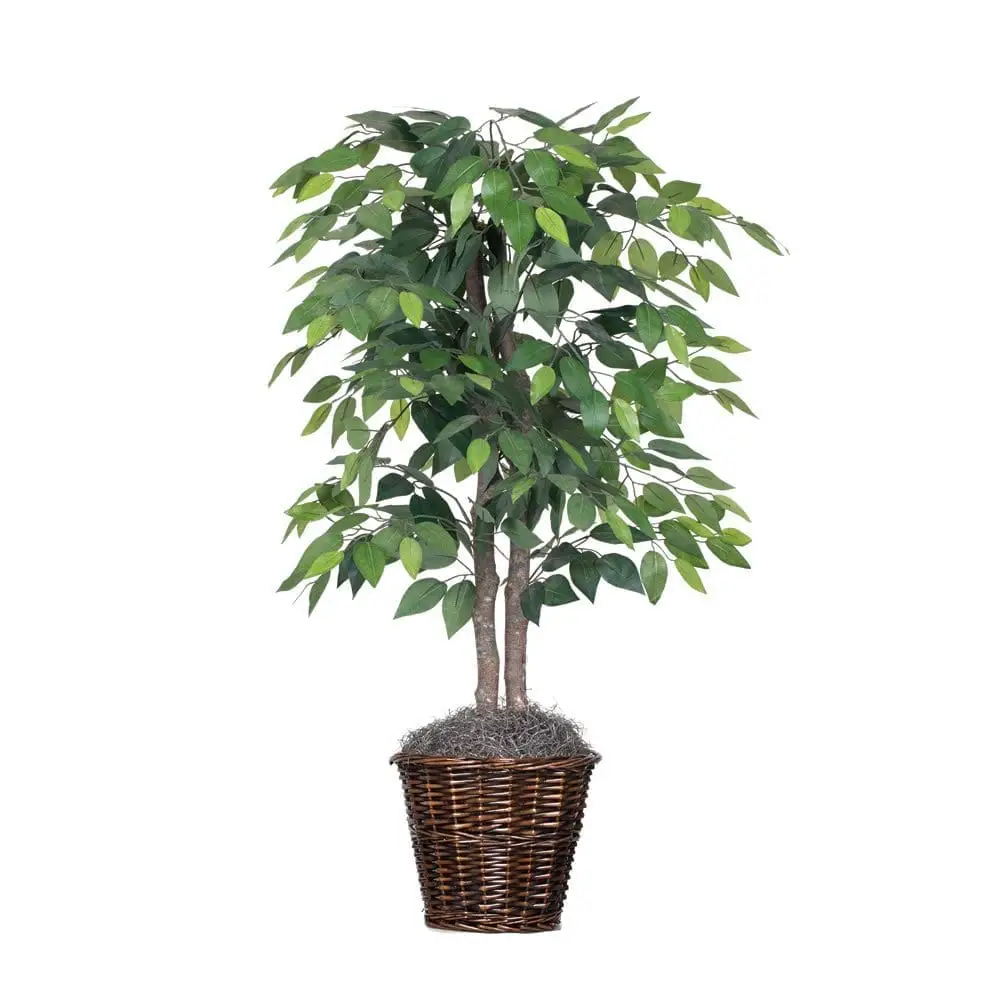 If you need a plant with some height, this one will do—this four ft. Ficus bush has 4.5 out of 5 stars with over 200 reviews.
It's priced under $50 and comes in the decorative basket pot.
# 2 – Faux Mini Plants
These were the first faux plants I bought off of Amazon and made me a fake plant convert. These look SO realistic.
This set has over 600 5-star reviews!
I have these sitting in a tray in the middle of my dining room table. These are a great option for adding just a touch of greenery. You can find these here.
# 3 – The Cutest Fake Succulents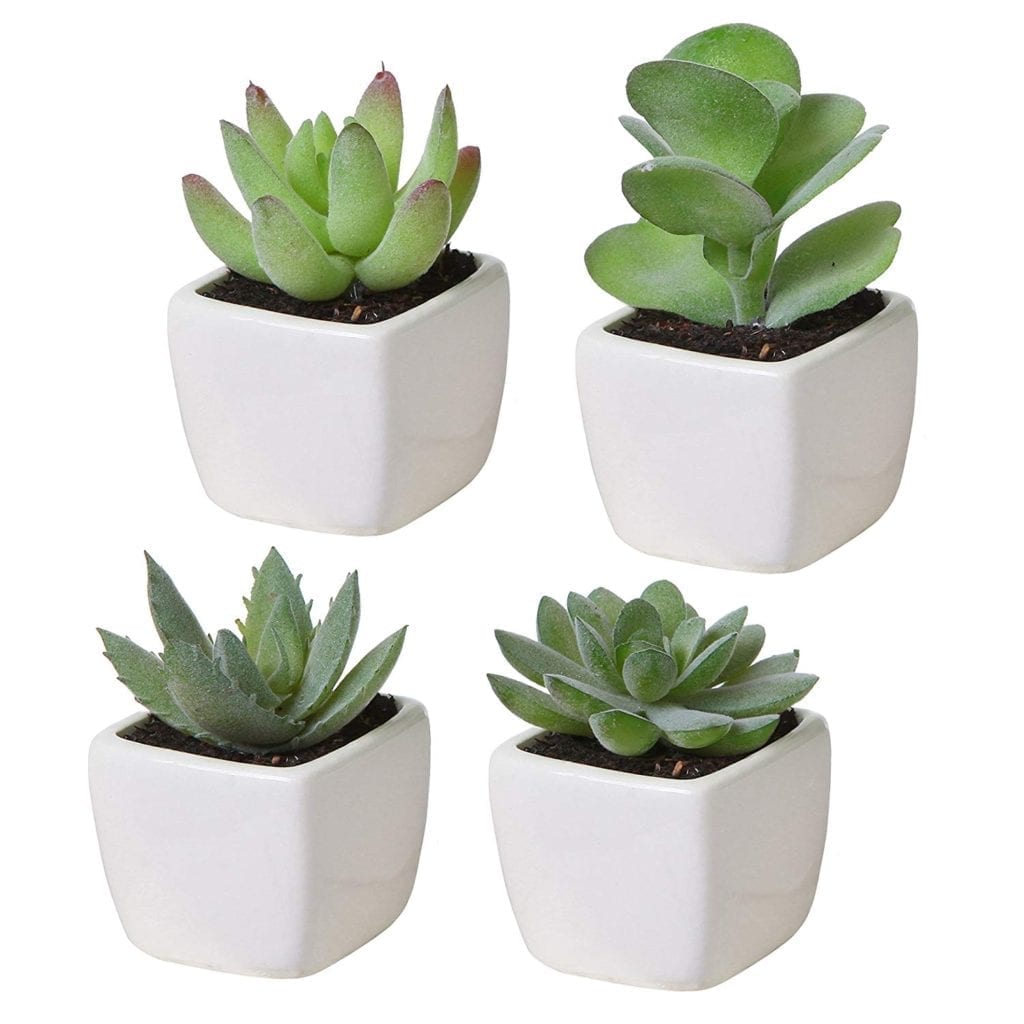 If you want some real plants in your home, succulents are a good place to start. They're actually pretty easy to keep alive – just water every couple of weeks or so.
However, if you're looking for a good fake option, these are it.
# 4 – Faux Fiddle Leaf Fig
Fiddle Leaf Figs seem to be all the rage right now. Almost every home decor Instagrammer I follow seems to have one – and most are opting for the faux versions.
This fiddle leaf fig on Amazon stands at 6ft. tall is less than $100 and has a 4/5 star rating.
# 5 – Lavender in a Rustic Box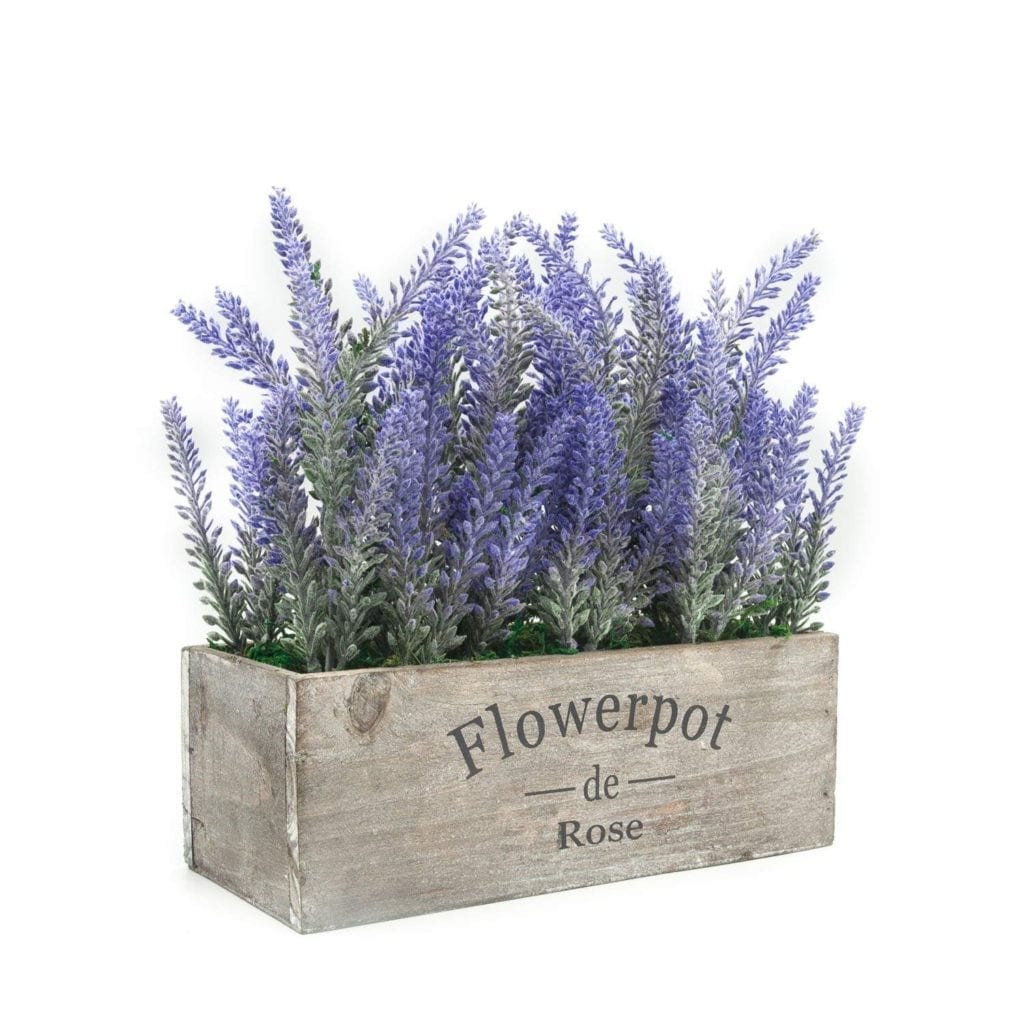 If you're looking to bring a little color, this lavender plant has almost 300 reviews with a 4.5-star rating!
This would be a great addition to farmhouse or rustic style decor.
# 6 – A Great Cacti Option
If you like cacti's look but don't like dealing with all the prickles (especially if you have little kids), these are a great alternative.
This set of four cacti comes in cute ceramic pots and would look great sitting on a shelf or mantle.
# 7 – Large Sansevieria Plant
If you're looking for a realistic plant on the larger side, I think you'll really like this one.
This Sansevieria plant is 34 inches tall with a 7-inch pot. The pot looks nice and sleek. This currently has 4.5 stars out of almost 300 reviews!
# 8 – More Succulents
I had to include more succulents because….look at those pots!
This set has a high rating and is less than $15! I'm definitely snatching these up for myself.
# 9 – Large Hanging Boston Fern
If you're looking for a hanging plant, this large Boston Fern is highly rated.
This plant comes ready to hang. It has four stars with over 120 reviews.
# 10 – Silk Bougainvillea
Here is another hanging basket that can bring some color to your home.
This is a silk plant and has 4/5 star ratings with over 400 reviews.
Faux Never Looked so Real
You no longer need to feel bad about your black thumb! With plants as realistic as these, it's easy to bring some life in a room without worrying about the upkeep.
What's your favorite faux plant?
Katie Barton is the owner of Cabin Lane. She's also a home improvement writer for Bob Vila and Homedit. Her cleaning and organizing advice has been featured on Realtor.com, Yahoo News, GoBankingRates, and more. In her spare time, you can find her with a paintbrush in hand, searching for her next project.